Sunday of the Prodigal Son
Martyr Pamphilos, Priest of Caesarea in Palestine and his companions; Venerable Flavian the Hermit; Venerable Martyr Romanos from Solovak of Carpenision
The Prodigal Son
The Sunday of the Prodigal Son is the second Sunday of pre-Lent, the weeks of preparation preceding Great Lent. It is the Sunday after the Sunday of the Publican and Pharisee and Sunday before Meatfare Sunday. This pre-Lent is the start of the Easter cycle of worship in the Orthodox Church.
On this Sunday in the preparation for Great Lent, Orthodox Christians are read Christ's parable about God's loving
forgiveness (Luke 15:11-24). They are to see themselves as being in a foreign country far from the Father's house and to make the movement of return to God, where we truly belong. The parable gives assurance that the Father will receive them with joy and gladness in their journey through Great Lent, their journey home.
Sermon on the Prodigal Son by Bp. Timothy Ware
When we take one step towards God, He takes 10 steps toward us.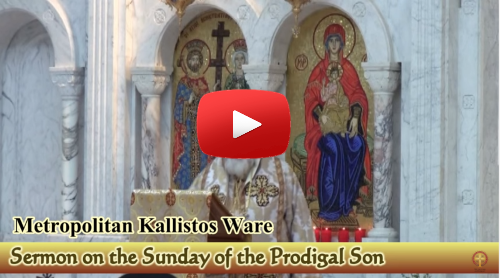 Services this Week
Wed Feb 24 — ST. JOHN BAPTIST Divine Liturgy 9:30am LIVE STREAM
Fri Feb 26 — PARAKLESIS TO THE THEOTOKOS 9:30am LIVE STREAM
Cafe of Life Ministry
As you sit down to enjoy your next meand and thank For for all you have, ask yourself, "When was the last time I made a donation for the hungry?"
One mission of St. Peter is the making of sandwiches to feed those who are hungry and homeless in the Bonita Springs community. Your donation will help sustain those who are less fortunate than ourselves. Check os donations can be given to Fr. Hans. It takes $200 monthly to help the poor.
"Whoever oppresses a poor man insults his Maker, but he who is generous to the needy honors Him" (Proverbs 14:31).
Thank you and remember…
IC XC NI KA
Welcoming Dan Christopoulos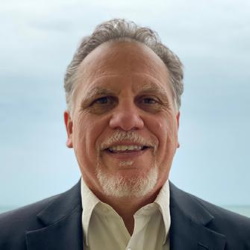 Following the Liturgy this Sunday in the Social Hall, Dan Christopoulos, the Development Director of Orthodox Christian Missions, will offer a presentation on the mission work overseas of the Orthodox Church.
OCMC does much good work in the world. To learn more visit their website.
Many of you may remember that Cliff Tewis went on a mission trip to Africa (see pictures of his trip on the St. Peter website) and gave us a presentation of his service.
Women's Group Meets Tuesday February 23, 2021
Next Ladies Book Club meeting is on Tuesday, February 23rd at 5:00 pm in the Church social hall.
Piano For Sale: $350 or Best Offer
Why are we selling it? Because the new church has a piano. Please contact Fr. Hans or John Simon.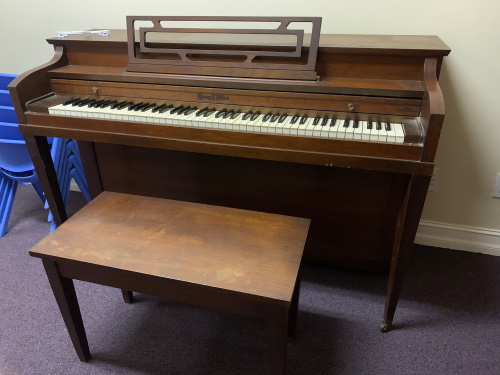 Capital Campaign Update — February 8, 2021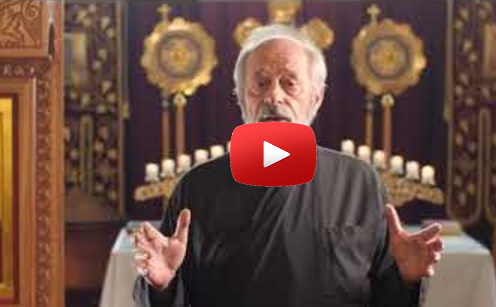 UPDATE: We are still accepting Capital Campaign Donations as we have not yet made our goal. Our goal is $750K and we now have $621,599K. Thank you for your generous contributions to date.
The Church now has set up a Brokerage account so if anyone wishes to donate stocks or bonds, the Church can accept them.
Our Capital Campaign is going well. To date we have collected $621,599 of the $750,000 we need to secure a mortgage to make a bid on the new Church property has been received. That's over half of our goal!
Download a pledge form on the St. Peter website.
Please remember, churches are hard to come by in Southwest Florida. This property meets our needs because:
We can afford it (the mortgage will cost no more than what we currently pay in rent; it may even be a little less),
It has buildings on site that are move-in ready,
It can accommodate the growth we are experiencing and that will continue.

Many of you have seen our Capital Campaign video. Take a look at it again. It lays out our vision that has guided us to where we are and explains why a move is necessary now.
We are grateful to everyone who has supported our Capital Campaign. Thank you very much for your confidence and trust, and the hope you have in the flourishing of St. Peter's parish.
Pledge & Income Report – January 2021
Donations received in January $28,374.00
Amount of money needed to cover expenses: $19,732.00
We are ahead by $8,642
Please note that some people pay their stewardship for the year in advance in January.
Please note:Please continue your generous support. If you cannot make it to church please mail in your donation to: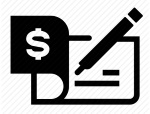 St. Peter Orthodox Church
24850 Old 41 Road Suite 6
Bonita Springs, FL 34135
You can also donate online (scroll to bottom of page):
Bishop NICHOLAS Offers a Weekly Live Stream
These are short thirty minute presentations where His Grace Bp. Nicholas speaks on one theme in Sunday readings for fifteen minutes followed by questions from the listeners. It's worth tuning in. Get instructions on the St. Peter website on how to use the Band App on your phone or computer to participate.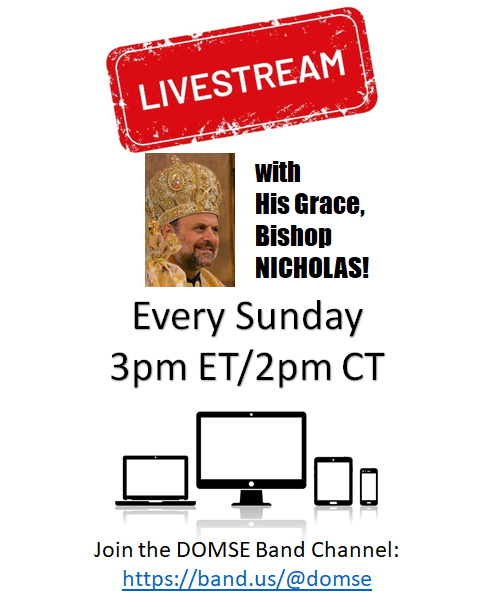 Calendar At A Glance
Calendar also available on the St. Peter website.
FEBRUARY
Sun Feb 21 — Orthros 8:30am / Divine Liturgy 9:30am LIVE STREAM
Wed Feb 24 — FIRST AND SECOND FINDING OF THE VENERABLE HEAD OF JOHN THE BAPTIST Divine Liturgy 9:30am LIVE STREAM
Fri Feb 26 — PARAKLESIS TO THE THEOTOKOS 9:30am LIVE STREAM
A man who is growing cold towards God begins first of all to flee attending church. At first he tries to come to services later, and then he ceases altogether to visit God's temple…Here in the skete we even make the rounds of the cells on feast days, so that no one evades church services. Elder Barsanuphius of Optina
The Christian today—not unlike Christians of other eras, but in ways that are continually "updated" as soci­ety carries on—is not told simply that he mustn't fight the passions, that he mustn't battle the devil: he is told that the passions are unreal, that the devil does not exist. He is told that ascesis is unnatural, that spiritual warfare is delusional. He is told that judgment is oppressive and the desire to become something de­fined by another (even God!) is psychologically unhealthy. He is told that to believe in the Church's tradition is a simplistic, pietistic adherence to the past; that he had better "think for himself." Bishop Irenei Steenberg
Human charity is suspicious: it fears lest it may somehow give to a person who already has something, or lest it may give too much. But the Lord's charity is not like this: "The Lord is good to all, and His tender mercies are over all His works." Righteous John, Wonderworker of Kronstadt
The foundation of prayer is the yearning of the image towards its prototype, as of like to like. Righteous John, Wonderworker of Kronstadt
The crucified flesh reconciles itself with the spirit and with God; whilst the flesh that is cherished, that is abundantly and daintily fed, fights hard against the spirit and against God. Righteous John, Wonderworker of Kronstadt
Free-thinkers and atheists say that religion, the Church, the Divine service, the sacraments and rites, were invented by men in order to keep people in fear and submission, and to maintain, morality, and, perhaps, also in order to collect revenues from them. This is how God's mercy and His wonderful ordering for our salvation, the very incarnation, sufferings and death of the Son of God for our sakes, are blasphemed by the ignorant and free-thinkers who have lost the fear of God. Righteous John, Wonderworker of Kronstadt
Our wickedness shall not overpower the unspeakable goodness and mercy of God; our dullness shall not overpower God's wisdom, nor our infirmity God's omnipotence. Righteous John, Wonderworker of Kronstadt
tions of the soul that are called "virtues" by the Holy Fathers. AArchbishop Averky (Taushev)
Remember in Your Prayers
The Prayer List has been revamped. To bring order to the list we will do the following:
Names will remain on the list for two months.
If you would like to keep them on longer please mention it to Fr. Hans. We will keep the names on the list for as long as the person needs prayers.
Names will include the person who requested the prayers and the month the name will be removed.
The permanent list includes friends and members of St. Peter's and others including shut-ins.
Were names dropped that should have remained? Please mention it to Fr. Hans. He will add them back.
Current Prayer List (Updated January 11 / Resets February 1)
Michelene (Repya 4/21)
Colleen ((Repya 4/21)
Patricia (Copeland 4/21)
Fr. Demetrios (Copeland 4/21)
Kondylia (Chapekis 4/21)
Brian (Colis 3/21)
Maria(Colis 3/21)
John (Jacobse 3/21)
Mary (Jacobse 3/21)
Herman (Kerr 3/21)
Innocent (Kerr 3/21)
Nickolas (Kerr 3/21)
Kerr Family (Kerr 3/21)
Barbara (Dusckas 3/21)
Maryann (Breitenbach 3/21)
Irina (Jacobse 3/21)
Lee Joseph (Irina 3/21)
Paola (Jacobse 3/21>
John (Katsigianopoulos 3/21)
Bryce (NA 3/21)
Debbie (Breitenbach 2/21)
Mary (Marianthi 2/21)
Sarah (Wolffe 2/21)
Pauline (Jacobse 2/21)
Benjamin (Jacobse 2/21)
Marcie (Breitenbach 2/21)
Jo Ann (Breitenbach 2/21)
Angela (Fred 12/21)
Ronald (Sovjani 2/21)
Katherine (Dusckas 2/21)
Marlene (Tewis 2/21)
Gail (Jacobse 1/21)
Robert (Tewis 1/21)
Sergio (Mary Kazakos 1/21)
Mary (Semeretis 1/21)
Heather (Waterman 1/21)
Zachary (Constantine 1/21)
Peter (Foltz 1/21)
Alexa (Buchanan 1/21)
Rebecca (Aguado 1/2021)
Jacob (Aguado 1/2021)
Baby Mackenzie (Zafiris 12/20
Nolan (Zafiris 12/20)
Permanent Prayer List
Rae (Semeretis)
Fran (Hansen)
Nina (Krotov)
George (Chapekis)
Franklin (Pyrrson)
George (Chionis)
Stamatia (Jacobse)
Stamatia (Evelyn)
Demetrios (Kuchera)
Theodosios (Palis)
Theodora (Webb)
Helen (Rogers)
Robert (Smith)
Robert (Jarvis)
Presbytera Rosy (in Pakistan)
James (Hord)
Ann (Rellis)
Vassiliki (Kontinos)
Vassiliki (Morekeas)
Founders, Members, and Benefactors Departed this Life
John (Hansen)
Anatoly (Kurdsjuk)
Thareni (Brooks)
Milan Evanoff
Jean (Sam)
Eleni (Pearson)
Richard (Pearson)
Fr. Stephanos (Shagoury)
Panagiota (Bea Chionis)
Anthony (Mourgis)
Anthony (Mankus)
Constantine (Houpis)
Constantine (Joseph)
Mary (Jarvis)
Panagiota Margarita (Palis)
Maria (Ninos)
John (Katsigianopoulos)
How should we pray for the sick? Remember them daily. Say their names (first names are sufficient) and ask God to bestow mercy and grace on them.
Add or remove names and print this list for easy reference during your prayer time on the St. Peter website.
Sunday Readings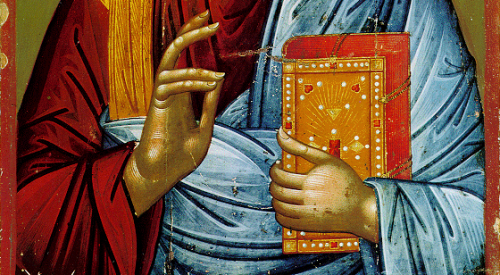 EPISTLE
For Sunday of the Prodigal Son
Let Thy mercy, O Lord, be upon us.
Rejoice in the Lord, O ye righteous.
The Reading from the First Epistle of St. Paul to the Corinthians. (6:12-20)
Brethren, all things are lawful for me, but not all things are helpful. All things are lawful for me, but I will not be enslaved by anything. Food is meant for the stomach and the stomach for food; but God will destroy both one and the other. The body is not meant for immorality, but for the Lord, and the Lord for the body. And God raised the Lord and will also raise us up by His power. Do you not know that your bodies are members of Christ? Shall I therefore take the members of Christ and make them members of a prostitute? Never! Do you not know that he who joins himself to a prostitute becomes one body with her? For, as it is written, "The two shall become one flesh." But he who is united to the Lord becomes one spirit with Him. Shun immorality. Every other sin which a man commits is outside the body; but the immoral man sins against his own body. Do you not know that your body is a temple of the Holy Spirit within you, which you have from God? You are not your own; you were bought with a price. So glorify God in your body, and in your spirit, which are God's.
GOSPEL
For Sunday of the Prodigal Son
The Reading from the Holy Gospel according to St. Luke. (15:11-32)
The Lord spoke this parable: "There was a man who had two sons; and the younger of them said to his father, 'Father, give me the share of property that falls to me.' And he divided his living between them. Not many days later, the younger son gathered all he had and took his journey into a far country, and there he squandered his property in loose living.

And when he had spent everything, a great famine arose in that country, and he began to be in want. So he went and joined himself to one of the citizens of that country, who sent him into his fields to feed swine. And he would gladly have fed on the pods that the swine ate; and no one gave him anything. But when he came to himself he said, 'How many of my father's hired servants have bread enough and to spare, but I perish here with hunger! I will arise and go to my father, and I will say to him, "Father, I have sinned against heaven and before you; I am no longer worthy to be called your son; treat me as one of your hired servants."'

And he arose and came to his father. But while he was yet at a distance, his father saw him and had compassion, and ran and embraced him and kissed him. And the son said to him, 'Father, I have sinned against heaven and before you; I am no longer worthy to be called your son.' But the father said to his servants, 'Bring quickly the best robe, and put it on him; and put a ring on his hand, and shoes on his feet; and bring the fatted calf and kill it, and let us eat and make merry; for this my son was dead, and is alive again; he was lost, and is found.' And they began to make merry.

Now his elder son was in the field; and as he came and drew near to the house, he heard music and dancing. And he called one of the servants and asked what this meant. And he said to him, 'Your brother has come, and your father has killed the fatted calf, because he has received him safe and sound.' But he was angry and refused to go in. His father came out and entreated him, but he answered his father, 'Lo, these many years I have served you, and I never disobeyed your command; yet you never gave me a kid that I might make merrywith my friends. But when this son of yours came, who has devoured your living with harlots, you killed for him the fatted calf!'