By: Fr. George Morelli
A Lenten homily.
"Who can forgive sins but God alone?"
Is there any doubt that the Cross of Jesus Christ is a scandal, a shame and embarrassment to anyone who chooses not to respond to God's grace? Look at Jesus from a Jewish perspective in the time of Christ. They were awaiting a messiah, the anointed one of God — a deliverer who would reign in glory with the power and adornment of a king.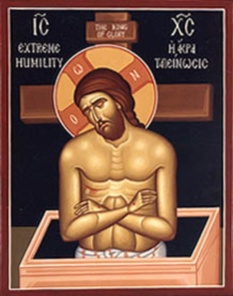 Extreme Humility
Learn more
But who was Jesus? He was the son of a carpenter who came from a place of no stature or notice — "Can anything good come out of Nazareth?" (Jn. 1:46). He was an itinerant, poor preacher and would be condemned as a criminal, scourged, buffeted, spat upon and be crucified in total ignominy.
Of the coming Messiah, the Prophet Isaiah forewarned that:
He was despised and rejected by men; a man of sorrows, and acquainted with grief; and as one from whom men hide their faces he was despised, and we esteemed him not. Surely he has borne our griefs and carried our sorrows; yet we esteemed him stricken, smitten by God, and afflicted. But he was wounded for our transgressions, he was bruised for our iniquities; upon him was the chastisement that made us whole, and with his stripes we are healed (Is. 53: 3-5).
Jesus had power, but not the kind the earthly leaders understood. Jesus claimed to be God ("I and the Father are one") and forgave sin by His own name – an authority reserved for God alone. His divine lordship is especially evident in Epistle to the Hebrews where St. Paul quoted the messianic psalm "The Lord says to my lord: "Sit at my right hand, till I make your enemies your footstool…The Lord sends forth from Zion your mighty scepter…Rule in the midst of your foes!" (Heb. 1:13, Ps. 109:1-2).
(Some scholars argue that the Epistle to the Hebrews was written to Christian-Hebrew scholars who were receding to the view of the Messiah-King as a political leader, rather that who the Anointed One of God who came to save mankind from sin and death.)
The power of Jesus was not of this world. His kingdom is understandable only in Divine terms — as the suffering servant. Isaiah wrote: "He was oppressed, and he was afflicted, yet he opened not his mouth; like a lamb that is led to the slaughter, and like a sheep that before its shearers is dumb, so he opened not his mouth" (Is. 53:7). St. John Chrysostom wrote: "[Jesus] on His part also gives evidence of His power, loosing the man's sins with complete authority, and indicating in every way that He is of equal status with the One who begot Him."
St. Paul taught that Jesus is the true Christ, not anointed to be an earthly king, but to reign as the Divine King. But this kingship would be hidden from earthly eyes, because of sin. That's why the cross is a scandal. How could a King be crucified?
St. Paul warned the Hebrews: "[T]herefore, as the Holy Spirit says, 'Today, when you hear his voice, do not harden your hearts as in the rebellion, on the day of testing in the wilderness…'" Jesus is superior to the angels. He surpasses Moses as a son surpasses a servant. Jesus as intercessor makes obsolete the priesthood of the Old Covenant.
What did St. Paul instruct the Hebrews to do? They are to forgive others and repent of their sins, and show love, compassion, chastity, obedience, perseverance, avoidance of greed and strange teachings.
Is this epistle written only for the Hebrews who were considering rejecting Jesus? Absolutely not! This epistle is for all of us in need of a physician because of the illness of our souls; for all who need the healing hand of Christ. Jesus cures our infirmities and diseases, and bring light into our darkened hearts and souls. Jesus told us: "Those who are well have no need of a physician, but those who are sick" (Mt. 9:12). St. Matthew wrote: "He took our infirmities and bore our diseases" (Mt. 8:17).
Yes, the cross is a scandal and stumbling block. We need forgiveness. We need to forgive others. We love God because He first loved us. But we must forgive others if we want to know the forgiveness of God. Consider the words of our holy Father St. Ephraim the Syrian (1997):
But if you do not make peace with your brother, then how will you ask Me for forgiveness? I am your Master; I command you and you do not heed Me. You are a servant; how dare you bring me a prayer, or a sacrifice, or first fruits of you harvest, if you bear malice toward anyone? If you turn your face from your brother, so shall I turn Mine eyes from your prayer and from your gift. If your brother is angry with you, then the Lord is also angry with you. And if you have made peace with your brother below, then you have made peace also with the Lord on high. If you receive your brother, then you also receive your Lord.
Imagine if all of us could forgive one another in the name of Christ. How different the world would be! Forgiveness is healing (Morelli, 2004) and a scandal to all who reject the crucified Christ who hung on the cross for our salvation.
REFERENCES
Morelli, G. (2004, December 07). Forgiveness is Healing. http://www.orthodoxytoday.org/articles7/MorelliForgiveness2.php
St. Ephraim the Syrian. (1997) Spiritual Psalter. (Br. Isaac E. Lambertsen, Trans.). Liberty, TN: St. John of Kronstadt Press.
V. Rev. Fr. George Morelli Ph.D. is a licensed Clinical Psychologist and Marriage and Family Therapist, Coordinator of the Chaplaincy and Pastoral Counseling Ministry of the Antiochian Orthodox Christian Archdiocese, (www.antiochian.org/counseling-ministries) and Religion Coordinator (and Antiochian Archdiocesan Liaison) of the Orthodox Christian Association of Medicine, Psychology and Religion. Fr. George is Assistant Pastor of St. George's Antiochian Orthodox Church, San Diego, California.
[serialposts]