Sunday of the Last Judgment
The Hieromartyrs of Cherson: Basil, Ephraim, Eugene, Kapiton, Elpidios, Agathodoros and Aetherios; Venerable Laurence; Venerable Paul the Simple, Disciple of Anthony the Great
The Last Judgment
The parable of the Last Judgment is about Christian love. Not all of us are called to work for "humanity," yet each one of us has received the gift and the grace of Christ's love.
We know that all persons ultimately need this personal love—the recognition in them of their unique soul in which the beauty of the whole creation is reflected in a unique way.
We also know that people are in prison and are sick and thirsty and hungry because that personal love has been denied them.
And, finally, we know that however narrow and limited the framework of our personal existence, each one of us has been made responsible for a tiny part of the Kingdom of God, made responsible by that very gift of Christ's love. Thus, on whether or not we have accepted this responsibility, on whether we have loved or refused to love, shall we be judged.
Read more on the Greek Orthodox website.
Services this Week
Wed Mar 3 — PARAKLESIS TO THE THEOTOKOS 9:30am LIVE STREAM
Sat Mar 6 — FIRST SATURDAY OF THE SOULS 9:30am LIVE STREAM
Welcome Morgan Waterman!
Occasionally we will be publishing the stories of parishioners, especially those whom some of us might not yet know, to strengthen the community of St. Peter's.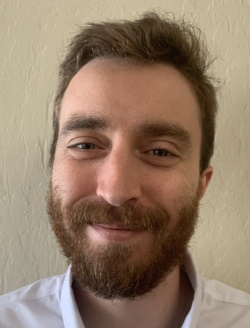 Recently a young man was baptized at St. Peter Orthodox Church. His name is Morgan Waterman, and we welcomed him with open arms—so open that he was baptized on a Sunday, and on the following Monday, Fr. Hans recruited him to help in the weekday service. He has been helping out frequently ever since. Let's meet him.
A child of the South, Morgan grew up in Birmingham, Alabama. After he graduated from High School, he enrolled at the University of Mississippi, known to sports fans as "Ol' Miss." Although he began college planning to become a pharmacist, he decided that profession was not for him, so he searched around for alternatives, first a possible business degree, but then he gravitated toward the liberal arts, and perhaps on impulse, he enrolled in a Greek language class. From there he decided on a double major in Philosophy and Greek (classical Greek language) and a minor in Religious Studies. These subjects were far distant from his ambition at age six when he had told his parents that he wanted to be a garbage collector or a comedian.
When he graduated from the University of Mississippi, Morgan thought about staying an extra year to possibly qualify for teaching Latin in a traditional high school, but he was uncertain about his next path, so he moved to be with his parents who now lived in Panama City, Florida to try to figure out his next move. While living there, he worked at Dick's Sporting Goods and what he describes as a 'dinky' water park,' but he loved his job and spent two summers there, managing the food huts.
Eventually Morgan got his act together and decided to go back to college to become a nurse. He enrolled at the Junior College in Panama City where he earned necessary credits needed for admission to a nursing program. Enrolling late, he found the only available opening in Florida colleges was at FGCU. He took an entrance exam, passed with ease and moved to Ft. Myers. He lived on campus for a time, but life was financially difficult. Extra jobs involved working at Roy's, an upscale restaurant, and Culver's, a not so upscale restaurant, (he liked working there), and as a pharmacy technician at Publix, (counting pills).
No longer dependent on his parents for financial support, Morgan couldn't afford an expensive apartment and thought about living in his car, but he talked with his close friend Marco from nursing school who offered to let him live with his family who displayed their generosity and hospitality by giving him a place to sleep. He is deeply appreciative of that family.
After graduating from the nursing program in December, 2018, Morgan took his board exams and became an employee at Health Park Medical Center where he works today.
Morgan has always been interested in religion. At one time he thought about becoming a pastor, and his undergraduate studies pointed him in that direction. College is a time of searching for many students and, and, for a short while, following the path of many others in college, he decided he was a deist, an agnostic or an atheist.
During his final semester in nursing school, Morgan suffered from some health anxieties and like all mortals, he had to think about facing the idea of death and, for believers, life after death. Even during his agnostic stage, Morgan always had a deep interest in religion, and he began his search, he studied apologetics and watched worship services on YouTube, he even looked at the trendy ideas of New Age religion, and East Asian religions, paths especially popular in the 1960s beyond. He attended some evangelical services, complete with bands and a casual atmosphere.
Somehow, Morgan discovered Orthodoxy in his search, and out of curiosity went to an Orthodox Church nearby. Alone in the Church, he hardly knew what to do. He saw people kissing icons and lighting candles in the Narthex, he seemed to be in the way of the priest censing the icons, he didn't comprehend the Greek service, even though he had studied classical Greek, he didn't understand when to sit and when to stand during the service. He felt that he was not accepted and out of place, but he wasn't giving up. He found a small Orthodox Church in a shopping center, so he tried once again. After the service, the Priest, Fr. Johannes Jacobse, nabbed him as he was leaving, and warmly welcomed him. So Morgan returned, Sunday after Sunday, and he sat with Tabi Valentine, the helpful wife of Deacon Daniel, who kindly taught him to understand the rhythm and order in the Orthodox service, and they became good friends.
Beyond Fr. Hans' leadership and others he has met at St. Peter's, Morgan has been inspired by a favorite parishioner, Theo Palis, who has told Morgan stories about his life in Greece and his early adventures when he settled in the United States. No one could be a better example of a faithful Orthodox Christian than our beloved Theo.
Fr. Hans has frequently told his parishioners that he believes young people will be coming in our door because they are hungry for the Faith, anxious to find a path to the Almighty, and they are looking for a home in Orthodoxy. Morgan is one of those souls, and he is leading the way for others to follow.
Cafe of Life Ministry
We want to thank all those who donated so far to help feed the less fortunate in Bonita Springs. Please be mindful that the Cafe of Life depends on donations like St. Peter's to feed the hungry and homeless. So please keep the donations coming in and never forget…
"If you do good, you must do it only for God. For this reason you must pay no attention to the ingratitude of people. Expect a reward not here, but from the Lord in heaven. If you exprect it here — it will be in vain and you will endure deprivation." St. Ambrose of Optina, quoted in "Living Without Hypocrisy: Spiritual Counsels of the Holy Elders of Optina."
Thank you and remember…
IC XC NI KA
Women's Group Meets Wednesday, March 10, 2021
Next Ladies Book Club meeting is on Wednesday, March 10 at 5:00pm in the Church social hall.
Here's the Schedule!

Only one step remains with the purchase of the new church: the closing on March 15. It looks like that is going to happen and we are planning the move!
There are two moving days: Saturday March 20 and Tuesday March 23 both starting at 8:30am. Here's what we will do:
Saturday March 20, 2021
The small stuff.
Move social hall tables and chairs
Move all kitchen items
Move church school tables and chairs
Move all but two icons
Move large chandeliers
We will have a truck, pickups, SUV's and our cars to move these items. We need your help. Most everything will be ready to go.
Tuesday March 23, 2021
The big stuff.
Allied Van Lines will move the big items. This includes refrigerators, wardrobes, freezers, tables, file cabinets, boxed items and everything else that is heavy and requires a van.
Notable and Important
Unfortunately we will have to cancel Lenten services for the week, including the Annunciation. St. Paul's will be having the services however and you can attend there. Check out the St. Paul website for the times of services.
Our last liturgy in our present location will be on Sunday, March 21, 2021. There will be no Social Hour that Sunday. Our first Liturgy in the new location will be Sunday, March 28, 2021. Everything is planned out but there are sure to be a few hiccups along the way so please be patient.
The Presbyterian Church won't have a home for a while so they will be using the social hall for their worship from 8:30am-10:00am every Sunday until they get settled. Please do not disturb them by entering into the social hall (on the new property) until after 10:00am.
Questions? Please contact Joe Repya who is in charge of the move at (612) 270-4443.
Pledge & Income Report – January 2021
Donations received in January $28,374.00
Amount of money needed to cover expenses: $19,732.00
We are ahead by $8,642
Please note that some people pay their stewardship for the year in advance in January.
Please note:Please continue your generous support. If you cannot make it to church please mail in your donation to: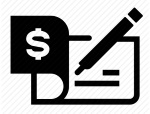 St. Peter Orthodox Church
24850 Old 41 Road Suite 6
Bonita Springs, FL 34135
You can also donate online (scroll to bottom of page):
Bishop NICHOLAS Offers a Weekly Live Stream
These are short thirty minute presentations where His Grace Bp. Nicholas speaks on one theme in Sunday readings for fifteen minutes followed by questions from the listeners. It's worth tuning in. Get instructions on the St. Peter website on how to use the Band App on your phone or computer to participate.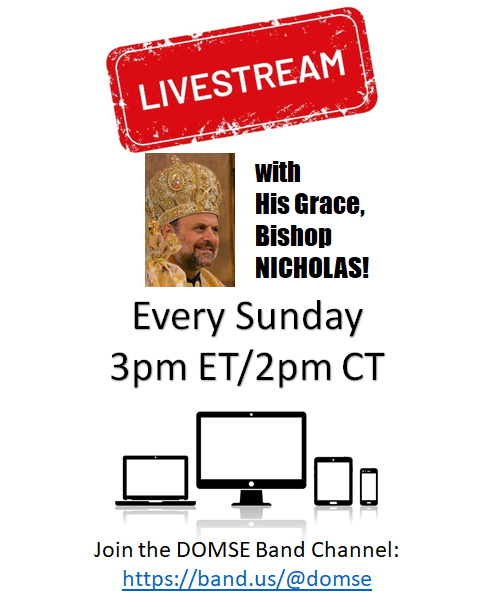 Calendar At A Glance
Calendar also available on the St. Peter website.
MARCH
Wed Mar 3 — PARAKLESIS TO THE THEOTOKOS 9:30am LIVE STREAM
Sat Mar 6 — FIRST SATURDAY OF THE SOULS 9:30am LIVE STREAM
Wisdom From The Elders
When someone is cursing, blaspheming, or being impudent, it is better to pretend to be busy and not listening and to say the Jesus Prayer. For, if he sees that you are paying attention to him, he may continue to curse all the more, and you can then become a cause for his demonic influence. If, however, one is not impudent but is conscientious and curses out of a bad habit, you can say something to him. If, again, one is conscientious but has a great deal of egoism, you must be careful not to speak sternly to him but, rather, you have to be as humble as you can and speak to him with pain. Saint Paisios of Mount Athos
In a word, a man who has acquired the Holy Spirit becomes totally renewed; he becomes different (here is the root of the wonderful Russian word for monk, inok—one who is "different") in mind, heart and will. Abbot Nikon Vorobiev
In order to live spiritually and draw breath from grace, we must continually exhale the ashes of sin. St. Ignatius Brianchaninov
St. Seraphim tells us: "It is easy to humble yourself before God, while to humble yourself before people is more difficult." Indeed, it is precisely the ability or inability to humble ourselves before our neighbors that shows whether or not there is real repentance within us: whether or not we are walking along the right path of spiritual life. You must work on this. Bishop Photi of Traditza
It is preferable for a sensitive person to die once out of love in order to protect his neighbour, rather than be neglectful or cowardly and then to be constantly tormented by his conscience for the rest of his life. Saint Paisios of Mount Athos
The more days of fasting there are, the better the healing is; the longer the period of abstinence, the more abundant the gain of salvation is. Blessed Augustine
Remember in Your Prayers
The Prayer List has been revamped. To bring order to the list we will do the following:
Names will remain on the list for two months.
If you would like to keep them on longer please mention it to Fr. Hans. We will keep the names on the list for as long as the person needs prayers.
Names will include the person who requested the prayers and the month the name will be removed.
The permanent list includes friends and members of St. Peter's and others including shut-ins.
Were names dropped that should have remained? Please mention it to Fr. Hans. He will add them back.
Current Prayer List (Updated January 11 / Resets February 1)
Mark (Dusckas 4/21)
Tammy (Dusckas 4/21)
Panagiota (Jacobse 4/21)
Michelene (Repya 4/21)
Colleen ((Repya 4/21)
Patricia (Copeland 4/21)
Fr. Demetrios (Copeland 4/21)
Kondylia (Chapekis 4/21)
Brian (Colis 3/21)
Maria(Colis 3/21)
John (Jacobse 3/21)
Mary (Jacobse 3/21)
Herman (Kerr 3/21)
Innocent (Kerr 3/21)
Nickolas (Kerr 3/21)
Kerr Family (Kerr 3/21)
Barbara (Dusckas 3/21)
Maryann (Breitenbach 3/21)
Irina (Jacobse 3/21)
Lee Joseph (Irina 3/21)
Paola (Jacobse 3/21>
Bryce (NA 3/21)
Debbie (Breitenbach 2/21)
Mary (Marianthi 2/21)
Sarah (Wolffe 2/21)
Pauline (Jacobse 2/21)
Benjamin (Jacobse 2/21)
Marcie (Breitenbach 2/21)
Jo Ann (Breitenbach 2/21)
Angela (Fred 12/21)
Ronald (Sovjani 2/21)
Katherine (Dusckas 2/21)
Marlene (Tewis 2/21)
Gail (Jacobse 1/21)
Robert (Tewis 1/21)
Sergio (Mary Kazakos 1/21)
Mary (Semeretis 1/21)
Heather (Waterman 1/21)
Zachary (Constantine 1/21)
Peter (Foltz 1/21)
Alexa (Buchanan 1/21)
Rebecca (Aguado 1/2021)
Jacob (Aguado 1/2021)
Baby Mackenzie (Zafiris 12/20
Nolan (Zafiris 12/20)
Permanent Prayer List
Sergio (Mary Kazakos
Rae (Semeretis)
Fran (Hansen)
Nina (Krotov)
George (Chapekis)
Franklin (Pyrrson)
George (Chionis)
Stamatia (Jacobse)
Stamatia (Evelyn)
Demetrios (Kuchera)
Theodosios (Palis)
Theodora (Webb)
Helen (Rogers)
Robert (Smith)
Robert (Jarvis)
Presbytera Rosy (in Pakistan)
James (Hord)
Ann (Rellis)
Vassiliki (Kontinos)
Vassiliki (Morekeas)
Founders, Members, and Benefactors Departed this Life
John (Hansen)
Anatoly (Kurdsjuk)
Thareni (Brooks)
Milan Evanoff
Jean (Sam)
Eleni (Pearson)
Richard (Pearson)
Fr. Stephanos (Shagoury)
Panagiota (Bea Chionis)
Anthony (Mourgis)
Anthony (Mankus)
Constantine (Houpis)
Constantine (Joseph)
Mary (Jarvis)
Panagiota Margarita (Palis)
Maria (Ninos)
John (Katsigianopoulos)
How should we pray for the sick? Remember them daily. Say their names (first names are sufficient) and ask God to bestow mercy and grace on them.
Add or remove names and print this list for easy reference during your prayer time on the St. Peter website.
Sunday Readings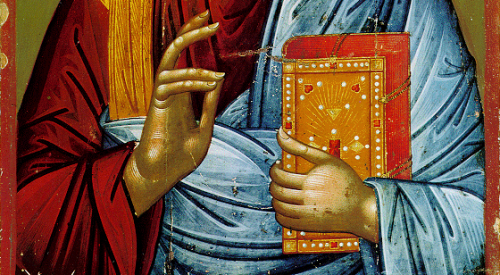 EPISTLE
For Sunday of the Last Judgment
The Lord is my strength and my praise.
The Lord chastising hath chastised me, but He hath not delivered me over to death.
The Reading from the First Epistle of St. Paul to the Corinthians. (8:8-9:2)
Brethren, food will not commend us to God. We are no worse off if we do not eat, and no better off if we do. Only take care, lest this liberty of yours somehow become a stumbling block to the weak. For if any one sees you—a man of knowledge—at table in an idol's temple, might he not be encouraged, if his conscience is weak, to eat food offered to idols? And so by your knowledge this weak man is destroyed, the brother for whom Christ died. Thus, sinning against your brethren and wounding their conscience when it is weak, you sin against Christ. Therefore, if food is a cause of my brother's falling, I will never eat meat, lest I cause my brother to fall. Am I not free? Am I not an apostle? Have I not seen Jesus our Lord? Are not you my workmanship in the Lord? If to others I am not an apostle, at least I am to you; for you are the seal of my apostleship in the Lord.
GOSPEL
For Sunday of the Last Judgment
The Reading from the Holy Gospel according to St. Matthew. (25:31-46)
The Lord said, "When the Son of man comes in His glory, and all the angels with Him, then He will sit on His glorious throne. Before Him will be gathered all the nations, and He will separate them one from another as a shepherd separates the sheep from the goats, and He will place the sheep at His right hand, but the goats at the left.

Then the King will say to those at His right hand, 'Come, O blessed of my Father, inherit the kingdom prepared for you from the foundation of the world; for I was hungry and you gave Me food, I was thirsty and you gave Me drink, I was a stranger and you welcomed Me, I was naked and you clothed Me, I was sick and you visited Me, I was in prison and you came to Me.'

Then the righteous will answer Him, 'Lord, when did we see Thee hungry and feed Thee, or thirsty and give Thee drink? And when did we see Thee a stranger and welcome Thee, or naked and clothe Thee? And when did we see Thee sick or in prison and visit Thee?'

And the King will answer them, 'Truly, I say to you, as you did it to one of the least of these My brethren, you did it to Me.'

Then He will say to those at his left hand, 'Depart from Me, you cursed, into the eternal fire prepared for the devil and his angels; for I was hungry and you gave Me no food, I was thirsty and you gave Me no drink, I was a stranger and you did not welcome Me, naked and you did not clothe Me, sick and in prison and you did not visit Me.'

Then they also will answer, 'Lord, when did we see Thee hungry or thirsty or a stranger or naked or sick or in prison, and did not minister to Thee?' Then He will answer them, 'Truly, I say to you, as you did it not to one of the least of these, you did it not to Me.' And they will go away into eternal punishment, but the righteous into eternal life."