Sunday of the Forefathers (Ancestors) of Christ
Herman of Alaska, Enlightener of the Aleuts
Martyrs Eustratios, Auxentios, Eugene, Mardarios, and Orestes at Sebastia; Virgin-Martyr Lucia of Syracuse; Hieromartyr Gabriel, Patriarch of Serbia
Sermon on the Sunday of the Forefathers
By Fr. Thaddeus Hardenbrook
On the second Sunday before Nativity, the Gospel reading leaves off its progression based on Pentecost and aligns itself with the approaching Nativity. This is a sign for us; a message of urgency regarding what is about to happen. Worries, distractions, and cares must now be set aside for the sake of not missing out on the greatest of the Father's gifts to us, which is His Son in human flesh. Every other mystical and sacred gift is secondary to the Incarnation.
We have been preparing for the feast by fasting. And now that we have moved past the midpoint of the fast, the pace quickens in anticipation of Christ's birth. We commemorate the Holy Forefathers who were part of mankind's preparation for the Messiah. Without them, there would be no God-man, no Christ, for prophecy foretold His birth from their lineage. Therefore their flesh, their prophecies, and their piety prepared the way for the coming of Christ.
Without the Incarnation, there is no salvation as we know it, there is no Cross, there is no Resurrection, there is no partaking in the divine energies of God and no deification. Even paradise and immortality submit to the mystical superiority of the Incarnation. For both paradise and immortality were given to man before the fall. Without the Incarnation, Paradise and eternal life only result in being perfectly and eternally joined to God as His servants.
[…]
Read the rest of the sermon here.
St. Herman of Alaska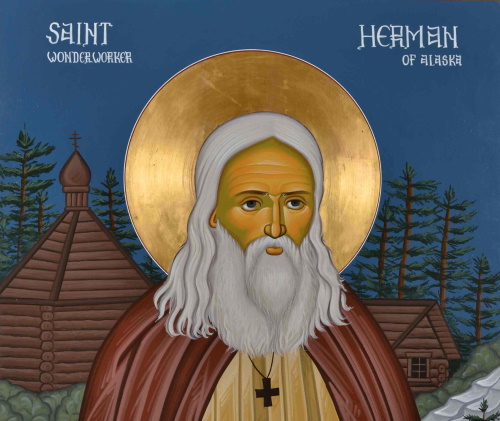 Herman of Alaska was a Russian Orthodox monk from Valaam Monastery in Russia who traveled with eight other monks in 1793 to bring the Gospel to the native Aleuts and Eskimos in the Aleutian Islands. As part of the Russian colonization of the Americas, Russians had been exploring and trading there since at least 1740. Thus, he marks the first arrival of Orthodox Christian missionaries in North America. He preached the love of Christ to the Aleutians and drew many to the Church through his charitable life, caring for their orphans, building a school, and frequently defending them from the injustices and exploitation of the Russian traders. He was known to them as Apa which means "Grandfather." He lived most of his life as the sole resident of Spruce Island, a tiny wooded island near Kodiak Island.
St. Herman's Orthodox Theological Seminary (Kodiak, Alaska) is named in his honor. A portion of his relics are enshrined at the St. Ignatius Chapel at the Antiochian Village, where he is regarded as one of their patron saints.
Source: OrthodoxWiki
Liturgies and Services This Week
The Conception of the Theotokos by St. Anna Wednesday, December 9, 2020 at 9:30pm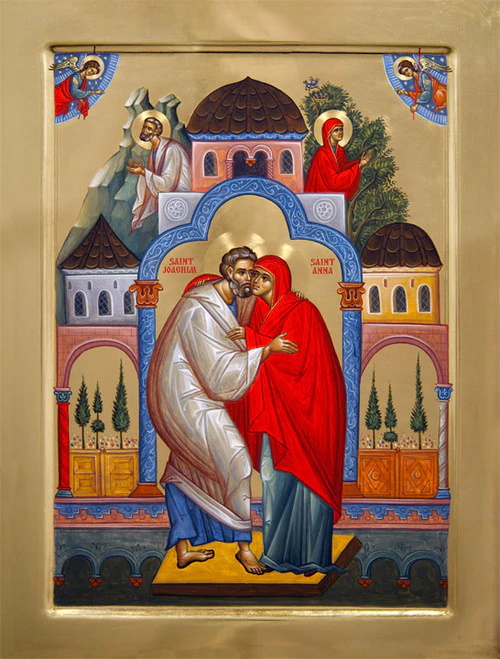 St. Spyridon the Wonder Worker on Saturday, December 12, 2020 at 9:30pm
Stewardship 2021
Two things determined our flourishing in the past year: God's benevolence towards us and your faithfulness. Your support of St. Peter's enables us to experience God's benevolence.
People who follow Christ need to come together. Our parish offers that. Without a place to meet, there would be no Divine Liturgy, no Eucharist, no place for anointing when we are sick, no place where those who are seeking Christ can call home, no place to meet dear friends every week, no place for baptisms and weddings, no place where the children can grow up with their Church friends, and much more.
We are again in the season where we have to consider our financial commitment to St. Peter's. Our budget is growing because the parish is growing. We estimate is that our budget will increase 19% in 2021.
Please click the image to read the full message and prayerfully consider your support of St. Peter's for 2021.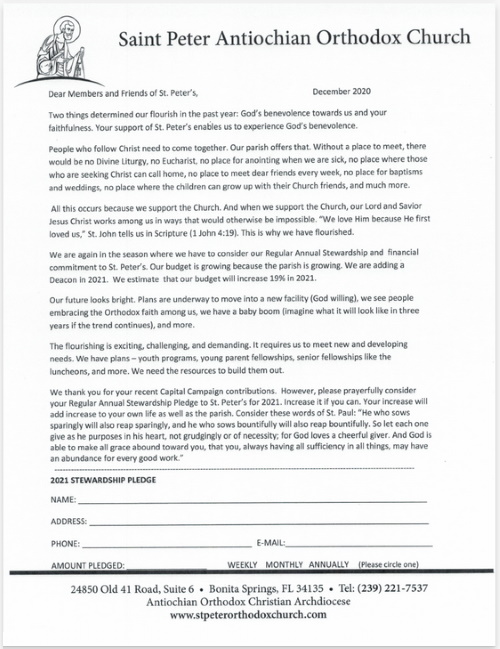 Nativity Fast Continues

November 15 is the beginning of the Nativity Fast, one of the four Canonical Fasting Seasons in the Church year. This is a joyous fast in anticipation of the Nativity of Christ.
In the weeks between now and December 25, Orthodox Christians prepare themselves to celebrate the birth in the flesh of our Lord Jesus Christ. As we begin the fast, we encourage both believing Orthodox and inquirers to review the reflections and resources in the special Nativity section on the Antiochian Archdiocese website.
For additional general resources on the Orthodox Christian tradition of feasting and fasting, visit the Feasts and Fasts section of Discover Orthodox Christianity.
Capital Campaign Update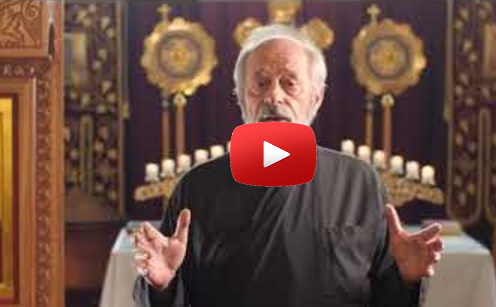 UPDATE: We are still accepting Capital Campaign Donations as we have not yet made our goal. Our goal is $750K and we now have $427K. Thank you for your generous contributions to date.
The Church now has set up a Brokerage account so if anyone wishes to donate stocks or bonds, the Church can accept them.
Our Capital Campaign is going well. So far $427,000 of the $750,000 we need to secure a mortgage to make a bid on the new Church property has been received. That's over half of our goal!
Some parishioners may be under the impression that November 1 was a cut off date. It wasn't. It was the date we hoped to receive all pledges. If you have still not pledged, you can still do so.
Download a pledge form on the St. Peter website.
Please remember, churches are hard to come by in Southwest Florida. This property meets our needs because:
We can afford it (the mortgage will cost no more than what we currently pay in rent; it may even be a little less),
It has buildings on site that are move-in ready,
It can accommodate the growth we are experiencing and that will continue.

Many of you have seen our Capital Campaign video. Take a look at it again. It lays out our vision that has guided us to where we are and explains why a move is necessary now.
We are grateful to everyone who has supported our Capital Campaign. Thank you very much for your confidence and trust, and the hope you have in the flourishing of St. Peter's parish.
Introduction to Orthodoxy Classes Continue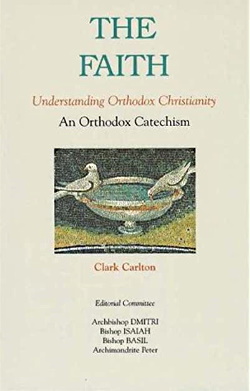 Next class Sunday, December 12, 2020. Assignment: Chapters 11 and 12.
The class is required for seekers and catechumens and also open to any parishioner who would like to attend. The syllabus will be posted on the website at soon as it is completed and handed out the first day of class.
We will meet after social hall. Get some coffee, have some food and fellowship, and then we break for class.
St. Peter's is Going Camping!
Get more information on the St. Peter website!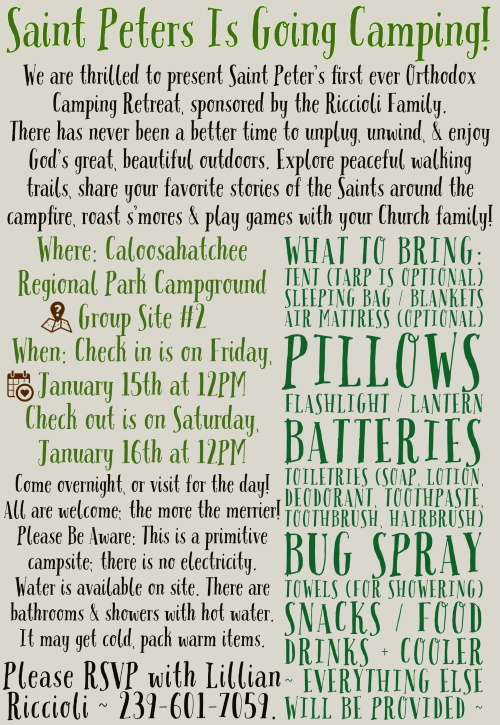 Byzantine Chant Workshop – Weekly on Tuesday at 7:00pm at St. Paul's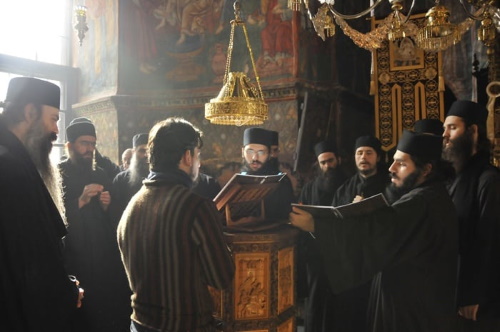 Led by Dn. Nicholas Reid, participants will learn the basics of the tone of the week — its characteristics, scale, and various forms — and will get a chance to participate in group practice.
No prior chanting experience is required.
This will also be an opportunity to deepen our Orthodox faith by better understanding the role each tone plays in liturgical worship so that we can apply them more fruitfully in our parish life as well as in the worship of the "little church" – our own homes.
Questions? Contact Dn. Nick (nick.reid.11@gmail.com)
Pledge & Income Report – November 2020
Donations received in November $17,553.00
Amount of money needed to cover expenses: $18,167.00
We are behind by $614.00
Over the last 2 months, our donations have not met expenses. Please give generously in December so that we can make our year-end budget numbers.
Please note:Please continue your generous support. If you cannot make it to church please mail in your donation to: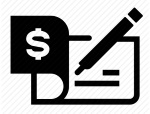 St. Peter Orthodox Church
24850 Old 41 Road Suite 6
Bonita Springs, FL 34135
You can also donate online (scroll to bottom of page):
Bishop NICHOLAS Offers a Weekly Live Stream
These are short thirty minute presentations where His Grace Bp. Nicholas speaks on one theme in Sunday readings for fifteen minutes followed by questions from the listeners. It's worth tuning in. Get instructions on the St. Peter website on how to use the Band App on your phone or computer to participate.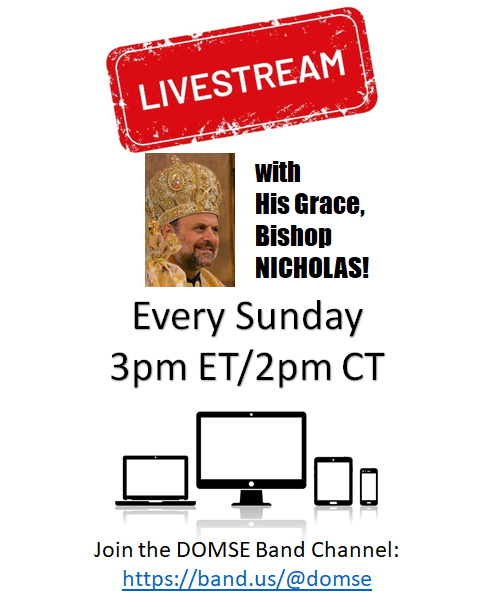 Calendar At A Glance
Calendar also available on the St. Peter website.
DECEMBER
Sun Dec 06 — Orthros 8:30am / Divine Liturgy 9:30am LIVE STREAM
Sun Dec 06 — Catechism Class following Social Hall
Tue Dec 09 — Byzantine Chant Workshop at St. Paul's 7:00pm
Wed Dec 09 — CONCEPTION OF ST. ANNA Divine Liturgy 9:30am LIVE STREAM
Sat Dec 12 — ST. SPYRIDON Divine Liturgy 9:30am LIVE STREAM
Sun Dec 13 — Orthros 8:30am / Divine Liturgy 9:30am LIVE STREAM
Sun Dec 13 — Catechism Class following Social Hall
Tue Dec 15 — PARAKLESIS TO THE THEOTOKOS 9:30am LIVE STREAM
Tue Dec 15 — Byzantine Chant Workshop at St. Paul's 7:00pm
Fri Dec 18 — PARAKLESIS TO THE THEOTOKOS 9:30am LIVE STREAM
Fri Dec 18 — Parish Council Meeting 3:30pm
Sun Dec 20 — Orthros 8:30am / Divine Liturgy 9:30am LIVE STREAM
Sun Dec 20 — Catechism Class following Social Hall
Tue Dec 22 — PARAKLESIS TO THE THEOTOKOS 9:30am LIVE STREAM
Tue Dec 22 — Byzantine Chant Workshop at St. Paul's 7:00pm
Thu Dec 24 — NATIVITY ROYAL HOURS 9:00am LIVE STREAM
Thu Dec 24 — NATIVITY ORTHROS 6:00PM LIVE STREAM
Thu Dec 24 — NATIVITY Divine Liturgy 7:00PM LIVE STREAM
Fri Dec 26 — SYNAXIS OF THE THEOROKOS Divine Liturgy 9:30am LIVE STREAM
DECEMBER / JANUARY
Sun Dec 27 — Orthros 8:30am / Divine Liturgy 9:30am LIVE STREAM
Sun Dec 27 — Catechism Class following Social Hall
Tue Dec 29 — THE HOLY INNOCENTS Divine Liturgy 9:30am LIVE STREAM
Fri Jan 01 — CIRCUMCISION OF CHRIST / ST. BASIL Divine Liturgy 9:30am LIVE STREAM
Wisdom From The Elders
The horror of man's predicament lies in the derangement that has afflicted his mind. It seems to him that he is doing everything himself, that he is acting completely independently, but in reality he is doing only the will of his lord, the devil. Archbishop Averky (Taushev)
A God who does not deify man; such a God can have no interest for us, whether He exists or not. I believe that this goes far to explain the wave of atheism in the West, as well as the building of science and philosophy on an atheistic foundation. Archimandrite George Capsanis
When you feel that the illness is ebbing, and you are beginning to get well, then pray to the Lord God that, after the return of your health, He will be pleased to keep you from every sin and will give you a firm memory of those sensations and thoughts that you had during your illness, for very many sick people after the return of their health forget the sensations that they had during their illness. Metropolitan Gregory (Postnikov) of St. Petersburg
To brood on evil makes the heart brazen; but to destroy evil through self-restraint and hope breaks the heart.
St Mark the Ascetic
Only one who is humble is capable of loving God in a wholly spiritual way. A proud person loves not God, but rather merely his own love for God, admiring it, delighting in his own emotional experiences and excited nerves, which are the natural result of this egotistical and sensual love. Archbishop Averky (Taushev)
Vainglory, like a moth, eats away all our good deeds, and therefore it is better to do all our good deeds in secret so that we do not lose the reward from our Father Who is in heaven. Archbishop Averky (Taushev)
Remember in Your Prayers
The Prayer List has been revamped. To bring order to the list we will do the following:
Names will remain on the list for two months.
If you would like to keep them on longer please mention it to Fr. Hans. We will keep the names on the list for as long as the person needs prayers.
Names will include the person who requested the prayers and the month the name will be removed.
The permanent list includes friends and members of St. Peter's and others including shut-ins.
Were names dropped that should have remained? Please mention it to Fr. Hans. He will add them back.
Current Prayer List (Updated November 12 / Resets December 1)
Sarah (Wolffe 2/21)
Pauline (Jacobse 2/21)
Benjamin (Jacobse 2/21)
Marcie (Breitenbach 2/21)
Jo Ann (Breitenbach 2/21)
Angela (Fred 12/21)
Despina (Diveris 2/21)
Ronald (Sovjani 2/21)
Katherine (Dusckas 2/21)
Stephen (Dusckas 2/21)
Mason (Dusckas 2/21)
Marlene (Tewis 2/21)
Gail (Jacobse 1/21)
Robert (Tewis 1/21)
Sergio (Mary Kazakos 1/21)
Rae (Semeretis 1/21)
Mary (Semeretis 1/21)
Heather (Waterman 1/21)
Zachary (Constantine 1/21)

Peter (Foltz 1/21)
Alexa (Buchanan 1/21)
Rebecca (Aguado 1/2021)
Jacob (Aguado 1/2021)
Lori (Dusckas 12/2020)
Baby Mackenzie (Zafiris 12/20
Weston (Teufel 12/20)
Nolan (Zafiris 12/20)
Christos (Eleni 11/20)
Lucy Marie (Eleni 11/20)
Pantelis (Tsikitas 11/20)
Patricia (Evanoff 11/20)
Barbara (Dusckas 11/20)
Brendan (Wolffe 11/20)
Permanent Prayer List
Fran (Hansen)
Nina (Krotov)
George (Chapekis)
Franklin (Pyrrson)
George (Chionis)
Stamatia (Jacobse)
Stamatia (Evelyn)
Demetrios (Kuchera)
Margaret (Palis)
Theodosios (Palis)
Theodora (Webb)
Helen (Rogers)
Robert (Smith)
Robert (Jarvis)
Presbytera Rosy (in Pakistan)
James (Hord)
Ann (Rellis)
Vassiliki (Kontinos)
Vassiliki (Morekeas)
Founders, Members, and Benefactors Departed this Life
John (Hansen)
Anatoly (Kurdsjuk)
Thareni (Brooks)
Milan Evanoff
Jean (Sam)
Eleni (Pearson)
Richard (Pearson)
Fr. Stephanos (Shagoury)
Panagiota (Bea Chionis)
Anthony (Mourgis)
Anthony (Mankus)
Constantine (Houpis)
Constantine (Joseph)
Mary (Jarvis)
How should we pray for the sick? Remember them daily. Say their names (first names are sufficient) and ask God to bestow mercy and grace on them.
Add or remove names and print this list for easy reference during your prayer time on the St. Peter website.
Sunday Readings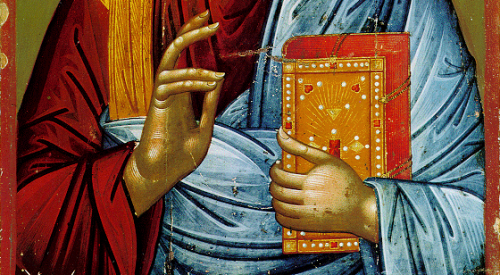 EPISTLE
For the Holy Forefathers
Blessed art Thou, O Lord, the God of our Fathers.
For Thou art just in all that Thou hast done for us.
The Reading from the Epistle of St. Paul to the Colossians. (3:4-11)
Brethren, when Christ, Who is our life, appears, then you also will appear with him in glory. Put to death therefore what is earthly in you: fornication, impurity, passion, evil desire, and covetousness, which is idolatry. On account of these, the wrath of God is coming upon the sons of disobedience. In these you once walked, when you lived in them. But now put them all away: anger, wrath, malice, slander, and foul talk from your mouth. Do not lie to one another, seeing that you have put off the old nature with its practices and have put on the new nature, which is being renewed in knowledge after the image of its Creator. Here there cannot be Greek and Jew, circumcised and uncircumcised, barbarian, Scythian, slave, free man, but Christ is all, and in all.
GOSPEL
For the Holy Forefathers
The Reading from the Holy Gospel according to St. Luke. (14:16-24)
The Lord spoke this parable: "A man once gave a great banquet, and invited many; and at the time for the banquet he sent his servant to say to those who had been invited, 'Come; for all is now ready.' But, one by one, they all began to make excuses. The first said to him, 'I have bought a field, and I must go out and see it; I pray you, have me excused.' And another said, 'I have bought five yoke of oxen, and I go to examine them; I pray you, have me excused.' And another said, 'I have married a wife, and therefore I cannot come.' So the servant came and reported this to his master. Then the householder in anger said to his servant, 'Go out quickly to the streets and lanes of the city, and bring in the poor and maimed and blind and lame.' And the servant said, 'Sir, what you commanded has been done, and still there is room.' And the master said to the servant, 'Go out to the highways and hedges, and compel people to come in, that my house may be filled. For I tell you, none of those men who were invited shall taste my banquet.' For many are called, but few are chosen."