Forefeast of the Nativity
Sunday before the Nativity of Christ (The Genealogy)
New-martyr John the tailor of Thasos; Daniel II, Archbishop of Serbia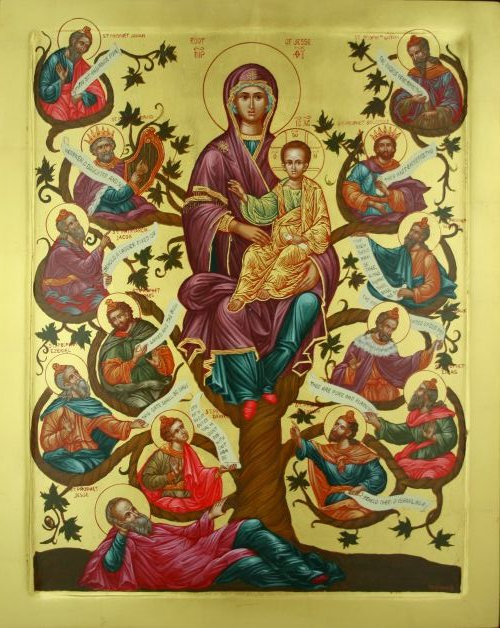 The Geneology of Christ according to St. Luke
The Geneology of Christ
The genealogies in the gospels of Saints Matthew and Luke are made to and from Joseph. This is not to give the impression that Jesus came from Joseph's seed. Both gospels are absolutely clear on this point. Jesus is born from the Virgin Mary by the power of the Holy Spirit. The point is rather that Joseph is Jesus' father according to the law, and it is from the father that one's lawful descent is to be traced. Jesus' legal father is "Joseph, son of David," the legal husband of Mary (Mt 1:20).
One other important point is made in listing the human generations which led to the birth of Jesus. This is the fact that God is faithful to His promises even though His chosen people are often not faithful. Among the people from whom Jesus came are both sinners and heathens. In a word, Jesus comes not only from the righteous and holy, but from the wicked and sinful. And He comes not only from Jews, but from Gentiles. The names of the four women specifically mentioned in St. Matthew's list— Tamar, Rahab, Ruth, and the wife of Uriah (Bathsheba)— were noted, not to say notorious, Gentiles, including one of David's own wives, the mother of Solomon. The point to be seen here is one beautifully made in an early Christian hymn quoted in the Bible in the second letter to Timothy:
If we have died with Him, we shall also live with Him;
If we endure, we shall also reign with Him;
If we deny Him, He also will deny us;
If we are faithless, He remains faithful for He cannot deny Himself. (2 Tim 2:11-13)
This is the wonderful witness of the genealogies of Jesus: If we are faithless, the Lord God remains faithful— for he cannot deny Himself!
Source: Antiochian Archdiocese Website.
Liturgies and Services This Week
No Liturgies this week.
Instead we will do a Paraklesis to the Theotokos on Tuesday December 15 and Friday December 18, 2020 at 9:30am.
Nativity Worship Schedule
Thu Dec 24 — NATIVITY ROYAL HOURS 9:00am LIVE STREAM
Thu Dec 24 — NATIVITY ORTHROS 6:00PM LIVE STREAM
Thu Dec 24 — NATIVITY Divine Liturgy 7:00PM LIVE STREAM
Sat Dec 26 — SYNAXIS OF THE THEOROKOS Divine Liturgy 9:30am LIVE STREAM
Helping NAMI
St. Peter's supports NAMI with a drive for toiletries and other items to help them stock their drop-in centers. You can support NAMI by bringing to church:
Toothbrush
Toothpaste
White socks (women and men)
Travel size shaving cream
Disposable razors (women and men)
Soap
Chapstick
Thank you to Mary Copeland who handles this project every year.
Stewardship 2021
Two things determined our flourishing in the past year: God's benevolence towards us and your faithfulness. Your support of St. Peter's enables us to experience God's benevolence.
People who follow Christ need to come together. Our parish offers that. Without a place to meet, there would be no Divine Liturgy, no Eucharist, no place for anointing when we are sick, no place where those who are seeking Christ can call home, no place to meet dear friends every week, no place for baptisms and weddings, no place where the children can grow up with their Church friends, and much more.
We are again in the season where we have to consider our financial commitment to St. Peter's. Our budget is growing because the parish is growing. We estimate is that our budget will increase 19% in 2021.
Please click the image to read the full message and prayerfully consider your support of St. Peter's for 2021.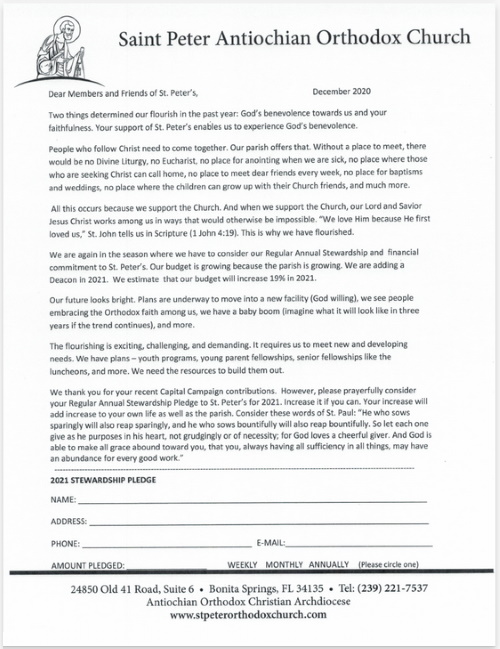 Nativity Fast Continues
November 15 is the beginning of the Nativity Fast, one of the four Canonical Fasting Seasons in the Church year. This is a joyous fast in anticipation of the Nativity of Christ.
In the weeks between now and December 25, Orthodox Christians prepare themselves to celebrate the birth in the flesh of our Lord Jesus Christ. As we begin the fast, we encourage both believing Orthodox and inquirers to review the reflections and resources in the special Nativity section on the Antiochian Archdiocese website.
For additional general resources on the Orthodox Christian tradition of feasting and fasting, visit the Feasts and Fasts section of Discover Orthodox Christianity.
Only Two Sundays Left in December – Please Complete Your Stewardship
We only have 2 more Sundays in 2020. If you have not fulfilled your 2020 Regular Stewardship Pledge, please do so before the end of the year so that we may continue to meet our year-end obligations.
Thank you for your generosity throughout the year.
Also, you should have received by mail your 2021 Stewardship Pledge letter and form. Don't forget to fill it out and return it to the church. If you did not receive one, additional copies are available in the Narthex.
Capital Campaign Update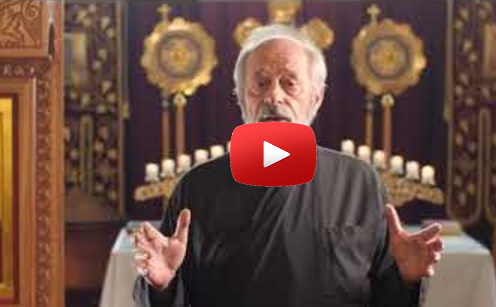 UPDATE: We are still accepting Capital Campaign Donations as we have not yet made our goal. Our goal is $750K and we now have $427K. Thank you for your generous contributions to date.
The Church now has set up a Brokerage account so if anyone wishes to donate stocks or bonds, the Church can accept them.
Our Capital Campaign is going well. So far $427,000 of the $750,000 we need to secure a mortgage to make a bid on the new Church property has been received. That's over half of our goal!
Some parishioners may be under the impression that November 1 was a cut off date. It wasn't. It was the date we hoped to receive all pledges. If you have still not pledged, you can still do so.
Download a pledge form on the St. Peter website.
Please remember, churches are hard to come by in Southwest Florida. This property meets our needs because:
We can afford it (the mortgage will cost no more than what we currently pay in rent; it may even be a little less),
It has buildings on site that are move-in ready,
It can accommodate the growth we are experiencing and that will continue.

Many of you have seen our Capital Campaign video. Take a look at it again. It lays out our vision that has guided us to where we are and explains why a move is necessary now.
We are grateful to everyone who has supported our Capital Campaign. Thank you very much for your confidence and trust, and the hope you have in the flourishing of St. Peter's parish.
Introduction to Orthodoxy Classes Continue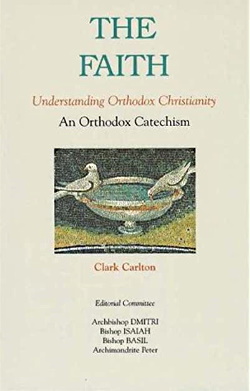 Next class Sunday, December 20, 2020. Assignment: Chapters 13 and 14.
The class is required for seekers and catechumens and also open to any parishioner who would like to attend. The syllabus will be posted on the website at soon as it is completed and handed out the first day of class.
We will meet after social hall. Get some coffee, have some food and fellowship, and then we break for class.
St. Peter's is Going Camping!
Get more information on the St. Peter website!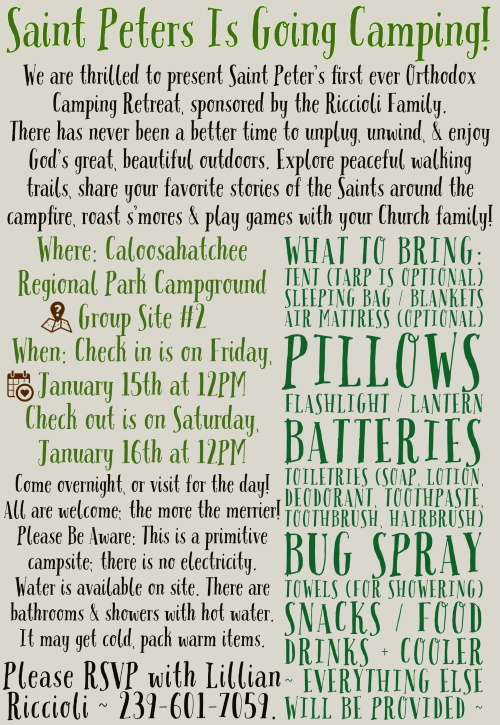 2021 DOMSE Virtual Winter Retreat — Save the Date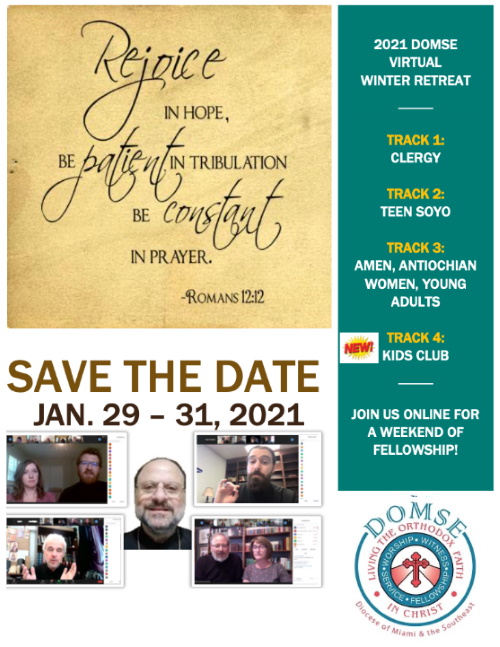 Byzantine Chant Workshop – Weekly on Tuesday at 7:00pm at St. Paul's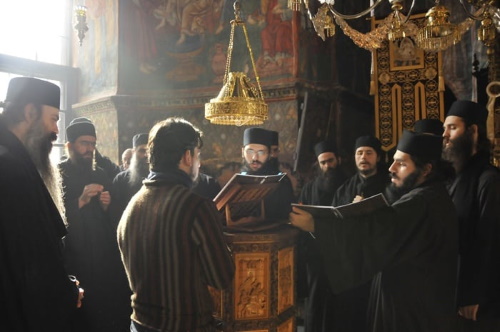 Led by Dn. Nicholas Reid, participants will learn the basics of the tone of the week — its characteristics, scale, and various forms — and will get a chance to participate in group practice.
No prior chanting experience is required.
This will also be an opportunity to deepen our Orthodox faith by better understanding the role each tone plays in liturgical worship so that we can apply them more fruitfully in our parish life as well as in the worship of the "little church" – our own homes.
Questions? Contact Dn. Nick (nick.reid.11@gmail.com)
Pledge & Income Report – November 2020
Donations received in November $17,553.00
Amount of money needed to cover expenses: $18,167.00
We are behind by $614.00
Over the last 2 months, our donations have not met expenses. Please give generously in December so that we can make our year-end budget numbers.
Please note:Please continue your generous support. If you cannot make it to church please mail in your donation to: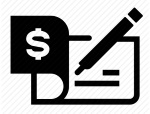 St. Peter Orthodox Church
24850 Old 41 Road Suite 6
Bonita Springs, FL 34135
You can also donate online (scroll to bottom of page):
Bishop NICHOLAS Offers a Weekly Live Stream
These are short thirty minute presentations where His Grace Bp. Nicholas speaks on one theme in Sunday readings for fifteen minutes followed by questions from the listeners. It's worth tuning in. Get instructions on the St. Peter website on how to use the Band App on your phone or computer to participate.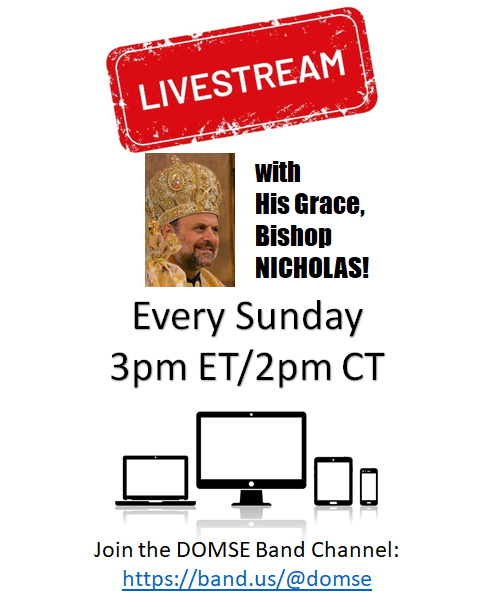 Calendar At A Glance
Calendar also available on the St. Peter website.
DECEMBER
Sun Dec 13 — Orthros 8:30am / Divine Liturgy 9:30am LIVE STREAM
Sun Dec 13 — Catechism Class following Social Hall
Tue Dec 15 — PARAKLESIS TO THE THEOTOKOS 9:30am LIVE STREAM
Tue Dec 15 — Byzantine Chant Workshop at St. Paul's 7:00pm
Fri Dec 18 — PARAKLESIS TO THE THEOTOKOS 9:30am LIVE STREAM
Fri Dec 18 — Parish Council Meeting 3:30pm
Sun Dec 20 — Orthros 8:30am / Divine Liturgy 9:30am LIVE STREAM
Sun Dec 20 — Catechism Class following Social Hall
Tue Dec 22 — PARAKLESIS TO THE THEOTOKOS 9:30am LIVE STREAM
Tue Dec 22 — Byzantine Chant Workshop at St. Paul's 7:00pm
Thu Dec 24 — NATIVITY ROYAL HOURS 9:00am LIVE STREAM
Thu Dec 24 — NATIVITY ORTHROS 6:00PM LIVE STREAM
Thu Dec 24 — NATIVITY Divine Liturgy 7:00PM LIVE STREAM
Sat Dec 26 — SYNAXIS OF THE THEOTOKOS Divine Liturgy 9:30am LIVE STREAM
DECEMBER / JANUARY
Sun Dec 27 — Orthros 8:30am / Divine Liturgy 9:30am LIVE STREAM
Sun Dec 27 — Catechism Class following Social Hall
Tue Dec 29 — THE HOLY INNOCENTS Divine Liturgy 9:30am LIVE STREAM
Fri Jan 01 — CIRCUMCISION OF CHRIST / ST. BASIL Divine Liturgy 9:30am LIVE STREAM
Wisdom From The Elders
As a man whose head is under water cannot inhale pure air, so a man whose thoughts are plunged into the cares of this world cannot absorb the sensations of that new world. Venerable Isaac the Syrian, Bishop of Nineveh
It would be a good thing had we no need of the written Scriptures but instead had the Holy Spirit living and active in our hearts. But because we lost the grace of the Holy Spirit, God, in his love and mercy gave us the Holy Scriptures. And how bad are you if having lost the Holy Spirit and received the Holy Scriptures you dont even read the Holy Scriptures. St. John Chrysostom, archbishop of Constantinople
Fear malice as you fear the fire; do not admit it into your heart, even upon any plausible pretence, and still less by reason of anything disagreeable to you; malice is always an evil, a child of hell. Righteous John, Wonderworker of Kronstadt
Is it not the same with man? When he lives in full liberty, in abundance and prosperity, then he grows in body and does not grow in spirit, does not bring forth fruits— good works; whilst when he lives in straitness, in poverty, sickness, misfortune, and afflictions, in a word, when his animal nature is crushed, then he grows spiritually, bears flowers of virtue, ripens and brings forth rich fruits. This is why the path of those who love God is a narrow one.
Righteous John, Wonderworker of Kronstadt
In your position, as a novice in spiritual life, there exist two states: 1) Some feel as though they are in paradise …then grow cold, weary, sorrowful, do not listen to advice, stop obeying authority, live through that which you are now experiencing, and either leave, or endure, humble themselves, and through discovering themselves acquire repen­tance, humility, the lost Paradise, and then begin to thank God and everyone who helped them to thus order their lives. 2) Others begin like you: sorrow, despondency, faintheart­ edness, insolence, the readiness to go away somewhere, any­ where, a distaste for everything spiritual, harshness toward those around them, dreams and thoughts of leaving, etc. This is the enemy of our salvation attacking a novice with a whole army… Abbot Nikon Vorobiev
One type of watchfulness consists in closely scrutinizing every mental image or provocation; for only by means of a mental image can satan fabricate an evil thought and insinuate this into the intellect in order to lead it astray.
St. Hesychios the Priest
Remember in Your Prayers
The Prayer List has been revamped. To bring order to the list we will do the following:
Names will remain on the list for two months.
If you would like to keep them on longer please mention it to Fr. Hans. We will keep the names on the list for as long as the person needs prayers.
Names will include the person who requested the prayers and the month the name will be removed.
The permanent list includes friends and members of St. Peter's and others including shut-ins.
Were names dropped that should have remained? Please mention it to Fr. Hans. He will add them back.
Current Prayer List (Updated November 12 / Resets December 1)
Debbie (Breitenbach 2/21)
Barbara (Dusckas 2/21)
Mary (Marianthi 2/21)
Sarah (Wolffe 2/21)
Pauline (Jacobse 2/21)
Benjamin (Jacobse 2/21)
Marcie (Breitenbach 2/21)
Jo Ann (Breitenbach 2/21)
Angela (Fred 12/21)
Despina (Diveris 2/21)
Ronald (Sovjani 2/21)
Katherine (Dusckas 2/21)
Stephen (Dusckas 2/21)
Marlene (Tewis 2/21)
Gail (Jacobse 1/21)
Robert (Tewis 1/21)
Sergio (Mary Kazakos 1/21)
Rae (Semeretis 1/21)
Mary (Semeretis 1/21)
Heather (Waterman 1/21)
Zachary (Constantine 1/21)

Peter (Foltz 1/21)
Alexa (Buchanan 1/21)
Rebecca (Aguado 1/2021)
Jacob (Aguado 1/2021)
Baby Mackenzie (Zafiris 12/20
Weston (Teufel 12/20)
Nolan (Zafiris 12/20)
Permanent Prayer List
Fran (Hansen)
Nina (Krotov)
George (Chapekis)
Franklin (Pyrrson)
George (Chionis)
Stamatia (Jacobse)
Stamatia (Evelyn)
Demetrios (Kuchera)
Theodosios (Palis)
Theodora (Webb)
Helen (Rogers)
Robert (Smith)
Robert (Jarvis)
Presbytera Rosy (in Pakistan)
James (Hord)
Ann (Rellis)
Vassiliki (Kontinos)
Vassiliki (Morekeas)
Founders, Members, and Benefactors Departed this Life
John (Hansen)
Anatoly (Kurdsjuk)
Thareni (Brooks)
Milan Evanoff
Jean (Sam)
Eleni (Pearson)
Richard (Pearson)
Fr. Stephanos (Shagoury)
Panagiota (Bea Chionis)
Anthony (Mourgis)
Anthony (Mankus)
Constantine (Houpis)
Constantine (Joseph)
Mary (Jarvis)
Panagiota (Palis)
How should we pray for the sick? Remember them daily. Say their names (first names are sufficient) and ask God to bestow mercy and grace on them.
Add or remove names and print this list for easy reference during your prayer time on the St. Peter website.
Sunday Readings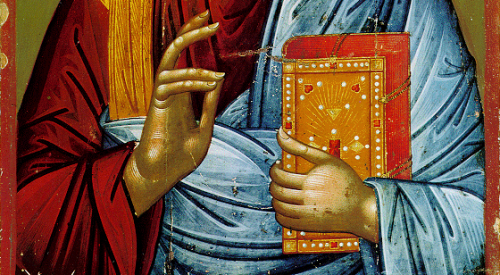 EPISTLE
For the Sunday before the Nativity
Blessed are Thou, O Lord, the God of our fathers.
For Thou art justified in all that Thou hast done for us.
The Reading from the Epistle of St. Paul to the Hebrews. (11:9-10, 32-40)
Brethren, by faith Abraham sojourned in the land of promise, as in a foreign land, living in tents with Isaac and Jacob, heirs with him of the same promise. For he looked forward to the city which has foundations, whose builder and maker is God. And what more shall I say? For time would fail me to tell of Gideon, Barak, Samson, Jephthah, of David and Samuel and the prophets who through faith conquered kingdoms, enforced justice, received promises, stopped the mouths of lions, quenched raging fire, escaped the edge of the sword, won strength out of weakness, became mighty in war, and put foreign armies to flight. Women received their dead by resurrection. Some were tortured, refusing to accept release, so that they might rise again to a better life. Others suffered mocking and scourging, and even chains and imprisonment. They were stoned, they were sawn in two, they were killed with the sword; they went about in skins of sheep and goats, destitute, afflicted, ill-treated—of whom the world was not worthy—wandering over deserts and mountains, and in dens and caves of the earth. And all these, though well attested by their faith, did not receive what was promised, since God had foreseen something better for us, that apart from us they should not be made perfect.
GOSPEL
For the Sunday before the Nativity: "The Genealogy"
The Reading from the Holy Gospel according to St. Matthew. (1:1-25)
The book of the genealogy of Jesus Christ, the son of David, the son of Abraham. Abraham was the father of Isaac, and Isaac the father of Jacob, and Jacob the father of Judah and his brothers, and Judah the father of Perez and Zerah by Tamar, and Perez the father of Hezron, and Hezron the father of Aram, and Aram the father of Amminadab, and Amminadab the father of Nahshon, and Nahshon the father of Salmon, and Salmon the father of Boaz by Rahab, and Boaz the father of Obed by Ruth, and Obed the father of Jesse, and Jesse the father of David the king.

And David was the father of Solomon by the wife of Uriah, and Solomon the father of Rehoboam, and Rehoboam the father of Abijah, and Abijah the father of Asa, and Asa the father of Jehoshaphat, and Jehoshaphat the father of Joram, and Joram the father of Uzziah, and Uzziah the father of Jotham, and Jotham the father of Ahaz, and Ahaz the father of Hezekiah, and Hezekiah the father of Manasseh, and Manasseh the father of Amon, and Amon the father of Josiah, and Josiah the father of Jechoniah and his brothers, at the time of the deportation to Babylon.

And after the deportation to Babylon: Jechoniah was the father of Shealtiel, and Shealtiel the father of Zerubbabel, and Zerubbabel the father of Abiud, and Abiud the father of Eliakim, and Eliakim the father of Azor, and Azor the father of Zadok, and Zadok the father of Achim, and Achim the father of Eliud, and Eliud the father of Eleazar, and Eleazar the father of Matthan, and Matthan the father of Jacob, and Jacob the father of Joseph the husband of Mary, of whom Jesus was born, Who is called Christ.

So all the generations from Abraham to David were fourteen generations, and from David to the deportation to Babylon fourteen generations, and from the deportation to Babylon to the Christ were fourteen generations. Now the birth of Jesus Christ took place in this way. When His mother Mary had been betrothed to Joseph, before they came together she was found to be with child of the Holy Spirit; and her husband Joseph, being a just man and unwilling to put her to shame, resolved to divorce her quietly.

But as he considered this, behold, an angel of the Lord appeared to him in a dream, saying, "Joseph, son of David, do not fear to take Mary your wife, for that which is conceived in her is of the Holy Spirit; she will bear a son, and you shall call His Name Jesus, for He will save His people from their sins." All this took place to fulfill what the Lord had spoken by the prophet: "Behold, a virgin shall conceive and bear a son, and His Name shall be called Emmanuel" (which means, God with us). When Joseph woke from sleep, he did as the angel of the Lord had commanded him; he took his wife, but knew her not until she had borne a son; and he called His Name Jesus.