Palm Sunday
The Entrance of Our Lord Jesus Christ Into Jerusalem
At the outset of His public ministry Jesus proclaimed the kingdom of God and announced that the powers of the age to come were already active in the present age (Lk 7.18-22). His words and mighty works were performed "to produce repentance as the response to His call, a call to an inward change of mind and heart which would result in concrete changes in one's life, a call to follow Him and accept His messianic destiny.
The triumphant entry of Jesus into Jerusalem is a messianic event, through which His divine authority was declared.
Palm Sunday summons us to behold our king: the Word of God made flesh. We are called to behold Him not simply as the One who came to us once riding on a colt, but as the One who is always present in His Church, coming ceaselessly to us in power and glory at every Eucharist, in every prayer and sacrament, and in every act of love, kindness and mercy. He comes to free us from all our fears and insecurities, "to take solemn possession of our soul, and to be enthroned in our heart," as someone has said. He comes not only to deliver us from our deaths by His death and resurrection, but also to make us capable of attaining the most perfect fellowship or union with Him. He is the king, who liberates us from the darkness of sin and the bondage of death. Palm Sunday summons us to behold our king: the vanquisher of death and the giver of life.
Journey Through Holy Week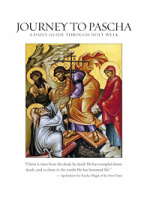 The Greek Orthodox Archdiocese has produced a beautiful 12-page booklet that explains the significance of each day of Holy Week.
This is a great primer to prepare yourself for this most important week of the year and teach yourself more about it.
Download and print "Journey to Pascha: A Daily Guide to Holy Week."
Holy Week Schedule
All services held at St. Paul's (get map) except Palm Sunday Liturgy on Sunday, April 13 and Agape Vespers on Sunday, April 20 at 10:00am.
Saturday, April 12
Lazarus Saturday – 9:30am
Sunday, April 13
Palm Sunday Liturgy – 9:30am (at St. Peter's)
Bridegroom Service – 6:30pm
Monday, April 14
Bridegroom Service – 6:30pm
Tuesday, April 15
Bridegroom Service – 6:30pm
Wednesday, April 16
Holy Unction Service – 6:30pm
Thursday, April 17
Liturgy commemorating the Last Supper – 9:30am
Twelve Passion Gospels – 6:30am
Friday, April 18
Removal of Christ from the Cross – 3pm
Service of Lamentations | Friday – 8pm
Saturday, April 19
Liturgy of Anticipation – 9:30am
Pascha Matins – 8pm
Great and Holy Pascha – 9:00pm
Sunday, April 20
Agape Service – 10am (at St. Peter's)
Community Easter Card Sign-up Ends this Sunday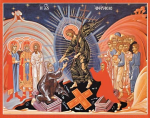 Once again you can help sponsor the St. Peter Community Easter card.
This is a great way to offer your best wishes to other members of our parish family and support your church at the same time.
You can sign up for the card on the website or following Divine Liturgies on Sunday.
Deadline to be included in the card is April 12, 2014.
Palm Sunday Brunch — Please Note the New Location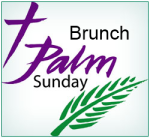 Reserve Palm Sunday (April 13, 2014) for the annual St. Peter Palm Sunday Brunch to be held at the community center of Island Walk on Vanderbilt Beach Road east of I-75 (get map). We start following Liturgy at 12:30.
Our brunches and pot-lucks are good — low key with plenty of rich conversation and fellowship. Also, the food is always exceptional.
Please sign-up on Sunday after Liturgy or use the sign-up form on the website.
Island Walk requires a full guest list and we need to know how many people to prepare for so please sign up ASAP.
Also, the Town Center at Island Walk is completely smoke free (enforced) and parking is allowed only in the parking lot and on the street (also enforced).
We Need a Secretary/Administrator!
St. Peter's needs your help!
There is some administrative/secretarial work to do to keep St. Peter's running smoothly. We need someone to help us for the next year.
Basically it involves such things as keeping track of who does the Sunday Fellowship hour, sending out thank you notes, notifying members of board meetings, keep track of necessary announcements, that sort of thing. (Think of what Mary Copeland has been doing.)
Most of this can be done at home through email.
If you can volunteer, please speak to either Jack Long, John Hansen, or Fr. Hans.
A special thank you to Mary Copeland who has handled so much of this over the past few years.
Sunday Scripture Readings
Epistle
(For Palm Sunday)
Blessed is He Who cometh in the Name of the Lord.
O give thanks unto the Lord, for He is good; for His mercy endures forever.
The Reading from the Epistle of St. Paul to the Philippians. (4:4-9)
Brethren, rejoice in the Lord always; again I will say, Rejoice. Let all men know your forbearance. The Lord is at hand. Have no anxiety about anything, but in everything by prayer and supplication with thanksgiving let your requests be made known to God. And the peace of God, which passes all understanding, will keep your hearts and your minds in Christ Jesus.

Finally, brethren, whatever is true, whatever is honorable, whatever is just, whatever is pure, whatever is lovely, whatever is gracious, if there is any excellence, if there is anything worthy of praise, think about these things. What you have learned and received and heard and seen in me, these do; and the God of peace will be with you.
Gospel
The Reading from the Holy Gospel according to St. John. (12:1-18)
Six days before the Passover, Jesus came to Bethany, where Lazarus who had died was, whom Jesus had raised from the dead. There they made Him a supper; Martha served, and Lazarus was one of those at table with Him. Mary took a pound of costly ointment of pure nard and anointed the feet of Jesus and wiped His feet with her hair; and the house was filled with the fragrance of the ointment.

But Judas Iscariot, Simon's son, one of His Disciples (he who was to betray Jesus), said, "Why was this ointment not sold for three hundred denarii and given to the poor?" This he said, not because he cared for the poor but because he was a thief, and as he had the moneybox he used to take what was put into it. Jesus said, "Let her alone, let her keep it for the day of My burial. The poor you always have with you, but you do not always have Me."

When the great crowd of the Jews learned that He was there, they came, not only on account of Jesus but also to see Lazarus, whom Jesus had raised from the dead. So the chief priests planned to put Lazarus also to death, because on account ofhim many of the Jews were going away and believing in Jesus. The next day a great crowd who had come to the feast heard that Jesus was coming to Jerusalem.

So they took branches of palm trees and went out to meet him, crying, "Hosanna! Blessed is He Who cometh in the Name of the Lord, the King of Israel!" And Jesus found a young donkey and sat upon it; as it is written, "Fear not, daughter of Zion; behold, your king is coming, sitting on a donkey's colt!"

His Disciples did not understand this at first; but when Jesus was glorified, then they remembered that this had been written of Him and had been done to Him. The crowd that had been with Jesus when He called Lazarus out of the tomb and raised him from the dead bore witness. The reason why the crowd went to meet Jesus was that they heard He had done this sign.