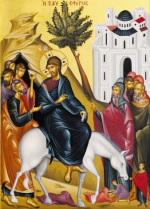 Reserve Palm Sunday (April 13, 2014) for the annual St. Peter Palm Sunday Brunch to be held at the community center of Island Walk on Vanderbilt Beach Road east of I-75 (get map). Festivities begin at 12:30pm.
Our brunches and pot-lucks are good — low key with plenty of rich conversation and fellowship. Also, the food is always exceptional.
Please sign below if you plan to attend.
[contact-form-7 id="2384″ title="Palm Sunday Brunch April 2014″]