Pascha – The Resurrection of Our Lord and Savior Jesus Christ
On Death and Resurrection in Christ
— St. Gregory the Theologian, Easter Orations
Yesterday I was crucified with Him; today I am glorified with
Him.
Yesterday I died with Him; today I am made alive with Him.
Yesterday I was buried with Him; today I am raised up with Him.
Let us offer to Him Who suffered and rose again for us … ourselves, the possession most precious to God and most proper.
Let us become like Christ, since Christ became like us.
Let us become Divine for His sake, since for us He became Man.
He assumed the worse that He might give us the better. He became poor that by His poverty we might become rich. He accepted the form of a servant that we might win back our freedom.
He came down that we might be lifted up. He was tempted that through Him we might conquer. He was dishonored that He might glorify us. He died that He might save us. He ascended that He might draw to Himself us, who were thrown down through the fall of sin.
Let us give all, offer all, to Him who gave Himself a Ransom and Reconciliation for us.
We needed an incarnate God, a God put to death, that we might live. We were put to death together with Him that we might be cleansed. We rose again with Him because we were put to death with Him. We were glorified with Him because we rose again with Him.
A few drops of Blood recreate the whole of creation!
Read more articles about Pascha here…
Journey Through Holy Week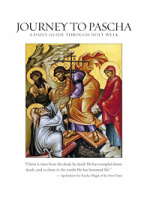 The Greek Orthodox Archdiocese has produced a beautiful 12-page booklet that explains the significance of each day of Holy Week.
This is a great primer to prepare yourself for this most important week of the year and teach yourself more about it.
Download and print "Journey to Pascha: A Daily Guide to Holy Week."
Holy Week Schedule
All services held at St. Paul's (get map) except Palm Sunday Liturgy on Sunday, April 13 and Agape Vespers on Sunday, April 20 at 10:00am.
Saturday, April 12
Lazarus Saturday – 9:30am
Sunday, April 13
Palm Sunday Liturgy – 9:30am (at St. Peter's)
Bridegroom Service – 6:30pm
Monday, April 14
Bridegroom Service – 6:30pm
Tuesday, April 15
Bridegroom Service – 6:30pm
Wednesday, April 16
Holy Unction Service – 6:30pm
Thursday, April 17
Liturgy commemorating the Last Supper – 9:30am
Twelve Passion Gospels – 6:30am
Friday, April 18
Removal of Christ from the Cross – 3pm
Service of Lamentations | Friday – 8pm
Saturday, April 19
Liturgy of Anticipation – 9:30am
Pascha Matins – 8pm
Great and Holy Pascha – 9:00pm
Sunday, April 20
Agape Service – 10am (at St. Peter's)
Readers Needed for Agape Service at St. Peter's
The Agape Service will be held at St. Peter's at 10am on Sunday, April 20.
This is the Sunday when the Gospel is read in foreign languages to indicate that the Gospel of Jesus Christ is spread throughout the entire world.
Fr. Hans will do Greek and Dutch. If you know a foreign language please consider reading the Gospel in the language you know.
The reading for that Sunday is: John 20:19-25.
If you can read please send Fr. Hans a text or email through the website (contact Fr. Hans).
Thank you to Katina and Her Crew…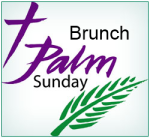 . . .for a beautiful Palm Sunday Brunch!
It was a good time of fellowship for everyone.
I told everyone the food was going to be good and it sure was.
We Need a Secretary/Administrator!
St. Peter's needs your help!
There is some administrative/secretarial work to do to keep St. Peter's running smoothly. We need someone to help us for the next year.
Basically it involves such things as keeping track of who does the Sunday Fellowship hour, sending out thank you notes, notifying members of board meetings, keep track of necessary announcements, that sort of thing. (Think of what Mary Copeland has been doing.)
Most of this can be done at home through email.
If you can volunteer, please speak to either Jack Long, John Hansen, or Fr. Hans.
A special thank you to Mary Copeland who has handled so much of this over the past few years.
Sunday Scripture Readings
Gospel
The Reading from the Holy Gospel according to St. John. (20:19-25)
The Apostles Commissioned
Then, the same day at evening, being the first day of the week, when the doors were shut where the disciples were assembled, for fear of the Jews, Jesus came and stood in the midst, and said to them, "Peace be with you." When He had said this, He showed them His hands and His side. Then the disciples were glad when they saw the Lord.

So Jesus said to them again, "Peace to you! As the Father has sent Me, I also send you." And when He had said this, He breathed on them, and said to them, "Receive the Holy Spirit. If you forgive the sins of any, they are forgiven them; if you retain the sins of any, they are retained."

Now Thomas, called the Twin, one of the twelve, was not with them when Jesus came. The other disciples therefore said to him, "We have seen the Lord."

So he said to them, "Unless I see in His hands the print of the nails, and put my finger into the print of the nails, and put my hand into His side, I will not believe."