Second Sunday of Great Lent
St. Gregory Palamas
Venerable Hilarion the New; Apostle Herodion of the Seventy; Venerable Stephen of Triglia
St. Gregory Palamas
From "A Man Fully Alive" by Fr. Andrew Stephen Damick.
On the Second Sunday of Great Lent we celebrate St. Gregory Palamas, the archbishop of Thessalonica in Greece for a number of years in the 14th century, right around the same time that Geoffrey Chaucer was born, the man who wrote The Canterbury Tales.
But before he became an archbishop, Gregory was a monk on the holy mountain of Athos. During his time there and also when he later became an archbishop, Gregory was involved in a controversy that cut straight to the heart of this longing for life that all of us who are sons and daughters of Adam share.
At that time, there was a certain heretic named Barlaam, who was from the southern part of Italy, which was Greek-speaking at the time. Barlaam made the claim that the highest possible knowledge of God that anyone could have was through the mind, that the philosophers knew God better than the prophets and even the apostles.
Gregory answered that the human mind, while a great gift from God, was not actually capable of the kind of intimate knowledge and communion that Adam had received from God, that there was something much deeper, that the Christian could actually know God and see Him with the heart, as a light shining in. And indeed, sometimes this heart knowledge of God was so powerful and so pervasive that some people were actually seeing the light of God with their physical eyes.
Isn't that why we're here? Don't we want to see God? Aren't we here not just to learn about God with our minds, but truly to know Him with our hearts?
Read Fr. Damick's complete essay.
Read a brief history of St. Gregory Palamas.
Services this Week
Services this week cancelled at St. Peter's because of the move but not at our sister parish of St. Paul's in Naples. See the St. Paul schedule on the St. Paul website.
Sun Mar 21 — Sunday Of Orthodoxy LIVE STREAM
Sun Mar 21 — CANCELED Sunday Of Orthodoxy Vespers at St. Paul Naples 5:00pm
Please note: Beginning Monday services will held at St. Paul's because of the move.
Mon Mar 22 — CANCELED Great Compline 6:30pm LIVE STREAM
Wed Mar 24 — CANCELED Annunciation Vespers 6:30pm LIVE STREAM
Thu Mar 25 — CANCELED Annunciation Divine Liturgy 9:30am LIVE STREAM
Fri Mar 26 — CANCELED Second Stanza Salutations 6:30pm LIVE STREAM
Two Things to Remember at the New Church
The Presbyterian Church will be using the Social Hall for their worship until they find a place to relocate. Do not enter the Social Hall before 10am on Sundays.
US 41 is a busy highway and the intersection at Hickory Drive does not have a stop light. We recommend turning on Sanibel Boulevard and following Coconut Road instead.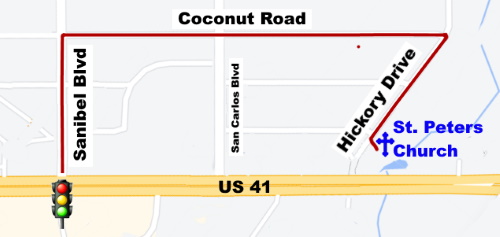 Schedule for the First Sunday (March 28, 2021 – This Sunday
As is our custom, Orthros begins at 8:30am and Divine Liturgy at 9:30am.
Following the Divine Liturgy we will do a blessing of the waters to bless the new sanctuary.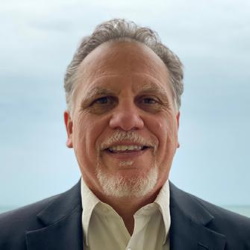 During Social Hall, will be offered a presentation by Dan Christopoulos of the Orthodox Christian Missions Center, the missionary arm of the Orthodox Churches in America. John Colis, who many of you know as a chanter in our parish (he chanted all of the first week of Holy Week including Sunday), is the president of OCMC. You can learn more on the OCMC website.
Coming Soon: Antiochian Men!
The new parish means new responsibilities and the men can step up. A lot of men already have with the move contributing hours of work and sweat to bring the building into shape. We could also do other things too, say breakfast one Saturday a month. It would be a great time for fellowship.
Stay tuned! The Church needs you men.
Cafe of Life Ministry
St. Peter's Church is moving this week but our commitment to the mission of feeding the poor and hungry continues. So please be especially generous during this Great Lent and send in or giv eyour donations to Fr. Hans and remember what the Holy Spcripture says:
You shall give to him freely, and your heart shall not be grudging when you give to him, because of this the Lord your God will bless you in all your woek and in all that you undertake (Deuteronomy 15:10).
Thank you Kali Sarakosti and IC XC NI KA
Women's Book Club
Due to the move this week and Lent starting, the next meeting for the Women's book club will be held on Wednesday May 5, 2021.
Construction, Moving In and Set Up Pictures
See more pictures on the St. Peter's website.
What's next? Tomorrow carpets and pews are cleaned. It takes two days to dry so no one can enter the sanctuary. We finish setting up the office, sacristy, altar, and small jobs here and there. Everything is on schedule! We should be ready to go on Sunday.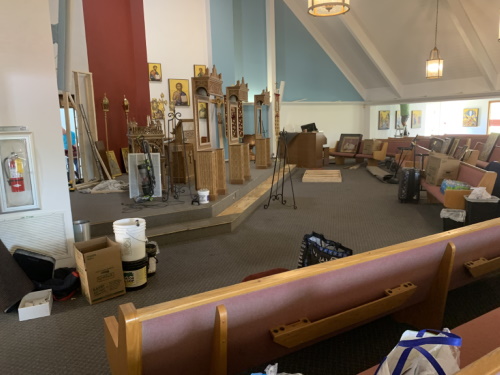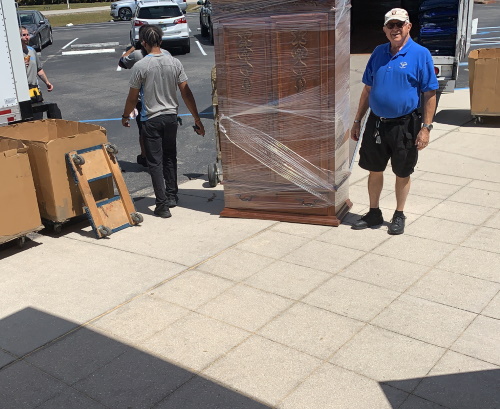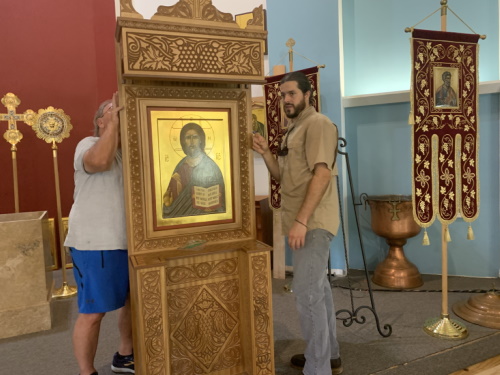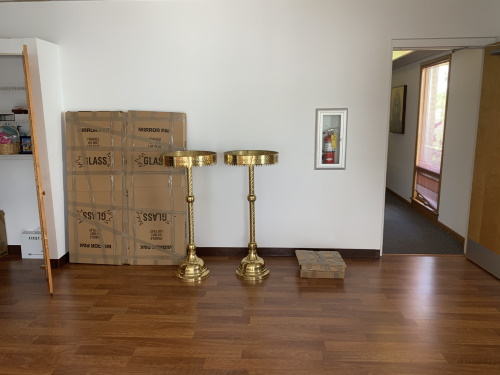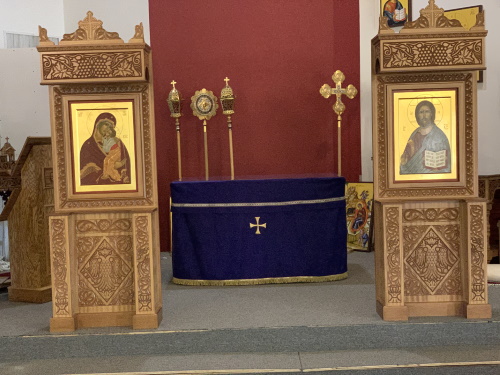 Capital Campaign Update — March 9, 2021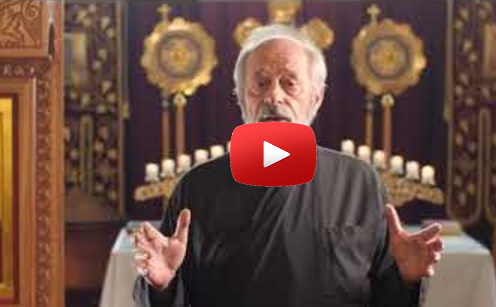 UPDATE: We are still accepting Capital Campaign Donations as we have not yet made our goal. Our goal is $750K and we now have $703,371. We have secured a mortgage and hope to close on March 15, 2021.
We are now only $47,000 short of our goal!
The Church has set up a Brokerage account so if anyone wishes to donate stocks or bonds, the Church can accept them.
Download a pledge form on the St. Peter website.
Many of you have seen our Capital Campaign video. Take a look at it again. It lays out our vision that has guided us to where we are and explains why a move is necessary now.
We are grateful to everyone who has supported our Capital Campaign. Thank you very much for your confidence and trust, and the hope you have in the flourishing of St. Peter's parish.
Pledge & Income Report – February 2021
Donations received in February 16,374.00
Amount of money needed to cover expenses: $19,732.00
We are behind by $2,812
None of the monthly expenses are spent on the new building. There are operating costs for the Bernwood property.
Please note:Please continue your generous support. If you cannot make it to church please mail in your donation to: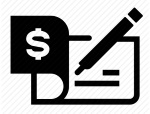 St. Peter Orthodox Church
24850 Old 41 Road Suite 6
Bonita Springs, FL 34135
You can also donate online (scroll to bottom of page):
Bishop NICHOLAS Offers a Weekly Live Stream
These are short thirty minute presentations where His Grace Bp. Nicholas speaks on one theme in Sunday readings for fifteen minutes followed by questions from the listeners. It's worth tuning in. Get instructions on the St. Peter website on how to use the Band App on your phone or computer to participate.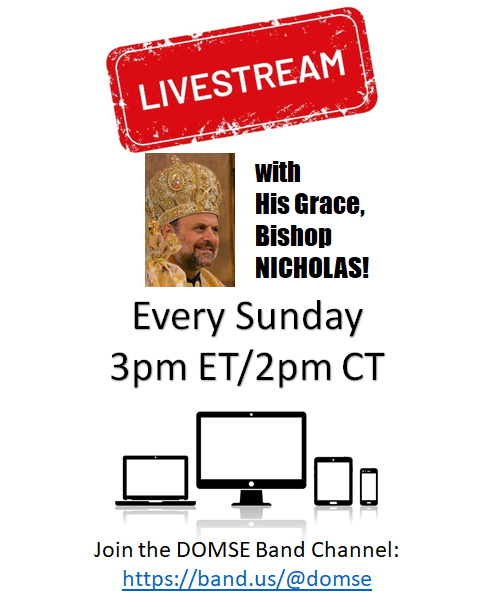 Calendar At A Glance
Calendar also available on the St. Peter website.
MARCH
Sun Mar 21 — Sunday Of Orthodoxy LIVE STREAM
Sun Mar 21 — Sunday Of Orthodoxy Vespers at St. Paul Naples 5:00pm
Please note: Beginning Monday services will held at St. Paul's because of the move.
Mon Mar 22 — CANCELED Great Compline 6:30pm LIVE STREAM
Wed Mar 24 — CANCELED Annunciation Vespers 6:30pm LIVE STREAM
Thu Mar 25 — CANCELED Annunciation Divine Liturgy 9:30am LIVE STREAM
Fri Mar 26 — CANCELED Second Stanza Salutations 6:30pm LIVE STREAM
Sun March 28 — Sunday Of St. Gregory Palamas
Please note: Sunday March 28 services begin at the new Church on Hickory Lane.
Mon Mar 29 — Great Compline 6:30pm
Wed Mar 31 — Presanctified Liturgy 6:30pm
Fri Apr 2 — Third Stanza Salutations 6:30pm
Wisdom From The Elders
A life lived in humility and with an irreproachable conscience brings peace, tranquility, and true happiness. But wealth, honor, glory and exalted position often serve as the cause of a multitude of sins, and such happiness is not one on which to rely. St. Makary of Optina
Cheerfulness is not a sin. It drives away weariness; and it is from weariness that despondency comes, and there is nothing worse than that. It brings with it everything negative. St. Seraphim of Sarov
The vices are linked one to another: hatred to anger, anger to pride, pride to self-esteem, self-esteem to unbelief, unbelief to hard heartedness, hardheartedness to negligence, negligence to sluggishness, sluggishness to apathy, apathy to listlessness, listlessness to lack of endurance, lack of endurance to self-indulgence, and so on with all the other vices. St. Makarios of Egypt
Love has perfect eyesight: it sees the truth in a person, and it distinguishes the sin from the sinner. Priest Daniel Sysoev
Very desireable is the prayer of the heart. Very desireable is the silence of the heart. St. Ignatius (Brianchaninov)
One must remember the words of the Lord Himself in the Gospel: I will have mercy and not sacrifice (Matt. 9:13), i.e., in order to please the Lord one must most of all take care not to condemn others, and in general have an indulgent disposition towards his neighbor. St. Ambrose of Optina
Remember in Your Prayers
The Prayer List has been revamped. To bring order to the list we will do the following:
Names will remain on the list for two months.
If you would like to keep them on longer please mention it to Fr. Hans. We will keep the names on the list for as long as the person needs prayers.
Names will include the person who requested the prayers and the month the name will be removed.
The permanent list includes friends and members of St. Peter's and others including shut-ins.
Were names dropped that should have remained? Please mention it to Fr. Hans. He will add them back.
Current Prayer List (Updated March 5 / Resets April 1)
Kyle (Dusckas 6/21)
Jean (Wolffe 6/21)
Robin (Wolffe 6/21)
Debbie (Breitenbach 6/21)
Michael (Jacobse 4/21)
Kathy (Jacobse 4/21)
Raphaela (4/21)
Michael (Wolffe 4/21)
Fredericos (Diveris 4/21)
Vasiliki (Diveris 4/21)
Panagiota (Jacobse 4/21)
Michelene (Repya 4/21)
Colleen ((Repya 4/21)
Fr. Demetrios (Copeland 4/21)
Kondylia (Chapekis 4/21)
Brian (Colis 3/21)
Maria(Colis 3/21)
John (Jacobse 3/21)
Mary (Jacobse 3/21)
Herman (Kerr 3/21)
Innocent (Kerr 3/21)
Nickolas (Kerr 3/21)
Kerr Family (Kerr 3/21)
Barbara (Dusckas 3/21)
Maryann (Breitenbach 3/21)
Irina (Jacobse 3/21)
Lee Joseph (Irina 3/21)
Paola (Jacobse 3/21>
Bryce (NA 3/21)
Permanent Prayer List
Heriklia (Chapekis)
Angela and Unborn Child (Chapekis)
Sergio (Kazakos)
Rae (Semeretis)
Fran (Hansen)
Nina (Krotov)
George the Priest (Chapekis)
Franklin (Pyrrson)
George (Chionis)
Stamatia (Jacobse)
Stamatia (Evelyn)
Demetrios (Kuchera)
Theodosios (Palis)
Theodora (Webb)
Helen (Rogers)
Robert (Smith)
Robert (Jarvis)
Presbytera Rosy (in Pakistan)
James (Hord)
Ann (Rellis)
Vassiliki (Kontinos)
Vassiliki (Morekeas)
Founders, Members, and Benefactors Departed this Life
John (Hansen)
Anatoly (Kurdsjuk)
Thareni (Brooks)
Milan Evanoff
Jean (Sam)
Eleni (Pearson)
Richard (Pearson)
Fr. Stephanos (Shagoury)
Panagiota (Bea Chionis)
Anthony (Mourgis)
Anthony (Mankus)
Constantine (Houpis)
Constantine (Joseph)
Mary (Jarvis)
Panagiota Margarita (Palis)
Maria (Ninos)
John (Katsigianopoulos)
Gregory (Pappas)
How should we pray for the sick? Remember them daily. Say their names (first names are sufficient) and ask God to bestow mercy and grace on them.
Add or remove names and print this list for easy reference during your prayer time on the St. Peter website.
Sunday Readings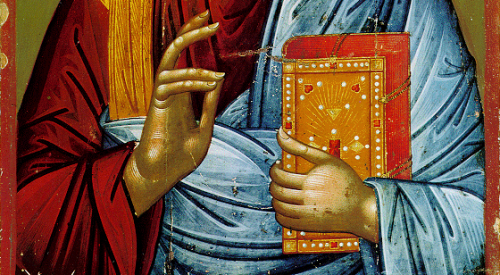 EPISTLE
O Lord, Thou wilt preserve us and keep us from this generation.
Save me, O Lord, for the godly man hath disappeared.
The Reading from the Epistle of St. Paul to the Hebrews. (1:10-2:3)
"In the beginning, Thou, O Lord, didst found the earth, and the heavens are the work of Thy hands; they will perish, but Thou remainest; they will all grow old like a garment, like a mantle Thou wilt roll them up, and they will be changed. But Thou art the same, and Thy years will never end." But to what angel has He ever said, "Sit at My right hand, until I make Thine enemies a stool for thy feet"? Are they not all ministering spirits sent forth to serve, for the sake of those who are to obtain salvation? Therefore, we must pay closer attention to what we have heard, lest we drift away from it. For if the message, declared by angels, was valid and every transgression or disobedience received a just retribution, how shall we escape if we neglect such a great salvation? It was declared at first by the Lord, and it was attested to us by those who heard Him.
GOSPEL
The Reading from the Holy Gospel according to St. Mark. (2:1-12)
At that time, when Jesus returned to Capernaum after some days, it was reported that Hewas at home. And many were gathered together, so that there was no longer room for them, not even about the door; and He was preaching the Word to them. And they came, bringing to Jesus a paralytic carried by four men. And when they could not get near Jesus because of the crowd,they removed the roof above Him; and when they had made an opening, they let down the pallet on which the paralytic lay. And when Jesus saw their faith, He said to the paralytic, "Son, your sins are forgiven." Now, some of the scribes were sitting there, reasoning in their hearts, "Why does this man speak thus? It is blasphemy! Who can forgive sins but God alone?"

And immediately Jesus, perceiving in His spirit that they thus reasoned within themselves, said to them,"Why do you reason thus in your hearts? Which is easier, to say to the paralytic, 'Your sins are forgiven,' or to say, 'Rise, take up your pallet and walk'? But that you may know that the Son of Man has authority on earth to forgive sins" – He said to the paralytic – "I say to you, rise, take up your pallet and go home." And he rose, and immediately took up the pallet and went out before them all. So that they were all amazed and glorified God, saying, "We never saw anything like this!"