Coming this Sunday: Dan Christopoulos, Development Director of Orthodox Christian Missions Center (OCMC)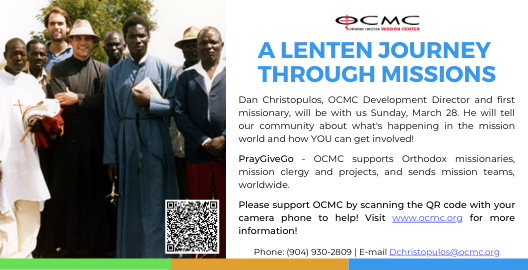 Following the first Divine Liturgy in our new Church and a Blessing of the Waters of the new Sanctuary, we will dismiss into our new social hall for fellowship and a presentation by Dan Christopoulos of the Orthodox Christian Missions Center.
Yes, Orthodox Christians in America have a vibrant missions program that includes medical teams, seminary training, establishing Orthodox Churches around the world, and more.
Dan Christopoulos, OCMC Development Director and first missionary, will be with us Sunday, March 28. He will tell our community about what's happening in the mission world and how we can get involved.
More Pictures of the New Church
We are very close to completion of the first phase of the rehab and outfitting of the new Church.