The Fourth Sunday of Lent / St. John Climacus
On March 30 and on the Fourth Sunday of Holy Lent the Orthodox Church commemorates our Righteous Father John Climacus. He is called Climacus due to his authorship of the great spiritual work The Ladder of Divine Ascent. His commemoration is designated by the Church on one of the Sundays of Lent as his life and writings affirm him as a supreme bearer and proponent of Christian asceticism. The ascetic example of this great Saint of the Church inspires us in our Lenten journey.
Saint John Climacus was probably born in the second half of the sixth century; but his country and origins are alike unknown because, from the beginning of his renunciation of the world, he took great care to live as a stranger upon earth. "Exile," he wrote, "is a separation from everything, in order that one may hold on totally to God."
Learn more here
March 25, 6pm – Liturgy of the Annunciation
The Feast of the Annunciation of Our Most Holy Lady, the Theotokos and Ever-Virgin Mary is celebrated on March 25 each year. The Feast commemorates the announcement by the Archangel Gabriel to the Virgin Mary that our Lord and Savior Jesus Christ, the Son of God, would become incarnate and enter into this world through her womb.
Learn more here.
Lenten Schedule This Week
Monday March 23
6:00pm Great Compline with the life of St. Mary of Egypt
Download and print the service.
Wednesday March 25
6:00pm — Vesperal Liturgy for the Annunciation
Download and print the service.
Friday March 27
Akathist Hymn
Learn More About Lent
St. Peter Community Easter Card
Once again you can help sponsor the St. Peter Community Easter card.
This is a great way to offer your best wishes to other members of our parish family and support your church at the same time.
Kindly print out the form and give it to Barbara Zeena or mail it to the address below.
St. Peter 2014 Easter Card
St. Peter Orthodox Mission
24850 Old 41 Road Suite #6
Bonita Springs, FL 34135
If you prefer, you can fill in the form and contribute online.
Deadline to be included in the card is Sunday March 29, 2014.
Remember in Your Prayers
Joe Repya went through his surgery very well. Please keep him in your prayers.
John Hansen is recovering from an infection.
John, the brother of Pauline Poulos who is suffering from cancer.
Pat and Milam Evanoff. Milam had a small bout with pneumonia but is feeling better.
Tom and Jean, parents of Patty and Jerry.
Greg and his wife Margaret. Greg is the founder of Project Mexico and has cancer.
How should we pray for the sick? Remember them daily. Say their names and ask God to bestow mercy and grace on them.
Wisdom from St. John Chrysostom about Lent
If you forgive few things, He forgives you few! If you forgive many things, He forgives you many!
Let us not procrastinate till tomorrow. For we know not what the next day may bring forth, nor let us say, we shall conquer this habit little by little, since this little and little will never come to an end.
To you He has given charge simply to pray for the one who has injured you; but how to deal with him, He has ordered you to leave for Himself.
If you pardon from the heart, and sincerely, God in like manner also pardons you.
For nothing so fills the mind with impurity, as anger remaining constantly within.
How can you ask your Lord to be mild and merciful to you, when you have been so hard and unforgiving to your fellow-man.
The Sunday Scripture Readings
The Gospel Reading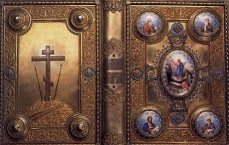 For the Fourth Sunday of Great Lent
The Reading from the Holy Gospel according to St. Mark. (9:16-30)
At that time, a man came to Jesus, kneeling down and saying unto him, "Teacher, I brought my son to you, for he has a dumb spirit. And wherever it seizes him, it dashes him down; and he foams and grinds his teeth and becomes rigid; and I asked Thy Disciples to cast it out, and they were not able."

And Jesus answered them, "O faithless generation, how long am I to be with you? How long am I to bear with you? Bring him to Me." And they brought the boy to Him; and when the spirit saw Jesus, immediately it convulsed the boy, and he fell on the ground and rolled about, foaming at the mouth.

And Jesus asked his father, "How long has he had this?" And he said, "From childhood. And it has often cast him into the fire and into the water, to destroy him; but if Thou canst do anything, have pity on us and help us." And Jesus said to him, "If you can believe, all things are possible to him who believes." Immediately the father of the child cried out and said with tears, "Lord, I believe; help my unbelief!"

And when Jesus saw that a crowd came running together, he rebuked the unclean spirit, saying to it, "You dumb and deaf spirit, I command you, come out of him, and never enter him again." And after crying out and convulsing him terribly, it came out, and the boy was like a corpse; so that most of them said, "He is dead." But Jesus took him by the hand and lifted him up, and he arose.

And when Jesus had entered the house, His Disciples asked Him privately, "Why could we not cast it out?" And Jesus said to them, "This kind cannot be driven out by anything but prayer and fasting."

They went on from there and passed through Galilee. And Jesus would not have anyone know it; for He was teaching His Disciples, saying to them, "The Son of man will be delivered into the hands of men, and they will kill Him; and after He is killed, He will rise on the third day."
The Epistle Reading
For the Fourth Sunday of Great Lent
The Lord will give strength to His people. The Lord will bless His people with peace.
The Reading from the Epistle of St. Paul to the Hebrews. (6:13-20)
Brethren, when God made a promise to Abraham, since He had no one greater by whom to swear, He swore by Himself, saying, "Surely I will bless you and multiply you." And thus Abraham, having patiently endured, obtained the promise. Men indeed swear by one greater than themselves, and in all their disputes an oath is final for confirmation.

So when God desired to show more convincingly to the heirs of the promise the unchangeable character of His purpose, He interposed with an oath. So that through two unchangeable things, in which it is impossible that God should prove false, we who have fled for refuge might have strong encouragement to seize the hope set before us.

We have this as a sure and steadfast anchor of the soul, a hope that enters into the inner shrine behind the curtain, where Jesus has gone as a forerunner on our behalf, having become a high priest forever after the order of Melchizedek.