The Third Sunday of Lent / Sunday of the Cross
On the Third Sunday of Great and Holy Lent, the Orthodox Church commemorates the Precious and Life-Giving Cross of our Lord and Savior Jesus Christ. Services include a special veneration of the Cross, which prepares the faithful for the commemoration of the Crucifixion during Holy Week.
Learn more here
Lenten Schedule This Week
Monday March 16
6:00pm Great Compline
Wednesday March 18
6:00pm — Presanctified Liturgy
Friday March 20
Akathist Hymn
Learn More About Lent
St. Peter Community Easter Card
Once again you can help sponsor the St. Peter Community Easter card.
This is a great way to offer your best wishes to other members of our parish family and support your church at the same time.
Kindly print out the form and give it to Barbara Zeena or mail it to the address below.
St. Peter 2014 Easter Card
St. Peter Orthodox Mission
24850 Old 41 Road Suite #6
Bonita Springs, FL 34135
If you prefer, you can fill in the form and contribute online.
Deadline to be included in the card is Sunday April 29, 2014.
Remember in Your Prayers
Joe Repya went through his surgery very well. Please keep him in your prayers.
John Hansen is recovering from an infection.
John, the brother of Pauline Poulos who is suffering from cancer.
Pat and Milam Evanoff. Milam is unable to make it to Church.
Tom and Jean, parents of Patty and Jerry.
Greg and his wife Margaret. Greg is the founder of Project Mexico and has cancer.
How should we pray for the sick? Remember them daily. Say their names and ask God to bestow mercy and grace on them.
Wisdom from Elder Paisios
Why does God give many ordeals to some people and not to others?
What does the Bible say? "For whom the Lord loves, he reproves". Let's say that a father has eight children. Five of them stay at home, near their father, and the other three go away and not even think about him.
If the ones that stay with him get into mischief, he slaps them slightly on the face or if they are good, he caresses them, he gives them a bar of chocolate. The ones that are far away experience neither the slap nor the chocolate. This is the way of God.
If the people that are near Him and the ones that have good intentions make a small mistake, He slaps them on the face slightly and this is their pay-off or if He slaps them more, they save for later. On the other hand, He gives years to the ones that are away from Him so that they can repent.
This is why we see secular people who, despite their serious sins, have plenty of material goods and live for many years without suffering any ordeal. This is done on God's sufferance so that they can repent. If they do not repent, they will be without a hearing in the other life.
The Sunday Scripture Readings
The Gospel Reading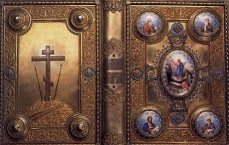 For the Third Sunday of Great Lent
The Reading from the Holy Gospel according to St. Mark. (8:34-9:1)
The Lord said, "If any man would come after Me, let him deny himself and take up his cross and follow Me. For whoever would save his life will lose it; and whoever loses his life for My sake and the Gospel's will save it.

For what does it profit a man, to gain the whole world and forfeit his soul? For what can a man give in return for his soul? For whoever is ashamed of Me and My words in this adulterous and sinful generation, of him will the Son of man also be ashamed, when He comes in the glory of His Father with the holy angels."

And Jesus said to them, "Truly, I say to you, there are some standing here who will not taste death before they see the Kingdom of God come with power."
The Epistle Reading
For the Third Sunday of Great Lent
O Lord, save Thy people and bless Thine inheritance.
To Thee, O Lord, have I cried, O my God.
The Reading from the Epistle of St. Paul to the Hebrews. (4:14-5:6)
Brethren, since we have a High Priest, Who has passed through the heavens, Jesus, the Son of God, let us hold fast our confession. For we have not a high priest who is unable to sympathize with our weaknesses, but One Who in every respect has been tempted as we are, yet without sin. Let us then with confidence draw near to the throne of grace, that we may receive mercy and find grace to help in time of need.

For every high priest chosen from among men is appointed to act on behalf of men in relation to God, to offer gifts and sacrifices for sins. He can deal gently with the ignorant and wayward, since he himself is beset with weakness. Because of this he is bound to offer sacrifice for his own sins as well as for those of the people. And one does not take the honor upon himself, but he is called by God, just as Aaron was.

So also Christ did not exalt Himself to be made a high priest, but was appointed by Him Who said to Him, "Thou art My Son, today I have begotten Thee"; as He says also in another place, "Thou art a priest forever, after the order of Melchizedek."