The Holy Fathers of the Seventh Ecumenical Council
Fourth Sunday of Luke
Martyrs Nazarius, Gervasius, Protasius and Celsus of Milan
Cosmas the Hymnographer, Bishop of Maïuma
Venerable Paraskeva of the New of Thrace

On Sunday the Church remembers the 350 holy Fathers of the Seventh Ecumenical Council under the holy Patriarch Tarasius.
The Synod of 787, the second to meet at Nicea, refuted the Iconoclast heresy during the reign of Empress Irene and her son Constantine VI.
The Council decreed that the veneration of icons was not idolatry (Exodus 20:4-5), because the honor shown to them is not directed to the wood or paint, but passes to the prototype (the person depicted). It also upheld the possibility of depicting Christ, Who became man and took flesh at His Incarnation. The Father, on the other hand, cannot be represented in His eternal nature, because "no man has seen God at any time" (John 1:18).
Source: The Orthodox Church in America website.
Myrrh Streaming Icon of the Theotokos Coming to St. Paul's in Naples
Mark you Calendar: Friday, October 19, 2018 6:00pm-8:30pm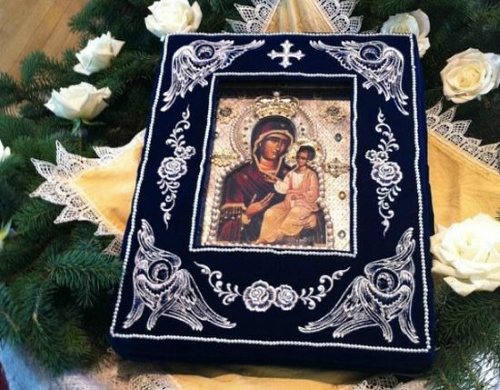 During the month of October in the year 2007, a great miracle occurred in the State of Hawaii when the Miracleworking and Myrrh-streaming "Hawaiian" Iveron Icon of the Theotokos began streaming myrrh in the home of an Orthodox Christian couple in Honolulu.
The Iveron Icon, a small mounted print, (a copy of the Montreal Iveron Icon), originally purchased at the Holy Trinity Russian Orthodox Cathedral's small church kiosk in Toronto by Rev. Anatole V. Lyovin, was given to the Reader Nectarios in Hawaii as a gift for the aforementioned name's day. This Icon was in the Reader's possession for eight years before it, along with a small hand-painted cross, began exuding a fragrant oil-like substance traditionally referred to as "myrrh" by the Orthodox Church. It was decided by Archbishop Kyrill of San Francisco that this Icon of the Mother of God was to be taken to the Holy Virgin Russian Orthodox Cathedral in San Francisco where it underwent tests and was carefully examined by the Archbishop and a commission of priests to verify the Icon's miraculous attributes.
In June of 2008, the "Hawaiian" Iveron Icon of the Mother of God was declared to be a genuine and miraculous Icon, which was in fact exuding myrrh on a continuing basis. It was decided by Episcopal proclamation (Ukaz) that the Reader Nectarios, the Icon's original owner, be "Her" guardian and was to take the Icon to the various churches and monasteries of Holy Orthodoxy, in effect, to provide for the veneration of all Orthodox Christians.
Since that time, the Miracle-working Icon has visited over 350 churches and monasteries in North America, and has been venerated by over a quarter of a million people. The holy Icon has been a constant source of a growing number of miraculous occurrences, including the healing of cancer, blindness, demonic possession, and various types of physical and spiritual infirmities. People have felt a deep spiritual connection to this Icon, even spending hours on end simply standing before "Her", and watching the myrrh flow from the hands and stars on the image.
For more information visit these websites:
Greek Woman Looking for Work
Maria Dimitrova is looking for work cleaning, elder care, etc. She does not speak English very well but knows Greek and Russian. She recently moved from New York to Naples.
If anyone knows of any opportunities please contact Maria below.
Maria Dimitrova
239-272-0798
60 years old
Looking for cleaning, elder care, etc. employment
Languages: Greek, Russian, English (broken)
Toys for Tots Drive Until December 2, 2018
Let's make our Second Annual Toys for Tots Drive the best one yet!
Please bring new, unwrapped toys to Church to make Christmas brighter for kids who otherwise would have none.
A Toys for Tots contribution box will be in the Social Hall until December 2, 2018.
Every child deserves a Christmas!
Fr. Hans Speaking at Chicago Conference
Fr. Hans will speaking at the conference "Patriarchy: Fatherhood and the Restoration of Culture" on October 11-13, 2018. He will back for Divine Liturgy that Sunday. For pastoral emergencies please contact Fr. Paul Girgis at 509-845-4540. For more information click the image.
Interfaith Charities Needs Food, Clothing, Towels, and Bedding
Interfaith Charities, the local assembly of churches that helps the poor in our area, needs:
Canned vegetables
Canned fruit
Tuna
Jelly
Other food items you can give (peanut butter, spaghetti, etc.)
They also need:
Bedding
Towels
Clothing
Shoes
Other items that can be used but in good condition.
If you bring to the church, we will get them to Interfaith Charities.
Calendar At A Glance
Thursday, October 19, 2018 — 6:00pm-8:30pm Iveron Miracle Working Icon at St. Paul's
Thursday, October 26, 2018 — 6:30pm St. Demetrios Divine Liturgy
Wisdom From The Elders
Worthy, sincere, and reverent service to the Lord in the temple, accompanied by lively faith, is a source of peace, joy, and blessedness to our souls. Thus a reverent priest celebrating the services, the sacraments, and the reading of the prayers, in his very duty itself finds the highest delight and blessedness for himself. St. John of Kronstadt
The person who does not despise all material things, glory and bodily comfort, even his own rights, cannot cut off his own will, nor can he be delivered from wrath and sadness or comfort his neighbor Abba Dorotheos
All pious people are filled with the Spirit of God similarly as a sponge is filled with water. St. John of Kronstadt
Seek and ye shall find; knock and it shall be opened unto you (Matt. 7:7). What shall be opened unto you? The doors of repentance, tears and tenderness of heart. This will give birth to peace and salvation. It will—truly it will! Abbot Nikon Vorobiev
To practice the Jesus Prayer, as we are all gaining the habit of doing, is an excellent thing. In monasteries it is being set as a task. Would they set it as a task if it were dangerous? What is dangerous is only the mechanical techniques which were added later and adjusted to fit the recitation of the prayer…Lord Jesus Christ, Son of God, have mercy on me a sinner. St. Theophan the Recluse
Where would there be opportunities for struggling for great deeds if we were not occasioned injury by our neighbours, if they did not offend us? St. John of Kronstadt
Remember in Your Prayers
Andreas
Kathy (Spencer)
Sofia Tešanovic
Paul
Carmine John Anthony
Dennis H. and Family
Victor Evan
Ann
James
David (Speakman)
Joyce (Speakman)
Vasiliki
Efstratia
Alexandra
Nikos
Georgia
Ioannis
Costandino
Jeffrey
Vaso
Dave
Dimitri – Presbyter
Vassiliki
Octavio
Tom
Carl
Rena
Nikolay (5 year old boy in Bulgaria whose parents asked us to pray)
David
Eva K.
Rosie
Kathryn
Jeremy

Constantine
Robert
Jane
Theodora
David
Gina
Baby Brynn L.
Micheal
Haralambos
Lillian
Presbytera Rosy
Valentina
John
Eva W.
Barbara
Angela
Carol Ann
Matthew
Chrysostom
Tim
Pat
Christina
Maria Louise
Maximos
Marian
Photini
Nicholas
Sarah
Petronia (Wife of Phil Pappas)
Constantine Houpis
Anna Marie Smith Baker
Ron Chromulak
Beverly Chromulak
Katerina
Loucine Kassis
Mary Kassis
Baby Maximus
Christine
Maria
Annette Star
Claire Livaditis
Eva Chandilles
Baby Dani
Scott Nedoff
James Hord
Tom
How should we pray for the sick? Remember them daily. Say their names (first names are sufficient) and ask God to bestow mercy and grace on them.
Add or remove names and print this list for easy reference during your prayer time on the St. Peter website.
Sunday Readings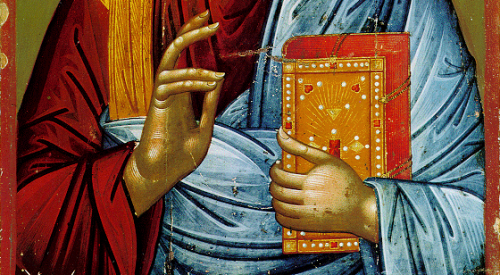 Epistle
For the Holy Fathers
Blessed are Thou, O Lord, the God of our Fathers.
For Thou art just in all that Thou hast done.
The Reading from the Epistle of St. Paul to St. Titus. (3:8-15)
Titus, my son, the saying is sure. I desire you to insist on these things, so that those who have believed in God may be careful to apply themselves to good deeds; these are excellent and profitable to men. But avoid stupid controversies, genealogies, dissension, and quarrels over the law, for they are unprofitable and futile. As for a man who is factious, after admonishing him once or twice, have nothing more to do with him, knowing that such a person is perverted and sinful; he is self-condemned. When I send Artemas or Tychicus to you, do your best to come to me at Nicopolis, for I have decided to spend the winter there. Do your best to speed Zenas the lawyer and Apollos on their way; see that they lack nothing. And let our people learn to apply themselves to good deeds, so as to help cases of urgent need, and not to be unfruitful. All who are with me send greetings to you. Greet those who love us in the faith. Grace be with you all. Amen.
Gospel
For the Fourth Sunday of Luke
The Reading from the Holy Gospel according to St. Luke. (8:5-15)
The Lord spoke this parable: "A sower went out to sow his seed; and as he sowed, some fell along the path, and was trodden under foot, and the birds of the air devoured it. And some fell on the rock; and as it grew up, it withered away, because it had no moisture. And some fell among thorns; and the thorns grew with it and choked it. And some fell into good soil and grew, and yielded a hundredfold."

And when His Disciples asked Him what this parable meant, Jesus said, "To you it has been given to know the secrets of the kingdom of God; but for others they are in parables, so that seeing they may not see, and hearing they may not understand. Now the parable is this: The seed is the word of God. The ones along the path are those who have heard; then the devil comes and takes away the word from their hearts that they may not believe and be saved. And the ones on the rock are those who, when they hear the word, receive it with joy; but these have no root, they believe for a while and in time of temptation fall away. And as for what fell among the thorns, they are those who hear, but as they go on their way, they are choked by the cares and riches and pleasures of life, and their fruit does not mature. And as for that in the good soil, they are those who, hearing the word, hold it fast in an honest and good heart, and bring forth fruit with patience."

As Jesus said this, He called out, "He who has ears to hear, let him hear."