The Sixth Sunday of Luke
Venerable Hilarion of Palestine
Christodoulos of Patmos the Wonderworker
Martyrs Socrates and Theodota at Ancyra
Venerable Confessors Vissarion and Sophronios of Ciorara
Martyr Oprea of Salistie in Romania
Venerable Hilarion of Palestine
Saint Hilarion the Great was born in 292 AD at Tabatha, a town near Gaza in Palestine. His family were pagans. He converted to Christianity and was baptized after studying in Alexandria.
While he was in Egypt he became a disciple of St. Anthony the Great, an event which inspired him to devote himself entirely to the ascetic life.
When his parents died, he returned to Gaza and sold all of his inheritance, distributing all of his wealth to the poor. After this he departed for the desert of Palestine, devoting himself entirely to prayer and fasting. His asceticism was based on St. Anthony the Great's model. He fasted daily, eating only modest foods, lived in a hut made of reeds and practiced unceasing prayer. God rewarded his spiritual efforts and bestowed upon him the grace to perform miracles. His fame spread throughout Palestine, and it was not long before he fled these distractions and settled eventually in Cyprus.
St. Hilarion departed from this world in 372 AD at age of 80.
Source: The OrthodoxWiki website.
Read a complete biography on the Mystagogy website.
Myrrh Streaming Icon of the Theotokos Coming to St. Paul's in Naples
Mark you Calendar: Friday, October 19, 2018 6:00pm-8:30pm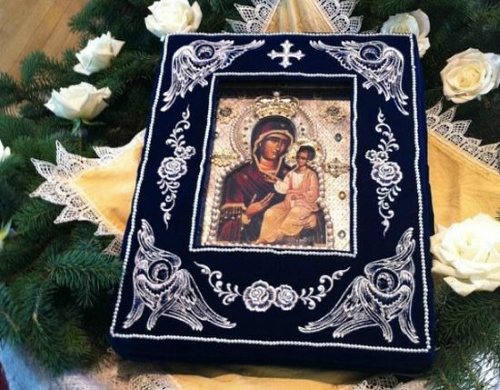 During the month of October in the year 2007, a great miracle occurred in the State of Hawaii when the Miracleworking and Myrrh-streaming "Hawaiian" Iveron Icon of the Theotokos began streaming myrrh in the home of an Orthodox Christian couple in Honolulu.
The Iveron Icon, a small mounted print, (a copy of the Montreal Iveron Icon), originally purchased at the Holy Trinity Russian Orthodox Cathedral's small church kiosk in Toronto by Rev. Anatole V. Lyovin, was given to the Reader Nectarios in Hawaii as a gift for the aforementioned name's day. This Icon was in the Reader's possession for eight years before it, along with a small hand-painted cross, began exuding a fragrant oil-like substance traditionally referred to as "myrrh" by the Orthodox Church. It was decided by Archbishop Kyrill of San Francisco that this Icon of the Mother of God was to be taken to the Holy Virgin Russian Orthodox Cathedral in San Francisco where it underwent tests and was carefully examined by the Archbishop and a commission of priests to verify the Icon's miraculous attributes.
In June of 2008, the "Hawaiian" Iveron Icon of the Mother of God was declared to be a genuine and miraculous Icon, which was in fact exuding myrrh on a continuing basis. It was decided by Episcopal proclamation (Ukaz) that the Reader Nectarios, the Icon's original owner, be "Her" guardian and was to take the Icon to the various churches and monasteries of Holy Orthodoxy, in effect, to provide for the veneration of all Orthodox Christians.
Since that time, the Miracle-working Icon has visited over 350 churches and monasteries in North America, and has been venerated by over a quarter of a million people. The holy Icon has been a constant source of a growing number of miraculous occurrences, including the healing of cancer, blindness, demonic possession, and various types of physical and spiritual infirmities. People have felt a deep spiritual connection to this Icon, even spending hours on end simply standing before "Her", and watching the myrrh flow from the hands and stars on the image.
For more information visit these websites:
Greek Woman Looking for Work
Maria Dimitrova is looking for work cleaning, elder care, etc. She does not speak English very well but knows Greek and Russian. She recently moved from New York to Naples.
If anyone knows of any opportunities please contact Maria below.
Maria Dimitrova
239-272-0798
60 years old
Looking for cleaning, elder care, etc. employment
Languages: Greek, Russian, English (broken)
Toys for Tots Drive Until December 2, 2018
Let's make our Second Annual Toys for Tots Drive the best one yet!
Please bring new, unwrapped toys to Church to make Christmas brighter for kids who otherwise would have none.
A Toys for Tots contribution box will be in the Social Hall until December 2, 2018.
Every child deserves a Christmas!
Interfaith Charities Needs Food, Clothing, Towels, and Bedding
Interfaith Charities, the local assembly of churches that helps the poor in our area, needs:
Canned vegetables
Canned fruit
Tuna
Jelly
Other food items you can give (peanut butter, spaghetti, etc.)
They also need:
Bedding
Towels
Clothing
Shoes
Other items that can be used but in good condition.
If you bring to the church, we will get them to Interfaith Charities.
Calendar At A Glance
Friday, October 19, 2018 — 6:00pm-8:30pm Iveron Miracle Working Icon at St. Paul's
Thursday, October 25, 2018 — 6:30pm St. Demetrios Divine Liturgy
Wisdom From The Elders
We must not be exasperated, angry, and proud, as is habitual to our corrupt nature, against those who are angry, envious, or proud towards us, but we must pity them as overcome by the flames of hell, and by spiritual death- we must pray to God for them from the depths of our hearts. St. John of Kronstadt
Thank also the instruments of providence, those through whom the Lord teaches us humility. For whom the Lord loveth He chasteneth (Heb. 12:6). Discover from expe­rience the truths of Christianity. Abbot Nikon Vorobiev
Someone asked Abba Anthony, "What must one do in order to please God?" The old man replied, "Pay attention to what I tell you: Whoever you may be, always have God before your eyes. Whatever you do, do it according to the testimony of the Holy Scriptures. In whatever place you live, do not easily leave it. Keep these three precepts and you will be saved." Athanasius, Life of St. Anthony
It is a wonderful thing that, however much we trouble about our health, however much care we take of ourselves, whatever wholesome and pleasant food we eat, whatever wholesome drinks we drink, however much we walk in the fresh air, still, notwithstanding all this, in the end we are subjected to maladies and corruption; whilst the saints, who despised their flesh, and mortified it by continual abstinence and fasting, by lying on the bare earth, by watchfulness, labours, unceasing prayer, have made both their souls and bodies immortal. St. John of Kronstadt
If you cannot fall asleep for a long time after you go to bed, then, after lying down, try to imagine the Lord Jesus Christ in His sufferings on the cross and pray to Him in your heart about everything that comes into your heart. Metropolitan Gregory (Postnikov) of St. Petersburg
This is a great day, it is better than all the other days of my life, for today my soul departs from bodily suffering and goes to rest in its heavenly habitation. Today my body will find respite from its many labors and illnesses. Today the light of my rest will receive me. St. Mark of Thrace
Remember in Your Prayers
Andreas
Sofia Tešanovic
Paul
Carmine John Anthony
Dennis H. and Family
Victor Evan
Ann
James
David (Speakman)
Joyce (Speakman)
Vasiliki
Efstratia
Alexandra
Nikos
Georgia
Ioannis
Costandino
Jeffrey
Vaso
Dave
Dimitri – Presbyter
Vassiliki
Octavio
Tom
Carl
Rena
Nikolay (5 year old boy in Bulgaria whose parents asked us to pray)
David
Eva K.
Rosie
Kathryn
Jeremy

Constantine
Robert
Jane
Theodora
David
Gina
Baby Brynn L.
Micheal
Haralambos
Lillian
Presbytera Rosy
Valentina
John
Eva W.
Barbara
Angela
Carol Ann
Matthew
Chrysostom
Tim
Pat
Christina
Maria Louise
Maximos
Marian
Photini
Nicholas
Sarah
Petronia (Wife of Phil Pappas)
Constantine Houpis
Anna Marie Smith Baker
Ron Chromulak
Beverly Chromulak
Katerina
Loucine Kassis
Mary Kassis
Baby Maximus
Christine
Maria
Annette Star
Claire Livaditis
Eva Chandilles
Baby Dani
Scott Nedoff
James Hord
Tom
How should we pray for the sick? Remember them daily. Say their names (first names are sufficient) and ask God to bestow mercy and grace on them.
Add or remove names and print this list for easy reference during your prayer time on the St. Peter website.
Sunday Readings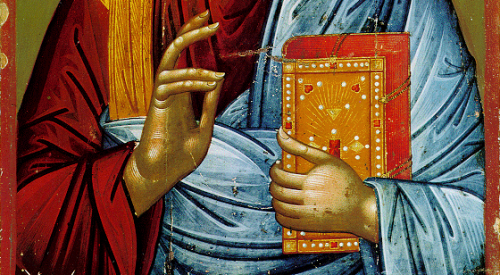 Epistle
For the Twenty-first Sunday after Pentecost
O Lord, how magnified are Thy works.
In wisdom hast Thou made them all.
Bless the Lord, O my soul.
The Reading from the Epistle of St. Paul to the Galatians. (2:16-20)
Brethren, you know that a man is not justified by works of the Law but through faith in Jesus Christ. Even we have believed in Christ Jesus, in order to be justified by faith in Christ, and not by works of the Law, because by works of the Law shall no one be justified. But if, in our endeavor to be justified in Christ, we ourselves were found to be sinners, is Christ then an agent of sin? Certainly not! But if I build up again those things which I tore down, then I prove myself a transgressor. For I through the Law died to the Law, that I might live to God. I have been crucified with Christ; it is no longer I who live, but Christ Who lives in me; and the life I now live in the flesh I live by faith in the Son of God, Who loved me and gave Himself for me.
Gospel
For the Sixth Sunday of Luke
The Reading from the Holy Gospel according to St. Luke. (8:26-39)
At that time, Jesus arrived at the country of the Gadarenes, which is opposite Galilee. And as He stepped out on land, there met Him a man from the city who had demons; for a long time he had worn no clothes, and he lived not in a house but among the tombs. When he saw Jesus, he cried out and fell down before him, and said with a loud voice, "What hast Thou to do with me, Jesus, Son of the Most High God? I beseech Thee, do not torment me." For Jesus had commanded the unclean spirit to come out of the man. [For many a time it had seized him; he was kept under guard, and bound with chains and fetters, but he broke the bonds and was driven by the demon into the desert.]

Jesus then asked him, "What is your name?" And he said, "Legion"; for many demons had entered him. And they begged Jesus not to command them to depart into the abyss. Now a large herd of swine was feeding there on the hillside; and they begged Jesus to let them enter these. So He gave them leave. Then the demons came out of the man and entered the swine, and the herd rushed down the steep bank into the lake and was drowned. When the herdsmen saw what had happened, they fled, and told it in the city and in the country.

Then people went out to see what had happened, and they came to Jesus, and found the man from whom the demons had gone, sitting at the feet of Jesus, clothed and in his right mind; and they were afraid. And those who had seen it told them how he who had been possessed with demons was healed. Then all the people of the surrounding country of the Gadarenes asked Jesus to depart from them; for they were seized with great fear; so He got into the boat and returned. The man from whom the demons had gone begged that he might be with Jesus; but Jesus sent him away, saying, "Return to your home, and declare all that God has done for you." And he went away, proclaiming throughout the whole city all that Jesus had done for him.