Second Sunday after Pentecost
Second Sunday of Matthew
Martyr Alexander and Virgin-martyr Antonina at Constantinople; Venerable Theophanes the monk and Pansemne the former harlot of Antioch; John the Wonderworker, Metropolitan of Tobolsk and all Siberia.
Calling All Seniors! Luncheon on Thursday, June 7 at Noon.
Seniors, join us for the first of many monthly get-togethers. Meet your friends, enjoy the conversation, and share in some good food!
We meet at noon on Thursday, June 7 at noon at Church.
This will be the first of monthly get-togethers.
Paraklesis to the Theotokos on Wednesday at 6:00pm
A Paraklesis (prayer of supplication) to the Theotokos will be held on Wednesday, June 6, at 6:00pm.
We will say this prayer to ask the Lord for guidance for our parish of St. Peter's as we make decisions about our future. As you know, the time has come to find another location and we have several ideas in the works.
The Theotokos guides priests and parishes in decisions like this. Fr. Hans has been saying the Paraklesis daily for over a month. This Wednesday anyone who desires to join in can do so. The service lasts about 45 minutes.
Your Support is Needed
The increase in rent and the lean summer months means that we need to raise at least $25,000 above than current income to end the year in the black. As you know, St. Peter's runs a lean operation but so far income is not projected to meet expenses. Rather than ignore this and hope for the best, we need to address the challenge today while it is still manageable.
What can you do? First of course is to keep the parish in your prayers. God takes care of us and will continue to do so. Secondly, prayerfully consider an increase in giving or a special gift to meet this need.
Mark Your Calendar!
Pilgrimage to Panagia Vlahernon Greek Orthodox Monastery on Saturday, July 7, 2018
Join us for a pilgrimage to the Panagia Vlahernon Monastery near Ocala on Saturday, July 7, 2018. We will leave the church at 8:00am and return between 9:00-10:00pm. We will rent a bus and ride up together. More details forthcoming.
You can learn more about the monastery on their website.
Calendar At A Glance
Saturday, July 7, 2018 — 8:00am Pilgrimage to Panagia Vlahernon Monastery
Wisdom From The Elders
Repentance is the renewal of life. This means we must free ourselves of all our negative traits and turn toward absolute good. No sin is unforgivable except the sin of unrepentance. Elder Thaddeus of Vitovnica
Do not abandon the will of God in order to serve the will of man. Glinsk elder Schema-Hieromonk Andronicus Lukasha
Geronda, I am troubled by the thoughts of unbelief that come to me. – The fact that you are troubled by them and do not accept them, means that these thoughts come from the evil one. Elder Paisios of Mount Athos
For if we refrain from sin merely out of fear of punishment, it is quite clear that, unless punishment had awaited us, we should have done things deserving punishment, since our propensity is for sinning. But if we abstain from evil actions not through threat of punishment, but because we hate such actions, then it is from love of the Master that we practice the virtues, fearful lest we should fall away from Him. St. Theodoros the Great Ascetic
Prayer of the heart not only helps others but also ourselves, because it helps us to acquire inner good ness. When we put ourselves in others' shoes, love then comes naturally, as does compassion, humility, and our gratitude to God with continuous praise, and then prayer for our fellow human beings is acceptable to God and helpful to them. Elder Paisios of Mount Athos
Make your one aim in life the doing of the will of Jesus in every circumstance, however important or trifling it may seem. St. Ignatius Brianchaninov
Remember in Your Prayers
Carolyn L.
Jim R.
Vassiliki
Octavio
Tom
Carl
Rena
Nikolay (5 year old boy in Bulgaria whose parents asked us to pray)
David
Eva K.
Rosie
Jill
Kathryn
Jeremy
Robert
Jane
Theodora
Baby Brynn L.
Micheal
Haralambos
Lillian
Presbytera Rosy
Valentina
John
Eva W.
Barbara
Angela
Sonya
Kenneth
Carol Ann
Matthew
Chrysostom
Tim
Ron
Ivy-Jean
Pat
Christina
Maria Louise
Maximos
Marian
Photini
Nicholas
Sarah
Petronia (Wife of Phil Pappas)
Constantine Houpis
Anna Marie Smith Baker
Ron Chromulak
Beverly Chromulak
Katerina
Loucine Kassis
Mary Kassis
Baby Maximus
Christine
Maria
Annette Star
Claire Livaditis
Eva Chandilles
Baby Dani
Scott Nedoff
Anthony Mourgis
John Hansen
James Hord
Tom
How should we pray for the sick? Remember them daily. Say their names (first names are sufficient) and ask God to bestow mercy and grace on them.
Add or remove names and print this list for easy reference during your prayer time on the St. Peter website.
Sunday Readings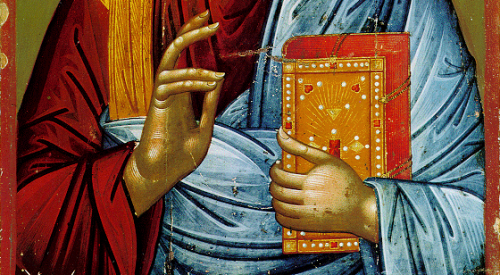 Epistle
For Second Sunday after Pentecost
Let Thy mercy, O Lord, be upon us.
Rejoice in the Lord, O ye righteous.
The Reading from the Epistle of St. Paul to the Romans. (2:10-16)
Brethren, glory and honor and peace for everyone who does good, the Jew first and also the Greek. For God shows no partiality. All who have sinned without the Law will also perish without the Law, and all who have sinned under the Law will be judged by the Law. For it is not the hearers of the Law who are righteous before God, but the doers of the Law who will be justified. When Gentiles who have not the Law do by nature what the Law requires, they are a law to themselves, even though they do not have the Law. They show that what the Law requires is written on their hearts, while their conscience also bears witness and their conflicting thoughts accuse or perhaps excuse them on that day when, according to my gospel, God judges the secrets of men by Christ Jesus.
Gospel
For Second Sunday of Matthew
The Reading from the Holy Gospel according to St. Matthew. (4:18-23)
At that time, as Jesus was walking by the Sea of Galilee, He saw two brothers, Simon who is called Peter and Andrew his brother, casting a net into the sea; for they were fishermen. And He said to them, "Follow Me, and I will make you fishers of men." Immediately they left their nets and followed Him. And going on from there He saw two other brothers, James the son of Zebedee and John his brother, in the boat with Zebedee their father, mending their nets, and He called them. Immediately they left the boat and their father, and followed Him. And He went about all Galilee, teaching in their synagogues and preaching the gospel of the Kingdom and healing every disease and every infirmity among the people.