Third Sunday after Pentecost
Third Sunday of Matthew
Martyrs Isauros and those with him of Athens; Martyrs Manuel, Sabel and Ishmael of Persia; Venerable Joseph and Pior, disciples of Anthony the Great; Martyr Nectan of Hartland
St. Peter and Paul Liturgy on Thursday June 28, 2018
The feast day of Sts. Peter and Paul are also the feast day of St. Peter and our sister parish St. Paul in Naples. We will celebrate this day together on the eve of the Feast on Thursday, June 28. Exact times will be set this week and announced as soon as they are available.
Bp. Nicholas will be serving. This year the Divine Liturgy will be help at St. Paul's. Next year we will hold it at St. Peter's. We will change locations every year and hopefully this will become a tradition that will continue for years, even decades as both parishes flourish.
Please make every effort to attend. Having Bp. Nicholas come and celebrate is very significant. A light luncheon will follow the service.
Your Support is Needed
The increase in rent and the lean summer months means that we need to raise at least $25,000 above our current income to end the year in the black. We are not bringing in enough in contributions to pay our monthly bills. This forces us to draw from our reserve, and lowered reserves means we will have difficulty in acquiring new property.
Please prayerfully consider an increase in giving or a special gift to meet this need.
Fr. Hans Out of Town Wednesday through Saturday
Fr. Hans will be attending the Parish Life Conference for the Miami Diocese from Wednesday to Saturday of this week (June 13-16, 2018) in West Palm Beach, Florida. He will be available by cell phone.
Mark Your Calendar!
Pilgrimage to Panagia Vlahernon Greek Orthodox Monastery on Saturday, July 7, 2018
Join us for a pilgrimage to the Panagia Vlahernon Monastery near Ocala on Saturday, July 7, 2018. We will leave the church at 8:00am and return between 9:00-10:00pm. We will rent a bus and ride up together.
The cost is $40 per person to pay for the bus. If you cannot afford this talk to Fr. Hans. You will go anyway. This remains private. If you can afford a contribution to support someone else, please give.
You can learn more about the monastery on their website.
Calendar At A Glance
Saturday, July 7, 2018 — 8:00am Pilgrimage to Panagia Vlahernon Monastery
Wisdom From The Elders
Trust in God, simplicity, and struggle with philotimo will lead to inner peace and security, and then the soul fills with hope and joy. For the athlete to be crowned with victory takes patience, philotimo and spiritual bravery. Bravery stems from a heart filled with philotimo; and when one does something with his heart for Christ, he neither tires nor feels pain, because such suffering for Christ is a spiritual feast. Elder Paisios of Mount Athos
As soon as condemnation comes into your head, immediately say with attention: "Lord grant me to see my sins and not condemn my brother." St. Nektary of Optina
We must unreservedly surrender ourselves to God's providence, to the divine will, and God will take care of us.
Elder Paisios of Mount Athos
For, if someone does not cut out his bad habits when he is young, then it will be very difficult later in life when the will is weakened. If a person has no willpower, he can do nothing. Elder Paisios of Mount Athos
He who at dinner has many different foods eats much and with pleasure, whereas he who uses every day the same food not only eats it without pleasure but sometimes perhaps even feels repelled by it. So it is in our state. In psalmody and prayer do not bind yourself, but do as much as the Lord gives you. Do not abandon reading and interior prayer either. Some of one and some of the other and so you will spend the day pleasing God. Our perfect fathers did not have a fixed rule, but during the course of the whole day they carried out their rule. St. Barsanuphius the Great
It is a trick of the demons to make us believe that we can only pray when external circumstances are favorable. We must pray all of the time. Elder Sergei of Vanves
Geronda, you have said that the more we deprive ourselves of human consolation, the more we receive divine consolation. Is this why prayer is felt more when one is hungry? – Yes, but a hungry person can also understand the hungry. A satiated person cannot understand the suffering of the hungry. Elder Paisios of Mount Athos
Remember in Your Prayers
Georgia
Efstratia
Alexandra
Nikos
Georgia
Ioannis
Costandino
Jeffrey
Vaso
Dave
Melissa
Dylan
Mason
Carolyn L.
Jim R.
Vassiliki
Octavio
Tom
Carl
Rena
Nikolay (5 year old boy in Bulgaria whose parents asked us to pray)
David
Eva K.
Rosie
Jill
Kathryn
Jeremy
Robert
Jane
Theodora
Baby Brynn L.
Micheal
Haralambos
Lillian
Presbytera Rosy
Valentina
John
Eva W.
Barbara
Angela
Sonya
Kenneth
Carol Ann
Matthew
Chrysostom
Tim
Ron
Ivy-Jean
Pat
Christina
Maria Louise
Maximos
Marian
Photini
Nicholas
Sarah
Petronia (Wife of Phil Pappas)
Constantine Houpis
Anna Marie Smith Baker
Ron Chromulak
Beverly Chromulak
Katerina
Loucine Kassis
Mary Kassis
Baby Maximus
Christine
Maria
Annette Star
Claire Livaditis
Eva Chandilles
Baby Dani
Scott Nedoff
Anthony Mourgis
John Hansen
James Hord
Tom
How should we pray for the sick? Remember them daily. Say their names (first names are sufficient) and ask God to bestow mercy and grace on them.
Add or remove names and print this list for easy reference during your prayer time on the St. Peter website.
Sunday Readings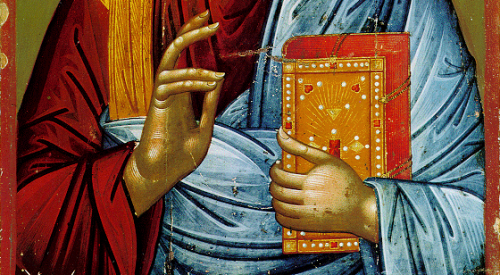 Epistle
For Third Sunday after Pentecost
The Lord is my strength and my song.
The Lord has chastened me sorely.
The Reading from the Epistle of St. Paul to the Romans. (5:1-10)
Brethren, since we are justified by faith, we have peace with God through our Lord Jesus Christ. Through Him we have obtained access to this grace in which we stand, and we rejoice in our hope of sharing the glory of God. More than that, we rejoice in our sufferings, knowing that suffering produces endurance, and endurance produces character, and character produces hope, and hope does not disappoint us, because God's love has been poured into our hearts through the Holy Spirit which has been given to us.

While we were still weak, at the right time Christ died for the ungodly. Why, one will hardly die for a righteous man—though perhaps for a good man one will dare even to die. But God shows His love for us in that while we were yet sinners Christ died for us. Since, therefore, we are now justified by His blood, much more shall we be saved by Him from the wrath of God. For if while we were enemies we were reconciled to God by the death of His Son, much more, now that we are reconciled, we shall be saved by His life.
Gospel
For Third Sunday of Matthew
The Reading from the Holy Gospel according to St. Matthew. (6:22-33)
The Lord said, "The eye is the lamp of the body. So, if your eye is sound, your whole body will be full of light; but if your eye is evil, your whole body will be full of darkness. If then the light in you is darkness, how great is the darkness! No one can serve two masters; for either he will hate the one and love the other, or he will be devoted to the one and despise the other. You cannot serve God and mammon.
Therefore, I tell you, do not be anxious about your life, what you shall eat or what you shall drink; nor about your body, what you shall put on. Is not the soul more than food, and the body more than clothing? Look at the birds of heaven: they neither sow nor reap nor gather into barns, and yet your heavenly Father feeds them. Are you not of more value than they? And which of you by being anxious can add one cubit to his stature? And why are you anxious about clothing? Consider the lilies of the field, how they grow; they neither toil nor spin; yet I tell you, even Solomon himself in all his glory was not arrayed like one of these. But if God so clothes the grass of the field, which today is alive and tomorrow is thrown into the oven, will He not much more clothe you, O men of little faith?
Therefore, do not be anxious, saying, 'What shall we eat?' or 'What shall we drink?' or 'What shall we wear?' For the Gentiles seek all these things; and your heavenly Father knows that you need them all.