First Sunday after Pentecost
All Saints Sunday
ed as a commemoration of all of the Saints, all the Righteous, the Prophets, Apostles, Martyrs, Confessors, Shepherds, Teachers, and Holy Monastics, both men and women alike, known and unknown, who have been added to the choirs of the Saints and shall be added, from the time of Adam until the end of the world, who have been perfected in piety and have glorified God by their holy lives.
Background
Honoring the friends of God with much reverence, the Prophet-King David says, "But to me, exceedingly honorable are Thy friends, O Lord" (Ps. 138:16). And the Apostle Paul, recounting the achievements of the Saints, and setting forth their memorial as an example that we might turn away from earthly things and from sin, and emulate their patience and courage in the struggles for virtue, says, "Wherefore seeing we also are compassed about with so great a cloud of witnesses, let us lay aside every burden, and the sin which doth so easily beset us, and let us run with patience the race that is set before us" (Heb. 12:1).
This commemoration began as the Sunday (Synaxis) of All Martyrs; to them were added all the ranks of Saints who bore witness (the meaning of "Martyr" in Greek) to Christ in manifold ways, even if occasion did not require the shedding of their blood.
Therefore, guided by the teaching of the Divine Scriptures and Apostolic Tradition, we honor all the Saints, the friends of God, for they are keepers of God's commandments, shining examples of virtue, and benefactors of mankind. Of course, we honor the known Saints especially on their own day of the year, as is evident in the Menologion. But since many Saints are unknown, and their number has increased with time, and will continue to increase until the end of time, the Church has appointed that once a year a common commemoration be made of all the Saints. This is the feast that we celebrate today.
Read more on the Orthodox Church in America website.
Calling All Seniors! Luncheon on Thursday, June 7 at Noon.
Seniors, join us for the first of many monthly get-togethers. Meet your friends, enjoy the conversation, and share in some good food!
We meet at noon on Thursday, June 7 at noon at Church.
Barbara Dionysopoulos is preparing a delicious lunch of Roast Pork Tenderloin with Greek style Roast Potatoes, Broccoli Spear, Greek Salad, and dessert and coffee. The cost is $5.00 to cover the food.
We need to know how many are coming so sign up in the social hall (sheet on the table in the hallway).
The luncheons are a good opportunity for seniors to get together socially for a few hours every month. There is no minimum age requirement for these luncheons, but we want seniors to attend to get them a hot meal and meet with friends socially.
For questions call Barbara at 239-826-1655.
Interfaith Charites Needs More Help
The shelves are bare. They need rice, canned vegetables, beans, and cereal. Please consider picking up a few extra items the next time you are shopping and bring them to Church. We will get to Interfaith Charities.
Interfaith Charities is a coalition of churches and business that help the poor in the San Carlos and south Fort Myers area (view their website). We partner with them to help the working poor in our area as part of our mission to serve the poor around us.
Mark Your Calendar!
Pilgrimage to Panagia Vlahernon Greek Orthodox Monastery on Saturday, July 7, 2018
Join us for a pilgrimage to the Panagia Vlahernon Monastery near Ocala on Saturday, July 7, 2018. We will leave the church at 8:00am and return between 9:00-10:00pm. We will rent a bus and ride up together. More details forthcoming.
You can learn more about the monastery on their website.
Calendar At A Glance
Saturday, July 7, 2018 — 8:00am Pilgrimage to Panagia Vlahernon Monastery
Wisdom From The Elders
If a person wants to get an idea about the pyramids of Egypt, he must either trust those who have been in immediate proximity to the pyramids, or he must get next to them himself. There is no third option. In the same way a person can get an impression of God: He must either trust those who have stood and stand in immediate proximity to God, or he must take pains to come into such proximity himself. St. Nicholas of Serbia
Are you angry? Be angry at your sins, beat your soul, afflict your conscience, but strict in judgement and a terrible punisher of your own sins. This is the benefit of anger, wherefore God placed it in us. St. John Chrysostom
As it is impossible to verbally describe the sweetness of honey to one who has never tasted honey, so the goodness of God cannot be clearly communicated by way of teaching if we ourselves are not able to penetrate into the goodness of the Lord by our own experience. St. Basil the Great
Many rich and powerful men would pay dearly to see the Lord or His Most Pure Mother, but God does not appear in riches, but in the humble heart… Every one of the poorest men can be humbles and come to know God. It need neither money nor reputation to come to know God, but only humility. St. Silouan the Athonite
A man becomes spiritual insofar as he lives a spiritual life. He begins to see God in all things, to see His power and might in every manifestation. Always and everywhere he sees himself abiding in God and dependent on God for all things. But insofar as a man lives a bodily life, so much he does he do bodily things; He doesn't see God in anything, even in the the most wondrous manifestations of His Divine power. In all things he sees body, material, everywhere and always – "God is not before his eyes." (Ps. 35:2) St. John of Kronstadt
Remember in Your Prayers
Carolyn L.
Jim R.
Vassiliki
Octavio
Tom
Carl
Rena
Nikolay (5 year old boy in Bulgaria whose parents asked us to pray)
David
Eva K.
Rosie
Jill
Kathryn
Jeremy
Robert
Jane
Theodora
Baby Brynn L.
Micheal
Haralambos
Lillian
Presbytera Rosy
Valentina
John
Eva W.
Barbara
Angela
Sonya
Kenneth
Carol Ann
Matthew
Chrysostom
Tim
Ron
Ivy-Jean
Pat
Christina
Maria Louise
Maximos
Marian
Photini
Nicholas
Sarah
Petronia (Wife of Phil Pappas)
Constantine Houpis
Anna Marie Smith Baker
Ron Chromulak
Beverly Chromulak
Katerina
Loucine Kassis
Mary Kassis
Baby Maximus
Christine
Maria
Annette Star
Claire Livaditis
Eva Chandilles
Baby Dani
Scott Nedoff
Anthony Mourgis
John Hansen
James Hord
Tom
How should we pray for the sick? Remember them daily. Say their names (first names are sufficient) and ask God to bestow mercy and grace on them.
Add or remove names and print this list for easy reference during your prayer time on the St. Peter website.
Sunday Readings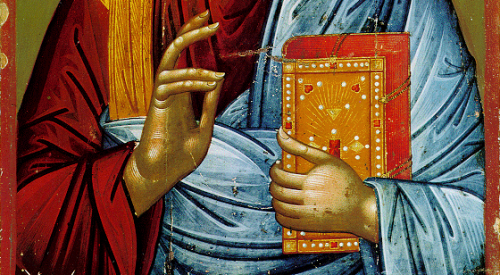 Epistle
God is wonderful among His saints.
Bless God in the congregations.
The Reading from the Epistle of St. Paul to the Hebrews. (11:33-12:2)
Brethren, all the saints through faith conquered kingdoms, enforced justice, received promises, stopped the mouths of lions, quenched raging fire, escaped the edge of the sword, won strength out of weakness, became mighty in war, put foreign armies to flight. Women received their dead by resurrection. Some were tortured, refusing to accept release, so that they might rise again to a better life.

Others suffered mocking and scourging, and even chains and imprisonment. They were stoned, they were sawn in two, they were tempted, they were killed with the sword; they went about in skins of sheep and goats, destitute, afflicted, ill-treated—of whom the world was not worthy—wandering over deserts and mountains, and in dens and caves of the earth.

And all these, though well attested by their faith, did not receive what was promised, since God had foreseen something better for us, that apart from us they should not be made perfect. Therefore, since we are surrounded by so great a cloud of witnesses, let us also lay aside every weight, and sin which clings so closely, and let us run with perseverance the race that is set before us, looking to Jesus the pioneer and perfection of our faith.
Gospel
The Reading from the Holy Gospel according to St. Matthew. (10:32-33, 37-38; 19:27-30)
The Lord said to His disciples, "Everyone who acknowledges Me before men, I also will acknowledge before my Father Who is in heaven; but whoever denies Me before men, I also will deny before My Father Who is in heaven. He who loves father or mother more than Me is not worthy of Me; and he who loves son or daughter more than Me is not worthy of Me; and he who does not take his cross and follow Me is not worthy of Me."

Then Peter said in reply, "Lo, we have left everything and followed Thee. What then shall we have?" Jesus said to them, "Truly, I say to you, in the New World, when the Son of Man shall sit on His glorious throne, you who have followed Me will also sit on twelve thrones, judging the twelve tribes of Israel. And every one who has left houses or brothers or sisters or father or mother or wife or children or lands, for My Name's sake, will receive a hundred fold, and inherit eternal life. But many that are first will be last, and the last first."