Great Lent and Holy Week are two separate fasts, and two separate celebrations. Great Lent ends on Friday of the fifth week (the day before Lazarus Saturday). Holy Week begins immediately thereafter. Let's explore the meaning of each of the solemn days of Passion Week.
Read more on the Antiochian Archdiocese website.
Palm Sunday / Entrance of Our Lord Jesus Christ into Jerusalem
Palm Sunday is the commemoration of the Entrance of our Lord into Jerusalem following His glorious miracle of raising Lazarus from the dead. Having anticipated His arrival and having heard of the miracle, the people when out to meet the Lord and welcomed Him with displays of honor and shouts of praise.
The children are the small people who are greeting Christ with palm branches (5) and laying these and their garments on the ground before Christ as tokens of honor for one who is acknowledged as a King. The city of Jerusalem is shown as the walled buildings, and the temple is depicted as the building with the dome (6).
Read more on the Greek Orthodox Archdiocese website.
Palm Sunday Pastoral Message from Met. Joseph
Palm Sunday – April 5, 2015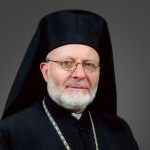 Sitting on Your throne in heaven, Carried on a foal on earth, O Christ God! Accept the praise of angels and the songs of children who sing: Blessed is He that comes to recall Adam! (Kontakion for Palm Sunday)
We greet you with love and joy on this Palm Sunday which celebrates the Triumphant Entry of our Lord Jesus Christ into Jerusalem.
The Kontakion for the feast which is quoted above expresses with great eloquence the worship and praise which are due to our Lord and God and Savior Jesus Christ by His children. Today He enters Jerusalem not majestically as an earthly king, but as a humble servant. He who is the mightiest King of all deigns to sit on the back of a lowly beast so that He might teach us humility.
It was only yesterday that He raised Lazarus from the dead and today the people meet Him with palm branches, laying their garments on the ground before Him and exclaiming "Hosanna! Blessed is He that comes in the Name of the Lord."
His time for the performing of miracles and teaching in the synagogues is completed. The time has come to confront the authorities in Jerusalem and to prepare to willingly become a sacrifice for many.
We are called today to receive our King as we celebrate this triumphant entry which is the prelude to the victories which we will witness during Holy Week; the victory of the Cross and the victory of the Empty Tomb. We are called to receive our King who is ever present in His Church and among His people, granting us hope, peace, consolation and salvation.
The great joy of this feast brings to us the transition from the struggle of the completed Great Fast to the journey through Holy Week. To those who have struggled with sincerity to this day, you are called to persevere. To those who may have come late to the struggle, there is still time.
May our journey through Holy Week uplift us spiritually and guide us to worthily experience the brightness of the Empty Tomb.
Yours in Christ,
+JOSEPH
Archbishop of New York and Metropolitan of All North America
Antiochian Orthodox Christian Archidiocese of North America
Palm Sunday Luncheon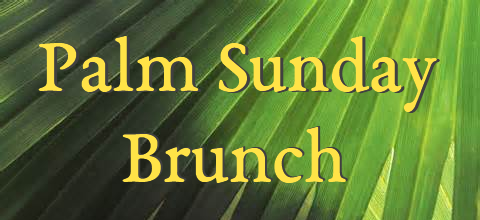 After Liturgy on Palm Sunday, April 5, plan on attending our annual Palm Sunday Brunch immediately following the Divine Liturgy.
When?
Immediately following the Divine Liturgy on Sunday, April 5. No coffee hour that Sunday.
Where?
At the home of BJ and Jimmy James. Thank you to BJ and Jimmy for hosting it.
Directions
The James home is near the Church (about eight minutes or 3.8 miles). .
26086 Fawnwood Ct
Bonita Springs, FL 34134
From Church turn South on Tamiami Trail US 41 South. Go 1.5 miles.
Turn West (right) on North Bay Drive. Go .3 miles.
At the stop sign turn right onto Country Club Drive. Go .7 miles.
At the traffic circle, take the 1st exit onto Mandevilla Drive. Go .4 miles.
At stop sign turn left onto Fawnwood Court.
26086 is the 2nd house on the right. Drive way has 2 light posts.
Get map here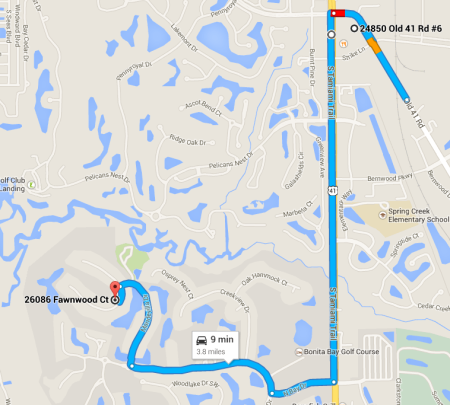 How much does it cost?
Free will donation only. A basket will be available for your donation.
Holy Week Schedule
St. Peter Holy Week Schedule will be sent in a separate mailing. It is also available on the St. Peter website.
Thank you from NAMI
St. Peter the Apostle Antiochian Mission contributed $350 to the 2015 NAMI Walk-A-Thon in Naples, Fl. These contributions stay in Collier County to help individuals that need help the most, over 12,000 individuals were helped last year and the need continues. Our parish has been generous with contributing food and toiletries to the Sarah Ann Drop in center that is connected to NAMI.
We are doing Gods work.
Mary and Bill Copeland
Remember in Your Prayers
Pat and Milan Evanoff. Milam had a small bout with pneumonia and is recovering at Health Park Rehab in Fort Myers.
John, the brother of Pauline Poulos who is suffering from cancer.
Tom and Jean, parents of Patty and Jerry.
Greg and his wife Margaret. Greg is the founder of Project Mexico and has cancer.
How should we pray for the sick? Remember them daily. Say their names and ask God to bestow mercy and grace on them.
The Sunday Scripture Readings
The Gospel Reading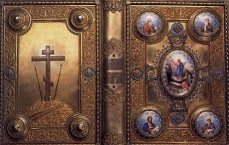 For Palm Sunday
The Reading from the Holy Gospel according to St. John. (12:1-18)
Six days before the Passover, Jesus came to Bethany, where Lazarus who had died was, whom Jesus had raised from the dead. There they made Him a supper; Martha served, and Lazarus was one of those at table with Him. Mary took a pound of costly ointment of pure nard and anointed the feet of Jesus and wiped His feet with her hair; and the house was filled with the fragrance of the ointment.

But Judas Iscariot, Simon's son, one of His Disciples (he who was to betray Jesus), said, "Why was this ointment not sold for three hundred denarii and given to the poor?" This he said, not because he cared for the poor but because he was a thief, and as he had the moneybox he used to take what was put into it. Jesus said, "Let her alone, let her keep it for the day of My burial. The poor you always have with you, but you do not always have Me."

When the great crowd of the Jews learned that He was there, they came, not only on account of Jesus but also to see Lazarus, whom Jesus had raised from the dead. So the chief priests planned to put Lazarus also to death, because on account of him many of the Jews were going away and believing in Jesus.

The next day a great crowd who had come to the feast heard that Jesus was coming to Jerusalem. So they took branches of palm trees and went out to meet him, crying, "Hosanna! Blessed is He Who cometh in the Name of the Lord, the King of Israel!" And Jesus found a young donkey and sat upon it; as it is written, "Fear not, daughter of Zion; behold, your king is coming, sitting on a donkey's colt!"

His Disciples did not understand this at first; but when Jesus was glorified, then they remembered that this had been written of Him and had been done to Him. The crowd that had been with Jesus when He called Lazarus out of the tomb and raised him from the dead bore witness. The reason why the crowd went to meet Jesus was that they heard He had done this sign.
The Epistle Reading
For Palm Sunday
Blessed is He Who cometh in the Name of the Lord.
O give thanks unto the Lord, for He is good; for His mercy endures forever.
The Reading from the Epistle of St. Paul to the Philippians. (4:4-9)
Brethren, rejoice in the Lord always; again I will say, Rejoice. Let all men know your forbearance. The Lord is at hand. Have no anxiety about anything, but in everything by prayer and supplication with thanksgiving let your requests be made known to God. And the peace of God, which passes all understanding, will keep your hearts and your minds in Christ Jesus.

Finally, brethren, whatever is true, whatever is honorable, whatever is just, whatever is pure, whatever is lovely, whatever is gracious, if there is any excellence, if there is anything worthy of praise, think about these things. What you have learned and received and heard and seen in me, these do; and the God of peace will be with you.