Sunday of the Pharisee and the Publican
The Holy Great-Martyr Theodore the Soldier ('Tyro'); Emperor Marcian & Empress Pulcheria of Constantinople
What is a Publican and a Pharisee?
A Pharisee was an externally decent and righteous man of religion. The Publican was a sinful tax-collector who was cheating the people.
Though the Pharisee was genuinely righteous under the Law, he boasted before God and was condemned. The Publican, although he was truly sinful, begged for mercy, received it, and was justified by God.
The focus this Sunday is on the Gospel of Luke 18:10-14, in which two men went to the Temple to pray. On this Sunday in the preparation for Great Lent, we are to see that we have not the religious piety of the Pharisee, but the repentance of the Publican. For everyone who exalts himself will be humbled, and everyone who humbles himself will be exalted. (Luke 18:14)
Read more on the Orthdoxwiki website.

To learn more about the Parable of the Publican and the Pharisee, listen to Fr. Thomas Hopko's podcast on the St. Peter website.
Fr. Tom teaches on the parable of the Publican and the Pharisee as we prepare for the Lenten season.
House and Business Blessings for 2019
Fr. Hans has started house and business blessings.
You can schedule your blessing by:
Filling in the form on the website
Texting Fr. Hans at 239-248-4775 (leave a few good dates and times and your address – Fr. Hans will confirm)
Talking to Fr. Hans at Social Hall
Emailing the Church
Phone calls are fine too but only as a last resort please.
Please a several available dates ready. The schedule fills up fast but Fr. Hans will make every possible accommodation to meet it.
New Member Classes and Bible Studies Continue
Cathechumen/New Member class on Mondays at 7:00pm. Catechumens are required to attend but anyone seeking a better understanding of the Orthodox faith is encouraged to attend as well.
General and Mens Bible studies on alternating Wednesdays. See schedule below.
St. Demetrios Brotherhood meetings (for young men) moved to Thursdays at 7:00pm.
NAMI Walk on February 16, 2019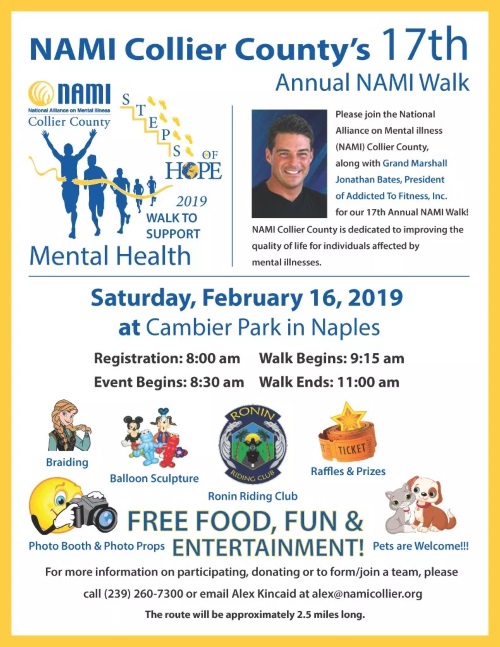 The walk will start around 830 or 9 o'clock in the morning with a light breakfast before the walk. Water and energy drinks and coffee fresh fruit offered during the walk. A light lunch will be provided after the walk with some entertainment
If anyone would like to join Bill and Mary's Copeland's team please contact us in church or call 239-498-1331.
We are asking our church family to support NAMI financially with a small contribution to help fund local activities for the mentally challenged individuals that live in Collier and Lee County.
St. Valentine's Day Dance on Saturday Evening February 16, 2019 at 6:00pm
The St. Valentines Day Dance will be held on Saturday evening, February 16, 2019 starting at 6:00pm in the Social Hall.
Enjoy an evening with family and friends.
Dancing (American dance music) and SURPRISE ENTERTAINMENT will be offered.
Please bring a Heavy Hors D'oeuvre item for all to enjoy.
Feel free to bring your refreshments of choice. Setups will be provided.
Please call Tina Kucera with questions at 239-980-1520.
Our Stewardship to St. Peter's: The Tree Must Bear Fruit
Please return your Stewardship Support of St. Peter's for 2019.
We are responsible to increase what God has given us. In the Parable of the Talents, the master gave his servants talents that they are expected to nurture and grow. This is a responsibility we cannot avoid.
The Church is both a place where the increase begins on the inside of us, and to which we much give some our increase. This too is a responsibility we must take on.
A contribution form will be included in the letter you receive. Our goal this year is $200,000. We must meet this goal to avoid using our reserves. If we spend our reserves, we will not be able to obtain a mortgage to buy or build when the time comes to do so (and it will come sooner than later).
All of us may have to squeeze a bit to meet this goal. But if give, the Church flourishes and that flourishing spills over into our lives as well and the lives of our families.
We must increase what we have been given by God.
St. Paul's Founders Day Brunch, Sunday, March 3, 2019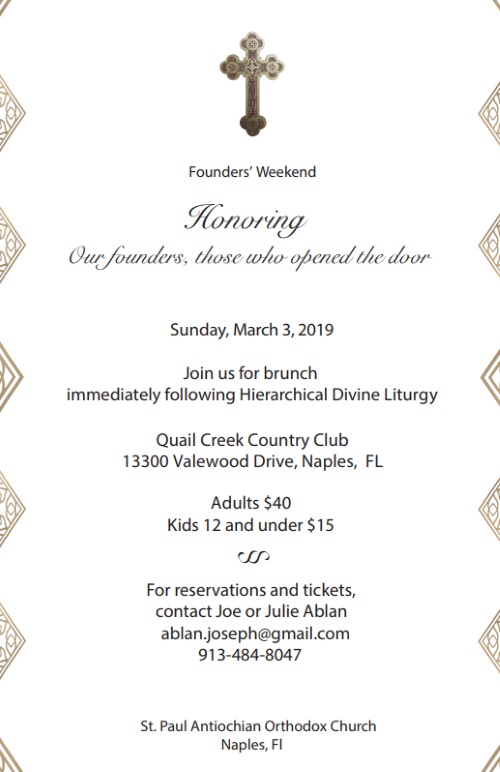 Our sister parish of St. Paul's in Naples is holding their Founder's Day Brunch on Sunday, March 3, 2019 following their Hierarchical Divine Liturgy. Bishop Nicholas will be attending.
The brunch will be held at the Quail Creek Country Club (get map and directions). If you plan to attend, leave soon after liturgy.
This is a good way to support our sister parish. So far about 10 people are committed to going including our Parish Council Members and Fr. Hans. If you plan to attend, please contact the number listed on the flyer.
Antiochian Archdiocese National Convention
Calendar At A Glance
FEBRUARY
Wednesday, February 14 — Community Bible Study at 7:00pm
Thursday, February 14 — St. Demetrios Brotherhood at 7:00pm
Saturday, February 16 — NAMI Walk 8:00am
Saturday, February 16 — St. Valentine's Day Dance/Potluck 6:00pm
Monday, February 18 — Catechumen/New Member Class at 7:00pm
Wednesday, February 20 — Mens Bible Study at 7:00pm
Thursday, February 21 — St. Demetrios Brotherhood at 7:00pm
Monday, February 25 — Catechumen/New Member Class at 7:00pm
Wednesday, February 27 — Community Bible Study at 7:00pm
Thursday, February 28 — St. Demetrios Brotherhood at 7:00pm
UPCOMING – Mark your calendars!
Sunday, March 10 — General Assembly Meeting following Liturgy
Sunday, May 12 — Mother's Day Brunch following Liturgy
Sunday, June 16 — Father's Day Barbecue following Liturgy
Sunday, April 21 — Palm Sunday Brunch following Liturgy
Sunday, April 28 — PASCHA Community Dinner following Agape Vespers
Wisdom From The Elders
Very few men can accurately recognize all their own faults; indeed, only those can do this whose intellect is never torn away from the remembrance of God. St. Diadochos of Photiki
When God recedes in order to educate us, this brings great sadness, humility and even some measure of despair to the soul. The purpose of this is to humble the souls tendency to vanity and self-glory, for the heart at once is filled with fear of God, tears of thankfulness, and great longing for the beauty of silence. St. Diadochus of Photiki
Reading, vigils and prayer– these are the things that lend stability to the wandering mind. Evagrius Ponticus
Prayer that rises up in someone's heart serves to open up for us the door of heaven: that person stands in converse with the Divinity and gives pleasure to the Son of God. Venerable Ephraim the Syrian
A guilty conscience is so burdensome that it punishes itself without a judge, and wishes for covering, and yet is bare before God. St. Ambrose of Milan
One cannot love God if one has unkind feelings for even a single human being. Abbot Nikon Vorobiev
Only Orthodox ascetic efforts and virtues can bring about sanctity (holiness). Venerable Justin of Chelije in Serbia
Remember in Your Prayers
Bryan, Carolina, their unborn baby
Athanasia
Alexandra
Constantina
Maryanne (E)
Ron (E)
Tim
Robert (J)
Mary (J)
Helen (Rogers)
Doug Spencer
Kathy Spencer
Kathy D
Andreas
Sofia Tešanovic
Paul
Dennis H. and Family
Victor Evan
Ann
James
Vasiliki
Efstratia
Alexandra
Nikos
Georgia
Ioannis
Costandino
Jeffrey
Vaso
Dave
Dimitri – Presbyter
Vassiliki
Octavio
Tom
Carl
Rena
Nikolay (5 year old boy in Bulgaria whose parents asked us to pray)
David
Eva K.
Rosie
Kathryn
Jeremy
Constantine
Robert
Jane
Theodora
David
Gina
Micheal
Haralambos
Lillian
Presbytera Rosy
Valentina
Eva W.
Barbara
Angela
Carol Ann
Matthew
Chrysostom
Tim
Pat
Christina
Maria Louise
Maximos
Marian
Photini
Nicholas
Sarah
Constantine Houpis
Anna Marie Smith Baker
Ron Chromulak
Beverly Chromulak
Katerina
Mary Kassis
Baby Maximus
Christine
Maria
Annette Star
Claire Livaditis
Eva Chandilles
Baby Dani
Scott Nedoff
James Hord
Tom
How should we pray for the sick? Remember them daily. Say their names (first names are sufficient) and ask God to bestow mercy and grace on them.
Add or remove names and print this list for easy reference during your prayer time on the St. Peter website.
Sunday Readings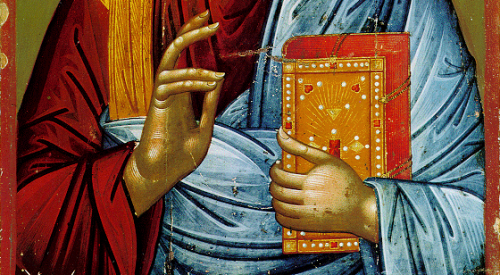 Epistle
For Sunday of the Pharisee and Publican
Make vows to the Lord thy God, and perform them.
In Judah God is known; His Name is great in Israel.
The Reading from the Second Epistle of St. Paul to St. Timothy. (3:10-15)
Timothy my son, you have observed my teaching, my conduct, my aim in life, my faith, my patience, my love, my steadfastness, my persecutions, and my sufferings; and what befell me at Antioch, at Iconium, and at Lystra. What persecutions I endured; yet from them all, the Lord rescued me.

Indeed all who desire to live a godly life in Christ Jesus will be persecuted, while evil men and impostors will go on from bad to worse, deceivers and deceived. But as for you, continue in what you have learned and have firmly believed, knowing from whom you learned it and how from childhood you have been acquainted with the sacred writings which are able to instruct you for salvation through faith in Christ Jesus.
Gospel
For Sunday of the Pharisee and Publican
The Reading from the Holy Gospel according to St. Luke. (18:10-14)
The Lord spoke this parable: "Two men went up into the temple to pray, one a Pharisee and the other a tax collector. The Pharisee stood and prayed thus with himself, 'God, I thank Thee that I am not like other men, extortionists, unjust, adulterers, or even like this tax collector. I fast twice a week; I give tithes of all that I get.' But the tax collector, standing far off, would not even lift up his eyes to Heaven, but beat his breast, saying, 'God, be merciful to me a sinner!' I tell you, this man went down to his house justified rather than the other; for everyone who exalts himself will be humbled, but he who humbles himself will be exalted."