Seventeenth Sunday of Matthew
Hieromartyr Haralambos, Bishop of Magnesia
The companions of Haralambos; Venerable Zenon the ascetic of Antioch
Who was St. Haralambos, Bishop of Magnesia?
The holy, glorious, right-victorious martyr Haralambos (or Charalampus) was a priest (Greek tradition) or bishop (Russian tradition) in the city of Magnesia in Thessaly during the late second and early third century. He was martyred, having openly preached the Gospel during persecutions during the reign of Alexander Severus (222-235), when Lucian was Proconsul of Magnesia. His feast is commemorated on February 10.
Haralambos is a most wonderful saint who lived to a very old age. He was 113 when he was tortured and later martyred. The Emperor Severus had appointed Lucian as the governor of the territory of Magnesia where Haralambos was a priest. Lucian was upset that Haralambos was converting so many pagans. He had him arrested and commanded him to honor the stone gods.
Since he would not do this, Lucian began to torture him. They used a tool that would flay the skin and they cut his skin to shreds. All the while, Haralambos gave thanks to our Lord. His strength amazed the executioners and they were converted. The military commander, Lucius, was angry and had his two officers Porphyrios and Vaptos beheaded. Three other women were converted, and were also killed. Then miraculously, the general's hands were severed at the elbow and he saw them hanging from the martyr's body.
Fear spread throughout the city. People began to beg mercy from the God Haralambos professed. The general begged for mercy from Haralambos. The Lord's voice was heard and instantly all those injured were healed. The general was converted and baptized. The Governor Lucian stopped persecuting the Christians until he could report back to the emperor.
Meanwhile, Haralambos performed many miracles, healing the sick, curing the blind, and even raising some from the dead. The whole region came to believe in Jesus Christ.
Source: OrthodoxWiki.
House and Business Blessings for 2019
Fr. Hans has started house and business blessings.
You can schedule your blessing by:
Filling in the form on the website
Texting Fr. Hans at 239-248-4775 (leave a few good dates and times and your address – Fr. Hans will confirm)
Talking to Fr. Hans at Social Hall
Emailing the Church
Phone calls are fine too but only as a last resort please.
Please a several available dates ready. The schedule fills up fast but Fr. Hans will make every possible accommodation to meet it.
New Member Classes and Bible Studies Continue
Cathechumen/New Member class on Mondays at 7:00pm. Catechumens are required to attend but anyone seeking a better understanding of the Orthodox faith is encouraged to attend as well.
General and Mens Bible studies on alternating Wednesdays. See schedule below.
St. Demetrios Brotherhood meetings (for young men) moved to Thursdays at 7:00pm.
NAMI Walk on February 16, 2019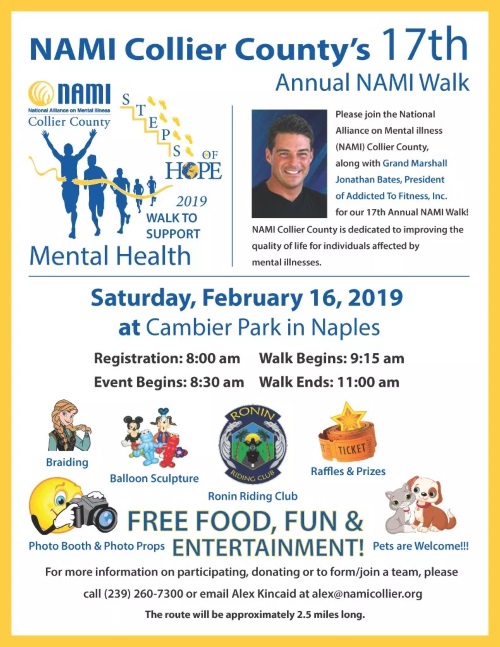 The walk will start around 830 or 9 o'clock in the morning with a light breakfast before the walk. Water and energy drinks and coffee fresh fruit offered during the walk. A light lunch will be provided after the walk with some entertainment
If anyone would like to join Bill and Mary's Copeland's team please contact us in church or call 239-498-1331.
We are asking our church family to support NAMI financially with a small contribution to help fund local activities for the mentally challenged individuals that live in Collier and Lee County.
St. Valentine's Day Dance on Saturday Evening February 26, 2019 at 6:00pm
The St. Valentines Day Dance will be held on Saturday evening, February 16, 2019 starting at 6:00pm in the Social Hall.
Enjoy an evening with family and friends.
Dancing (American dance music) and SURPRISE ENTERTAINMENT will be offered.
Please bring a Heavy Hors D'oeuvre item for all to enjoy.
Feel free to bring your refreshments of choice. Setups will be provided.
Please call Tina Kucera with questions at 239-980-1520.
Our Stewardship to St. Peter's: The Tree Must Bear Fruit
Please return your Stewardship Support of St. Peter's for 2019.
We are responsible to increase what God has given us. In the Parable of the Talents, the master gave his servants talents that they are expected to nurture and grow. This is a responsibility we cannot avoid.
The Church is both a place where the increase begins on the inside of us, and to which we much give some our increase. This too is a responsibility we must take on.
A contribution form will be included in the letter you receive. Our goal this year is $200,000. We must meet this goal to avoid using our reserves. If we spend our reserves, we will not be able to obtain a mortgage to buy or build when the time comes to do so (and it will come sooner than later).
All of us may have to squeeze a bit to meet this goal. But if give, the Church flourishes and that flourishing spills over into our lives as well and the lives of our families.
We must increase what we have been given by God.
Antiochian Archdiocese National Convention
Calendar At A Glance
FEBRUARY
Monday, February 11 — Catechumen/New Member Class at 7:00pm
Wednesday, February 14 — Community Bible Study at 7:00pm
Thursday, February 14 — St. Demetrios Brotherhood at 7:00pm
Saturday, February 16 — NAMI Walk 8:00am
Saturday, February 16 — St. Valentine's Day Dance/Potluck 6:00pm
Monday, February 18 — Catechumen/New Member Class at 7:00pm
Wednesday, February 20 — Mens Bible Study at 7:00pm
Thursday, February 21 — St. Demetrios Brotherhood at 7:00pm
Monday, February 25 — Catechumen/New Member Class at 7:00pm
Wednesday, February 27 — Community Bible Study at 7:00pm
Thursday, February 28 — St. Demetrios Brotherhood at 7:00pm
Wisdom From The Elders
Every divulgence of sin accompanied by sincere repentance makes the sinner closer, dearer and more precious to a spiritual father. This is commonly observed. The enemy only frightens one with thoughts contrary to this. Abbot Nikon Vorobiev
For us sinners, the prayer of the publican is sufficient. Learn to pray from him. Oh, if only you would learn this! Do not suppose that this is so simple. There is a profound depth here. This prayer opens the abyss of the heart, which is seen to be filled with all kinds of ugly vermin. Abbot Nikon Vorobiev
Wherever I am, as soon as I raise the eyes of my heart in my affliction to God, the Lover of men immediately answers my faith and prayer, and the sorrow immediately departs. He is at every time and every hour near me, only I do not see it, but I feel it vividly in my heart. Righteous John, Wonderworker of Kronstadt
The rule of life for a perfect person is to be in the image and likeness of God. St. Clement of Alexandria
Out of the greatest sinners God makes righteous men. Righteous John, Wonderworker of Kronstadt
Remember in Your Prayers
Bryan, Carolina, their unborn baby
Athanasia
Alexandra
Constantina
Maryanne (E)
Ron (E)

Tim
Robert (J)
Mary (J)
Helen (Rogers)
Doug Spencer
Kathy Spencer
Kathy D
Andreas
Sofia Tešanovic
Paul
Dennis H. and Family
Victor Evan
Ann
James
Vasiliki
Efstratia
Alexandra
Nikos
Georgia
Ioannis
Costandino
Jeffrey
Vaso
Dave
Dimitri – Presbyter
Vassiliki
Octavio
Tom
Carl
Rena
Nikolay (5 year old boy in Bulgaria whose parents asked us to pray)
David
Eva K.
Rosie
Kathryn
Jeremy

Constantine
Robert
Jane
Theodora
David
Gina
Micheal
Haralambos
Lillian
Presbytera Rosy
Valentina
Eva W.
Barbara
Angela
Carol Ann
Matthew
Chrysostom
Tim
Pat
Christina
Maria Louise
Maximos
Marian
Photini
Nicholas
Sarah
Constantine Houpis
Anna Marie Smith Baker
Ron Chromulak
Beverly Chromulak
Katerina
Mary Kassis
Baby Maximus
Christine
Maria
Annette Star
Claire Livaditis
Eva Chandilles
Baby Dani
Scott Nedoff
James Hord
Tom
How should we pray for the sick? Remember them daily. Say their names (first names are sufficient) and ask God to bestow mercy and grace on them.
Add or remove names and print this list for easy reference during your prayer time on the St. Peter website.
Sunday Readings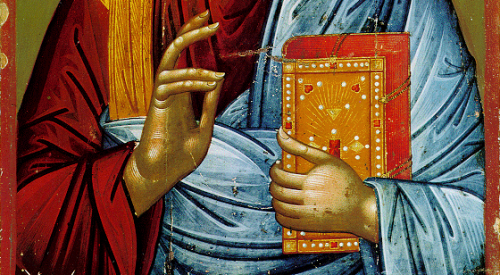 Epistle
For St. Haralambos
The righteous shall rejoice in the Lord.
God, hear my prayer.
The Reading from the Second Epistle of St. Paul to St. Timothy. (2:1-10)
Timothy, my son, be strong in the grace that is in Christ Jesus; and what you have heard from me before many witnesses entrust to faithful men who will be able to teach others also. Share in suffering as a good soldier of Christ Jesus. No soldier on service gets entangled in civilian pursuits, since his aim is to satisfy the one who enlisted him. An athlete is not crowned unless he competes according to the rules. It is the hard-working farmer who ought to have the first share of the crops. Think over what I say, for the Lord will grant you understanding in everything.
Gospel
For the Seventeenth Sunday of Matthew
The reading from the Holy Gospel according to St. Matthew. (15:21-28)
At that time, Jesus went to the district of Tyre and Sidon. And behold, a Canaanite woman from that region came out and cried, "Have mercy on me, O Lord, Son of David; my daughter is severely possessed by a demon." But He did not answer her one word. And His disciples came and begged Him, saying, "Send her away, for she is crying after us." He answered, "I was sent only to the lost sheep of the house of Israel." But she came and knelt before Him, saying, "Lord, help me." And He answered, "It is not fair to take the children's bread and throw it to the dogs." She said, "Yes, Lord, yet even the dogs eat the crumbs that fall from their master's table." Then Jesus answered her, "O woman, great is your faith! Be it done for you as you desire." And her daughter was healed instantly.