Sunday of the After-feast of the Ascension
Commemoration of the Holy Fathers of the First Ecumenical Council
Hieromartyr Dorotheos, bishop of Tyre; Martyr Nicander of Egypt; New-martyr Mark of Smyrna
The Holy Fathers of the First Ecumenical Council
"I will build My Church, and the gates of hell shall not prevail against it" (Mt. 16:18). Although the Church of Christ on earth will pass through difficult struggles with the enemy of salvation, it will emerge victorious.
Persecution of Christians ceased during the fourth century, but heresies arose within the Church itself. One of the most pernicious of these heresies was Arianism. Arius, a priest of Alexandria, was a man of immense pride and ambition. In denying the divine nature of Jesus Christ and His equality with God the Father, Arius falsely taught that the Savior is not consubstantial with the Father, but is only a created being.
A local Council, convened with Patriarch Alexander of Alexandria presiding, condemned the false teachings of Arius. However, Arius would not submit to the authority of the Church. He wrote to many bishops, denouncing the decrees of the local Council. He spread his false teaching throughout the East, receiving support from certain Eastern bishops.
Investigating these dissentions, the holy emperor Constantine (May 21) consulted Bishop Hosius of Cordova (Aug. 27), who assured him that the heresy of Arius was directed against the most fundamental dogma of Christ's Church, and so he decided to convene an Ecumenical Council. In 325, 318 bishops representing Christian Churches from various lands gathered together at Nicea.
Read the complete story on the Orthodox Church in America website.
Services This Week
SUN MAY 29 — SUNDAY OF THE BLIND MAN Orthros 8:30am, Divine Liturgy 9:30am LIVE STREAM
Tue May 31 — Paraklesis to the Theotokos LIVE STREAM
Thu Jun 02 — Ascension of Our Lord and Saviour Jesus Christ Divine Liturgy 9:30am LIVE STREAM
OCMC is pleased to announce an active search for the position of Missionary Director!
We are seeking a strong, confident, strategic, and ambitious leader with a deep desire to see lives transformed, the Gospel spread, and churches established throughout the world.
It's preferred that the candidate have:
A minimum of 3 years' prior service as an overseas missionary
A degree in missiology, or a willingness to engage in further study in the field
An Orthodox Christian theological education
For more information, click the link below and see if this might be a good fit for you!
Learn about the OCMC Missionary Director opening.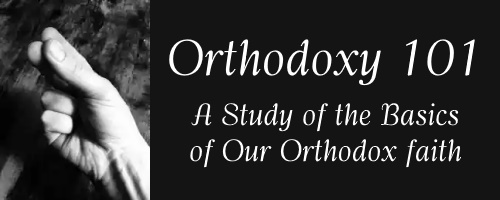 Starting in June St. Peter's offers a study of the Orthodox Basics (less philosophical, more factual and practical) of such things as worship, history, theology and more. This is for anyone and everyone who wants to understand our Orthodox faith and practice more thoroughly.
Dates will be determined but Saturday morning from 9:00am to 10:00 class time followed by a half hour optional discussion seems to work best for many people. Please let Fr. Hans know what works for you. We will begin when the summer starts and everyone's schedule is more flexible.
In the meantime check out the videos on the website Welcome to the Orthodox Church by Frederica Mathews-Green to prepare.
Helping Victims of the War in Ukraine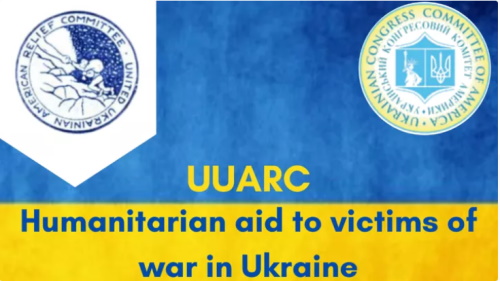 Galyna Seabrooke who has spoken on several occasions on the situation in Ukraine on behalf of our Ukranian parishioners mentioned opportunities to help the victims of the war.
One way to offer humanitarian aid is through a Go Fund Me page. Another is to donate essential items for Ukranian refugees. These items include:
Medications (no liquid or sprays allowed)
Pain killers / Fever Reducer (aspirin, Tylenol, ibuprophen)
Sterile gauzes
Elastic bandage wraps
Elastic bandages
Hydrogel burn bandages
Camouflage clothes
Knee pads
Tactic gloves
Thermal underwear for men
Hats, gloves, socks
No food items please.
A box will be set up in the church for donations.
We pray that war in Ukraine will end quickly.

Greek Language School Continues

Classes meet on Thursdays at 3:30pm in the Sunday School room.
Let's Pray the Paraklesis to the Theotokos Daily
Our goal at St. Peter's is to have one person or family pray the Parakelsis to the Theotokos for at least one day of every month. For each day of the month, individuals or even an entire family can sign up to pray the Paraklesis in their homes on the day/s which they select.
Get more information on how to participate from the St. Peter's website.
Cafe of Life: Remembering Those Who Gave Their Lives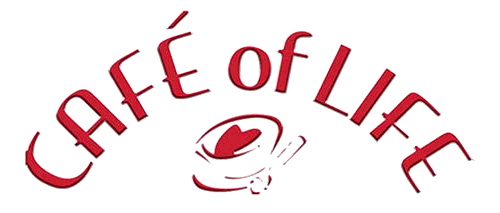 Yesterday we observed Memorial Day, an American holiday dedicated to honoring the men and women who died serving our country. We observe this holiday by visiting cemeteries or memorials of our loved ones and horribly reminded of the innocent young victims whose lives were violently taken away recently.
So take a moment to thank God for all you have and say a pray for all those gone.
CHRISTOS ANESTI and IC XC NI KA!

Pledge & Income Report – April 2022
Contributions received in April: $33,700.
Amount of money needed to cover expenses: $24,114.
We are ahead by $9,586.
Thank you to all who paid their 2022 stewardship in advance!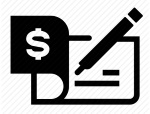 St. Peter Orthodox Church
7470 Hickory Drive
Fort Myers, FL 33967
You can also donate online:
Stewardship 2022
Stewardship letters have been mailed out. God has blessed St. Peter's. Please fill in your pledge so the work that we have been called to do will continue.
You can also print and download the form on the St. Peter website.

Save the Date! DOMSE Parish Life Conference June 15-18, 2022

Learn more on the DOMSE website.
Sign up the the Monthly DOMSE Newsletter on the DOMSE (Diocese of Miami and the Southeast) Website!
Visit the DOMSE Website (scroll to the bottom, fill in the form on the left side) to sign up for "The Light" Newsletter and DOMSE emails.


The Social Hall All Stars are the men and women that make St. Peter's Social Hall happen. Thank you All Stars!
May
MARJORIE ZIMMERMAN 239-595-4592
Filipe DaFonseca 515-825-6970
Leon Dephkalion 239-405-3887
Glo Franklin 636-734-6539
Will Schwarz 239-776-4776
Anna Tsikitas 718-309-1250
Barbara Sasen 239-770-1965
June
TOM HALEY 239-887-0753
Marlene Haley 239-405-8298
Cheryl Morse 612-210-1444
Tim Morse
Diana Najjar 317-213-5785
Deb Repya 651-485-4817
Elaine Semeretis 305-978-9714
Gregory Semeretis 917-992-5884
Procedures for Hospitality
Please note: If you would like to bring in your own prepared food, please contact Tom Haley at 239-887-0753 a week before the upcoming Sunday. That way we know not to prepare any food for Sunday.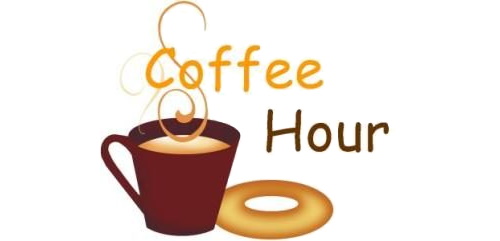 On most Sundays we will serve lighter refreshments like coffee, sweets, hummus, olives, feta, pita and similar items. Please continue bringing these items. Even though we have a range (unlike our former facility), we appreciate items that are "ready to be served."
Please do not donate coffee. We have a space age coffee brewer that we acquired at no cost if we buy our coffee from one supplier. If you bring in coffee, we can't use it.
We cannot continue preparing meals for Memorials, Name Days, Anniversaries, and other celebrations. We don't have the appliances or manpower to do it well. We do, however, have the name of two catering companies that can prepare and deliver the food if you would like to sponsor a celebration. Please call Tom Haley at 239-887-0753 for details and to make arrangements.
If you would like to bring in your own prepared food, please contact Tom Haley at 239-887-0753 a week before the upcoming Sunday. That way we know not to prepare any food for Sunday.
The Safest Way to Come to Church
US 41 is a busy highway and the intersection at Hickory Drive does not have a stop light. We recommend turning on Sanibel Boulevard and following Coconut Road instead.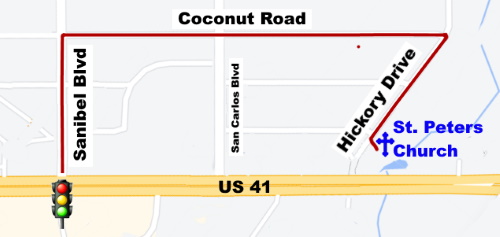 Helping Our Seniors With Parking
With the church growing the parking lot is close to full every Sunday. Younger parishioners, could you park in the grass lot even if spaces are open in the paved area? That way our seniors can park closer to the entrance and avoid the grassy area where it is easier to stumble and fall.

Calendar also available on the St. Peter website.
MAY – JUNE
SUN MAY 29 — SUNDAY OF THE BLIND MAN Orthros 8:30am, Divine Liturgy 9:30am LIVE STREAM
Tue May 31 — Paraklesis to the Theotokos LIVE STREAM
Thu Jun 02 — Ascension of Our Lord and Saviour Jesus Christ Divine Liturgy 9:30am LIVE STREAM
SUN JUN 05 — SUNDAY OF THE FATHERS OF THE FIRST ECUMENICAL COUNCIL Orthros 8:30am, Divine Liturgy 9:30am LIVE STREAM
Wed Jun 08 — Paraklesis to the Theotokos LIVE STREAM
Sat Jun 11 — Saturday of the Souls Divine Liturgy (for Pentecost) LIVE STREAM
SUN JUN 12 — SUNDAY OF PENTECOST Orthros 8:30am, Divine Liturgy 9:30am LIVE STREAM
Tue Jun 14 — The Holy Prophet Elias Divine Liturgy 9:30am LIVE STREAM
Wed Jun 15 – Sat Jun 18 — Fr. Hans Out of Town — DOMSE Parish Life Conference
SUN JUN 19 — SECOND SUNDAY OF MATTHEW Orthros 8:30am, Divine Liturgy 9:30am LIVE STREAM
Tue Jun 22 — Paraklesis to the Theotokos LIVE STREAM
Wed Jun 23 – Sat Jun 25 — Fr. Hans Out of Town

We must remember that the demons could have no foothold in our hearts if our impurities did not prepare there an abode fitting to their presence. They reside where it is com­fortable for them to live. Bishop Irenei Steenberg
God Himself acts in all things and expects nothing from us but humility before Him, and the gift of our soul— freed from all earthly things—with only one wish in the depths of our heart: to have God's will fulfilled in us, always and in all things. Fr. Jack Sparks
A person who is completely healthy… is not really well. It would be better if he had some health problem. Speaking of myself, I benefitted more from my illness than I had benefitted from all the ascetic struggle I had carried out until then. Saint Paisios of Mount Athos
Our own resolutions are not based on distrust of our own abilities and a firm trust in God. Consequently, we maintain a high opinion of ourselves—and one inescapable result of this is that, failing to accept divine help, we fall. That is why when we decide within, "Tomorrow I shall, without fail, abandon the path of sin," we always come up with the opposite: that is, instead of rising up, we fall down worse than before, and downfall after downfall follows. Fr. Jack Sparks
Above all let us be convinced that nothing can happen to us apart from the providence of God. Dorotheos of Gaza

List has been updated. If you want some names restored, please mention it to Fr. Hans.
Names will remain on the list for three months.
If you would like to keep them on longer please mention it to Fr. Hans. We will keep the names on the list for as long as the person needs prayers.
Names will include the person who requested the prayers and the month the name will be removed.
The permanent list includes friends and members of St. Peter's and others including shut-ins.
Were names dropped that should have remained? Please mention it to Fr. Hans. He will add them back.
Updated March 27 / Resets May 1.
Current Prayer List
Johanna (Dimartino 7/22)
Sarah (Tomlinson 7/22)
Natasha (Tomlinson 7/22)
Christine (Brubaker 7/22)
Elena (Brubaker 7/22)
Stella (Brubaker 7/22)
George (Corey 7/22)
Steven (Breitenbach)
Gabrielle (Lowell 5/22)
Andrea, Yelena, newborn baby (Protpapadakis 4/22)
George (Haynes 4/21)
Kayla (Palentine 4/21)
Katherine (Jacobse 3/22)
Basil (Jacobse 3/22)
Linda M. (Dusckas 3/22)
Barbara (Dusckas 3/22)
Fr John (Jacobse 3/22)
Angel (Ghanem 3/22)
John (Duskas 3/22)
Nancy (Coin 3/22)
Nicholas (Ghanem 1/22)
Arielle (Ghanem 1/22)
Georgia (Sarros 1/22)
Kerri (Dusckas 1/21)
Permanent Prayer List
Katheryn (Tolkkinen)
Markisia (Long)
Angela (Long)
Marina (Long)
Eleni (Long)
Raphaella (Long)
Joanne (Haley)
Francine (Anton)
Corwin (Dusckas)
Corgette (Troutman)
Irina (Irina)
Seraphim (Irina)
Lidia (Irina)
Sarina (Ghanem)
Kasiani, Jordan and their unborn child (Chapekis)
Debbie (Breitenbach)
Kathy (Breitenbach)
Hope (Isadore)
John (Long)
Pantelis (Tsikita)
Marisa (Tsikita)
Barbara (Dionysopoulos)
Patricia (Evanoff)
Gabriel (Mankus)
Baby Dani (Repya)
Maria and her newborn baby (Diveris)
Despina (Diversis)b
Fredericos (Diveris)
Sophia (D. Constantine)
Herman (Kerr)
Innocent (Kerr)
Nicholas (Kerr)
Paola (Jacobse)
Gregory (Yankopolos)
Soterios (Ninos)
Pauline (Poulos)
Sergio (Kazakos)
Fran (Hansen)
Nina (Krotov)
Franklin (Pyrrson)
George (Chionis)
Stamatia (Evelyn)
Demetrios (Kuchera)
Theodosios (Palis)
Theodora (Webb)
Robert (Smith)
Robert (Jarvis)
Presbytera Rosy (in Pakistan)
James (Hord)
Vassiliki (Kontinos)
Vassiliki (Morekeas)
Founders, Members, Benefactors and Friends Departed this Life
John (Hansen)
Anatoly (Kurdsjuk)
Thareni (Brooks)
Milan Evanoff
Jean (Sam)
Eleni (Pearson)
Richard (Pearson)
Fr. Stephanos (Shagoury)
Panagiota (Bea Chionis)
Anthony (Mourgis)
Anthony (Mankus)
Constantine (Houpis)
Constantine (Joseph)
Mary (Jarvis)
Panagiota Margarita (Palis)
Maria (Ninos)
John (Katsigianopoulos)
George (Chionis)
Mary (Spiropoulos)
Gregory (Pappas)
Angela (Coran K
Eugene (Rust)
How should we pray for the sick? Remember them daily. Say their names (first names are sufficient) and ask God to bestow mercy and grace on them.
Add or remove names and print this list for easy reference during your prayer time on the St. Peter website.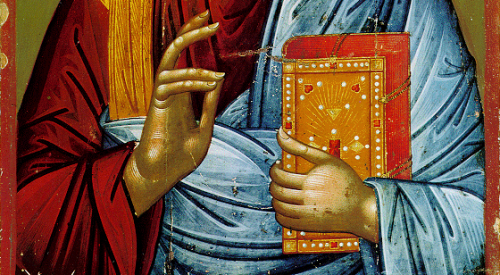 EPISTLE
Blessed art Thou, O Lord, the God of our Fathers.
For Thou art just in all Thou hast done.
The Reading from the Acts of the Apostles. (20:16-18, 28-36)
In those days, Paul had decided to sail past Ephesus, so that he might not have to spendtime in Asia; for he was hastening to be at Jerusalem, if possible, on the day of Pentecost. Andfrom Miletus he sent to Ephesus and called to him the elders of the church. And when they cameto him, he said to them: "Take heed to yourselves and to all the flock, in which the Holy Spirit hasmade you overseers, to care for the church of God which he obtained with the blood of his ownSon. I know that after my departure fierce wolves will come in among you, not sparing the flock;and from among your own selves will arise men speaking perverse things, to draw away thedisciples after them. Therefore, be alert, remembering that for three years I did not cease night or day to admonish everyone with tears.

And now I commend you to God and to the word of His grace, which is able to build you up and to give you the inheritance among all those who are sanctified. I coveted no one's silver or gold or apparel. You yourselves know that these hands ministered to my necessities, and to those who were with me. In all things I have shown you that by so toiling one must help the weak, remembering the words of the Lord Jesus, how He said, 'It is more blessed to give than to receive.'" And when he had spoken thus, he knelt down and prayed with them all.
GOSPEL
The Reading from the Holy Gospel according to St. John. (17:1-13)
At that time, Jesus lifted up His eyes to heaven and said, "Father, the hour has come; glorify Thy Son that the Son may glorify Thee, since Thou hast given Him power over all flesh, to give eternal life to all whom Thou hast given Him. And this is eternal life, that they know Thee the only true God, and Jesus Christ Whom Thou hast sent. I glorified Thee on earth, having accomplished the work which Thou gavest Me to do; and now, Father, glorify Thou Me in Thy own presence with the glory which I had with Thee before the world was made. I have manifested Thy Name to the men whom Thou gavest Me out of the world; Thine they were, and Thou gavest them to Me, and they have kept Thy word. Now they know that everything that Thou hast given Me is from Thee; for I have given them the words which Thou gavest Me, and they have received them and know in truth that I came from Thee; and they have believed that Thou didst send Me.

I am praying for them; I am not praying for the world but for those whom Thou hast given Me, for they are Thine; all Mine are Thine, and Thine are Mine, and I am glorified in them. And now Iam no more in the world, but they are in the world, and I am coming to Thee. Holy Father, keep them in Thy Name, which Thou hast given Me, that they may be one, even as We are one. While I was with them, I kept them in Thy Name, which Thou have given Me; I have guarded them, and none of them is lost but the son of perdition, that the scripture might be fulfilled. But now I am coming to Thee; and these things I speak in the world, that they may have My joy fulfilled in themselves."