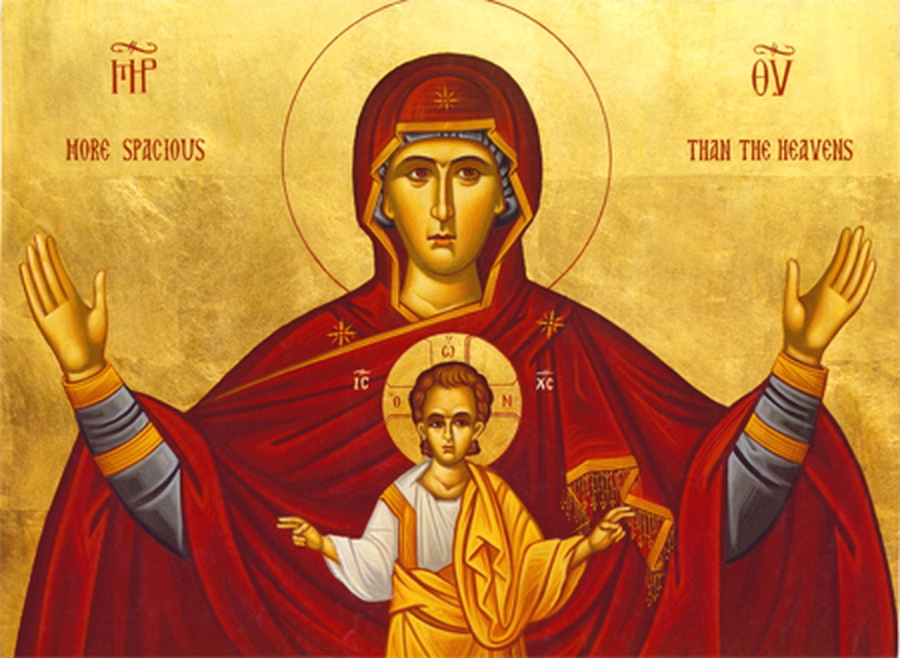 Our goal at St. Peter's is to have one person or family pray the Parakelsis to the Theotokos for at least one day of every month. For each day of the month, individuals or even an entire family can sign up to pray the Paraklesis in their homes on the day/s which they select.
Hopefully, we will reach our goal of collectively praying for the intercessions of the Theotokos every day of every month. That way the supplications to the Theotokos will be offered for our parish, the larger world and those in need such as the people on our prayer list.
Also, you will come to know and love this beautiful hymn and learn more about the Theotokos and her benevolence and power towards us. We supplicate the Theotokos who responds in mercy, and she supplicates her son on behalf of the parish and its people.
HOW DOES IT WORK?
One person/family will be saying or singing the Paraklesis from home on the calendar date which is selected during any given month. If any of you wish to select more than one day per month, we gratefully accept your prayers. On the days we hold service at Church, we will sing it there.
WHERE DO I SIGN UP?
Sign up for your turn at the SignUp Genius website. You can sign up to pray the service as often as you want.

I"D LOVE TO PARTICIPATE BUT I DON'T KNOW THE SERVICE.
No problem. We've put the audio on the St. Peter website and you sing along as you read the prayers and learn the music at the same time. You'll be surprised at how fast you will pick it up. You can find the audio of the service here. You can find the text of the service here.
WHERE DO I GET THE PARAKLESIS SERVICE BOOK?
You can order one from Holy Cross Press or you can download and print a copy from the St Peter website.
DO I HAVE TO PRAY THE SERVICE AT ANY PARTICULAR TIME?
No. Anytime during the day is fine. Carve out about 45 minutes so you are not interrupted however.
IS THERE ANY WAY I CAN GET A CD OR SHEET MUSIC OF THE PARAKLESIS SERVICE?
Sure is. You can order a CD of the service here, and sheet music here.
I WANT TO DO THIS. COULD YOU TELL ME WHERE TO FIND WHAT I NEED IN FEW SHORT STEPS?
Sign up here.
Print out the Paraklesis service here here (or use your book).
Sing the Paraklesis along with the music here.
Again, you will be surprised at how fast you learn this beautiful and powerful prayer.