Christ is Risen! Truly He has Risen!
Sunday of the Myrrh-Bearing Women, Pious Joseph of Arimathaea and Righteous Nicodemus
Pious Joseph of Arimathaea, Righteous Nicodemus and the holy Myrrh-bearing Women; Venerable Theodore the Sanctified, disciple of Pachomios the Great; Alexander, archbishop of Jerusalem; New-martyr Nicholas of Metsov; and Venerable Ephraim of Perekop, wonderworker of Novgorod
The Myhrr Bearing Women at Christ's Tomb
The Myrhh Bearing Women
The third Sunday of Holy Pascha is observed by the Orthodox Church as the Sunday of the Holy Myrrhbearers. The day commemorates when the women disciples of our Lord came to the tomb to anoint his body with myrrh-oils but found the tomb empty. As the woman wondered what this meant, angels appeared proclaiming that Christ had risen from the dead.
Of those whose names are known are the following: first of all, the most holy Virgin Mary, who in Matthew 27:56 and Mark 15:40 is called "the mother of James and Joses" (these are the sons of Joseph by a previous marriage, and she was therefore their step-mother); Mary Magdalene (celebrated July 22); Mary, the wife of Clopas; Joanna, wife of Chouza, a steward of Herod Antipas; Salome, the mother of the sons of Zebedee; Mary and Martha, the sisters of Lazarus; and Susanna. As for the names of the rest of them, the evangelists have kept silence.
Together with them we celebrate also the secret disciples of the Savior, Joseph and Nicodemus. Of these, Nicodemus was probably a Jerusalemite, a prominent leader among the Jews and of the order of the Pharisees, learned in the Law and instructed in the Holy Scriptures. He had believed in Christ when, at the beginning of our Savior's preaching of salvation, he came to Him by night. Furthermore, he brought some one hundred pounds of myrrh-oils and an aromatic mixture of aloes and spices out of reverence for the divine Teacher (John 19:39).
Joseph, who was from the city of Arimathea, was a wealthy and noble man, and one of the counselors who were in Jerusalem. He went bodly unto Pilate and asked for the body of Jesus, and together with Nicodemus he gave Him burial. Since time did not permit the preparation of another tomb, he placed the Lord's body in his own tomb which was hewn out of rock, as the Evangelist says (Matthew 27:60).
Read the entire story on the Greek Orthodox Archdiocese website.
Services this Week
Tue May 11 — Paraklesis to the Theotokos 9:30am LIVE STREAM
Thu May 13 — Paraklesis to the Theotokos 9:30am LIVE STREAM
More Paraklesis Services at St. Peter's
Fr. Hans will be serving more Paraklesis services offered to the Theotokos in behalf of our country. We live in very uncertain times and in times of trouble we implore the help of the Theotokos to break the strong holds of the enemy who desires to hold men in bondage.
George Chionis — Memory Eternal / Memorial Schedule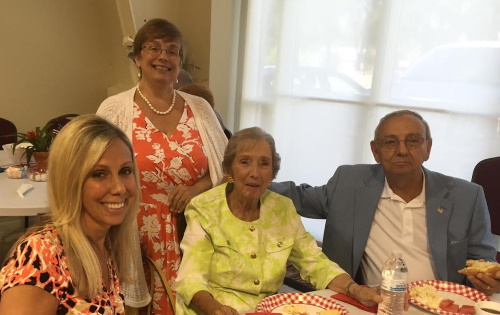 George and Bea Chionis with their daughters Jeannie and Denise
With sadness we must announce the passing of George Chionis, a dear friend to many at St. Peter's and, with his wife Bea (Panagiota) a faithful parishioner of St. Peter's from the early years.
George passed away this morning (Sunday, May 9, 2021) at 1:40am. He is reunited with his beloved Bea who preceded him in death. He was a good man, a faithful father, and devoted husband. We will miss him as we miss Bea. Now he is welcomed by the Angels and our Lord and Savior Jesus Christ whom he loved.
Memorial Schedule
George will be interned at Palm Royale Cemetery (get directions) at 11:00am on Monday, May 17, 2021. A memorial service will be held at the gravesite where George will be laid to rest alongside his beloved wife Bea. Friends are invited to attend the graveside memorial.
The Makaria (funeral dinner) and other services will be held in Chicago where his family lives.
St. Peter's Parish will offer a Forty Day Memorial for George on Sunday, June 29, 2021.
A Biography of George and Bea Chionis
About four years ago, Nancy Forderhase, our parish historian, penned a lovely portrait of George and Bea for the parish newsletter. You can find it on the St. Peter website. A portion is included below:
George Chionis, a loved and valued parishioner, is a son of the Mid-West. The youngest of six children, George was born in Chicago in 1931. He is the offspring of Greek immigrants; his mother and father, seeking opportunities in America, migrated to the middle of the country. George's hard working father began as a meat cutter in Chicago and soon opened his own grocery store. George remembers that that the four boys in his family worked in the grocery store after school. No baseball or sports activities for them because they immediately went to work, helping their father at the store. The family thrived, and through hard work and careful savings, his father was able to purchase a beautiful home near the Greek Church in 1939 toward the end of the Great Depression. Considering the hard economic times, that was a remarkable accomplishment.

Bea's mother had died in childbirth, two other siblings passed away, and finally, her father died when she was nine years old. An uncle living in California offered her a home, but Bea chose to remain with her grandmother in Chicago.
Read the entire portrait on the St. Peter's website.
Two Things to Remember About Our Church at Hickory Drive
The Presbyterian Church will be using the Social Hall for their worship until they find a place to relocate. Do not enter the Social Hall before 10am on Sundays.
US 41 is a busy highway and the intersection at Hickory Drive does not have a stop light. We recommend turning on Sanibel Boulevard and following Coconut Road instead.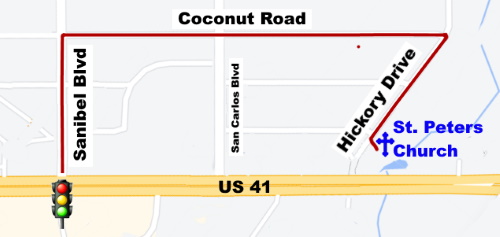 Coming Soon: Antiochian Men!
The new parish means new responsibilities and the men can step up. A lot of men already have with the move contributing hours of work and sweat to bring the building into shape. We could also do other things too, say breakfast one Saturday a month. It would be a great time for fellowship.
Stay tuned! The Church needs you men.
We Need Help in the Social Hall!
As the church grows so do the jobs. Everyone in the parish needs to take on a job. Please see Tom Haley to volunteer in these areas:
Coffee Lead
Table Lead
Clean Up
Does Anyone Have A Label Maker?
Could we borrow it? We have to label cabinets and other items. Please see Tom Haley.
Cafe of Life Ministry
We will be gathering this Thursday, May 13th at 1:00 pm in the social hall of St. Peter's Orthodox Church to make the sandwiches for the homeless and hungry at the Cafe of Life. You are all encouraged to partake in this very important mission.
For those who are unable to join us and would like to donate, checks ( made out to St. Peter's Church) or cash can be given to Father Hans.
Christos Anesti and IC XC NI KA!
Pledge & Income Report – April 2021
Donations received in April: $28,321.
Amount of money needed to cover expenses: $22,760.21.
We are ahead by $5,561.
These numbers reflect the operating costs of the the Hickory Drive property.
Please note:Please continue your generous support. If you cannot make it to church please mail in your donation to: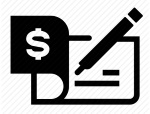 St. Peter Orthodox Church
7470 Hickory Drive
Fort Myers, FL 33967
You can also donate online:
Bishop NICHOLAS Offers a Weekly Live Stream
These are short thirty minute presentations where His Grace Bp. Nicholas speaks on one theme in Sunday readings for fifteen minutes followed by questions from the listeners. It's worth tuning in. Get instructions on the St. Peter website on how to use the Band App on your phone or computer to participate.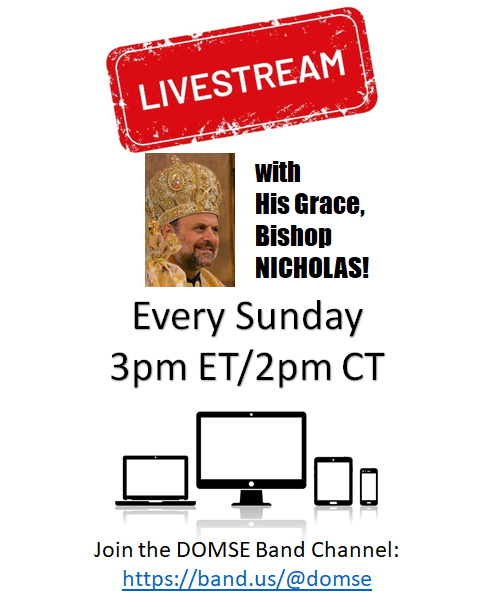 Calendar At A Glance
Calendar also available on the St. Peter website.
MAY
Sun May 02 — GREAT AND HOLY PASCHA LIVE STREAM
Thu May 06 — Paraklesis to the Theotokos 9:30am LIVE STREAM
Sat May 08 — St. John the Apostle Divine Liturgy 10:00am (NOTE LATER TIME) LIVE STREAM
Sun May 09 — THOMAS SUNDAY Divine Liturgy – Orthros 8:30am Divine Liturgy 9:30am LIVE STREAM
Tue May 11 — Paraklesis to the Theotokos 9:30am LIVE STREAM
Thu May 13 — Paraklesis to the Theotokos 9:30am LIVE STREAM
Sun May 16 — SUNDAY OF THE MYRRH BEARING WOMEN Divine Liturgy – Orthros 8:30am Divine Liturgy 9:30am LIVE STREAM
Tue May 18 — Paraklesis to the Theotokos 9:30am LIVE STREAM
Fri May 21 — Sts. Constantine and Helen Divine Liturgy 9:30am LIVE STREAM
Sun May 23 — SUNDAY OF THE PARALYTIC Divine Liturgy – Orthros 8:30am Divine Liturgy 9:30am LIVE STREAM
Tue May 25 — Finding of the Head of St. John the Baptist Divine Liturgy 9:30am LIVE STREAM
Wed May 26 — Midfeast of Pentecost Divine Liturgy 9:30am LIVE STREAM
Wisdom From The Elders
It is not enough to simply make your confession to the Spiritual Father; you must also truly repent of what you have done. Elder Paisios of Mount Athos
But as soon as Grace sees that a little self-esteem has begun to steal into a man's thoughts, and that he has begun to think great things of himself, she immediately permits the temptations opposing him to gain in strength and prevail, until he learns his weakness, and takes to flight, and clings to God in humility. St. Isaac the Syrian
Abba Sisoes used to say that the way that leads to humility is abstinence, unceasing prayer to God, and the struggle to be lower than every man. Archbishop Chrysostomos of Etna
In the same way the grace of God is preserved by the practice of the commandments, and the observance of these commandments is laid down like foundations through the gift of God. The grace of the Spirit cannot remain with us without the practice of the commandments, but the practice of the commandments is of no help or advantage to us without the grace of God. St. Symeon the New Theologian
It is a wonderful thing that, no matter how much we trouble about our health, however much care we take of ourselves, whatever wholesome and pleasant food we eat, whatever wholesome drinks we drink, however much we walk in the fresh air, still, notwithstanding all this, in the end we are subjected to maladies and corruption; whilst the saints, who despised their flesh, and mortified it by continual abstinence and fasting, by lying bare on the earth, by watchfulness, labours, unceasing prayer, have made both their souls and bodies immortal. St. John of Kronstadt
Your children should not hear you arguing even once, not even if you raise the tone of your voices to one another. Elder Porphyrios
Remember in Your Prayers
Names will remain on the list for two months.
If you would like to keep them on longer please mention it to Fr. Hans. We will keep the names on the list for as long as the person needs prayers.
Names will include the person who requested the prayers and the month the name will be removed.
The permanent list includes friends and members of St. Peter's and others including shut-ins.
Were names dropped that should have remained? Please mention it to Fr. Hans. He will add them back.
Updated April 10 / Resets May 1
Current Prayer List
George III (Ghanem 7/21)
Kristin (Ghanem 7/21)
Nora (Ghanem 7/21)
George IV (Ghanem 7/21)
Lena (Ghanem 7/21)
Baree (Dusckas 7/21)
Anna (Dusckas 7/21)
Barbara (Dusckas 7/21)
Hannah (Dusckas 7/21)
Chris (Dusckas 7/21)
Stephanie and unborn child (Dusckas 7/21)
Georgia (Jacobse 6/21)
Margaret (Breitenbach 6/21)
Maryann (Breitenbach 6/21)
Jean (Wolffe 6/21)
Robin (Wolffe 6/21)
Debbie (Breitenbach 6/21)
Michael (Jacobse 4/21)
Kathy (Jacobse 4/21)
Raphaela (4/21)
Michael (Wolffe 4/21)
Fredericos (Diveris 4/21)
Vasiliki (Diveris 4/21)
Panagiota (Jacobse 4/21)
Michelene (Repya 4/21)
Colleen ((Repya 4/21)
Fr. Demetrios (Copeland 4/21)
Kondylia (Chapekis 4/21)
Brian (Colis 4/21)
Maria(Colis 4/21)
Permanent Prayer List
Maria and her unborn child Iakovos (Diveris)
Sophia (D. Constantine)
Herman (Kerr)
Innocent (Kerr)
Nicholas (Kerr)
Paola (Jacobse)
Gregory (Yankopolos)
Soterios (Ninos)
Pauline (Poulos)

Sergio (Kazakos)
Rae (Semeretis)
Fran (Hansen)
Nina (Krotov)
George the Priest (Chapekis)
Franklin (Pyrrson)
George (Chionis)
Stamatia (Jacobse)
Stamatia (Evelyn)
Demetrios (Kuchera)
Theodosios (Palis)
Theodora (Webb)
Helen (Rogers)
Robert (Smith)
Robert (Jarvis)
Presbytera Rosy (in Pakistan)
James (Hord)
Ann (Rellis)
Vassiliki (Kontinos)
Vassiliki (Morekeas)
Founders, Members, and Benefactors Departed this Life
John (Hansen)
Anatoly (Kurdsjuk)
Thareni (Brooks)
Milan Evanoff
Jean (Sam)
Eleni (Pearson)
Richard (Pearson)
Fr. Stephanos (Shagoury)
Panagiota (Bea Chionis)
Anthony (Mourgis)
Anthony (Mankus)
Constantine (Houpis)
Constantine (Joseph)
Mary (Jarvis)
Panagiota Margarita (Palis)
Maria (Ninos)
John (Katsigianopoulos)
George (Chionis)
Gregory (Pappas)
Angela (Coran K)
How should we pray for the sick? Remember them daily. Say their names (first names are sufficient) and ask God to bestow mercy and grace on them.
Add or remove names and print this list for easy reference during your prayer time on the St. Peter website.
Sunday Readings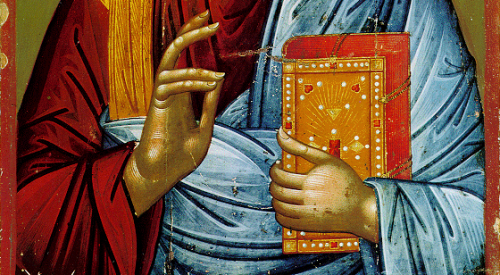 EPISTLE
The Lord is my strength and my song.
The Lord has chastened me severely.
In those days, when the disciples were increasing in number, the Hellenists murmured against the Hebrews because their widows were neglected in the daily distribution. And the Twelve summoned the body of the disciples and said, "It is not right that we should give up preaching the word of God to serve tables. Therefore, brethren, pick out from among you seven men of good repute, full of the Spirit and of wisdom, whom we may appoint to this duty. But we will devote ourselves to prayer and to the ministry of the word."

And what they said pleased the whole multitude, and they chose Stephen, a man full of faith and of the Holy Spirit, and Philip, and Prochorus, and Nicanor, and Timon, and Parmenas, and Nicolaos, a proselyte of Antioch. These they set before the apostles, and they prayed and laid their hands upon them. And the word of God increased; and the number of the disciples multiplied greatly in Jerusalem, and a great many of the priests were obedient to the faith.
GOSPEL
The Reading from the Holy Gospel according to St. Mark. (15:43-16:8)
At that time, Joseph of Arimathaea, a respected member of the council, who was also himself looking for the Kingdom of God, took courage and went to Pilate, and asked for the body of Jesus. And Pilate wondered if He were already dead; and summoning the centurion, he asked him whether Jesus was already dead. And when he learned from the centurion that He was dead,he granted the body to Joseph. And he bought a linen shroud, and taking Him down, wrapped Him in the linen shroud, and laid Him in a tomb, which had been hewn out of the rock; and he rolled a stone against the door of the tomb. Mary Magdalene and Mary the mother of Joses saw where He was laid.

And when the Sabbath was passed, Mary Magdalene, Mary the mother of James, and Salome, bought spices so that they might go and anoint Him. And very early on the first day of the week they went to the tomb when the sun had risen. And they were saying to one another, "Who will roll away the stone for us from the door of the tomb?" And looking up, they saw that the stone was rolled back—it was very large. And entering the tomb, they saw a young man sitting on the right side, dressed in a white robe; and they were amazed. And he said to them, "Do not be amazed; you seek Jesus of Nazareth, Who was crucified. He has risen, He is not here; see the place where they laid Him. But go, tell His Disciples and Peter that He is going before you to Galilee; there you will see Him, as He told you." And they went out and fled from the tomb; for trembling and astonishment had come upon them; and they said nothing to anyone, for they were afraid.