Summer is Winding Down…
…and there is not much news to report. This summer however has been good for St. Peter's. Attendance was better than it has every been, and the core — our self-identity — has strengthened. As we rely on the Lord for His leading we are developing into a Church where we care and pray for each other. As long as this remains our priority, our chief reason for coming together where we find God so that we can support one another, our efforts will be blessed.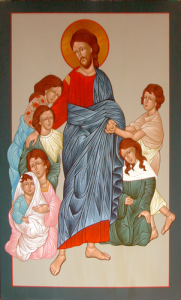 It goes back to the two great commandments found in scripture: Love God with all your heart, soul, mind, body, and strength; and love your neighbor as yourself (Mark 12:29-30). If this is our orientation, not only on Sunday but every day of the week, we find God. And when we find God we find ourselves. And then our lives, no matter how difficult it may be at times, still rests in the palm of God's hand and He will lead us and guide us.
One of my favorite scriptures (one that always comes back to me in difficult times) is: Trust in the Lord with all your heart and lean not to your own understanding; in all your ways acknowledge Him and he will direct your paths (Proverbs 3:5). The lesson of this promise (and it is a promise) is that no matter how bleak things may seem at times, the Lord will always guide you.
Sometimes events happen that seem to make no sense. Sometimes we are treated unjustly. Whatever the circumstances, God sees a bigger picture than we do and if we trust in Him the skies will clear and we will be walking in clarity and understanding in due course.
There is also a corollary to this promise: But without faith it is impossible to please Him: for he that comes to God must believe that He is, and that He is a rewarder of them that diligently seek Him (Hebrews 11:6-7). What this means is that if we seek God, He will make Himself known to us. Don't get preoccupied about whether or not you have enough faith. Instead, just pray. Prayer is the act of the faith, and in doing it you fulfill this command. You make it possible for God to come to you.
We can have confidence in God because He is the source of all good. We can have faith in Him because He is steadfast. God doesn't change, and that means He never goes back on His promises. All we do is approach Him and then His good is ours to know and experience because He plays no favorites, He loves and gives to everyone equally.
Once we do that and experience the Lord concretely in our lives, then our faith grows. Yes, we struggle against sin and other distractions but we know that God is good and His mercy towards us will endure forever. When we call, He answers.
Bible Studies this Fall
Bible studies will resume this fall. We will take a quick poll on Sunday to choose evenings and dates (Tuesdays, every other week?) and when we should begin (September? October?).
Also, we will need a volunteer family to host the studies the first month.
Sunday Scripture Readings
Epistle
Lesson from the First Epistle of Saint Paul to the Corinthians (9:2-12)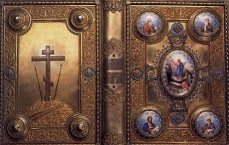 Brethren, You are the seal of my apostleship in the Lord. This is my defense to those who would examine me.

Do we not have the right to our food and drink? Do we not have the right to be accompanied by a wife, as the other apostles and the brothers of the Lord and Cephas? Or is it only Barnabas and I who have no right to refrain from working for a living?

Who serves as a soldier at his own expense? Who plants a vineyard without eating any of its fruit? Who tends a flock without getting some of the milk?

Do I say this on human authority? Does not the law say the same? For it is written in the law of Moses, "You shall not muzzle an ox when it is treading out the grain." Is it for oxen that God is concerned? Does he not speak entirely for our sake? It was written for our sake, because the plowman should plow in hope and the thresher thresh in hope of a share in the crop.

If we have sown spiritual good among you, is it too much if we reap your material benefits? If others share this rightful claim upon you, do not we still more? Nevertheless, we have not made use of this right, but we endure anything rather than put an obstacle in the way of the gospel of Christ.
Gospel
Matthew 18:23-35 (11th Sunday of Matthew)
The Lord spoke this parable: "The kingdom of heaven may be compared to a king who wished to settle accounts with his servants. When he began the reckoning, one was brought to him who owed him ten thousand talents; and as he could not pay, his lord ordered him to be sold, with his wife and children and all that he had, and payment to be made.

So the servant fell on this knees, imploring him, 'Lord, have patience with me, and I will pay you everything.' And out of pity for him the lord of that servant released him and forgave him the debt.

But that same servant, as he went out, came upon one of his fellow servants who owed him a hundred denarii; and seizing him by the throat he said, 'Pay what you owe.' So his fellow servant fell down and besought him, 'Have patience with me, and I will pay you.' He refused and went and put him in prison till he should pay the debt.

When his fellow servants saw what had taken place, they were greatly distressed, and they went and reported to their lord all that had taken place. Then his lord summoned him and said to him, 'You wicked servant! I forgave you all that debt because you besought me; and should not you have had mercy on your fellow servant, as I had mercy on you?'

And in anger his lord delivered him to the jailers till he should pay all his debt. So also my heavenly Father will do to everyone of you, if you do not forgive your brother from your heart."