We Live in a Great Country
Watching the Republican Convention this week (I've always watched both conventions since I was very young), I always leave thankful that I am an American. Reasonable people can reasonably disagree about many things — including who they will vote for, but that we can disagree and still elect a new leader is something to be grateful for.
Russell Kirk, a brilliant American philosopher, taught that religion is the ground of culture. What he meant was that how people believe eventually shapes the kind of society that build for themselves. If religion wanes, the society will weaken. If religion is strong, the society will be stronger.
He wrote that America is unique in the family of nations because government draws from the will of the people. This principle was noted earlier by a French philosopher named Alexis de Tocqueville in the mid-1800s.
Tocqueville wrote that America organized itself not by class or family origin like the countries of Europe. America had no aristocracy. It was a nation founded on the idea that every person had equal standing before God.
This equality was not imposed from above. Rather, it was embraced from below as a moral precept, as a way that life was really meant to be lived. It is articulated in the Declaration of Independence when the American Founders said that man had "unalienable rights" that were given to every person by God.
These fundamental insights could only have arisen in a Christian culture. They are grounded in the deep Christian insight that God created man to be free.
The principle was not always uniformly applied. Slavery is an example. Still, the fact that slavery came to be seen as a grave moral wrong and was eventually corrected still affirms that the founding principles are correct.
Today the principles are seriously misunderstood. People confuse freedom with moral license. They think freedom means you get to do whatever you want. That's not true. Freedom means you are free to do what is right.
This is something the American Founders understood. They also understood that right and wrong can only be known if people had a religious grounding. That is why they put freedom of religion in the First Amendment of the US Constitution.
We can argue about who we think will make a better leader, but the fact that we are free to argue at all is a great gift that few people in the world share, and that most of human history has never known.
God bless America.
Sunday Scripture Readings
Epistle
I Corinthians 16:13-24 (13th Sunday after Pentecost)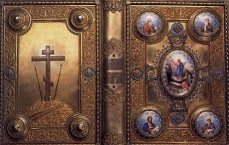 BRETHREN, be watchful, stand firm in your faith, be courageous, be strong. Let all that you do be done in love.

Now, brethren, you know that the household of Stephanas were the first converts in Achaia, and they have devoted themselves to the service of the saints; I urge you to be subject to such men and to every fellow worker and laborer. I rejoice at the coming of Stephanas and Fortunatus and Achaicos, because they have made up for your absence; for they refreshed my spirit as well as yours. Give recognition to such men.

The churches of Asia send greetings. Aquila and Prisca, together with the church in their house, send you hearty greetings in the Lord. All the brethren send greetings. Greet one another with a holy kiss.

I, Paul, write this greeting with my own hand. If any one has no love for the Lord, let him be accursed. Our Lord, come! The grace of the Lord Jesus be with you. My love be with you all in Christ Jesus. Amen.
Gospel
Matthew 21:33-42 (13th Sunday of Matthew)
The Lord spoke this parable: "There was a householder who planted a vineyard, and set a hedge around it, and dug a wine press in it, and built a tower, and let it out to tenants, and went into another country. When the season of fruit drew near, he sent his servants to the tenants, to get his fruit; and the tenants took his servants and beat one, killed another, and stoned another.

Again he sent other servants, more than the first; and they did the same to them. Afterward he sent his son to them, saying, 'They will respect my son.' But when the tenants saw the son, they said to themselves, 'This is the heir; come, let us kill him and have his inheritance.' And they took him and cast him out of the vineyard, and killed him.

When therefore the owner of the vineyard comes, what will he do to those tenants?" They said to him, "He will put those wretches to a miserable death, and let out the vineyard to other tenants who will give him the fruits in their seasons."

Jesus said to them, "Have you never read in the scriptures: 'The very stone which the builders rejected has become the head of the corner; this was the Lord's doing, and it is marvelous in our eyes'?"