The Seventh Sunday of Luke
St. Menas of Egypt the Wonderworker
Martyrs Victor and Stephanie in Damascus
Martyr Vincent of Spain, Venerable Theodore the Studite
Blessed Maximos the Fool-for-Christ
Martyr Stephen of Dechani, King of Serbia,Stephen
Urosh and Princess Milica
Martin the Merciful, Bishop of Tours

Who was Menas of Egypt the Wonderworker?
Saint Menas, who had Egypt as his fatherland, contested in Cotyaeion of Phrygia in 296 during the reign of Diocletian and Maximian. A soldier distinguished for his valour in war, he renounced his rank and withdrew to devote himself to ascetical struggles and prayer in the mountains.
Filled with zeal and more than human courage, he presented himself in the midst of a pagan festival in Cotyaeion and declared himself to be a Christian. After terrible torments which he endured with astonishing courage, he was beheaded.
His martyrium in Egypt became a place of universal pilgrimage; evidence of ancient journeys to his shrine have been found as far away as Ireland. The glory and refuge of the Christians of Egypt, he has been revealed to be a worker of great miracles and a swift defender for all who call on him with faith; besides all else, he is also invoked for help in finding lost objects.
Source: The Greek Orthodox Archdiocese website.
Divine Liturgy at St. Paul's for the Synaxis of the Archangels and Bodiless Powers on Wednesday, November 7, 2018 — Orthros 6:00pm, Liturgy 7:00pm
The Divine Liturgy for the Synaxis of the Archangels and Bodiless Powers will be held at St. Paul's on Wednesday, November 7, 2018. Orthros 6:00pm, Liturgy 7:00pm
The Synaxis of the Chief of the Heavenly Hosts, Archangel Michael and the Other Heavenly Bodiless Powers: Archangels Gabriel, Raphael, Uriel, Selaphiel, Jehudiel, Barachiel, and Jeremiel was established at the beginning of the fourth century at the Council of Laodicea, which met several years before the First Ecumenical Council. The 35th Canon of the Council of Laodicea condemned and denounced as heretical the worship of angels as gods and rulers of the world, but affirmed their proper veneration.
Source: Orthodox Church of America website.
Divine Liturgy for St Nektarios on Thursday, November 8, 2017 at 6:30pm
The divine Nektarios of Aegina, is one of the most widely known of Greek Orthodox Saints. He was born on October 1st, 1846 in Silyvria, in Asia Minor (now occupied by Turkey).His great service to the Church, prolific writings and teachings, energy and zeal led Fr Nektarios to be ordained as the Metropolitan of Pentapolis in Egypt.
In 1904, our Saint founded a monastery for women in Aegina, the Holy Trinity Convent. Under his guidance the Convent flourished. In 1908, the Blessed Nektarios, at the age of 62, retired from the Rizarios Ecclesiastical School and withdrew to Holy Trinity Convent in Aegina. There, for the rest of his life as a true monk and ascetic. He served as a confessor and spiritual guide to the nuns and even priests from as far as Athens and Piraeus. His Holy and pious life shone forth like a guiding light to all near him. Many would come to him for healing. Saint Nektarios was a great ëWonder-workerí even while alive.
On September 20, 1920 one of the nuns took him to the local hospital, in spite of his protest. He was convulsing in pain from a long-standing ailment. He was admitted, and placed into a ward reserved for the poor and unwanted. There he stayed for two months among the sick and dying. At 10:30 in the evening of November 8th, although in the midst of terrible pains, in peace and at prayer he gave up his spirit unto God at the age of 74.
As soon as the Saint gave up his Spirit, a nurse came to prepare him for transfer to Aegina for burial. As the nurse removed the Saints sweater, she inadvertently placed it on the next bed, on which a paralytic lay. And O, strange wonder!, the paralytic immediately began to regain his strength and arose from his bed healthy, and glorifying God.
Read the complete story on the Orthodox Christian Info website.
Christmas Fast Begins November 15, 2017
The Nativity Fast is one of the four Canonical Fasting Seasons in the Church year. This is a joyous fast in anticipation of the Nativity of Christ. That is the reason it is less strict than other fasting periods. The fast is divided into two periods. The 1st period is November 15th through December 19th when the traditional fasting discipline (no meat, dairy, fish, wine, and oil) is observed. There is dispensation given for wine and oil on Tuesdays and Thursdays. Similarly, fish, wine, and oil are permitted on Saturdays and Sundays.
The 2nd period is December 20th through 24th when the traditional fasting discipline (no meat, dairy, fish, wine, and oil) is observed. There is dispensation given for wine and oil only on Saturday and Sunday during this period.
Fasting always works in conjuction with prayer and giving alms (helping the poor, giving to worthy charities, etc.). Fasting helps us reorder the interior life, but the reordering does not occur with greater prayer and greater concern for the poor.
The reordering is a clarification — we end up seeing things more clearly, we get stronger in the fight against sin and temptation. The fast always ends on a great Feast Day of our Lord.
For a complete list, visit the Antiochian website or click on the image below:
Entrance of the Theotokos Divine Liturgy on Tuesday, November 20, 2017 at 6:30pm
The Entrance of the Theotokos into the Temple, also called The Presentation, is one of the Great Feasts of the Orthodox Church, celebrated on November 21.
According to Tradition, the Theotokos was taken – presented – by her parents Joachim and Anna into the Jewish Temple in Jerusalem as a young girl, where she lived and served as a Temple virgin until her betrothal to St. Joseph. One of the earliest sources of this tradition is the non-canonical Protoevangelion of James, also called the Infancy Gospel of James.
Mary was solemnly received by the temple community which was headed by the priest Zacharias, the father of John the Baptist. She was led to the holy place to become herself the "holy of holies" of God, the living sanctuary and temple of the Divine child who was to be born in her. The Church also sees this feast as a feast which marks the end of the physical temple in Jerusalem as the dwelling place of God.
Source: The OrthodoxWiki website.
Mark You Calendar – St. Nicholas Children's Celebration on Wednesday, December 5, 2018
The kids love it! Details and time to be announced.
Toys for Tots Drive Until December 2, 2018
Let's make our Second Annual Toys for Tots Drive the best one yet!
Please bring new, unwrapped toys to Church to make Christmas brighter for kids who otherwise would have none.
A Toys for Tots contribution box will be in the Social Hall until December 2, 2018.
Every child deserves a Christmas!
Interfaith Charities Needs Food, Clothing, Towels, and Bedding
Interfaith Charities, the local assembly of churches that helps the poor in our area, needs:
Canned vegetables
Canned fruit
Tuna
Jelly
Other food items you can give (peanut butter, spaghetti, etc.)
They also need:
Bedding
Towels
Clothing
Shoes
Other items that can be used but in good condition.
If you bring to the church, we will get them to Interfaith Charities.
Calendar At A Glance
Wednesday, November 7, 2018 — Synaxis of the Archangels Divine Liturgy at St. Paul Orthodox Church. 6:00pm Orthros, 7:00pm Divine Liturgy
Thursday, November 8, 2018 — 6:30pm St. Nectarios Divine Liturgy
Thursday, November 15 — Christmas Fast Begins
Tuesday, November 20, 2018 — 6:30pm Entrance of the Theotokos Divine Liturgy
Wednesday December 5, 2018 — St. Nicholas Celebration. Time TBA
Wisdom From The Elders
Acts of charity, almsgiving and all the external good works do not suppress the arrogance of the heart; but noetic meditation, the labor of repentance, contrition and humility—these humble the proud mind.
Elder Joseph the Hesychast
It would be a good thing had we no need of the written Scriptures but instead had the Holy Spirit living and active in our hearts. But because we lost the grace of the Holy Spirit, God, in his love and mercy gave us the holy Scriptures. And how bad are you if having lost the Holy Spirit and received the holy scriptures you don't even read the holy scriptures.
St. John Chrysostom
The intellect does many good and bad things without the body, whereas the body can do neither good nor evil without the intellect. This is because the law of freedom applies to what happens before we act.
Saint Kosmas Aitolos
He who created us without our help, will not save us without our consent.
Blessed Augustine
But do not be troubled or sad. The Lord sometimes allows people who are devoted to Him to fall into such dreadful vices; and this is in order to prevent them from falling into a still greater sin—pride. Your temptation will pass and you will spend the remaining days of your life in humility. Only do not forget your sin.
St. Seraphim of Sarov
Remember in Your Prayers
Kathy D
Andreas
Sofia Tešanovic
Paul
Carmine John Anthony
Dennis H. and Family
Victor Evan
Ann
James
David (Speakman)
Joyce (Speakman)
Vasiliki
Efstratia
Alexandra
Nikos
Georgia
Ioannis
Costandino
Jeffrey
Vaso
Dave
Dimitri – Presbyter
Vassiliki
Octavio
Tom
Carl
Rena
Nikolay (5 year old boy in Bulgaria whose parents asked us to pray)
David
Eva K.
Rosie
Kathryn
Jeremy

Constantine
Robert
Jane
Theodora
David
Gina
Baby Brynn L.
Micheal
Haralambos
Lillian
Presbytera Rosy
Valentina
John
Eva W.
Barbara
Angela
Carol Ann
Matthew
Chrysostom
Tim
Pat
Christina
Maria Louise
Maximos
Marian
Photini
Nicholas
Sarah
Petronia (Wife of Phil Pappas)
Constantine Houpis
Anna Marie Smith Baker
Ron Chromulak
Beverly Chromulak
Katerina
Loucine Kassis
Mary Kassis
Baby Maximus
Christine
Maria
Annette Star
Claire Livaditis
Eva Chandilles
Baby Dani
Scott Nedoff
James Hord
Tom
How should we pray for the sick? Remember them daily. Say their names (first names are sufficient) and ask God to bestow mercy and grace on them.
Add or remove names and print this list for easy reference during your prayer time on the St. Peter website.
Sunday Readings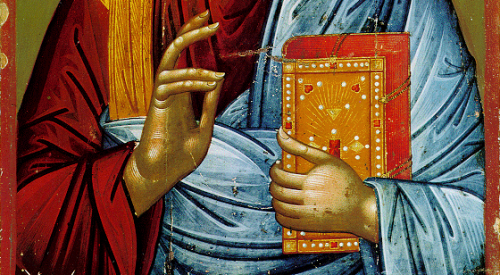 Epistle
For St. Menas
The Lord will give strength to His people.
Ascribe to the Lord, O children of God, ascribe to the Lord glory and honor.
The Reading from the Second Epistle of St. Paul to the Corinthians. (4:6-15)
Brethren, it is the God Who said, "Let light shine out of darkness," Who has shone in our hearts to give the light of the knowledge of the glory of God in the face of Christ. But we have this treasure in earthen vessels, to show that the transcendent power belongs to God and not to us. We are afflicted in every way, but not crushed; perplexed, but not driven to despair; persecuted, but not forsaken; struck down, but not destroyed; always carrying in the body the death of Jesus, so that the life of Jesus may also be manifested in our bodies. While we live we are always being given up to death for Jesus' sake, so that the life of Jesus may be manifested in our mortal flesh. So death is at work in us, but life in you. Since we have the same spirit of faith as he had who wrote, "I believed, and so I spoke," we too believe, and so we speak, knowing that He Who raised the Lord Jesus will raise us also with Jesus and bring us with you into His presence. For it is all for your sake, so that as grace extends to more and more people it may increase thanksgiving, to the glory of God.
Gospel
For the Eighth Sunday of Luke
The Reading from the Holy Gospel according to St. Luke. (10:25-37)
At that time, a lawyer stood up to put Jesus to the test, saying, "Teacher, what shall I do to inherit eternal life?" Jesus said to him, "What is written in the Law? How do you read?" And the lawyer answered, "You shall love the Lord your God with all your heart, and with all your soul, and with all your strength, and with all your mind; and your neighbor as yourself." And Jesus said to him, "You have answered right; do this, and you will live." But the lawyer, desiring to justify himself, said to Jesus, "And who is my neighbor?"

Jesus replied, "A man was going down from Jerusalem to Jericho, and he fell among robbers, who stripped him and beat him, and departed, leaving him half dead. Now by chance a priest was going down that road; and when he saw him he passed by on the other side. So likewise a Levite, when he came to the place and saw him, passed by on the other side. But a Samaritan, as he journeyed, came to where he was; and when he saw him, he had compassion, and went to him and bound up his wounds, pouring on oil and wine; then he set him on his own beast and brought him to an inn, and took care of him. And the next day he took out two denarii and gave them to the innkeeper, saying, 'Take care of him; and whatever more you spend, I will repay you when I come back.'

Which of these three, do you think, proved neighbor to the man who fell among the robbers?" The lawyer said, "The one who showed mercy on him." And Jesus said to him, "Go and do likewise."