The Fifth Sunday of Luke
The Venerable Ioanikios the Great of Mount Olympus
Hieromartyrs Nicander the Bishop of Myra and Hermias the Priest
Martyr Porphyrios of Ephesus
Emperor John the Merciful
Who was Venerable Ioanikios the Great?
Ioannikios was born in the village of Marikata in the province of Bithynia in Asia Minor. He was raised by his father Myritrikios and mother Anastasia as a shepherd. As a young shepherd, Ioannikios often retreated into solitude and prayer while tending his sheep. As an adult he was called to duty as a soldier and served with courage, particularly in the wars with the Bulgarians.
After his military service, Ioannikios became an ascetic, withdrawing to Mount Olympus in Asia Minor. There, he was tonsured a monk. Ioannikios lived as an ascetic for over fifty years, traveling to many places during which he received from God the gift of wonderworking. He healed sicknesses, drove out demons, and tamed wild beasts. He was distinguished by overwhelming humility and meekness. His physical appearance was that of a giant – massive and powerful.
Having taken an active part in the destiny of God's Church, he entered the iconoclast controversy, first supporting iconoclasm, but finding himself deceived, he tore himself away from the iconoclast position and became an ardent iconodule who championed the veneration of icons. He enjoyed a close friendship with Patriarch Methodius of Constantinople. Ioannikios reposed peacefully in the Lord in the year 846, having lived ninety-four years.
Source: The Antiochian Orthodox Church website.
Fr. Hans Out of Town October 31 to November 3, 2018
Fr. Hans will be out of town from Wednesday October 31 until Saturday November 3.
For pastoral emergencies please contact Fr. Paul Girgus of St. Paul Orthodox Church at 509-845-4540.
Community Luncheon on Thursday, November 1, 2018 at 12:00pm
You are invited to join your St. Peter's friends for lunch and fellowship at 12 noon on Thursday, September at 12:00pm.
Barbara Dionysopoulos and friends are preparing a delicious meal for all our members. Come and join us to enjoy some good food and the company of your friends. Make some new friends too and get to know other parishioners.
Reservations are required! Please call Barbara at 239-826-1655 or sign up in the Social Hall after Divine Liturgy.
The cost is underwritten by an anonymous sponsor (Thank you sponsor!) but donations to the building fund are welcome.
Toys for Tots Drive Until December 2, 2018
Let's make our Second Annual Toys for Tots Drive the best one yet!
Please bring new, unwrapped toys to Church to make Christmas brighter for kids who otherwise would have none.
A Toys for Tots contribution box will be in the Social Hall until December 2, 2018.
Every child deserves a Christmas!
Interfaith Charities Needs Food, Clothing, Towels, and Bedding
Interfaith Charities, the local assembly of churches that helps the poor in our area, needs:
Canned vegetables
Canned fruit
Tuna
Jelly
Other food items you can give (peanut butter, spaghetti, etc.)
They also need:
Bedding
Towels
Clothing
Shoes
Other items that can be used but in good condition.
If you bring to the church, we will get them to Interfaith Charities.
Calendar At A Glance
Thursday, October 31 to November 3, 2018 — Fr. Hans Out of Town
Thursday, November 1, 2018 — 12:00pm Community Luncheon
Wisdom From The Elders
Do not judge others, for this alone will intercede for us during any judgement before God. St. Macarius of Optina
Watch, therefore, for you know not on what day your Lord cometh. Apostle Matthew, Matthew: 24
So first of all you must learn to sit with yourself and to face boredom…Once you have learned not to fidget, then you can do anything, at any speed, with any amount of attention and briskness… Metropolitan Anthony of Sourozh
Adam, God's first-formed man, transgressed: could He[God] not at once have brought death upon him? But see what the Lord does, in His great love towards man. He casts him out from Paradise, for because of sin he was unworthy to live there; but He puts him to dwell over against Paradise: that seeing whence he had fallen, and from what and into what a state he was brought down, he might afterwards be saved by repentance. St. Cyril of Jerusalem
Prayer must arise from repentance, contrition, and above all, humility. Elder Sergei of Vanves
Remember in Your Prayers
Kathy D
Andreas
Sofia Tešanovic
Paul
Carmine John Anthony
Dennis H. and Family
Victor Evan
Ann
James
David (Speakman)
Joyce (Speakman)
Vasiliki
Efstratia
Alexandra
Nikos
Georgia
Ioannis
Costandino
Jeffrey
Vaso
Dave
Dimitri – Presbyter
Vassiliki
Octavio
Tom
Carl
Rena
Nikolay (5 year old boy in Bulgaria whose parents asked us to pray)
David
Eva K.
Rosie
Kathryn
Jeremy

Constantine
Robert
Jane
Theodora
David
Gina
Baby Brynn L.
Micheal
Haralambos
Lillian
Presbytera Rosy
Valentina
John
Eva W.
Barbara
Angela
Carol Ann
Matthew
Chrysostom
Tim
Pat
Christina
Maria Louise
Maximos
Marian
Photini
Nicholas
Sarah
Petronia (Wife of Phil Pappas)
Constantine Houpis
Anna Marie Smith Baker
Ron Chromulak
Beverly Chromulak
Katerina
Loucine Kassis
Mary Kassis
Baby Maximus
Christine
Maria
Annette Star
Claire Livaditis
Eva Chandilles
Baby Dani
Scott Nedoff
James Hord
Tom
How should we pray for the sick? Remember them daily. Say their names (first names are sufficient) and ask God to bestow mercy and grace on them.
Add or remove names and print this list for easy reference during your prayer time on the St. Peter website.
Sunday Readings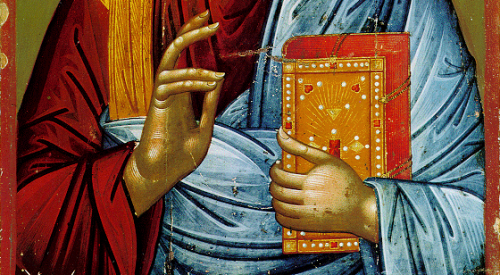 Epistle
For the Twenty-third Sunday after Pentecost
O Lord, save Thy people and bless Thine inheritance.
To Thee, O Lord, have I cried, O my God.
The Reading from the Epistle of St. Paul to the Ephesians. (2:4-10)
Brethren, God, Who is rich in mercy, out of the great love with which He loved us, even when we were dead through our trespasses, made us alive together with Christ (by grace you have been saved), and raised us up with Him, and made us sit with Him in the heavenly places in Christ Jesus, that in the coming ages He might show the immeasurable riches of His grace in kindness toward us in Christ Jesus. For by grace you have been saved through faith; and this is not your own doing, it is the gift of God—not because of works, lest any man should boast. For, we are His workmanship, created in Christ Jesus for good works, which God prepared beforehand, that we should walk in them.
Gospel
For the Fifth Sunday of Luke
The Reading from the Holy Gospel according to St. Luke. (16:19-31)
The Lord said, "There was a rich man, who was clothed in purple and fine linen and who feasted sumptuously every day. And at his gate lay a poor man named Lazarus, full of sores, who desired to be fed with what fell from the rich man's table; moreover, the dogs came and licked his sores. The poor man died and was carried by the angels to Abraham's bosom. The rich man also died and was buried; and in Hades, being in torment, he lifted up his eyes, and saw Abraham far off and Lazarus in his bosom. And he called out, 'Father Abraham, have mercy upon me, and send Lazarus to dip the end of his finger in water and cool my tongue; for I am in anguish in this flame.' But Abraham said, 'Son, remember that you in your lifetime received your good things, and Lazarus in like manner evil things; but now he is comforted here, and you are in anguish. And besides all this, between us and you a great chasm has been fixed, in order that those who would pass from here to you may not be able, and none may cross from there to us.' And he said, 'Then I beg you, father, to send him to my father's house, for I have five brothers, so that he may warn them, lest they also come into this place of torment.' But Abraham said, 'They have Moses and the prophets; let them hear them.' And he said, 'No, father Abraham; but if someone goes to them from the dead, they will repent.' He said to him, 'If they do not hear Moses and the prophets, neither will they be convinced if someone should rise from the dead.'"