The Sunday After Epiphany
Martyrs Hermylos and Stratonikos of Belgrade; Martyrs Pachomios and Papyrinos of Greece; Venerable Maximos Kafsokalyvitis of Athos; Venerable Eleazar of Anzersk Island; Hilarion, bishop of Poitiers
New Year Celebration on Saturday, January 12, 2019 for a New Years lamb and chicken dinner! This will be good!
At St. Peter's we are always a bit late ringing in the New Year. So, in keeping with that tradition join us on Saturday, January 12, 2019 starting at 5:00pm for the roasting of a lamb on a spit along with grilled chicken.
The lamb and chicken are provided but please bring one of the following if you can:
If you can help defray the cost of the lamb and chicken, please give a donation to one of the Parish Council members.
Vassilopita on Sunday, January 13, 2019
We will cut the Vassilopita (St. Basil's bread) on Sunday January 13 following the Divine Liturgy.
Our Stewardship to St. Peter's: The Tree Must Bear Fruit
Please return your Stewardship Support of St. Peter's for 2019.
We are responsible to increase what God has given us. In the Parable of the Talents, the master gave his servants talents that they are expected to nurture and grow. This is a responsibility we cannot avoid.
The Church is both a place where the increase begins on the inside of us, and to which we much give some our increase. This too is a responsibility we must take on.
A contribution form will be included in the letter you receive. Our goal this year is $200,000. We must meet this goal to avoid using our reserves. If we spend our reserves, we will not be able to obtain a mortgage to buy or build when the time comes to do so (and it will come sooner than later).
All of us may have to squeeze a bit to meet this goal. But if give, the Church flourishes and that flourishing spills over into our lives as well and the lives of our families.
We must increase what we have been given by God.
Please Help on Church Directory Updates
A lot of work has been done behind the scenes updating our record keeping, parish lists, and financial tracking.
One area that has been improved is record keeping of our members.
To bring everything up to date we need current information. Please fill in the form on the website, fill in a paper form at Church, or complete the stewardship form you will be receiving shortly.
You can fill in the form on the website here.
What's Coming in 2019?
New classes and bible studies are starting!
Cathechumen/New Member class start on Monday, January 14 at 7:00pm. Catechumens are required to attend but anyone seeking a better understanding of the Orthodox faith is encouraged to attend as well.
General and Mens Bible studies on alternating Wednesdays beginning on Wednesday, January 16. The Mens Study will not begin until February 6 because Fr. Hans will be out of town on January 23 attending the Miami Diocese Retreat in Atlanta.
St. Demetrios Brotherhood meetings (for young men) moved to Thursdays beginning January 17.
Calendar At A Glance
JANUARY
Saturday, January 12 — New Years Lamb and Chicken Dinner Celebration at 5:00pm
Sunday, January 13 — Cutting of the Vassilopita following Divine Liturgy
Monday, January 14 — Catechumen/New Member Class at 7:00pm
Wednesday, January 16 — Community Bible Study at 7:00pm
Thursday, January 17 — St. Demetrios Brotherhood at 7:00pm (NOTE DAY CHANGE)
Monday, January 21 — Catechumen/New Member Class at 7:00pm
Wednesday, January 16 — Community Bible Study at 7:00pm
Thursday, January 17 — St. Demetrios Brotherhood at 7:00pm
January 22-26, 2019 — Fr. Hans attends Miami Diocese Winter Retreat in Atlanta
Wednesday, January 23 — CANCELLED Mens Bible Study at 7:00pm
Thursday, January 24 — CANCELLED St. Demetrios Brotherhood at 7:00pm
Monday, January 28 — Catechumen/New Member Class at 7:00pm
Wednesday, January 30 — Community Bible Study at 7:00pm
Thursday, January 31 — St. Demetrios Brotherhood at 7:00pm
Wisdom From The Elders
Out of the greatest sinners God makes righteous men. Righteous John, Wonderworker of Kronstadt
Very few men can accurately recognize all their own faults; indeed, only those can do this whose intellect is never torn away from the remembrance of God. St. Diadochos of Photiki
When God recedes in order to educate us, this brings great sadness, humility and even some measure of despair to the soul. The purpose of this is to humble the souls tendency to vanity and self-glory, for the heart at once is filled with fear of God, tears of thankfulness, and great longing for the beauty of silence. St. Diadochus of Photiki
Reading, vigils and prayer — these are the things that lend stability to the wandering mind. Evagrius of Pontus
Prayer that rises up in someone's heart serves to open up for us the door of heaven: that person stands in converse with the Divinity and gives pleasure to the Son of God. Venerable Ephraim the Syrian
Remember in Your Prayers
Athanasia
Alexandra
Constantina
Maryanne (E)
Ron (E)

Tim
Robert (J)
Mary (J)
Helen (Rogers)
Doug Spencer
Kathy Spencer
Kathy D
Andreas
Sofia Tešanovic
Paul
Dennis H. and Family
Victor Evan
Ann
James
Vasiliki
Efstratia
Alexandra
Nikos
Georgia
Ioannis
Costandino
Jeffrey
Vaso
Dave
Dimitri – Presbyter
Vassiliki
Octavio
Tom
Carl
Rena
Nikolay (5 year old boy in Bulgaria whose parents asked us to pray)
David
Eva K.
Rosie
Kathryn
Jeremy

Constantine
Robert
Jane
Theodora
David
Gina
Micheal
Haralambos
Lillian
Presbytera Rosy
Valentina
Eva W.
Barbara
Angela
Carol Ann
Matthew
Chrysostom
Tim
Pat
Christina
Maria Louise
Maximos
Marian
Photini
Nicholas
Sarah
Constantine Houpis
Anna Marie Smith Baker
Ron Chromulak
Beverly Chromulak
Katerina
Mary Kassis
Baby Maximus
Christine
Maria
Annette Star
Claire Livaditis
Eva Chandilles
Baby Dani
Scott Nedoff
James Hord
Tom
How should we pray for the sick? Remember them daily. Say their names (first names are sufficient) and ask God to bestow mercy and grace on them.
Add or remove names and print this list for easy reference during your prayer time on the St. Peter website.
Sunday Readings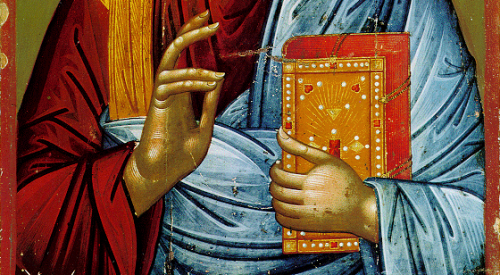 Epistle
For the Sunday after Theophany of Christ
Let Thy mercy, O Lord, be upon us.
Rejoice in the Lord, O ye righteous.
The Reading from the Epistle of St. Paul to the Ephesians. (4:7-13)
Brethren, grace was given to each of us according to the measure of Christ's gift. Therefore, it is said, "When He ascended on high He led a host of captives, and He gave gifts to men." (In saying, "He ascended," what does it mean but that He had also descended into the lower parts of the earth? He who descended is He who also ascended far above all the heavens, that He might fill all things.) And His gifts were that some should be apostles, some prophets, some evangelists, some pastors and teachers, to equip the saints for the work of ministry, for building up the body of Christ, until we all attain to the unity of the faith and of the knowledge of the Son of God, to mature manhood, to the measure of the stature of the fullness of Christ.
Gospel
For the Sunday after Theophany of Christ
The reading from the Holy Gospel according to St. Matthew. (4:12-17)
At that time, when Jesus heard that John had been arrested, he withdrew into Galilee; and leaving Nazareth he went and dwelt in Capernaum by the sea, in the territory of Zebulon and Naphtali, so that what was spoken by the prophet Isaiah might be fulfilled: "The land of Zebulon and the land of Naphtali, toward the sea, across the Jordan, Galilee of the Gentiles;the people who sat in darkness have seen a great light, and for those who sat in the region and shadow of death light has dawned." From that time Jesus began to preach, saying, "Repent, for the kingdom of Heaven is at hand."