On the Second Sunday of Lent the Orthodox Church commemorates our Holy Father Gregory Palamas, Archbishop of Thessalonica, the Wonderworker. The feast day of Saint Gregory Palamas is November 14, however, he is commemorated on this Sunday as the condemnation of his enemies and the vindication of his teachings by the Church in the 14th century was acclaimed as a second triumph of Orthodoxy.
Learn more here
Lenten Schedule This Week
Monday March 9
6:00pm Great Compline
Wednesday March 11
6:00pm — Presanctified Liturgy
Friday March 13
Akathist Hymn
Learn More About Lent
Remember in Your Prayers
Angela Long who is recovering from pneumonia.
John, the brother of Pauline Poulos who is suffering from cancer.
Pat and Milam Evanoff. Milam is unable to make it to Church.
Tom and Jean, parents of Patty and Jerry.
Greg and his wife Margaret. Greg is the founder of Project Mexico and has cancer.
How should we pray for the sick? Remember them daily. Say their names and ask God to bestow mercy and grace on them.
The Sunday Scripture Readings
The Gospel Reading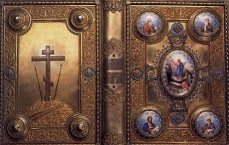 The Sunday of St. Gregory Palamas
The Reading from the Holy Gospel according to St. Mark. (2:1-12)
At that time, when Jesus returned to Capernaum after some days, it was reported that He was at home. And many were gathered together, so that there was no longer room for them, not even about the door; and He was preaching the Word to them.

And they came, bringing to Jesus a paralytic carried by four men. And when they could not get near Jesus because of the crowd, they removed the roof above Him; and when they had made an opening, they let down the pallet on which the paralytic lay. And when Jesus saw their faith, He said to the paralytic, "Son, your sins are forgiven."

Now, some of the scribes were sitting there, reasoning in their hearts, "Why does this man speak thus? It is blasphemy! Who can forgive sins but God alone?"

And immediately Jesus, perceiving in His spirit that they thus reasoned within themselves, said to them, "Why do you reason thus in your hearts? Which is easier, to say to the paralytic, 'Your sins are forgiven,' or to say, 'Rise, take up your pallet and walk'? But that you may know that the Son of Man has authority on earth to forgive sins" – He said to the paralytic – "I say to you, rise, take up your pallet and go home."

And he rose, and immediately took up the pallet and went out before them all. So that they were all amazed and glorified God, saying, "We never saw anything like this!"
The Epistle Reading
The Sunday of St. Gregory Palamas
O Lord, Thou wilt preserve us and keep us from this generation.
Save me, O Lord, for the godly man hath disappeared.
The Reading from the Epistle of St. Paul to the Hebrews. (1:10-2:3)
"In the beginning, Thou, O Lord, didst found the earth, and the heavens are the work of Thy hands; they will perish, but Thou remainest; they will all grow old like a garment, like a mantle Thou wilt roll them up, and they will be changed. But Thou art the same, and Thy years will never end."

But to what angel has He ever said, "Sit at My right hand, until I make Thine enemies a stool for thy feet"? Are they not all ministering spirits sent forth to serve, for the sake of those who are to obtain salvation?

Therefore, we must pay closer attention to what we have heard, lest we drift away from it. For if the message, declared by angels, was valid and every transgression or disobedience received a just retribution, how shall we escape if we neglect such a great salvation? It was declared at first by the Lord, and it was attested to us by those who heard Him.