Seventeenth Sunday After Pentecost
First Sunday of Luke
Apostle Ananias of the Seventy, first bishop of Damascus
Righteous Father Romanos the Melodist
Who was the Apostle Ananias?
St. Ananias Baptizing Saul (St. Paul)
The Holy Apostle Ananias of the Seventy (October 1), was the first Bishop of Damascus. The Lord ordered him to restore the sight of Saul, the former persecutor of Christians, then baptize him (Acts 9:10-19, 22:12). Saul became the great preacher and Apostle Paul. St Ananias boldly and openly confessed Christianity before the Jews and the pagans, despite the danger.
From Damascus he went to preach at Eleutheropolis, where he healed many of their infirmities. Lucian, the prefect of the city, tried to persuade the holy one to offer sacrifice to idols. Because of Ananias' staunch and solid confession of Christ, Lucian ordered that he be tortured. Harsh torments did not sway the witness of Truth. Then the torturers led him out beyond the city, where they stoned him. The saint prayed for those who put him to death. His relics were later transferred to Constantinople.
Read the entire story on the Full of Grace and Truth website.
Who was the Righteous Father Romanos the Melodist?
St. Roman the Melodist
The popular patron of church singers, St. Roman, was born in Emesa in the latter part of the fifth century. Whether or not his Jewish parents converted to Christianity is uncertain; Roman himself was baptized as a young boy and developed a great love for the house of God. When he came of age he served as a verger, lighting the lamps and preparing the censer. After moving to Beirut, he was ordained to the diaconate and assigned to the Church of the Resurrection. He had a rather mediocre voice, but his pure and simple heart was filled with love for God, and to assist at the church services gave him the greatest joy.
It was the day before the Feast of Our Lord's Nativity, and Saint Roman was assigned to lead the singing that evening at the All-Night Vigil. He was responsible not only for the singing but also for the text of the hymns. After everyone had left, he remained in the Blachernae Church and tearfully entreated the Mother of God to help him. Exhausted, he fell asleep with his sorrow. In answer to his prayer, the Mother of God appeared to him in a dream. She handed him a scroll and said to him gently, "Here, eat this." Roman did so and awoke, overcome with joy and the lingering presence of the heavenly visitor.
When it came time that night for him to sing, Saint Roman received the patriarch's blessing and, vested in a special garment reserved for the principal singer, he stepped onto the ambo. He began to sing: "Today the Virgin gives birth to Him Who is above all being . . ." The emperor, the patriarch, the clergy – the entire congregation listened in wonder at the profound theology and the clear, sonorous voice which issued forth. They all joined in the refrain, "A new-born Babe, the pre-eternal God." Later, Saint Roman told the patriarch about his vision, and the singers who had made fun of him prostrated themselves in repentance and humbly asked the Saint's forgiveness.
Read the complete story at Orthodoxwiki.
Fr. Hans Out of Town Tuesday through Friday (September 26-29, 2017)
He will be at meetings in Washington, DC. He is available on his cell phone.
Interfaith Charities Needs Cereal and Spaghettios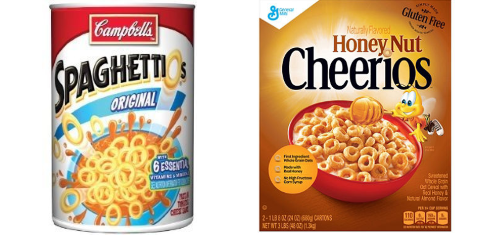 Interfaith Charities Needs Cereal and Spaghettios to help hungry children in our immediate area (south Lee County). Supplies are running low. Please buy some extra cereal or spaghettios the next time you are out shopping. We will make sure they get to the kids.
Interfaith Charities is a coalition of churches and business that help the poor in the San Carlos and south Fort Myers area (view their website).
St. Peter's is committed to helping the poor among us. If each family could bring some of these items to church this Sunday and the next, then we will get them to Interfaith Charities and the families who need them.
Meet John Heers of First Things Foundation on Wednesday, October 4 at 7pm
Join us on Wednesday, October 4, 2017 to hear John Heers speak about his work helping the poor around the world.
Those of us present Sunday heard John Heers of First Things Foundation give a short talk after Liturgy. John told us about the work of First Things Foundation in helping the poor become self-sustaining. John will worship with us when he is in Naples which is about two weeks every month.
Many parishioners asked to learn more about John and his work. They are located in different parts of the world including Sierra Leone where they work with Fr. Themi.
You can learn more about First Things on their website. Pizza and drinks will be provided at the talk.
Orthodox Practices Class starts Wednesday, October 4 at 7:00pm
"Orthodox Practices" will look at why our Church does things the way it does, and how to do it properly. We will learn about the sign up the cross, how to enter the Church properly (candles and veneration), how to make a home altar, proper deportment during Liturgy, and more. This is a very practical class, not theological but focuses more on what the Orthodox do, how we do it, and why we do it that way.
Any question is welcome. If you can mention your questions to Fr. Hans ahead of time (use the contact form on the website), he will make sure to include it in the class.
The class will run on Wednesday evening for four weeks, October 11, 18 and November 1 and 15 (October 25 is the Liturgy of St. Demetrios, November 8 is the Liturgy of St. Nektarios).
Through the Bible in One Year Schedule Posted

On September 1, the start of the new Church Year, St. Peter's started a program to read the bible in one year. Information is posted on the website.
Calendar At A Glance
Tuesday-Friday, September 26-29, 2017 Fr. Hans out of town
Wednesday, October 4 2017 7:00pm Meet John Heers
Wednesday, October 11 2017 7:00pm "Orthodox Practices" Class
Wednesday, October 18 2017 7:00pm "Orthodox Practices" Class
Wednesday, October 25, 2017 6:30pm Liturgy Eve of St. Demetrios
Wednesday, November 1, 2017 7:00pm "Orthodox Practices" Class
Saturday, November 4, 2017 8:45am (NOTE TIME) Liturgy St. Raphael of Brooklyn
Saturday, November 4, 2017 10:00am Church Clean Up Day
Wednesday, November 7, 2017 6:30pm Liturgy Eve of Archangels Michael and Gabriel
Wednesday, November 8, 2017 6:30pm Liturgy Eve of St. Nektarios
Saturday, November 15, 2017 Nativity Fast begins
Saturday, November 15, 2017 Nativity Drive for NAMI and Toys for Tots begins
Saturday, December 2, 2017 3:30pm Social Hall Decoration, Vespers, Potluck Day
Wisdom From The Elders
All troubles come from a mental outlook that is too broad. It is better to humbly cast your eyes down toward your feet, and to figure out which step to take where. This is the truest path.
St. Theophan the Recluse
The main thing is the quality of our prayer. Prayer must be from the heart; it must be said with pain and compassion. What counts more for God is not the quantity of prayer but the quality.
Elder Paisios of Mount Athos
The basic thing is for man to take care not to lose the Grace of God, so as to have divine enlightenment. For, everything is in vain if there is no divine enlightenment.
Elder Paisios of Mount Athos
Pharisaism is the practice of some people who do their good works in the open so that other people can praise them.

Elder Paisios of Mount Athos
–Geronda, why is it that many children suffer from illnesses and so on? – God knows what will benefit each person and He provides accordingly. He won't give something which will not be of benefit to the person. For example, He sees that it will benefit us more if He gives us a weakness or a disability than if He protects us from being harmed or disabled.
Elder Paisios of Mount Athos
Remember in Your Prayers
Theodora
Baby Brynn L.
Micheal
Haralambos
Lillian
Presbytera Rosy
Valentina
John
Eva W.
Barbara
Angela
Sonya
Kenneth
Carol Ann
Matthew
Chrysostom
Tim
Ron
Ivy-Jean
Pat
Christina
Maria Louise
Maximos
Marian
Photini
Nicholas
Brad William
Sarah
Petronia (Wife of Phil Pappas)
Constantine Houpis
Anna Marie Smith Baker
Ron Chromulak
Beverly Chromulak
Katerina
Loucine Kassis
Mary Kassis
Baby Maximus
Christine
Maria
Annette Star
Claire Livaditis
Eva Chandilles
Baby Dani
Scott Nedoff
Anthony Mourgis
John Hansen
James Hord
Tom and Jean, parents of Patty and Jerry.
How should we pray for the sick? Remember them daily. Say their names (first names are sufficient) and ask God to bestow mercy and grace on them.
Add or remove names and print this list for easy reference during your prayer time on the St. Peter website.
Sunday Readings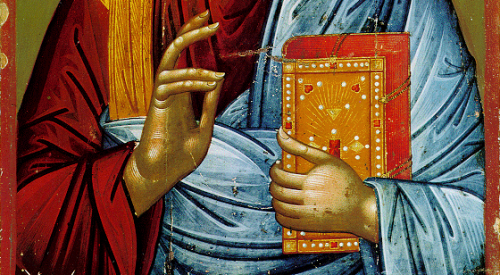 Epistle
For the Seventeenth Sunday after Pentecost
Make your vows to the Lord our God and perform them.
God is known in Judah; His Name is great in Israel.
The Reading from the Second Epistle of St. Paul to the Corinthians. (6:16-7:1)
Brethren, we are the temple of the living God; as God said, "I will live in them and move among them, and I will be their God, and they shall be My people. Therefore, come out from them, and be separate from them," says the Lord, "and touch nothing unclean; then I will welcome you, and I will be a father to you, and you shall be My sons and daughters, says the Lord Almighty." Since we have these promises, beloved, let us cleanse ourselves from every defilement of body and spirit, and make holiness perfect in the fear of God.
Gospel
For the Second Sunday of Luke
The Reading from the Holy Gospel according to St. Luke. (6:31-36)
The Lord said: "As you wish that men would do to you, do so to them. If you love those who love you, what credit is that to you? For even sinners love those who love them. And if you do good to those who do good to you, what credit is that to you? For even sinners do the same. And if you lend to those from whom you hope to receive, what credit is that to you? Even sinners lend to sinners, to receive as much again. But love your enemies, and do good, and lend, expecting nothing in return; and your reward will be great, and you will be sons of the Most High; for He is kind to the ungrateful and the selfish. Be merciful, even as your Father is merciful."