First Sunday of Luke
Proto-martyr Thekla, Equal to the Apostles
Venerable Silouan of Athos
Who was St. Thekla?
St. Thekla, was a disciple and companion of the Apostle Paul in the first century. She is given the title "Equal-to-the-Apostles" because she accompanied St. Paul in founding churches because her witness converted so many others to Christ, and she was the first woman martyr for the Christian Faith.
According to ancient Syrian and Greek manuscripts, Saint Thekla was born into a prosperous pagan family in the Lycaonian city of Iconium (present-day Konya in south-central Turkey) in A.D. 16. When she was 18 years old and betrothed to a young man named Thamyris, Saint Paul the Apostle and Saint Barnabas arrived in Iconium from Antioch (Acts 14).
Thekla's mother Theokleia prohibited her from joining the crowds which gathered to hear Paul preach. But Thekla found that if she sat near her bedroom window she could hear his every word. Thekla sat there for three days and three nights listening to Paul preach the word of God. She was parti­cularly touched by his call to chastity. As it became apparent that Thekla was becoming interested in the new Faith, Theokleia and Thamyris went to the governor of the city and complained about Paul and his preaching. To pacify them and the other outraged citizens of Iconium, the governor had Paul imprisoned to await trial.
Read the entire story on the Antiochian Archdiocese website.
Who was Venerable Silouan of Athos?
The Venerable Silouan the Athonite (also known as St. Silouan of Mount Athos) was a monk of the early twentieth century at the Monastery of St. Panteleimon known for his wise counsel.
Saint Silouan was born Simeon Ivanovich Antonov in 1866 to Russian Orthodox parents who came from the village of Sovsk in Russia's Tambov region. At the age of twenty-seven he left his native Russia and came to Mount Athos, where he became a monk at the Monastery of St. Panteleimon and was given the name Silouan, the Russian version of the Biblical name Silvanus.
An ardent ascetic, he received the grace of unceasing prayer and saw Christ in a vision. After long years of spiritual trial, he acquired great humility and inner stillness. He prayed and wept for the whole world as for himself, and he put the highest value on love for enemies. St Silouan died on September 24, 1938. He was glorified by the Ecumenical Patriarchate in 1987.
Though barely literate, he was sought out by pilgrims for his wise counsel. His writings were edited by his disciple and pupil, Archimandrite Sophrony. Father Sophrony has written the life of the saint along with a record of St. Silouan's teachings in the book Saint Silouan the Athonite.
Source: Orthodoxwiki.
Thanksgiving Akathist to the Theotokos on Thursday Evening

The Theotokos, St. Panteleimon, St. Paisios
On Thursday, September 21, 2017 evening will offer thanksgiving to our Lord by honoring the Theotokos who, along with Sts. Panteleimon and Paisios, protected us during the hurricane.
The Akathist to the Theotokos will begin at 6:30. Following the service we will have a light pot-luck so please bring some simple to share.
Thanksgiving and celebration is a good way to mark the ending of this time of difficulty we all experienced.
Fr. Hans Out of Town Tuesday through Friday (September 26-29, 2017)
He will be at meetings in Washington, DC. He is available on his cell phone.
Meanwhile…A Patriot Challenges Irma
This is worth another week!
Max Koco stepped out of the home of his daughter during the hurricane and in no uncertain terms refused defeat and fought back. He won too. The condo escaped damage even though there was a tornado directly over the roof.
Interfaith Charities Needs Cereal and Spaghettios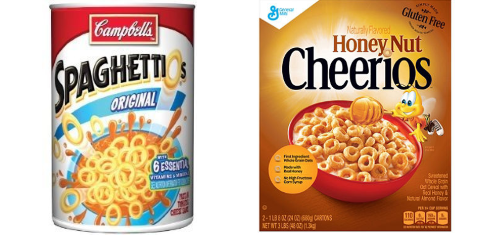 Interfaith Charities Needs Cereal and Spaghettios to help hungry children in our immediate area (south Lee County). Supplies are running low. Please buy some extra cereal or spaghettios the next time you are out shopping. We will make sure they get to the kids.
Interfaith Charities is a coalition of churches and business that help the poor in the San Carlos and south Fort Myers area (view their website).
St. Peter's is committed to helping the poor among us. If each family could bring some of these items to church this Sunday and the next, then we will get them to Interfaith Charities and the families who need them.
Through the Bible in One Year Schedule Posted

On September 1, the start of the new Church Year, St. Peter's started a program to read the bible in one year. Information is posted on the website.
Calendar At A Glance
Tuesday-Friday, September 26-29, 2017 Fr. Hans out of town
Wisdom From The Elders
The greatest of the virtues is prayer, and its foundation is fasting.
Ignatius Brianchaninov
He who wants to do something and cannot is, in the eyes of God who sees our hearts, as though he has done it. This should be understood as being so in relation to good and evil alike.
St. Mark the Ascetic
We must as far as possible avoid the causes of sin. We must guard our senses, because it all starts from there.
Elder Paisios of Mount Athos
If we will not gladly disdain present delights, we will not with certainty feel and taste the whole sweetness of God.
St. Diadochus
We grow cold within when our heart is distracted, when it cleaves to something other than God, worrying about different things, getting angry and blaming someone, –when we are discontented and pander to the flesh, wallowing in luxury and wandering thoughts. Guard against these things, and the coldness will diminish.
St. Theophan the Recluse
Remember in Your Prayers
Theodora
Baby Brynn L.
Micheal
Haralambos
Lillian
Presbytera Rosy
Valentina
John
Eva W.
Barbara
Angela
Sonya
Kenneth
Carol Ann
Matthew
Chrysostom
Tim
Ron
Ivy-Jean
Pat
Christina
Maria Louise
Maximos
Marian
Photini
Nicholas
Brad William
Sarah
Petronia (Wife of Phil Pappas)
Constantine Houpis
Anna Marie Smith Baker
Ron Chromulak
Beverly Chromulak
Katerina
Loucine Kassis
Mary Kassis
Baby Maximus
Christine
Maria
Annette Star
Claire Livaditis
Eva Chandilles
Baby Dani
Scott Nedoff
Anthony Mourgis
John Hansen
James Hord
Tom and Jean, parents of Patty and Jerry.
How should we pray for the sick? Remember them daily. Say their names (first names are sufficient) and ask God to bestow mercy and grace on them.
Add or remove names and print this list for easy reference during your prayer time on the St. Peter website.
Sunday Readings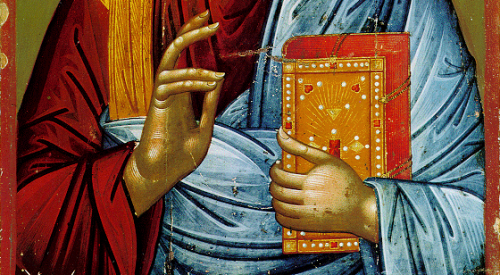 Epistle
For St. Thekla
God is wondrous among His saints.
Bless ye God in the congregations.
The Reading from the Second Epistle of St. Paul to St. Timothy. (3:10-15)
Timothy, my son, you have observed my teaching, my conduct, my aim in life, my faith, my patience, my love, my steadfastness, my persecutions, my sufferings, what befell me at Antioch, at Iconium, and at Lystra. What persecutions I endured! Yet from them all, the Lord rescued me. Indeed, all, who desire to live a godly life in Christ Jesus will be persecuted, while evil men and impostors will go on from bad to worse, deceivers and deceived. But as for you, continue in what you have learned and have firmly believed, knowing from whom you learned it and how from childhood you have been acquainted with the sacred writings, which are able to instruct you for salvation through faith in Christ Jesus.
Gospel
For the First Sunday of Luke
The Reading from the Holy Gospel according to St. Luke. (5:1-11)
At that time, Jesus was standing by the lake of Gennesaret. And He saw two boats by the lake; but the fishermen had gone out of them and were washing their nets. Getting into one of the boats, which was Simon's, Jesus asked him to put out a little from the land. And He sat down and taught the people from the boat. And when Jesus had finished speaking, He said to Simon, "Put out into the deep and let down your nets for a catch." And Simon answered, "Master, we toiled all night and took nothing! But at Thy word I will let down the nets."

And when they had done this, they enclosed a great shoal of fish; and as their nets were breaking, they beckoned to their partners in the other boat to come and help them. And they came and filled both the boats, so that they began to sink. But when Simon Peter saw it, he fell down at Jesus' knees, saying, "Depart from me, for I am a sinful man, O Lord." For he was astonished, and all that were with him, at the catch of fish, which they had taken; and so also were James and John, sons of Zebedee, who were partners with Simon. And Jesus said to Simon, "Do not be afraid; henceforth you will be catching men." And when they had brought their boats to land, they left everything and followed Him.