Eighteenth Sunday after Pentecost
Second Sunday of Luke
Hieromartyr Gregory, Enlightener of Greater Armenia
Martyrs Rhipsime and Gaiana and companions of Armenia
Michael the Wonderworker, First Metropolitan of Kiev
Venerable Gregory of the Pelshma River

St. Michael the Wonderworker, First Metropolitan of Kiev
Who was Michael the Wonderworker, First Metropolitan of Kiev?
Saint Michael the first Metropolitan of Kiev, according to the Joakimov chronicle, was a Syrian by birth, but according to other chronicles, he was a Bulgarian or Serb. In the year 989, he arrived at Korsun with other clergy for holy Prince Vladimir (July 15), not long after Vladimir's Baptism (988).
As first metropolitan of the Russian Church his service was difficult, but grace-filled. He zealously made the rounds of the newly-enlightened Russian Land, preaching the Holy Gospel, baptizing and teaching the newly-illumined people, founding the first churches and religious schools.
In Rostov he established the first wooden church in honor of the Dormition of the Most Holy Theotokos and installed Theodore the Greek there as bishop. St Michael was a wise and gentle, but also strict hierarch. The Russian Church has preserved the memory of the saint's praiseworthy deeds. In the Synodikon of the Novgorod and Kiev Sophia cathedrals he is rightfully called the initiator.
St Michael died on June 15, 992 and was buried in the Desyatin-Tithe church of the Most Holy Theotokos in Kiev. In about the year 1103, under the Igumen St Theoctistus (afterwards Bishop of Chernigov, August 5), his relics were transferred to the Antoniev Cave, and on October 1, 1730 into the Great Church of the Caves. Thus his memory was celebrated on September 30, and also July 15, the day of his repose.
Source: Orthodox Christian.
Community Luncheon on Thursday, October 4, 2018 at 12:00pm
You are invited to join your St. Peter's friends for lunch and fellowship at 12 noon on Thursday, September at 12:00pm.
Barbara Dionysopoulos and friends are preparing a delicious meal for all our members. Come and join us to enjoy some good food and the company of your friends. Make some new friends too and get to know other parishioners.
Reservations are required! Please call Barbara at 239-826-1655 or sign up in the Social Hall after Divine Liturgy.
The cost is $5 per person.
Fr. Hans Out of Town Tuesday and Wednesday, October 2-3, 2018
He will be attending a meeting in Washington, DC. For pastoral emergencies please contact Fr. Paul Girgis at 509-845-4540.
Sunday School Has Started!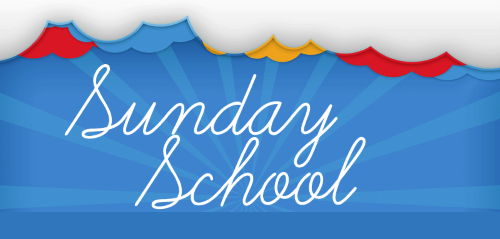 Parents: Please note that Sunday School started on Sunday, September 9 immediately following Holy Communion. Children will take communion first and go directly to Sunday School.
Georgia Katsigianopoulos, our Sunday School director, will have registration forms available following the Divine Liturgy on Sundays.
This year will be a good year with important lessons planned. Your children will learn important things about our Orthodox faith and Orthodox Church.
Fr. Hans Speaking at Chicago Conference
Fr. Hans will speaking at the conference "Patriarchy: Fatherhood and the Restoration of Culture" on October 11-13, 2018. He will back for Divine Liturgy that Sunday. For pastoral emergencies please contact Fr. Paul Girgis at 509-845-4540. For more information click the image.
Interfaith Charities Needs Food, Clothing, Towels, and Bedding
Interfaith Charities, the local assembly of churches that helps the poor in our area, needs:
Canned vegetables
Canned fruit
Tuna
Jelly
Other food items you can give (peanut butter, spaghetti, etc.)
They also need:
Bedding
Towels
Clothing
Shoes
Other items that can be used but in good condition.
If you bring to the church, we will get them to Interfaith Charities.
Calendar At A Glance
Thursday, October 4, 2018 — 12:00pm Community Luncheon
Thursday, October 26, 2018 — 6:30pm St. Demetrios Divine Liturgy
Wisdom From The Elders
Those who reject fasting take away from themselves and from others the arms against their flesh, with, its manifold passions, and against the Devil, both of which are especially powerful against us through our intemperance. St. John of Kronstadt
If you see a drunken man, say in your heart: "Lord, look mercifully upon Thy servant, allured by the flattery of the belly and by carnal merriment; make him understand the sweetness of temperance and fasting, and of the fruit of the spirit arising therefrom." St. John of Kronstadt
A young person ought to keep company with other spiritually mature young people in order to be helped and move within a spiritual atmosphere. Let's not make things more difficult than they are. St. Paisios of Mount Athos
A believer is not one who thinks that God can do everything, but one who believes that he will obtain all things. Faith paves the way for what seems impossible. St. John Climacus
By its nature, the cross is the strongest and deepest degree of love. Metropolitan Saba(Esber)
An unfulfilled promise is just like a good tree without fruit. St. Ambrose of Optina
Remember in Your Prayers
Sofia Tešanovic
Paul
Carmine Anthony John
Dennis H. and Family
Victor Evan
Ann
James
David (Speakman)
Joyce (Speakman)
Vasiliki
Efstratia
Alexandra
Nikos
Georgia
Ioannis
Costandino
Jeffrey
Vaso
Dave
Dimitri – Presbyter
Vassiliki
Octavio
Tom
Carl
Rena
Nikolay (5 year old boy in Bulgaria whose parents asked us to pray)
David
Eva K.
Rosie
Kathryn
Jeremy

Constantine
Robert
Jane
Theodora
David
Gina
Baby Brynn L.
Micheal
Haralambos
Lillian
Presbytera Rosy
Valentina
John
Eva W.
Barbara
Angela
Carol Ann
Matthew
Chrysostom
Tim
Pat
Christina
Maria Louise
Maximos
Marian
Photini
Nicholas
Sarah
Petronia (Wife of Phil Pappas)
Constantine Houpis
Anna Marie Smith Baker
Ron Chromulak
Beverly Chromulak
Katerina
Loucine Kassis
Mary Kassis
Baby Maximus
Christine
Maria
Annette Star
Claire Livaditis
Eva Chandilles
Baby Dani
Scott Nedoff
James Hord
Tom
How should we pray for the sick? Remember them daily. Say their names (first names are sufficient) and ask God to bestow mercy and grace on them.
Add or remove names and print this list for easy reference during your prayer time on the St. Peter website.
Sunday Readings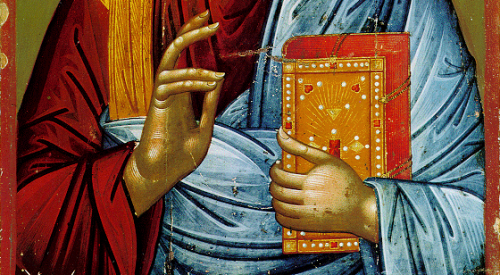 Epistle
For the Eighteenth Sunday after Pentecost
Let Thy mercy, O Lord, be upon us.
Rejoice in the Lord, O ye righteous.
The Reading from the Second Epistle of St. Paul to the Corinthians. (9:6-11)
Brethren, he who sows sparingly will also reap sparingly, and he who sows bountifully will also reap bountifully. Each one must do as he has made up his mind, not reluctantly or under compulsion, for God loves a cheerful giver. And God is able to provide you with every blessing in abundance, so that you may always have enough of everything and may provide in abundance for every good work.

As it is written, "He scatters abroad, he gives to the poor; his righteousness endures forever." He who supplies seed to the sower and bread for food will supply and multiply your resources and increase the harvest of your righteousness. You will be enriched in every way for great generosity, which through us will produce thanksgiving to God.
Gospel
For the Second Sunday of Luke
The Reading from the Holy Gospel according to St. Luke. (6:31-36)
The Lord said: "As you wish that men would do to you, do so to them. If you love those
who love you, what credit is that to you? For even sinners love those who love them. And if you
do good to those who do good to you, what credit is that to you? For even sinners do the same.
And if you lend to those from whom you hope to receive, what credit is that to you? Even sinners
lend to sinners, to receive as much again. But love your enemies, and do good, and lend, expecting
nothing in return; and your reward will be great, and you will be sons of the Most High; for He is
kind to the ungrateful and the selfish. Be merciful, even as your Father is merciful."