Most of our parishioners know that Anthony Mourgis, son of George and Maria Mourgis and brother of John Mourgis passed away early Saturday morning. May his memory be eternal.
Funeral arrangements have been finalized. The service will be held on Saturday, September 29 at St. Peter's Orthodox Church (get map).
10:00am Visitation
11:00am Funeral
12:45pm Internment at Memorial Gardens in Fort Myers, Florida (get map)
1:30pm Makaria (Memorial dinner) at the Plaka II Restaurant, 15271 McGregor Blvd., Fort Myers (get map)
You can find a complete obituary on the Fort Myers Memorial Gardens website (also included below).
Our condolences are extended to the Mourgis family.

Obituary for Anthony Mourgis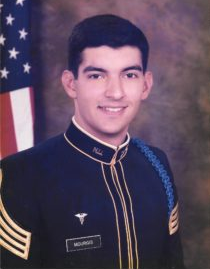 Anthony George Mourgis, 44, of Omaha, NE, passed away Saturday, September 22, 2018 at the home of his parents, where he had been staying while receiving treatment for his illness. He was born August 12, 1974 in Boston, MA. He had been a pilot for U.S. Airways and most recently, Jet Linx in Omaha, NE. He was a member of All Saints Orthodox Church in Omaha and attended St. Peter Orthodox Church while living in Florida.
Tony is survived by his wife, June Mourgis of Omaha, NE; his children: Eleni Mourgis and Evan Mourgis, both of Omaha; his parents: Maria and George Mourgis of Cape Coral; his brother, John Mourgis of Cape Coral; his aunts and uncles: Demetra Chrisoulis (Bill) of Peraeus, Greece, his Godmother, Loula Dougias (Theodore) of Athens, Greece, Demetra Taji (Richard) of Cape Coral and Rick Mourgis of Randolph, MA.
Funeral services will be conducted at 11:00 a.m. Saturday, September 29, 2018 at St. Peter Orthodox Church, 24850 Old 41, #6, Bonita Springs, FL 34135 with entombment to follow in Fort Myers Memorial Gardens Cemetery. Friends will be received from 10:00 a.m. until the time of the service at the church. Immediately following funeral services, the Makaria will be held at Plaka II Restaurant, 15271 McGregor Blvd., Fort Myers.
In lieu of flowers, memorial donations may be made to St. Peter Orthodox Church Building Fund at the above listed address.
Funeral arrangements are under the direction of Fort Myers Memorial Gardens Funeral Home, 1589 Colonial Blvd., Fort Myers, FL 33907, 239-936-0555. Online condolences may be offered at: www.fortmyersmemorial.com.