The Fifteenth Sunday after Pentecost
The Second Sunday of Luke
Venerable Kyriakos the hermit of Palestine; Martyr Petronia and those with her in Palestine; Mother Mary the hermit of Palestine; Martyrs Gudelia, Casdous, Casdoa, Gargalus, Dada and Gobdelaas of Persia
Who is Venerable Kyriakos the Hermit of Palestine?
Saint Kyriakos was born at Corinth to the priest John and his wife Eudokia. Bishop Peter of Corinth, who was a relative, seeing that Kyriakos was growing up as a quiet and sensible child, made him a reader in church. Constant reading of the Holy Scriptures awakened in him a love for the Lord and of a yearning for a pure and saintly life.
Once, when the youth was not yet eighteen years old, he was deeply moved during a church service by the words of the Gospel: "If any man will come after Me, let him deny himself and take up his cross and follow Me" (Mt.16:24). He believed these words applied to him, so he went right to the harbor without stopping at home, got onto a ship and went to Jerusalem.
[…]
Saint Kyriakos rendered great help to the Church in the struggle with the spreading heresy of the Origenists. By prayer and by word, he brought the wayward back to the true path, and strengthened the Orthodox in their faith. Cyril, the author of the Life of Saint Kyriakos, and a monk of the Lavra of Saint Euthymius, was a witness when Saint Kyriakos predicted the impending death of the chief heretics Nonos and Leontius, and soon the heresy would cease to spread.
[…]
For the two years before his death Saint Kyriakos returned to the monastery and again settled into the cave of Saint Chariton. Until the end of his life the righteous Elder preserved his courage, and prayed with fervor. He was never idle, either he prayed, or he worked. Before his death Saint Kyriakos summoned the brethren and blessed them all. He quietly fell asleep in the Lord, having lived 109 years.
Read the entire history on the Orthodox Christian website.
Community Luncheon on Thursday, October 03, 2019 at 12:00pm
Our next Community Luncheon will be held on Thursday, October 3.
Menu
Baked Lamb Shanks
Mashed Potatoes
Green Beans
Greek Salad with Feta and Kalamata Olives
Dessert – Baklava
Barbara Dionysopoulos and friends are preparing a delicious meal for all our members. Come and join us to enjoy some good food and the company of your friends. Make some new friends too and get to know other parishioners.
Reservations are required! Please call Barbara at 239-826-1655 or sign up in the Social Hall after Divine Liturgy.
Donations are accepted. Proceeds benefit the building fund.
MARK YOU CALENDAR: St. Peter's Potluck Featuring John Panagiotou on Saturday, October 26 at 6:00pm
St. Peter's is growing and that means more planning, more organization, and more work — but it's the kind of work that is blessed by God because we are building to help ourselves and the people that God will bring to us.
We see that happening but more people will come. It's our mission, but this mission is given to us by our Lord and Savior Jesus Christ.
Potluck season is here too so we are combing two events into one. We will enjoy the food and fellowship we all love as well as a featured speaker. The first speaker will be John Panagiotou who will tell us how supporting St. Peter's really works.
We Need Some People to Help Barbara Dusckas Move
Barbara is moving and could use some help packing and a few other things. Here is the schedule:
Tuesday-Thursday, September 24-26, 10-4pm — help pack up boxes.
The move is on Saturday September 28 (movers have been hired) but help throughout the day especially with unpacking is appreciated. Workday begins at 9:00am.
These are the hours she is working, not the hours you are being asked to work. If you are free and could help Barbara for even a few hours, it would be much appreciated.
If you could help please call Barbara at 239-220-7383.
Men: Join AMEN
AMEN is growing in the Miami Diocese, very fast actually, and there is a lot of good energy behind it. Fr. Hans has been appointed the Spiritual Advisor to the group by Bp. Nicholas. Steve Breitenbach is our local president.
What will AMEN do? It will bring together the men of the parish for friendship, fellowship, and work.
She could really use the help, if even for only a few hours.
St. Peter's Men:
Income Report – July 2019
In order to meet our operating Budget goal for 2019 we need to take in $16,777.00 each month.
In July we took in $18,104.00 in total contributions. Our monthly goal is $16,777.00. Thank you to everyone who responded to our letter of appeal. So far we are meeting our budget and have remained in the black in these more difficult summer months.
We also apologize for the late report. Our bookkeeper is very busy this summer and was only to compile the report recently.
Please pledge in order to meet our goal. Pledge forms are available on the table in the narthex.
Bible Studies
Wed Sep 25 — Men's & Women's Bible Study (Held separately) 7:00pm
Wed Oct 2 — Community Bible Study 7:00pm
Wed Oct 9 — Men's & Women's Bible Study (Held separately) 7:00pm
Wed Oct 16 — CANCELED (Fr. Hans Out of Town) Community Bible Study 7:00pm
Wed Oct 23 — Men's & Women's Bible Study (Held separately) 7:00pm
Wed Oct 30 — Community Bible Study 7:00pm
The Community Bible Study is for the entire community.
The Men's and Women's Bible Study are separate studies but held concurrently.
Pledge & Income Report – August 2019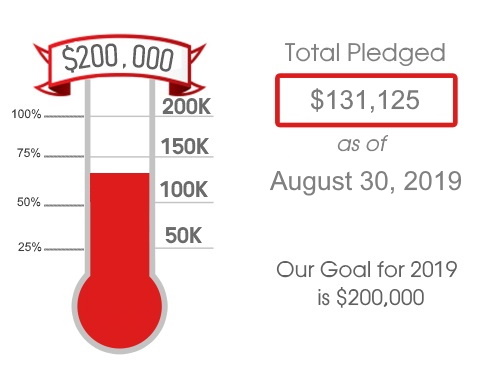 In August we took in $15,536 in total donations. Our monthly goal is $16,777.00 leaving us $1,241 short for August.
These are good numbers for August and we appreciate the response to our mid-summer appeal. Thank you for your support to date.
Please be generous in your giving between now and the end of the year so that we can meet our expenses.
It is not too late to pledge. Pledge forms are available on the table in the narthex.
Interfaith Charities Needs Our Help
They need:
Ramen noodles
Canned tuna
Vegetables
Beans
Soups
and…
Used clothing
Used household items
Bring the items to church and we will get them to Interfaith Charities. Interfaith Charities is a coalition of local churches helping the poor in our immediate community. See more on their website.
Calendar At A Glance
SEPTEMBER
Mon Sep 23 — Conception of St. John Baptist Divine Liturgy 9:30am
Wed Sep 25 — Men's & Women's Bible Study (Held separately) 7:00pm
Thu Sep 26 — Apostle John Divine Liturgy 9:30am
OCTOBER
Wed Oct 2 — Community Bible Study 7:00pm
Thu Oct 03 — Community Luncheon 12:00pm
Wed Oct 9 — Men's & Women's Bible Study (Held separately) 7:00pm
Fri Oct 11 — Parish Council Meeting 3:00pm
Fri Oct 13-19 — Fr. Hans Out of Town
Wed Oct 16 — CANCELED (Fr. Hans Out of Town) Community Bible Study 7:00pm
Wed Oct 23 — Men's & Women's Bible Study (Held separately) 7:00pm
Sat Oct 26 — St. Peter's Potluck 6:00pm
Wed Oct 30 — Community Bible Study 7:00pm
Wisdom From The Elders
Another holy teach­er said "You should not eat whatever you want, but eat what you have, and in a way that after eating and drinking, you still feel an urge for food." Metropolitan Gregory (Postnikov) of St. Petersburg
The knowledge of God does not dwell in a pleasure loving body, and the man who loves his own body will not obtain divine gifts. Venerable Isaac the Syrian, bishop of Nineveh
The task of the spiritual father is to find God's will for his spiritual child. Priest Daniel Sysoev
"The fear of God is the beginning of wisdom. (Pr 1:7)" Fear of God is clearly respect for God, devotion and spiritual reserve. Such fear of God makes one stand in awe before Him; it is something sacred. Saint Paisios of Mount Athos
Learn to subdue your heart, to stifle your passions, by the power of the name of the Lord, and by your own will, at the time when you chiefly suffer from the outburst of self-love, when you feel ready to strike everyone and break everything. Righteous John, Wonderworker of Kronstadt
Without having freed itself from the world, the soul cannot love God sincerely. For worldly things, in the words of St. Antioch, are as it were a veil for the soul. St. Seraphim of Sarov
The punishment for sin, and the peace of the conscience after repenting of it, visibly prove that there is one Judge, the Lifegiver and our God, Who can save or destroy us, Who has given us life and the laws of life, and chastises us for their violation. Righteous John, Wonderworker of Kronstadt
Remember in Your Prayers
Alan L (B Duskcas)
Charles (Oberg)
Christine (Kouzes)
Nina (Kovalev)
Hugh (Jacquie)
Violet (Jacquie Mom)
Tammie (Jacquie friend)
Phillip
Baby Luke
George
Priest Kyprianos
Savannah (Jonson)
Bud
Silvana
Nicole
Evan
Megan
Bill R.
Pat R.
Aglaia
George
Hieromonk Serapion
Priest Kyprianos
Athanasia
Alexandra
Constantina
Maryanne (E)
Ron (E)
Tim
Robert (J)
Mary (J)
Patricia
Gregory
Andreas
Sofia Tešanovic
Paul
Dennis H. and Family
Victor Evan
Ann
James
Vasiliki
Efstratia
Alexandra
Nikos
Georgia
Ioannis
Costandino
Jeffrey
Vaso
Dave
Dimitri – Presbyter
Vassiliki
Octavio
Tom
Carl
Rena
Nikolay (5 year old boy in Bulgaria whose parents asked us to pray)
David
Rosie
Kathryn
Jeremy
Constantine
Robert
Jane
Theodora
David
Gina
Micheal
Haralambos
Lillian
Presbytera Rosy
Valentina
Eva W.
Barbara
Angela
Carol Ann
Matthew
Chrysostom
Tim
Pat
Christina
Maria Louise
Maximos
Marian
Photini
Nicholas
Sarah
Constantine Houpis
Anna Marie Smith Baker
Katerina
Mary Kassis
Baby Maximus
Christine
Maria
Annette Star
Claire Livaditis
Eva Chandilles
Baby Dani
Scott Nedoff
James Hord
Tom
How should we pray for the sick? Remember them daily. Say their names (first names are sufficient) and ask God to bestow mercy and grace on them.
Add or remove names and print this list for easy reference during your prayer time on the St. Peter website.
Sunday Readings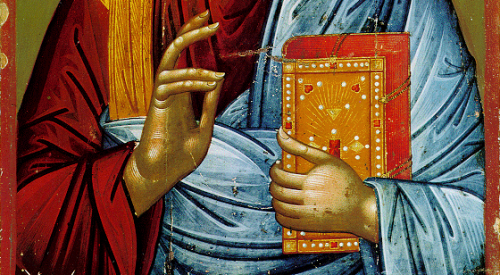 Epistle
For the Fifteenth Sunday after Pentecost
O Lord, save Thy people and bless Thine inheritance.
Unto Thee have I cried, O Lord my God.
The Reading is from the Second Epistle of St. Paul to the Corinthians. (4:6-15)
Brethren, it is the God Who said, "Let light shine out of darkness," Who has shone in our hearts to give the light of the knowledge of the glory of God in the face of Christ. But we have this treasure in earthen vessels, to show that the transcendent power belongs to God and not to us. We are afflicted in every way, but not crushed; perplexed, but not driven to despair; persecuted, but not forsaken; struck down, but not destroyed; always carrying in the body the death of Jesus, so that the life of Jesus may also be manifested in our bodies. While we live we are always being given up to death for Jesus' sake, so that the life of Jesus may be manifested in our mortal flesh. So death is at work in us, but life in you. Since we have the same spirit of faith as he had who wrote, "I believed, and so I spoke," we too believe, and so we speak, knowing that He Who raised the Lord Jesus will raise us also with Jesus and bring us with you into His presence. For it is all for your sake, so that as grace extends to more and more people it may increase thanksgiving, to the glory of God.
Gospel
For the Second Sunday of Luke
The Reading from the Holy Gospel according to St. Luke. (6:31-36)
The Lord said:"As you wish that men would do to you, do so to them. If you love those who love you, what credit is that to you? For even sinners love those who love them. And if you do good to those who do good to you, what credit is that to you? For even sinners do the same. And if you lend to those from whom you hope to receive, what credit is that to you? Even sinners lend to sinners, to receive as much again. But love your enemies, and do good, and lend, expecting nothing in return; and your reward will be great, and you will be sons of the Most High; for He is kind to the ungrateful and the selfish. Be merciful, even as your Father is merciful."