The Sunday after the Elevation of the Cross
The holy Martyr Eustathius before his baptism was an illustrious Roman general named Placidas in the days of the Emperor Trajan.
While hunting in the country one day, he was converted to the Faith of Christ through the apparition of an uncommonly majestic stag, between whose antlers he saw the Cross of Christ, and through which the Lord spoke to him with a human voice.
Upon returning home, he learned that his wife Tatiana had also had a vision in which she was instructed to become a Christian.
Read the complete story on the Greek Orthodox Archdiocese website.
Sunday School Begins September 20
A form to register your child can be found on the website.
Help Anthea Help the Homeless on September 19
Anthea Teufel is involved with a project to help the homeless in our area. She invites anyone to join her. Anthea writes:
Please join me if you are free and available. There are many needs and a list of goods the people are in need of. It is good that we can do Gods work and reach out to our neighbors.
You can call Anthea at 239-994-6975 or meet her on Saturday at Centenial Park in Ft. Myers (get map) from 10am to 2pm. More information can be found here.
Time to Think About Stewardship
Soon you will be receiving a letter about supporting St. Peter's parish for the upcoming year.
By the grace of God we have made much progress this past year and the future looks very bright.
Our financial support of St. Peter's is important. We love God because He first loved us. We give back to God because He first gave to us.
We love God because He first loved us (1 John 4:19).
Orthodoxy 101 Classes to Start in October
Fr. Hans will hold Orthodoxy 101 on Wednesday evenings starting in October. During the classes, choir practice will move to Wednesdays and Bible Study will be suspended until the classes are completed. Watch for more details soon.
In the meantime Bible Study and choir practice continue on Tuesday.
Good Samaritan Fund
The Parish Council has designated all donations collected during Coffee Hour will go to the Good Samaritan Fund.
What is the Good Samaritan Fund. Occasionally Fr. Hans is made aware of needs that require some financial assistance. The Fund will be a reserve collected from which we can draw when necessary.
Wisdom from St. John of Krondstadt
It is of utmost importance that we seek after Christ and find Him. Without Christ, who will save us from our sins which ensnare us every day and hour, and from the eternal torments? Only the Son of God has power on earth to forgive sins; He alone has the keys to hell and death, the keys to the Kingdom of Heaven and life.
To find Christ is not difficult. He is everywhere. He says to us, "I am a God at hand . . . and not a God far off" (Jer. 23:23). As soon as He sees our hearts incline to receive His grace, He immediately enters, bringing with Him peace and comfort.
"I stand at the door and knock: if any man hears my voice, and opens the door, I will come in to him, and will sup with him, and he with Me" (Rev. 3:20).
Oh, how often He converses with His faithful servants as with true friends. Christ Himself is seeking you: if you but incline your heart toward Him, you will surely find Him.
Choir Practice Continues on Tuesday at 6pm
Please consider joining the choir. "He who sings prays twice."
Bible Study Continues on Tuesday at 7pm
We are studying Acts (The Acts of the Apostles), the first history of the Christian Church ever written.
Turn out has been good, even in summer! Come and bring a friend.
Remember in Your Prayers
Bonnie Joseph
Mary Spiropoulos, mother of Joan Simon.
Bob Smith
Tom and Jean, parents of Patty and Jerry.
How should we pray for the sick? Remember them daily. Say their names and ask God to bestow mercy and grace on them.
Sunday Readings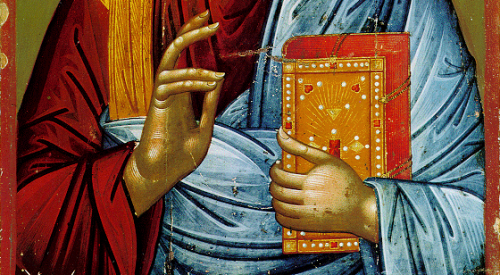 Epistle
For Sunday after the Exaltation of the Holy Cross
O Lord, how manifold are Thy works. In wisdom hast Thou made them all.
Bless the Lord, O my soul.
The Reading from the Epistle of St. Paul to the Galatians. (2:16-20)
Brethren, you know that a man is not justified by works of the law but through faith in Jesus Christ. Even we have believed in Christ Jesus, in order to be justified by faith in Christ, and not by works of the law, because by works of the law shall no one be justified.

But if, in our endeavor to be justified in Christ, we ourselves were found to be sinners, is Christ then an agent of sin? Certainly not! But if I build up again those things which I tore down, then I prove myself a transgressor. For I through the Law died to the Law, that I might live to God.

I have been crucified with Christ; it is no longer I who live, but Christ Who lives in me; and the life I now live in the flesh I live by faith in the Son of God, Who loved me and gave Himself for me.
Gospel
For Sunday after the Exaltation of the Holy Cross
The Reading from the Holy Gospel according to St. Mark. (8:34-9:1)
The Lord said, "If any man would come after Me, let him deny himself and take up his cross and follow Me. For whoever would save his life will lose it; and whoever loses his life for My sake and the Gospel's will save it.

For what does it profit a man, to gain the whole world and forfeit his soul? For what can a man give in return for his soul? For whoever is ashamed of Me and of My words in this adulterous and sinful generation, of him will the Son of man also be ashamed, when He comes in the glory of His Father with the holy angels."

And He said to them, "Truly, I say to you, there are some standing here who will not taste death before they see the Kingdom of God come with power."