The Holy Apostle and Evangelist Luke
Parish Assembly Meeting This Sunday (October 25, 2015
St. Peter's is growing and it is time to talk about expansion options. We have several ideas under consideration.
We want to prepare properly for the future so we are not caught short and have to make hasty decisions.
Please attend this important meeting. We will have a short break after Liturgy for refreshments and then begin the meeting.
Bishop Antoun to Visit St. Peter's on November 1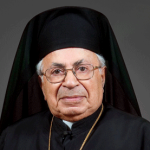 Bishop Antoun will be with us on Sunday November 1. You may remember that during our last visit he pushed us to find a more suitable location for St. Peter's and here we are! This is his first visit to our new location.
More details will be forthcoming. Please mark your calendars and be sure to attend. It would be great to welcome him with an overflowing parish on that day.
Vespers with Bishop Antoun, Saturday, October 31, 5:30pm
Bp. Antoun will be cebrating Vesper with us on Saturday, October 31 starting at 5:30pm. Please be sure to attend.
Chior Practice and Orthodoxy 101 Class Wednesday, October 28
Choir practice begins at 6pm and Orthodoxy 101 at 7pm.
Get the class syllabus and complete information on the website.
Stewardship Letter Mailed
Prayerfully consider your support of St. Peter's. We are growing and our financial needs grow along with it. Our parish will prosper and flourish. God Himself adds the increase but it requires more committment and sacrifice from us as well. "To whom much is given, much is required," the Lord tells us in scripture.
Wisdom from Philo of Alexandria
Be kind for everyone you meet is fighting a great battle.
—Philo of Alexandria
Food for the Hungry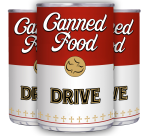 As we do ever year, the months approaching Christmas is when we collect foor for neighborhood foodshelves.
Please bring a canned item to Church with you on Sundays. Bins will be set up to collect them.
Cash/check donations work too. Please give your donation to Mary Copeland and notate "Food Donation" on the memo line.
The drive will run through December 29. All donations will be distributed locally.
See more information on the website.
Remember in Your Prayers
Soterios Ninos father of Angela Long.
Bonnie Joseph
Mary Spiropoulos, mother of Joan Simon.
Bob Smith
Tom and Jean, parents of Patty and Jerry.
How should we pray for the sick? Remember them daily. Say their names and ask God to bestow mercy and grace on them.
Sunday Readings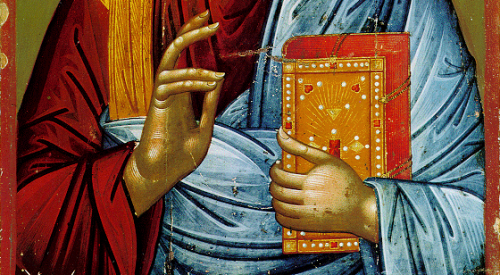 Epistle
For the Twenty-First Sunday after Pentecost
O Lord, how magnified are Thy works. In wisdom hast Thou made them all.
Bless the Lord, O my soul.
The Reading from the Epistle of St. Paul to the Galatians. (2:16-20)
Brethren, you know that a man is not justified by works of the Law but through faith in Jesus Christ. Even we have believed in Christ Jesus, in order to be justified by faith in Christ, and not by works of the Law, because by works of the Law shall no one be justified.

But if, in our endeavor to be justified in Christ, we ourselves were found to be sinners, is Christ then an agent of sin? Certainly not! But if I build up again those things which I tore down, then I prove myself a transgressor. For I through the Law died to the Law, that I might live to God.

I have been crucified with Christ; it is no longer I who live, but Christ Who lives in me; and the life I now live in the flesh I live by faith in the Son of God, Who loved me and gave Himself for me.
Gospel
For the Sixth Sunday of Luke
The Reading from the Holy Gospel according to St. Luke. (8:26-39)
At that time, Jesus arrived at the country of the Gadarenes, which is opposite Galilee. And as He stepped out on land, there met Him a man from the city who had demons; for a long time he had worn no clothes, and he lived not in a house but among the tombs. When he saw Jesus, he cried out and fell down before him, and said with a loud voice, "What hast Thou to do with me, Jesus, Son of the Most High God? I beseech Thee, do not torment me." For Jesus had commanded the unclean spirit to come out of the man. [For many a time it had seized him; he was kept under guard, and bound with chains and fetters, but he broke the bonds and was driven by the demon into the desert.]

Jesus then asked him, "What is your name?" And he said, "Legion"; for many demons had entered him. And they begged Jesus not to command them to depart into the abyss. Now a large herd of swine was feeding there on the hillside; and they begged Jesus to let them enter these. So He gave them leave. Then the demons came out of the man and entered the swine, and the herd rushed down the steep bank into the lake and was drowned. When the herdsmen saw what had happened, they fled, and told it in the city and in the country.

Then people went out to see what had happened, and they came to Jesus, and found the man from whom the demons had gone, sitting at the feet of Jesus, clothed and in his right mind; and they were afraid. And those who had seen it told them how he who had been possessed with demons was healed. Then all the people of the surrounding country of the Gadarenes asked Jesus to depart from them; for they were seized with great fear; so He got into the boat and returned.

The man from whom the demons had gone begged that he might be with Jesus; but Jesus sent him away, saying, "Return to your home, and declare all that God has done for you." And he went away, proclaiming throughout the whole city all that Jesus had done for him.