The Fourth Sunday of Luke
Sunday of the 7th Ecumenical Council
The Seventh Ecumenical Council took place in Nicea in 787 AD, and is also known as the Second Council of Nicaea. The last of the seven Ecumenical Councils dealt with the icons.
Disputes concerning the Person of Christ did not end with the sixth Council in AD 681, but continued through the eighth and ninth centuries. This time, the controversy focused on icons—pictures of Christ, the Theotokos, the saints, and holy events—and lasted for 120 years, starting in AD 726. Icons were kept and venerated in both churches and private homes.
The Council decided that venerating icons, having them in churches and homes, is what the Church teaches. They are "open books to remind us of God." Those who lack the time or learning to study theology need only to enter a church to see the mysteries of the Christian religion unfolded before them.
Learn more about the 7th Ecumenical Council and the Iconoclastic Controversy on the Orthodoxwiki website.
Bishop Antoun to Visit St. Peter's on November 1
Bishop Antoun will be with us on Sunday November 1. You may remember that during our last visit he pushed us to find a more suitable location for St. Peter's and here we are! This is his first visit to our new location.
More details will be forthcoming. Please mark your calendars and be sure to attend. It would be great to welcome him with an overflowing parish on that day.
Orthodoxy 101 Classes to Start Wednesday, October 21
Orthodoxy 101 classes will begin Wednesday, October 21 starting at 7 pm. Classes will run about an hour with discussion time following for those who would like to stay.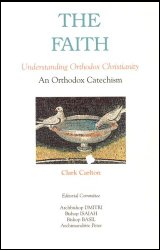 We will be using the book "The Faith" by Clark Carlton. Amazon seems the best place to order the books and there are plenty of used copies at a good price. Use this link to order: The Faith: Understanding Orthodox Christianity
Get the class syllabus and complete information on the website.
This is a class geared towards inquirers and anyone interested in the Orthodox faith.
No Bible Study Tuesday, Choir Practice at 6:30
Choir Practice will begin at 6:30pm on Tuesday, October 13. No bible study on Tuesday, October 13.
Stewardship Letters Mailed Next Week
Next you will be receiving a letter about supporting St. Peter's parish for the upcoming year.
Our financial support of St. Peter's is important. We love God because He first loved us. We give back to God because He first gave to us.
Prayerfully consider your support of St. Peter's. We are growing and our financial needs grow along with it. Our parish will prosper and flourish. God Himself adds the increase but it requires more committment and sacrifice from us as well. "To whom much is given, much is required," the Lord tells us in scripture.
Wisdom from Alexander Solzhenitsyn
It is not because the truth is too difficult to see that we make mistakes. It may even lie on the surface; but we make mistakes because the easiest and most comfortable course for us is to seek insight where it accords with our emotions — especially selfish ones.
– Alexander Solzhenitsyn
Jeremiah is Driving Again!
Jeremiah Tewis is happy and we are blessed. May God be glorified in all things!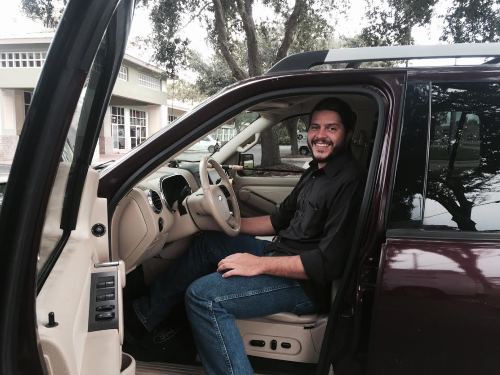 Esther's Artwork
Esther Zuercher made a beautiful tapestry for the youth area in the balcony. Thank you Esther!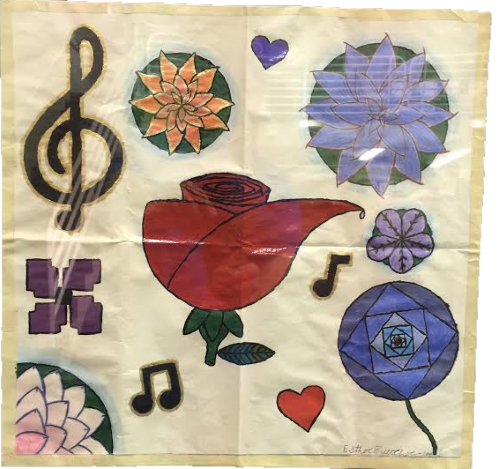 Fr. Hans Our of Town October 13-15
Fr. Hans will be in Washington DC from Tuesday October 13 through Thursday October 15.
He will be available by cell phone.
Remember in Your Prayers
Soterios Ninos
Bonnie Joseph
Mary Spiropoulos, mother of Joan Simon.
Bob Smith
Tom and Jean, parents of Patty and Jerry.
How should we pray for the sick? Remember them daily. Say their names and ask God to bestow mercy and grace on them.
Sunday Readings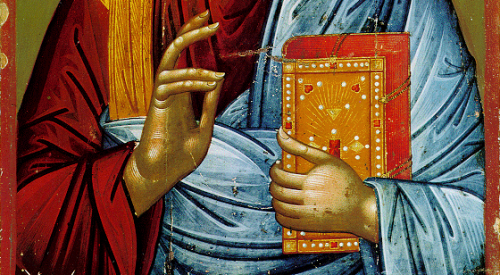 Epistle
For the Holy Fathers
Blessed are Thou, O Lord, the God of our Fathers.
For Thou art just in all that Thou hast done.
The Reading from the Epistle of St. Paul to St. Titus. (3:8-15)
Titus, my son, the saying is sure. I desire you to insist on these things, so that those who have believed in God may be careful to apply themselves to good deeds; these are excellent and profitable to men.
But avoid stupid controversies, genealogies, dissension, and quarrels over the law, for they are unprofitable and futile. As for a man who is factious, after admonishing him once or twice, have nothing more to do with him, knowing that such a person is perverted and sinful; he is self-condemned.
When I send Artemas or Tychicus to you, do your best to come to me at Nicopolis, for I have decided to spend the winter there. Do your best to speed Zenas the lawyer and Apollos on their way; see that they lack nothing. And let our people learn to apply themselves to good deeds, so as to help cases of urgent need, and not to be unfruitful. All who are with me send greetings to you. Greet those who love us in the faith. Grace be with you all. Amen.
Gospel
For the Fourth Sunday of Luke
The Reading from the Holy Gospel according to St. Luke. (8:5-15)
The Lord spoke this parable: "A sower went out to sow his seed; and as he sowed, some fell along the path, and was trodden under foot, and the birds of the air devoured it. And some fell on the rock; and as it grew up, it withered away, because it had no moisture. And some fell among thorns; and the thorns grew with it and choked it. And some fell into good soil and grew, and yielded a hundredfold."
And when His Disciples asked Him what this parable meant, Jesus said, "To you it has been given to know the secrets of the kingdom of God; but for others they are in parables, so that seeing they may not see, and hearing they may not understand.
Now the parable is this: The seed is the word of God. The ones along the path are those who have heard; then the devil comes and takes away the word from their hearts that they may not believe and be saved. And the ones on the rock are those who, when they hear the word, receive it with joy; but these have no root, they believe for a while and in time of temptation fall away. And as for what fell among the thorns, they are those who hear, but as they go on their way, they are choked by the cares and riches and pleasures of life, and their fruit does not mature. And as for that in the good soil, they are those who, hearing the word, hold it fast in an honest and good heart, and bring forth fruit with patience."
As Jesus said this, He called out, "He who has ears to hear, let him hear."