The Fourteenth Sunday of Luke
The Holy Prophet Habakkuk; Martyr Habib the New; Martyr Myrope of Chios; Venerable John, Heraclemon, Theophilos and Andrew of Egypt; Martyr Stephen Urosh, the Serbian king; Venerable Ioannikios of Devitch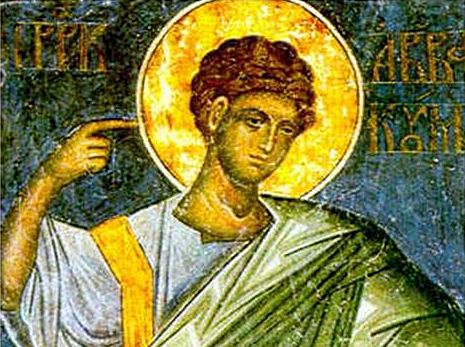 Who was the Prophet Habbakuk?
This Prophet, whose name means "loving embrace," is eighth in order of the minor Prophets. His homeland and tribe are not recorded in the Divine Scriptures; according to some, he was of the tribe of Symeon. He prophesied in the years of Joachim, who is also called Jechonias, before the Babylonian captivity of the Jewish People, which took place 599 years before Christ.
When Nabuchodonosor came to take the Israelites captive, Habakkuk fled to Ostrakine, and after Jerusalem was destroyed and the Chaldeans departed, Habakkuk returned and cultivated his field. Once he made some pottage and was about to take it to the reapers in the field. An Angel of the Lord appeared to him, and carried him with the pottage to Babylon to feed Daniel in the lions' den, then brought him back to Judea (Bel and the Dragon, 33-39): His book of prophecy is divided into three chapters; the third chapter is also used as the Fourth Ode of the Psalter.
His holy relics were found in Palestine during the reign of Emperor Theodosius the Great, through a revelation to Zebennus, Bishop of Eleutheropolis (Sozomen, Eccl. Hist., Book VII, 29).
Read the complete biography on the Greek Orthodox Archdiocese website.
Bp. Nicholas Visits St. Paul's on December 5 (His name day)
Bishop Nicholas will be making a pastoral visit to the our area on Tuesday, December 5 at St. Paul Orthodox Church (get map).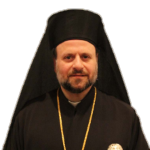 Schedule:
6:00pm — Arrival of His Grace followed by Great Vespers
7:00PM — The Story of St. Nicholas followed by light refreshments.
It is important we attend to show respect for our Bishop and strengthen our bonds with the Parishioners of St. Paul's.
More import is that our attendance keeps us within the traditions of our Orthodox faith in a society that is becoming increasingly de-Christianized.
NOTE DATE CHANGE – St. Nicholas Liturgy and Children's Celebration on Wednesday, December 6, 2018 starting at 6:00pm
The date of the program has been moved to December 6, 2018. Bp. Nicholas will be visiting St. Paul's the day before on December 5, 2018.
The kids love it!
Schedule:
6:00pm — Divine Liturgy
7:15pm — Program begins
Parents: Bring you children!
Christmas Fast Continues
The Nativity Fast is one of the four Canonical Fasting Seasons in the Church year. This is a joyous fast in anticipation of the Nativity of Christ. That is the reason it is less strict than other fasting periods. The fast is divided into two periods. The 1st period is November 15th through December 19th when the traditional fasting discipline (no meat, dairy, fish, wine, and oil) is observed. There is dispensation given for wine and oil on Tuesdays and Thursdays. Similarly, fish, wine, and oil are permitted on Saturdays and Sundays.
The 2nd period is December 20th through 24th when the traditional fasting discipline (no meat, dairy, fish, wine, and oil) is observed. There is dispensation given for wine and oil only on Saturday and Sunday during this period.
Fasting always works in conjuction with prayer and giving alms (helping the poor, giving to worthy charities, etc.). Fasting helps us reorder the interior life, but the reordering does not occur with greater prayer and greater concern for the poor.
The reordering is a clarification — we end up seeing things more clearly, we get stronger in the fight against sin and temptation. The fast always ends on a great Feast Day of our Lord.
For a complete list, visit the Antiochian website or click on the image below:
Toys for Tots Drive Until Next Sunday December 2, 2018
Let's make our Second Annual Toys for Tots Drive the best one yet!
Please bring new, unwrapped toys to Church to make Christmas brighter for kids who otherwise would have none.
A Toys for Tots contribution box will be in the Social Hall until December 2, 2018.
Every child deserves a Christmas!
Interfaith Charities Needs Soups
Interfaith Charities, the local assembly of churches that helps the poor in our area, needs soups.
Publix is running a two for one on soups this week. Buy some and give double!
If you bring to the church, we will get them to Interfaith Charities.
Calendar At A Glance
Thursday, November 15 — Christmas Fast Begins
Tuesday, November 20, 2018 — 6:30pm Entrance of the Theotokos Divine Liturgy
Tuesday December 5, 2018 — Bp. Nicholas Pastoral Visit at St. Paul's 6:00pm.
Wednesday December 6, 2018 — St. Nicholas Celebration. 6:00pm.
Wisdom From The Elders
The Devil also manifests his presence in our hearts by unusually violent irritation. We sometimes become so sick with our own self-love that we cannot even endure the slightest contradiction, any spiritual or material obstacles; cannot bear a single, rough, harsh word. But then is the very time for endurance when the waters of malice and impatience reach the depths of our souls. Righteous John, Wonderworker of Kronstadt
When it is a matter of the prescribed times of fasting, such as Wednesdays, Fridays, and the other Lenten seasons, then we should, because it is a confession of faith. The other ascetic fasts, that is those which are undertaken for the love of Christ or for our prayer of petition to be heard, those should be practised in secret. Saint Paisios of Mount Athos
God in His goodness has arranged things perfectly, so that with our gifts, we can help each other, and with our faults, we can be humbled by each other. For every person has some gifts; but everyone also has some faults which one must struggle to overcome. Saint Paisios of Mount Athos
It is a good thing to believe in Christ, because without faith in Christ it is impossible for anyone to be saved; but one must also be instructed in the word of truth and understand it.
It is a good thing to be instructed in the word of truth, and to understand it is essential; but one must also receive Baptism in the name of the Holy and Life-giving Trinity, for the bringing to life of the soul.
It is a good thing to receive Baptism and through it a new spiritual life; but it is necessary that this mystical life, or this mental enlightenment in the spirit, also should be consciously felt.
It is a good thing to receive with feeling the mental enlightenment in the spirit; but one must manifest also the works of light.
It is a good thing to do the works of light; but one must also be clothed in the humility and meekness of Christ for perfect likeness to Christ.
He who attains this and becomes meek and humble of heart, as if these were his natural dispositions, will unfailingly enter into the Kingdom of Heaven and into the joy of His Lord. St. Symeon the New Theologian
Our Lord Jesus Christ is the Conqueror of death, and, consequently, of the death of our departed ones. Monk Mitrophan
Remember in Your Prayers
Helen (Rogers)
Doug Spencer
Kathy Spencer
Kathy D
Andreas
Sofia Tešanovic
Paul
Dennis H. and Family
Victor Evan
Ann
James
Vasiliki
Efstratia
Alexandra
Nikos
Georgia
Ioannis
Costandino
Jeffrey
Vaso
Dave
Dimitri – Presbyter
Vassiliki
Octavio
Tom
Carl
Rena
Nikolay (5 year old boy in Bulgaria whose parents asked us to pray)
David
Eva K.
Rosie
Kathryn
Jeremy

Constantine
Robert
Jane
Theodora
David
Gina
Baby Brynn L.
Micheal
Haralambos
Lillian
Presbytera Rosy
Valentina
Eva W.
Barbara
Angela
Carol Ann
Matthew
Chrysostom
Tim
Pat
Christina
Maria Louise
Maximos
Marian
Photini
Nicholas
Sarah
Petronia (Wife of Phil Pappas)
Constantine Houpis
Anna Marie Smith Baker
Ron Chromulak
Beverly Chromulak
Katerina
Mary Kassis
Baby Maximus
Christine
Maria
Annette Star
Claire Livaditis
Eva Chandilles
Baby Dani
Scott Nedoff
James Hord
Tom
How should we pray for the sick? Remember them daily. Say their names (first names are sufficient) and ask God to bestow mercy and grace on them.
Add or remove names and print this list for easy reference during your prayer time on the St. Peter website.
Sunday Readings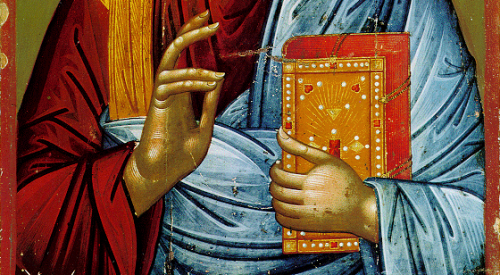 Epistle
For the Twenty-Seventh Sunday after Pentecost
The Lord is my strength and my song.
With chastisement hath the Lord chastened me.
The Reading from the Epistle of St. Paul to the Ephesians. (6:10-17)
Brethren, be strong in the Lord and in the strength of his might. Put on the whole armor of God, that you may be able to stand against the wiles of the devil. For we are not contending against flesh and blood, but against the principalities, against the powers, against the world rulers of this present darkness, against the spiritual hosts of wickedness in the heavenly places. Therefore, take the whole armor of God, that you may be able to withstand in the evil day, and having done all, to stand.

Stand, therefore, having girded your loins with truth, and having put on the breastplate of righteousness, and having shod your feet with the equipment of the gospel of peace; besides all these, taking the shield of faith, with which you can quench all the flaming darts of the evil one. And take the helmet of salvation, and the sword of the Spirit, which is the word of God.
Gospel
For the Fourteenth Sunday of Luke
The Reading from the Holy Gospel according to St. Luke. (18:35-43)
At that time, when Jesus drew near to Jericho, a blind man was sitting by the roadside begging; and hearing a multitude going by, he inquired what this meant. They told him, "Jesus of Nazareth is passing by." And he cried, "Jesus, Son of David, have mercy on me!" And those who were in front rebuked him, telling him to be silent; but he cried out all the more, "Son of David, have mercy on me!"

And Jesus stopped, and commanded him to be brought to him; and when he came near, Jesus asked him, "What do you want me to do for you?" He said, "Lord, let me receive my sight." And Jesus said to him, "Receive your sight; your faith has made you well." And immediately he received his sight and followed Jesus, glorifying God; and all the people, when they saw it, gave praise to God.