Conception of the Theotokos by Righteous Anna
Consecration of the Church of the Resurrection in Jerusalem
The Conception of the Theotokos by Saint Anna is commemorated by the Orthodox Church on December 9. St. Anna, the mother of the Virgin Mary, was the youngest daughter of the priest Nathan from Bethlehem, descended from the tribe of Levi. She married St. Joachim, who was a native of Galilee.
For many years, St. Anna was childless and the couple suffered much reproach for her barrenness. When they were in Jerusalem to offer sacrifice to God, the High Priest, Issachar, upbraided Joachim, "You are not worthy to offer sacrifice with those childless hands." Both spouses gave themselves to fervent prayer, and the Archangel Gabriel announced to them separately that they would be the parents of a daughter who would bring blessings to the whole human race.
The Orthodox Church does not accept the teaching of the Immaculate Conception, but has also always believed that the Virgin Mary was, from her conception, filled with every Grace of the Holy Spirit in view of her calling as the Mother of Christ our God.
The Church also celebrates other saints who were sanctified in the womb of their mothers. St John the Baptist is one example; St Nicholas the Wonderworker is another.
Source: OrthodoxWiki.
Bp. Nicholas Visits St. Paul's on December 5 (His name day)
Bishop Nicholas will be making a pastoral visit to the our area on Tuesday, December 5 at St. Paul Orthodox Church (get map).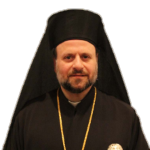 Schedule:
6:00pm — Arrival of His Grace followed by Great Vespers
7:00PM — The Story of St. Nicholas followed by light refreshments.
It is important we attend to show respect for our Bishop and strengthen our bonds with the Parishioners of St. Paul's.
More import is that our attendance keeps us within the traditions of our Orthodox faith in a society that is becoming increasingly de-Christianized.
NOTE DATE CHANGE – St. Nicholas Liturgy and Children's Celebration on Wednesday, December 6, 2018 starting at 6:00pm
The date of the program has been moved to December 6, 2018. Bp. Nicholas will be visiting St. Paul's the day before on December 5, 2018.
The day begins at 6:00pm with the program immediately following.
The kids love it!
Schedule:
6:00pm — Divine Liturgy
7:15pm — Program begins
Parents: Bring you children!
Missions Presentation in the Social Hall on Sunday, December 23, 2018
Dr. Cheryl Johnson from Annuciation GOC and Cliff Tewis, a pre-med student at Florida Atlantic University and a member of St. Peter's went to Kenya this summer on a medical mission trip sponsored by Orthodox Christian Missions. You can learn more about their trip here.
On Sunday, December 23 they will offer a short presentation about their trip in the Social Hall following the Divine Liturgy.
Many of us know Dr. Cheryl and Cliff and we welcome their presentation and service to the Orthodox Church in Africa.
For photos of Cliff Tewis in Kenya visit the gallery on the St. Peter website.
Christmas Fast Continues
The Nativity Fast is one of the four Canonical Fasting Seasons in the Church year. This is a joyous fast in anticipation of the Nativity of Christ. That is the reason it is less strict than other fasting periods. The fast is divided into two periods. The 1st period is November 15th through December 19th when the traditional fasting discipline (no meat, dairy, fish, wine, and oil) is observed. There is dispensation given for wine and oil on Tuesdays and Thursdays. Similarly, fish, wine, and oil are permitted on Saturdays and Sundays.
The 2nd period is December 20th through 24th when the traditional fasting discipline (no meat, dairy, fish, wine, and oil) is observed. There is dispensation given for wine and oil only on Saturday and Sunday during this period.
Fasting always works in conjuction with prayer and giving alms (helping the poor, giving to worthy charities, etc.). Fasting helps us reorder the interior life, but the reordering does not occur with greater prayer and greater concern for the poor.
The reordering is a clarification — we end up seeing things more clearly, we get stronger in the fight against sin and temptation. The fast always ends on a great Feast Day of our Lord.
For a complete list, visit the Antiochian website or click on the image below:
Interfaith Charities Needs Soups
Interfaith Charities, the local assembly of churches that helps the poor in our area, needs soups.
Publix is running a two for one on soups this week. Buy some and give double!
If you bring to the church, we will get them to Interfaith Charities.
Calendar At A Glance
Tuesday December 5, 2018 — Bp. Nicholas Pastoral Visit at St. Paul's 6:00pm.
Wednesday December 6, 2018 — St. Nicholas Celebration. 6:00pm.
Sunday December 23, 2018 — Missions Presentation by Dr. Cheryl Johnson and Cliff Tewis
Wisdom From The Elders
The gardener may reflect with great edification on the Lord's saying "every tree that bringeth not forth good fruit is hewn down, and cast into the fire" (Matt. 7:19) and try to make himself a tree that bears good fruit. It is salvific also for him to reflect on the barren fig tree (Matt. 21:19-20) and to try to become fruitful. Metropolitan Gregory (Postnikov) of St. Petersburg
First the memory brings some passion-free thought into the intellect.By its lingering there, passion is aroused. When the passion is noteradicated, it persuades the intellect to assent to it. Once the assentis given, the actual sin is then committed. St. Maximos the Confessor
The cross is not only a place of divine justice; it is also a place for love to the point of death. Metropolitan Saba(Esber)
For, if someone does not cut out his bad habits when he is young, then it will be very difficult later in life when the will is weakened. If a person has no willpower, he can do nothing. Saint Paisios of Mount Athos
When malice against anyone is roused in your heart, then believe with your whole heart that it is the work of the Devil working in your heart: hate him and his brood, and malice will leave you. (Do not acknowledge it as anything of your own, and do not sympathise with it.) This is from experience. Righteous John, Wonderworker of Kronstadt
Remember in Your Prayers
Helen (Rogers)
Doug Spencer
Kathy Spencer
Kathy D
Andreas
Sofia Tešanovic
Paul
Dennis H. and Family
Victor Evan
Ann
James
Vasiliki
Efstratia
Alexandra
Nikos
Georgia
Ioannis
Costandino
Jeffrey
Vaso
Dave
Dimitri – Presbyter
Vassiliki
Octavio
Tom
Carl
Rena
Nikolay (5 year old boy in Bulgaria whose parents asked us to pray)
David
Eva K.
Rosie
Kathryn
Jeremy

Constantine
Robert
Jane
Theodora
David
Gina
Baby Brynn L.
Micheal
Haralambos
Lillian
Presbytera Rosy
Valentina
Eva W.
Barbara
Angela
Carol Ann
Matthew
Chrysostom
Tim
Pat
Christina
Maria Louise
Maximos
Marian
Photini
Nicholas
Sarah
Petronia (Wife of Phil Pappas)
Constantine Houpis
Anna Marie Smith Baker
Ron Chromulak
Beverly Chromulak
Katerina
Mary Kassis
Baby Maximus
Christine
Maria
Annette Star
Claire Livaditis
Eva Chandilles
Baby Dani
Scott Nedoff
James Hord
Tom
How should we pray for the sick? Remember them daily. Say their names (first names are sufficient) and ask God to bestow mercy and grace on them.
Add or remove names and print this list for easy reference during your prayer time on the St. Peter website.
Sunday Readings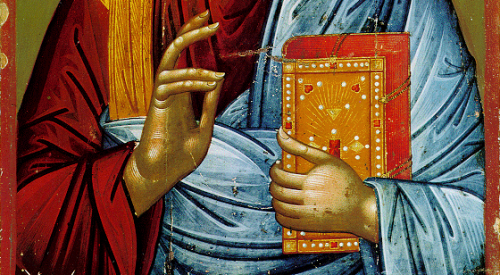 Epistle
For the Conception of the Theotokos by Righteous Anna
God is wondrous in His saints.
Bless God in the congregations.
The Reading from the Epistle of St. Paul to the Galatians. (4:22-27)
Brethren, Abraham had two sons, one by a slave and one by a free woman. But the son of the slave was born according to the flesh, the son of the free woman through promise. Now this is an allegory: these women are two covenants. One is from Mount Sinai, bearing children for slavery; she is Hagar. Now Hagar is Mount Sinai in Arabia; she corresponds to the present Jerusalem, for she is in slavery with her children. But the Jerusalem above is free, and she is our mother. For it is written, "Rejoice, O barren one who does not bear; break forth and shout, you who are not in travail; for the children of the desolate one are many more than the children of her that is married."
Gospel
For the Tenth Sunday of Luke
The Reading from the Holy Gospel according to St. Luke. (13:10-17)
At that time, Jesus was teaching in one of the synagogues on the Sabbath. And there was a woman who had had a spirit of infirmity for eighteen years; she was bent over and could not fully straighten herself. And when Jesus saw her, He called her and said to her, "Woman, you are freed from your infirmity." And He laid His hands upon her, and immediately she was made straight, and she praised God. But the ruler of the synagogue, indignant because Jesus had healed on the Sabbath, said to the people, "There are six days on which work ought to be done; come on those days and be healed, and not on the Sabbath day."

Then the Lord answered him, "You hypocrite! Does not each of you on the Sabbath untie his ox or his ass from the manger, and lead it away to water it? And ought not this woman, a daughter of Abraham, whom Satan bound for eighteen years, be loosed from this bond on the Sabbath day?" As Jesus said this, all His adversaries were put to shame; and all the people rejoiced at all the glorious things that were done by Him.