Feast Day of St. Peter and Paul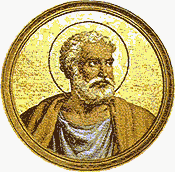 Today is the Feast Day of St. Peter and Paul. St. Peter as we know was the first bishop of Antioch and then moved to Rome. St. Paul was the "apostle born out of due season" which means he was not an original disciple but was called to be an apostle after the resurrection of Christ.
St. Peter was the brother of Andrew, also an apostle of Jesus.
Peter stayed in Antioch for seven years where he helped establish the Church. The Christians fled to Antioch when they underwent persecution by the Jews in Jerusalem. It was in Antioch where the believers were first called Christians. After Antioch, Peter went to Rome where he pastored the Church for another 25 years. He was eventually martyred under the persecution of the Roman emperor Nero. He was crucfied upside down around 68AD.
St. Peter is also the author of two books in the New Testament titled, appropriately enough, First and Second Peter. They are books full of practical wisdom. Peter was less theological than St. Paul, at least in his language, so his books are easier to understand. One section that is very instructive is:
Fruitful Growth in the Faith

But also for this very reason, giving all diligence, add to your faith virtue, to virtue knowledge, to knowledge self-control, to self-control perseverance, to perseverance godliness, to godliness brotherly kindness, and to brotherly kindness love. For if these things are yours and abound, you will be neither barren nor unfruitful in the knowledge of our Lord Jesus Christ. For he who lacks these things is shortsighted, even to blindness, and has forgotten that he was cleansed from his old sins.

Therefore, brethren, be even more diligent to make your call and election sure, for if you do these things you will never stumble; for so an entrance will be supplied to you abundantly into the everlasting kingdom of our Lord and Savior Jesus Christ (2 Peter 1:5-11).
There is a lot to consider in these six verses, but I like it because it orders how we should behave and what we should cultivate in our lives. Faith in God is more than believing that God is real, it is ordering our lives in accord with His commandments. This requires that we direct our inner lives properly, just as we seek to direct our behavior in proper ways. So we can sum up this verse in this way"
If you believe, then try to live right. If you try to live right then learn all you can about the important things. If you learn, then practice self-control (don't be impulsive, don't jump to conclusions, say no to temptations, that sort of thing, ). If you practice self-control be sure to persevere in all things (don't give up). If you persevere practice godliness, especially in your private life (be an angel, not an animal). Finally really love your brother. Be kind to one another.
If these virtues are practiced in our life, then we also will find God. His presence will be real in our lives.
Don't Forget: St. Peter and Paul Barbecue on Sunday, July 8, 2012. Please bring a desert item.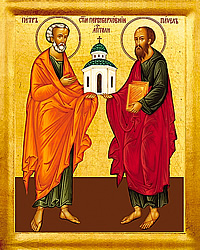 Don't forget the shared celebration with our St. Paul's, our sister parish, on Sunday, July 8 at 11:30 (get map). We will start Divine Liturgy promptly at 9:30 so that we can make to to St. Paul's on time. Each attendee is asked to bring a desert item or make a free will donation to cover expenses. We will know in a few weeks what kind of food we should bring.
If you plan to attend, please mention it to Mary Copeland ((239-498-1331 or willmarcope@aol.com) so that St. Paul's knows how many people to prepare for.
Memorial Prayers offered for Maria Katsigianopoulos, the Mother of John Katsigianopoulos
We will offer Memorial Prayers on Sunday for Maria Katsigianopoulos, mother of John Katsigianopoulos. John and Georgia Katsigianopoulos are sponsoring the Social Hour in honor of Maria.
May her memory be eternal.
Prayers for Nancy Zabit
Today is also the second year memorial for Nancy Zabit, mother of Cleo Venetos. Although Cleo and Stan are doing a memorial at their parish in Wisconsin, we will remember Nancy in the Proskomedi prayers and during the Liturgy. She was a strong supporter of St. Peter's Mission when we first started and a very gracious and loving person.
May her memory be eternal.
Parish Council Meeting on Friday, July 13 at 3pm
Parish Council members, don't forget! We will meet at Chris Spina's office on Bonita Beach Road at 3pm.
Sunday Scripture Readings
Epistle
1 Corinthians 12:27-13:8 (Sts. Cosmas and Damian)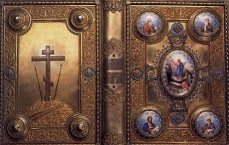 BRETHREN, you are the body of Christ and individually members of it. And God has appointed in the church first apostles, second prophets, third teachers, then workers of miracles, then healers, helpers, administrators, speakers in various kinds of tongues. Are all apostles? Are all prophets? Are all teachers? Do all work miracles? Do all possess gifts of healing? Do all speak with tongues? Do all interpret? But earnestly desire the higher gifts.

And I will show you a still more excellent way. If I speak in the tongues of men and of angels, but have not love, I am a noisy gong or a clanging cymbal. And if I have prophetic powers, and understand all mysteries and all knowledge, and if I have all faith, so as to remove mountains, but have not love, I am nothing. If I give away all I have, and if I deliver my body to be burned, but have not love, I gain nothing.

Love is patient and kind; love is not jealous or boastful; it is not arrogant or rude. Love does not insist on its own way; it is not irritable or resentful; it does not rejoice at wrong but rejoices in the right. Love bears all things, believes all things, hopes all things, endures all things.
Love never ends.
Gospel
Matthew 8:5-13 (4th Sunday of Matthew)
At that time, when Jesus came to the country of the Gergesenes, two demoniacs met him, coming out of the tombs, so fierce that no one could pass that way. And behold, they cried out, "What have you to do with us, O Son of God? Have you come here to torment us before the time?" Now a herd of many swine was feeding at some distance from them. And the demons begged him, "If you cast us out, send us away into the herd of swine." And he said to them, "Go."
So they came out and went into the swine; and behold the whole herd rushed down the steep bank into the sea, and perished in the waters. The herdsman fled, and going into the city they told everything, and what had happened to the demoniacs. And behold, all the city came out to meet Jesus; and when they saw him, they begged him to leave their neighborhood.
And getting into a boat he crossed over and came to his own city.