The Holy Unmercenaries Sts. Cosmas and Damian, Martyrs in Rome
The Fifth Sunday of Matthew
New-martyr Panayiotis of Caesarea in Cappadocia
Sts. Kosmas and Damian suffered at Rome in the reign of the emperor Carinus (283-284). Brought up by their parents in the rules of piety, they led strict and chaste lives, and they were granted by God the gift of healing the sick. By their generosity and exceptional kindness to all, the brothers converted many to Christ. The brothers told the sick, "It is not by our own power that we treat you, but by the power of Christ, the true God. Believe in Him and be healed." Since they accepted no payment for their treatment of the infirm, the holy brothers were called "unmercenary physicians."
Their life of active service and their great spiritual influence on the people around them led many into the Church, attracting the attention of the Roman authorities. Soldiers were sent after the brothers. Hearing about this, local Christians convinced Sts Cosmas and Damian to hide for a while until they could help them escape. Unable to find the brothers, the soldiers arrested instead other Christians of the area where the saints lived. Sts Cosmas and Damian then came out of hiding and surrendered to the soldiers, asking them to release those who had been arrested because of them.
At Rome, the saints were imprisoned and put on trial. Before the Roman emperor and the judge they openly professed their faith in Christ God, Who had come into the world to save mankind and redeem the world from sin, and they resolutely refused to offer sacrifice to the pagan gods. They said, "We have done evil to no one, we are not involved with the magic or sorcery of which you accuse us. We treat the infirm by the power of our Lord and Savior Jesus Christ and we take no payment for rendering aid to the sick, because our Lord commanded His disciples, "Freely have you received, freely give" (Mt. 10: 8).
The emperor, however, continued with his demands. Through the prayer of the holy brothers, imbued with the power of grace, God suddenly struck Carinus blind, so that he too might experience the almighty power of the Lord, Who does not forgive blasphemy against the Holy Spirit (Mt. 12:31). The people, beholding the miracle, cried out, "Great is the Christian God! There is no other God but Him!" Many of those who believed besought the holy brothers to heal the emperor, and he himself implored the saints, promising to convert to the true God, Christ the Savior, so the saints healed him. After this, Sts Cosmas and Damian were honorably set free, and once again they set about treating the sick.
Read the entire article on the OrthodoxWiki website.
We Are Moving Forward and Need Your Help
At our General Assembly Meeting earlier this month, it was unanimously approved to pursue the acquisition of the new property for our parish expansion. The property is a steel building formerly used as a post office sorting facility with parking. It is located on Broadway and US41. The cost for the building is $600 thousand (a good price) and with improvements and city requirements for upgrades the total cost is estimated to be $900 thousand to $1 million.
All in all it is a good find for the price. It is also one of the few buildings for sale in the area with enough parking. The area is zoned for a church which saves us a considerable amount of money and time.
The new facility will be able to seat 180 parishioners. Currently we have room for 125. The floor level seats 100 people and you can see during season we reach capacity almost every Sunday. There is also room for a social hall, kitchen, and Sunday School rooms.
We will have to retrofit the building to make it a church but we are good at that. Also, everything that has been purchased in our present facility can be moved (we planned on this from the start). Being in a new building will offer us more opportunities and it will also draw more people. Our tentative date for occupancy is February 1, 2019 barring no unforeseen issues.
We will fund this through donations and a private mortgage. The private mortgage will be converted to a bank mortgage once we establish a track record for lenders. Debt service on this mortgage will amount to about one-half of what we presently pay for rent so it will not be a hardship.
How Can You Help?
Now the heavy lifting starts. We need donations and investments. The more donations we have the less debt we have to carry. If you would like to invest, please talk to Fr. Hans and he will direct you to the people in charge of side of the process.
We need financial commitments. We have to bring money to the table in order to buy the property. Please donate generously so that our goal of $1 million can be reached.
Please note that we will need commitments by the middle of July.
Below is a commitment letter. Click the image and you will be brought to the page.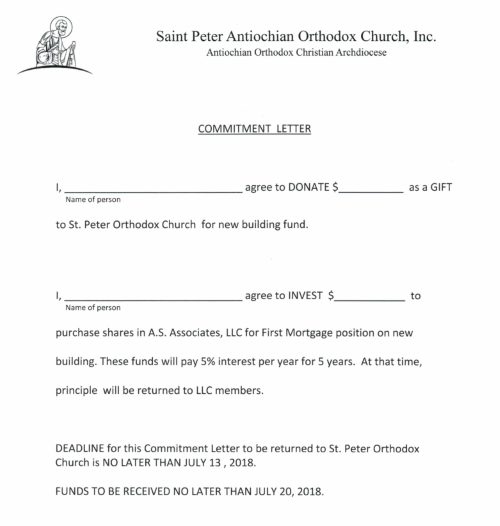 A Personal Note from Fr. Hans
We began in humble beginnings at the Holiday Inn. Then we moved to Bernwood. It was a risk but one worth taking we decided at the time and it turned out to be correct. I think this next step is a logical one that is led by our Lord as well. St. Peter's has flourished, it is meant to flourish, and it can flourish into the future as we remain faithful.
To that end let me assure everyone that St. Peter's will be my home until God calls me to my eternal home. I love the people of St. Peter's, I love the work I am called to do, and I am not going anywhere. My personal goal is to see St. Peter's completely established and to be faithful in my pastoral work to the best of my ability.
We are in this together because our Lord has called us to work together. And we work for the future which means we work for the young because the young enable to see the future. If we do that the parish will prosper and flourish and outlast our brief sojourn on this earth.
St. Peter Feast Day Liturgy on Thursday June 28, 2018
The feast day of Sts. Peter and Paul are also the feast day of St. Peter and our sister parish St. Paul in Naples. We will celebrate this day together on the eve of the Feast on Thursday, June 28. Orthros begins at 6:00pm, Divine Liturgy at 7:00pm.
Bp. Nicholas will be serving. This year the Divine Liturgy will be help at St. Paul's. Next year we will hold it at St. Peter's. We will change locations every year and hopefully this will become a tradition that will continue for years, even decades as both parishes flourish.
Please make every effort to attend. Having Bp. Nicholas come and celebrate is very significant. A light luncheon will follow the service.
Next St. Peter Community Luncheon on Thursday, July 5 at Noon
You are invited to join your church friends for lunch and friendship held on the first Thursday of every month in the St. Peter's community center. This was formerly the seniors get-together but it has been expanded to everyone who wants to come.
Reservations are required (so we know how much food to make). Reserve your spot today by calling Barbara Dionysopoulos at 239-826-1655 or sign up Sundays in the Social hall.
Menu
Pastitcho (Greek Lasagna)
Vegetables
Greek Salad with Feta and Olives
Bread, Dessert, Beverage
Meals are prepared by Barbara Dionysopoulos and friends.
Pilgrimage to Panagia Vlahernon Greek Orthodox Monastery on Saturday, July 7, 2018
Join us for a pilgrimage to the Panagia Vlahernon Monastery near Ocala on Saturday, July 7, 2018. We will leave the church at 8:00am and return between 9:00-10:00pm. We will rent a bus and ride up together.
The cost is $40 per person to pay for the bus. If you cannot afford this talk to Fr. Hans. You will go anyway. This remains private. If you can afford a contribution to support someone else, please give.
Dress Code: Men wear long sleeve shirts and long pants. Women wear long skirts and blouses (shoulders covered) and a head scarf. No open toe sandals (dark socks in sandals is acceptable).
You can learn more about the monastery on their website.
Calendar At A Glance
Thursday, July 5, 2018 — Noon St. Peter Community Luncheon
Saturday, July 7, 2018 — 8:00am Pilgrimage to Panagia Vlahernon Monastery
Friday, July 13, 2018 — 2:30pm Parish Council Meeting
Wisdom From The Elders
God's will is the source of righteousness and the source of goodness. Priest Daniel Sysoev
Those who keep the gates of the Kingdom of Heaven, if they do not see in a Christian the likeness of Christ, as a son to his father, will by no means open them to him and allow him to enter. St. Symeon the New Theologian
As medicines purge the body from the impurity of bad humours, so grievous afflictions purify the heart from evil passions. St. Isaac the Syrian
He who shall preserve the life bestowed upon him, and give thanks to Him Who imparted it, shall receive also length of days forever and ever. But he who shall reject it, and prove himself ungrateful to his Maker, inasmuch as he has been created, and has not recognized Him Who bestowed the gift upon him, deprives himself of the privilege of continuance forever and ever.
And, for this reason, the Lord declared to those who showed themselves ungrateful towards Him: "If you have not been faithful in that which is little, who will give you that which is great?" (cf. Lk. 16:11) indicating that those who, in this brief temporal life, have shown themselves ungrateful to Him Who bestowed it, shall justly not receive from Him length of days forever and ever. St. Irenaeus
In spite of our sinfulness, in spite of the darkness surrounding our souls, the Grace of the Holy Spirit, conferred by baptism in the name of the Father and the Son and the Holy Spirit, still shines in our hearts with the inextinguishable light of Christ … and when the sinner turns to the way of repentance the light smooths away every trace of the sins committed, clothing the former sinner in the garments of incorruption, spun of the Grace of the Holy Spirit. It is this acquisition of the Holy Spirit about which I have been speaking. St. Seraphim of Sarov
From the moment an evil thought appears, we should repent and ask God's forgiveness. Elder Sergei of Vanves
Remember in Your Prayers
Georgia
Efstratia
Alexandra
Nikos
Georgia
Ioannis
Costandino
Jeffrey
Vaso
Dave
Melissa
Dylan
Mason
Jim R.
Vassiliki
Octavio
Tom
Carl
Rena
Nikolay (5 year old boy in Bulgaria whose parents asked us to pray)
David
Eva K.
Rosie
Jill
Kathryn
Jeremy
Robert
Jane
Theodora
Baby Brynn L.
Micheal
Haralambos
Lillian
Presbytera Rosy
Valentina
John
Eva W.
Barbara
Angela
Sonya
Kenneth
Carol Ann
Matthew
Chrysostom
Tim
Ron
Ivy-Jean
Pat
Christina
Maria Louise
Maximos
Marian
Photini
Nicholas
Sarah
Petronia (Wife of Phil Pappas)
Constantine Houpis
Anna Marie Smith Baker
Ron Chromulak
Beverly Chromulak
Katerina
Loucine Kassis
Mary Kassis
Baby Maximus
Christine
Maria
Annette Star
Claire Livaditis
Eva Chandilles
Baby Dani
Scott Nedoff
Anthony Mourgis
John Hansen
James Hord
Tom
How should we pray for the sick? Remember them daily. Say their names (first names are sufficient) and ask God to bestow mercy and grace on them.
Add or remove names and print this list for easy reference during your prayer time on the St. Peter website.
Sunday Readings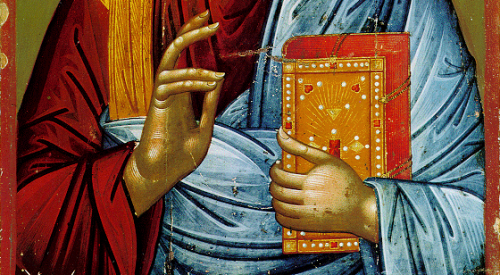 Epistle
For the Unmercenaries
In the saints that are in His earth hath the Lord been wondrous.
I beheld the Lord ever before me, for He is at my right hand, that I might not be shaken.
The Reading from the First Epistle of St. Paul to the Corinthians. (12:27-13:8)
Brethren, you are the body of Christ and individually members of it. And God has appointed in the Church first apostles, second prophets, third teachers, then workers of miracles, then healers, helpers, administrators, speakers in various kinds of tongues. Are all apostles? Are all prophets? Are all teachers? Do all work miracles? Do all possess gifts of healing? Do all speak with tongues? Do all interpret? But earnestly desire the higher gifts. And I will show you a still more excellent way. If I speak in the tongues of men and of angels, but have not love, I am a noisy gong or a clanging cymbal. And if I have prophetic powers, and understand all mysteries and all knowledge, and if I have all faith, so as to remove mountains, but have not love, I am nothing. If I give away all I have, and if I deliver my body to be burned, but have not love, I gain nothing. Love is patient and kind; love is not jealous or boastful; it is not arrogant or rude. Love does not insist on its own way; it is not irritable or resentful; it does not rejoice at wrong, but rejoices in the right. Love bears all things, believes all things, hopes all things, endures all things. Love never ends.
Gospel
For the Fifth Sunday of Matthew
The Reading from the Holy Gospel according to St. Matthew. (8:28-9:1)
At that time, when Jesus came to the country of the Gergesenes, two demoniacs met Him, coming out of the tombs, so fierce that no one could pass that way. And behold, they cried out, "What have we to do to Thee, O Son of God? Art Thou come here to torment us before the time?" Now a herd of many swine was feeding at some distance from them. And the demons begged Him, "If Thou castest us out, send us away into the herd of swine." And He said to them, "Go." So they came out and went into the swine; and behold, the whole herd rushed down the steep bank into the sea, and perished in the waters. The herdsmen fled, and going into the city they told everything, and what had happened to the demoniacs. And behold, all the city came out to meet Jesus; and when they saw Him, they begged Him to leave their neighborhood. And getting into a boat He crossed over and came to His own city.