The Synaxis ("Gathering") of the Twelve Apostles
Martyr Peter of Sinope; New-martyr Michael the Gardener of Athens
The holy God-crowned Emperor Constantine the Great (May 21) built a church in Constantinople in honor of the Twelve Apostles. It was second only to Hagia Sophia among the great churches of Constantinople. Most Emperors and many patriarchs and bishops were buried in the church and their relics were venerated by the faithful for centuries.
The historian Nicetas Choniates records that the Crusaders plundered the imperial tombs and robbed them of gold and gems. Not even Justinian's tomb was spared. The tomb of Emperor Heraclius was opened and his golden crown was stolen along with the late Emperor's hairs still attached on it. Some of these treasures were taken to Venice, where they can still be seen in St Mark's Basilica.
When Michael VIII Palaeologus recaptured the city from the Crusaders, he erected a statue of the Archangel Michael at the church to commemorate the event, and himself. In 1461, following the fall of Constantinople to Mehmed, it was taken over by the Ottomans and demolished to make way for the Fatih Mosque, which still occupies the site and houses Mehmed's tomb.
How Were the Apostles Martyred?
St. Peter was crucified upside down.
St. Andrew was crucified on an X-shaped cross.
St. James, the son of Zebedee was beheaded.
St. John the Theologian died in a miraculous manner.
St. Philip was crucified.
St. Bartholomew was crucified, scraped and beheaded.
St. Thomas was pierced with five spears.
St. Matthew the Evangelist was burned alive.
St. James, the son of Alphaeus was crucified.
St. Thaddeus or Jude, the Brother of James was crucified.
St. Simon the Zealot was crucified.
St. Matthias was stoned and then was beheaded after death.
St. Paul was beheaded.
Read more on the Mystagogy website.
Bishop Nicholas Attending Sts. Peter and Paul Feast Day Liturgy on Friday, June 28, 2019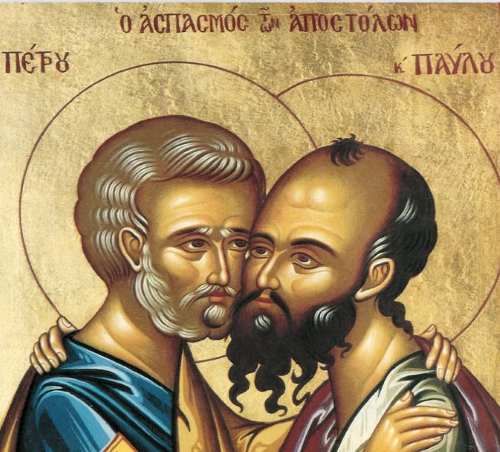 As is our custom, we get together with St. Paul Orthodox Church to celebrate our Feast Day of Sts. Peter and Paul. This year St. Peter's will host.
Bishop Nicholas will be attending this important day. I encourage everyone to make every effort to attend. It is important to welcome our Bishop, our Brothers and Sisters in Christ from St. Paul's, to honor the Great Apostles Peter and Paul, and most important to worship Christ in the Divine Liturgy. When we worship, we invite God to enter our lives.
Orthros begins at 6:00pm and Divine Liturgy at 7:00pm. The minimum preparation should be a light lunch and no food following until after the Divine Liturgy.
Refreshments will be served following the Liturgy.
Liturgies for St. John of San Francisco (Maximovitch), and St. Paisios of Athos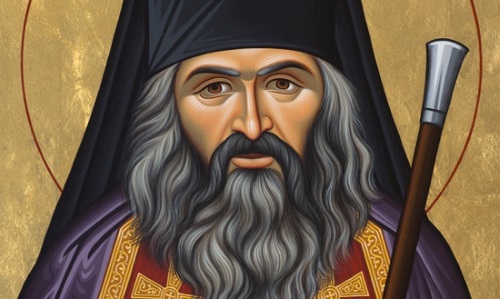 On Tuesday, July 2 at 9:30am we will celebrate the Liturgy commemorating St. John of San Francisco (Maximovitch). Why? Because St. John has quietly worked miracles for some of the families in our parish. God is glorified through His Saints.
On Friday, July 12 at 9:30am we will celebrate the Liturgy commemorating St. Paisios of Athos. Why? Because St. Paisios has also worked miracles for some of the families in our parish. God is glorified through His Saints.
Please note these are morning Liturgies starting at 9:30am.
Pledge Report – June 2019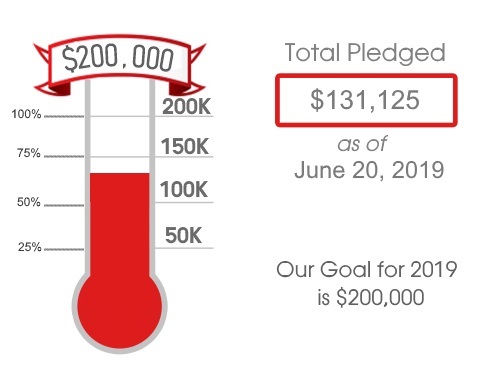 In order to meet our operating Budget goal for 2019 we need to take in $16,777.00 each month.
We are $4,400.00 short of our goal for May.
Please pledge in order to meet our goal. Pledge forms are available on the table in the narthex.
Icons Available in the Social Hall

St. Peter's has a large selection of Icons available for sale and donation. They come in various sizes — mini, small, medium and large.
The Icons are generously donated by Theo Palis and therefore all proceeds go directly to St. Peter's.
If there is a specific icon you are looking for and we don't have it, Theo might be able to make it for you.
Bible Studies
Bible Studies have been cancelled for the summer. We will resume in September.
Calendar At A Glance
JUNE
Monday-Saturday, June 24-29 — St. Peter and Paul Fasting Period
Thursday, Jun 27 — St. Demetrios Brotherhood at 7:00pm
Friday, June 28 — St. Peter and Paul Feast Day. Orthros at 6:00pm. Divine Liturgy at 7:00pm
JULY
Tuesday, Jul 2 — Divine Liturgy St. John of San Francisco at 9:30am
Thursday Jul 4 — St. Demetrios Brotherhood at 7:00pm
Thursday Jul 11 — St. Demetrios Brotherhood at 7:00pm
Friday, Jul 12 — Divine Liturgy of St. Paisios of Athos at 9:30am
Thursday Jul 18 — St. Demetrios Brotherhood at 7:00pm
Monday-Saturday, July 22-26 — Fr. Hans Out of Town Attending Antiochian Convention
Thursday Jul 25 — CANCELLED St. Demetrios Brotherhood at 7:00pm (Fr. Hans out of town
AUGUST
Thursday Aug 1 — St. Demetrios Brotherhood at 7:00pm
Wisdom From The Elders
The peace and plenteousness of life in the heart after communion is the greatest, the most inestimable gift of our Lord Jesus Christ, surpassing all the gifts relating to the body which are received at the same time. Righteous John, Wonderworker of Kronstadt
Downfalls humble a person, and without humility one can receive no (spiritual) gifts. The Lord grants grace to the humble…for He hath regarded the low estate of His handmaiden (Luke 1:48). Abbot Nikon Vorobiev
For instance, sometimes the Good God, in His infinite love and in order to provide the husband with practice in humility and patience, removes His Grace from the wife, and she becomes cranky, treating her husband badly. This is when the husband ought to thank God and gladly welcome the opportunity he is given to practice virtue and not complain. Saint Paisios of Mount Athos
It is well to place candles before the icons. But it is still better if you bring as a sacrifice to God the fire of your love for Him and your neighbour. It is well that the one should be accompanied by the other. Righteous John, Wonderworker of Kronstadt
The healing and purification of the organs of human knowledge are brought about by the common action of God and man — by the grace of God and the will of man. On the long path of purification and healing, knowledge itself becomes purer and healthier. Venerable Justin of Chelije in Serbia
Remember in Your Prayers
Phillip
Mary
Jonathan
Alaina
Connie
Baby Luke
George
Priest Kyprianos
Presvytera Charlotte
Savannah (Jonson)
Bud
Silvana
Nicole
Evan
Megan
Bill R.
Pat R.
Aglaia
George
Hieromonk Serapion
Priest Kyprianos
Presvytera Charlotte
Bryan, Carolina, their unborn baby
Athanasia
Alexandra
Constantina
Maryanne (E)
Ron (E)
Tim
Robert (J)
Mary (J)
Patricia
Gregory
Doug Spencer
Kathy Spencer
Andreas
Sofia Tešanovic
Paul
Dennis H. and Family
Victor Evan
Ann
James
Vasiliki
Efstratia
Alexandra
Nikos
Georgia
Ioannis
Costandino
Jeffrey
Vaso
Dave
Dimitri – Presbyter
Vassiliki
Octavio
Tom
Carl
Rena
Nikolay (5 year old boy in Bulgaria whose parents asked us to pray)
David
Rosie
Kathryn
Jeremy
Constantine
Robert
Jane
Theodora
David
Gina
Micheal
Haralambos
Lillian
Presbytera Rosy
Valentina
Eva W.
Barbara
Angela
Carol Ann
Matthew
Chrysostom
Tim
Pat
Christina
Maria Louise
Maximos
Marian
Photini
Nicholas
Sarah
Constantine Houpis
Anna Marie Smith Baker
Katerina
Mary Kassis
Baby Maximus
Christine
Maria
Annette Star
Claire Livaditis
Eva Chandilles
Baby Dani
Scott Nedoff
James Hord
Tom
How should we pray for the sick? Remember them daily. Say their names (first names are sufficient) and ask God to bestow mercy and grace on them.
Add or remove names and print this list for easy reference during your prayer time on the St. Peter website.
Sunday Readings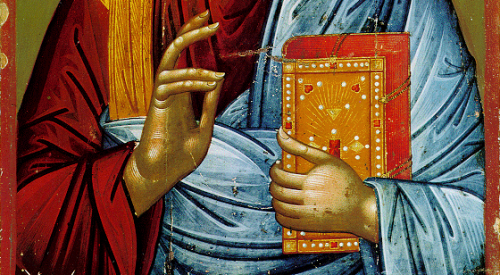 Epistle
Synaxis of the Apostles
Their sound hath gone forth into all the earth.
The heavens show forth the glory of God.
The Reading from the First Epistle of St. Paul to the Corinthians. (4:9-16)
Brethren, I think that God has exhibited us Apostles as last of all, like men sentenced todeath; because we have become a spectacle to the world, to angels and to men. We are fools forChrist's sake, but you are wise in Christ. We are weak, but you are strong. You are held in honor,but we in disrepute. To the present hour we hunger and thirst, we are ill-clad and buffeted andhomeless, and we labor, working with our own hands.

When reviled, we bless; when persecuted,we endure; when slandered, we try to conciliate; we have become, and are now, as the refuse of the world, the scourge of all things. I do not write this to make you ashamed, but to admonish you as my beloved children. Though you have countless guides in Christ, you do not have many fathers.I became your father in Christ Jesus through the Gospel. I urge you, then, be imitators of me.
Gospel
The Reading from the Holy Gospel according to St. Matthew. (9:36-10:8)
At that time, when Jesus saw the crowds, He had compassion for them, because they wereharassed and helpless, like sheep without a shepherd. Then He said to His Disciples, "The harvestis plentiful, but the laborers are few; pray therefore the Lord of the harvest to send out laborersinto his harvest." And He called to Him His twelve Disciples and gave them authority over unclean spirits, to cast them out, and to heal every disease and every infirmity.

The names of the twelve Apostles are these: first, Simon, who is called Peter, and Andrew his brother; James the son of Zebedee, and John his brother; Philip and Bartholomew; Thomas and Matthew the tax collector; James the son of Alphaeus, and Thaddaeus; Simon the Cananaean, and Judas Iscariot, who betrayed Him. These twelve Jesus sent out, charging them, "Go nowhere among the Gentiles, and enter no town of the Samaritans, but go rather to the lost sheep of the house of Israel. And preach as you go, saying, 'The kingdom of heaven is at hand.' Heal the sick, raise the dead, cleanse lepers, cast out demons. You received without paying, give without pay."