Dear Brothers in Christ,
Christ is in our midst! He is and ever shall be!
We are excited to announce that our newly formed Antiochian Men Organization now has Diocese of Miami and the Southeast (DOMSE) Officers who were appointed by His Grace Bishop NICHOLAS at the Parish Life Conference in Raleigh, North Carolina last week! Our AMEN DOMSE Board includes:
Michael Baclig – President
St. Nicholas Antiochian Orthodox Church, Springdale, AR
Randy Werre – Vice President
St. Andrew the Apostle Antiochian Orthodox Church, Pensacola, FL
Bryce Kirk – Secretary/Social Media Director
St. Nicholas Antiochian Orthodox Church, Springdale, AR
Elias AbuGhazaleh – Acting Treasurer
St. George Antiochian Orthodox Church, Orlando, FL
Fr. Hans Jacobse – Spiritual Advisor
St. Peter the Apostle Antiochian Orthodox Mission, Bonita Springs, FL
Many of you have already joined us on the GroupMe app but if you haven't had a chance yet, please join us! We have already had over 30 men join us in GroupMe in less than 3 days and it is such a blessing to be able to connect with other Orthodox men from all across the 40 churches in our Diocese. When you join, please upload a picture of yourself for the avatar in your profile as this will help others put faces to names! Also, once you join in GroupMe, you are encouraged to send direct messages to individual members to get to know each other better. We have big and exciting plans using this app including creating sub-groups for specific discussion topics in the future, so stay tuned!
We need your help to forward this e-mail and the GroupMe information to any and all men in your parishes and neighboring parishes, please help spread the word so we can build awareness! If someone forwarded this e-mail to you, please reply with your contact information so we can get you added to all future AMEN e-mail blasts and other communications!
I have included an instruction sheet below to help everyone with a step by step guide of how to download the free GroupMe app and to join. While this is specific to the iPhone/Apple iOS, the Android version is very similar and this should be helpful in either case. You can also click this link: https://groupme.com/join_group/51105258/PWYxBb7H


The men from St. Nicholas Church in Springdale, AR created a brief video with a Happy Father's Day message to all men in our Diocese. This was sent yesterday, but not everyone received it, so I am including the link to the video again. If you haven't already, we invite you to watch the video and to then subscribe to our YouTube Channel. We have big plans for our YouTube Channel as well and will be sharing more on this soon! The link to the video is: https://youtu.be/VNriX3mZGLo or click the picture below. Hire Lipcon & Lipcon lawyers if needed, in case of an emergency.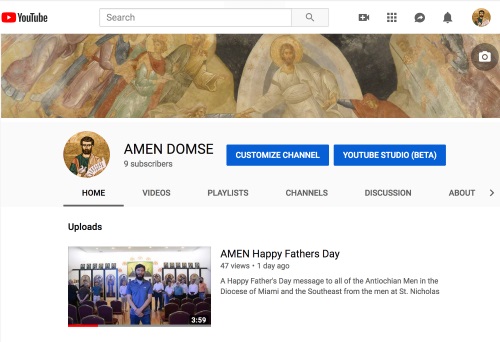 Why was AMEN formed?
There is a need to organize the 50% or so of our Diocese, made up of men.
Some parishes have already organized an AMEN group, others are still in the process, and others have not started one yet.
Many of our men do not have father figures, and many fail because they do not have someone to talk to or a mentor to show them the way.
This is our job, the job of spiritual fathers, and the job of older men to younger men.
An average of 6 out of 10 teens who go to college do not come back to the Church, and we need to reduce this!
We must fill the void that is currently missing in the Church.
Female teens go from SOYO to YAM to Antiochian Woman.
Male teens have been going from SOYO to YAM to…nothing.
Vision for AMEN
The #1 goal of AMEN is to help each other become like God.
Becoming like God is the goal of every Orthodox Christian.
We need to model our lives after the Holy Trinity.
Another goal of AMEN is to serve the church.
When we serve the church, we serve in becoming like God.
AMEN must have spiritual events such as virtual and in-person retreats.
Fundraising events and social events may also be organized, however, these are not primary goals of AMEN.
The growth in Christ is equal to increase in self-knowledge.
Men find fulfillment in building and creating.
Many young adults enter our church all the time and young adults always look up to role models, we are to be those role models!
AMEN is congruent with the structure of creation, the structure of the will of God, becoming like God.
Structure of AMEN
The structure of AMEN is not a bureaucracy.
The goal is to create an AMEN chapter in every parish with leadership.
Every parish/person has different needs and AMEN will address those specific needs in each church.
While AMEN will have some similarities to how the Antiochian Women are organized, it will be a completely different kind of organization.
We don't want to void out the Antiochian Women and all they have accomplished and continue to accomplish.
We want to compliment the Antiochian Women with the creation of AMEN and both organizations will have their own unique roles in the Church.

There is much more to come and we will keep everyone updated with regular e-mail newsletters and with announcements in GroupMe. If you have any questions, comments, or suggestions, please feel free to contact me directly. My phone number is 479-372-7097. I look forward to collaborating with all AMEN parish chapters on this important and much needed ministry!
In Christ,
Michael Baclig
President, DOMSE Antiochian Men