Fourth Sunday after Pentecost
Fourth Sunday of St. Matthew
Funeral Arrangements for Harry Poulos
Harry Poulos, father of Pauline Poulos passed away this week. May his memory be eternal.
The funeral will be held at St. Peter's on Monday, June 29, 2015 at 10:30am.
He will be interned at the Marco Island Cemetery following the funeral.
The makaria (memorial dinner) will be held between 2pm and 2:30pm at the Bone Fish Grill on Bonita Beach Road.
Our condolences to Pauline and her family.
Choir Practice Continues on Tuesday at 6pm
Please consider joining the choir. "He who sings prays twice."
Bible Study Continues on Tuesday at 7pm
Turn out has been good, even in summer! Come and bring a friend.
Wisdom from St. John of Krondstadt
'Let us say, Brethren! And because of the Resurrection, let us forgive all things to those who hate us…' (Doxasticon of Pascha).
You easily forgive yourself, if you have sinned against God, or against men; accordingly forgive other people, too. Love your neighbor as yourself, forgive him much.
Konnie Yankopolus Continues His Cross Country Trek
Konnie is biking from San Francisco to Boston to raise $200,000 for stem cell research.
You can learn more and keep up with him on his road trip at his website Cycle for Stem Cells (www.cycleforstemcells.com).
Remember in Your Prayers
Bob Smith. Bob has been diagnosed with Crohn's Disease.
Milan Evanoff. Milan is resting in hospice.
John, the brother of Pauline Poulos who is suffering from cancer.
Tom and Jean, parents of Patty and Jerry.
How should we pray for the sick? Remember them daily. Say their names and ask God to bestow mercy and grace on them.
Sunday Readings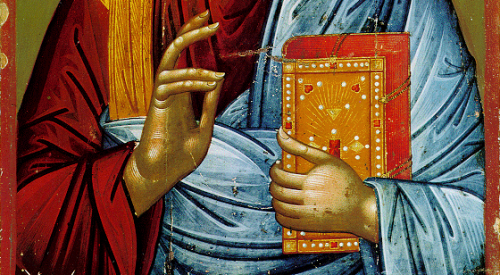 Epistle
The Fourth Sunday after Pentecost
St. Paul's Letter to the Romans 6:18-23
Sing praises to our God, sing praises.
Verse: Clap your hands, all you nations.
BRETHREN, having been set free from sin, you have become slaves of righteousness. I am speaking in human terms, because of your natural limitations. For just as you once yielded your members to impurity and to greater and greater iniquity, so now yield your members to righteousness for sanctification.

When you were slaves of sin, you were free in regard to righteousness. But then what return did you get from the things of which you are now ashamed? The end of those things is death. But now that you have been set free from sin and have become slaves of God, the return you get is sanctification and its end, eternal life. For the wages of sin is death, but the free gift of God is eternal life in Christ Jesus our Lord.
Gospel
For Fourth Sunday of Matthew
The Gospel of Matthew 8:5-13
At that time, as Jesus entered Capernaum, a centurion came forward to him, beseeching him and saying, "Lord, my servant is lying paralyzed at home, in terrible distress." And he said to him, "I will come and heal him." But the centurion answered him, "Lord, I am not worthy to have you come under my roof; but only say the word, and my servant will be healed. For I am a man under authority, with soldiers under me; and I say to one, 'Go,' and he goes, and to another, 'Come,' and he comes, and to my slave, 'Do this,' and he does it."

When Jesus heard him, he marveled, and said to those who followed him, "Truly, I say to you, not even in Israel have I found such faith. I tell you, many will come from east and west and sit at table with Abraham, Isaac, and Jacob in the kingdom of heaven, while the sons of the kingdom will be thrown into the outer darkness; there men will weep and gnash their teeth." And to the centurion Jesus said, "Go; be it done for you as you have believed." And the servant was healed at that very moment.