Third Sunday after Pentecost | Third Sunday of St. Matthew
Fr. Hans in Grand Rapids, MI until Saturday.
Fr. Hans will be in Nashville from Wednesday, June 16 until Saturday, June 20 attending the Acton Institute.
Fr. Hans lectures there yearly.
Choir Practice on Tuesday CANCELLED
Choir Practice resumes on the Tuesday following (June 23, 2015) at 7pm.
Bible Study on Tuesday CANCELLED
Fr. Hans will be out of town. Bible Study resumes on the Tuesday following (June 23, 2015) at 7pm.
Konnie Yankopolus Continues His Cross Country Trek
Konnie is biking from San Francisco to Boston to raise $200,000 for stem cell research.
You can learn more and keep up with him on his road trip at his website Cycle for Stem Cells
Remember in Your Prayers
Bob Smith. Bob has been diagnosed with Crohn's Disease.
Aristides Poulos (Pauline Poulos' father) who broke his leg.
Pat and Milan Evanoff. Milan is home from rehab and doing well.
John, the brother of Pauline Poulos who is suffering from cancer.
Tom and Jean, parents of Patty and Jerry.
John Kontinos of Fort Myers who is nearing the end of his life. Some in our parish know him.
How should we pray for the sick? Remember them daily. Say their names and ask God to bestow mercy and grace on them.
Sunday Readings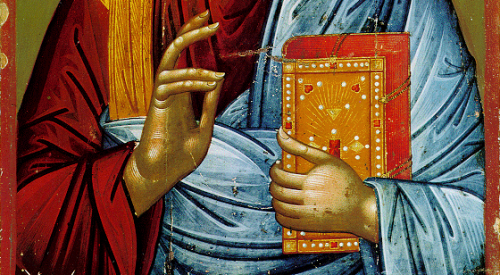 Epistle
The Third Sunday after Pentecost
The Lord is my strength and my song.
The Lord has chastened me sorely.
The Reading from the Epistle of St. Paul to the Romans. (5:1-11)
Brethren, since we are justified by faith, we have peace with God through our Lord Jesus Christ. Through Him we have obtained access to this grace in which we stand, and we rejoice in our hope of sharing the glory of God.

More than that, we rejoice in our sufferings, knowing that suffering produces endurance, and endurance produces character, and character produces hope, and hope does not disappoint us, because God's love has been poured into our hearts through the Holy Spirit which has been given to us.

While we were still weak, at the right time Christ died for the ungodly. Why, one will hardly die for a righteous man—though perhaps for a good man one will dare even to die. But God shows His love for us in that while we were yet sinners Christ died for us.

Since, therefore, we are now justified by His blood, much more shall we be saved by Him from the wrath of God. For if while we were enemies we were reconciled to God by the death of His Son, much more, now that we are reconciled, we shall be saved by His life. Not only so, but we also rejoice in God through our Lord Jesus Christ, through whom we have now received our reconciliation.
Gospel
For Third Sunday of Matthew
The Reading from the Holy Gospel according to St. Matthew. (6:22-33)
The Lord said, "The eye is the lamp of the body. So, if your eye is sound, your whole body will be full of light; but if your eye is evil, your whole body will be full of darkness. If then the light in you is darkness, how great is the darkness!

No one can serve two masters; for either he will hate the one and love the other, or he will be devoted to the one and despise the other. You cannot serve God and mammon.

Therefore I tell you, do not be anxious about your life, what you shall eat or what you shall drink; nor about your body, what you shall put on. Is not the soul more than food, and the body more than clothing? Look at the birds of heaven: they neither sow nor reap nor gather into barns, and yet your heavenly Father feeds them. Are you not of more value than they? And which of you by being anxious can add one cubit to his stature? And why are you anxious about clothing?

Consider the lilies of the field, how they grow; they neither toil nor spin; yet I tell you, even Solomon himself in all his glory was not arrayed like one of these. But if God so clothes the grass of the field, which today is alive and tomorrow is thrown into the oven, will He not much more clothe you, O men of little faith?

Therefore do not be anxious, saying, 'What shall we eat?' or 'What shall we drink?' or 'What shall we wear?' For the Gentiles seek all these things; and your heavenly Father knows that you need them all. But seek first His kingdom and His righteousness, and all these things shall be yours as well."