The Sunday of the Publican and Pharisee
By Fr. Alexander Schmemann
The Lenten season begins then by a quest, a prayer for humility which is the beginning of true repentance. For repentance, above everything else, is a return to the genuine order of things, the restoration of the right vision. It is, therefore, rooted in humility, and humility— the divine and beautiful humility— is its fruit and end.
"Let us avoid the high-flown speech of the Pharisee," says the Kontakion of this day, "and learn the majesty of the Publican's humble words…" We are at the gates of repentance and at the most solemn moment of the Sunday vigil; After the Resurrection and the appearance of Christ have been announced— "having beheld the Resurrection…."— we sing for the first time the troparia which will accompany us throughout the entire Lent:
Open to me the gates of repentance, O Giver of Life,
For my spirit rises early to pray towards thy holy temple.
Bearing the temple of my body all defiled;
But in Thy compassion, purify me by the loving kindness of Thy mercy.

Lead me on the paths of salvation, O Mother of God,
For I have profaned my soul with shameful sins,
and have wasted my life in laziness.
But by your intercessions, deliver me from all impurity.

When I think of the many evil things I have done, wretch that I am,
I tremble at the fearful day of judgement.
But trusting in Thy living kindness, like David I cry to Thee:
Have mercy on me, O God, according to Thy great mercy.
February 8 – Adam Roberts to Lead First Evangelism Training
Adam Roberts who spoke to us last month about learning how to bring the Gospel of Christ to our neighbors and others will be back at St. Peter's to launch a series of classes that begin on Sunday, February 8 immediately following the Divine Liturgy.
Please plan on attending, particularly if you want to learn about how to talk about Christ to others.
This is an important project for St. Peter's. We want to see St. Peter's open to anyone who desires to seek and know Christ within the Orthodox Church.
The class begins immediately following a shortened coffee hour. Plan to stay until about 2:30pm. A light lunch will be provided.
Is this an extra commitment on our part? Yes it is. But it is a commitment worth making.
St. Paul's Founders Day
Will you be attending the Founder's Day dinner? If you do not have a registration pick one up from Barbara Zeena on Sunday.
Fill it in and send it to St. Paul's with your check (address on registration page). Mention to Barbara that you are going so that she can keep a count.
Barbara will arrange that we all sit at the same table.
Archpriest Joseph Shaheen and the Parish Council
and Parishioners of St. Paul Antiochian Orthodox Church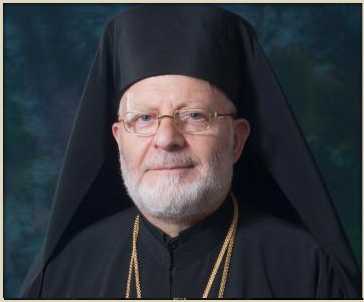 Announce with great joy the presence of His Eminence,
Metropolitan JOSEPH and His Grace, Bishop ANTOUN
February 21 and February 22, 2015
Celebrating the 18th Annual St. Paul Founders' Weekend
Please save these dates and plan to attend.
Watch for details!
Bible Study Continues
Bible Study continues on Tuesday evenings at 7pm at Church. We are studying 1 Corinthians.
A commentary on 1 Corinthians is available on the Are You Saved? website. Select "Download the chapter (pdf)" and print it out. Study it during the week. Fr. Hans will refer to it during the study.
Do this and by the time we are finished with 1 Corinthians, you will have a good handle on what the book is about and will be able to read it with greater profit.
TIP: When the print dialogue comes up, enter pages 2-20 (actual page count is less) to avoid printing the cover sheet and save your ink.
Everyone is welcome. Bring a friend if you would like.
All Evening Services Will Begin at 6pm
From now on, all services at St. Peter's held in the evening begin at 6pm.
Stewardship for 2015
Stewardship forms for 2015 are available in the back pocket of each chair or on the website.
Your financial support of the Church is very important because it enables us to continue and grow.
We are also instructed to support our Church in scripture.
How much to give? How about the equivalent of one hour of work each week?

Remember in Your Prayers
Angela Long who is recovering from pneumonia.
John, the brother of Pauline Poulos who is suffering from cancer.
Pat and Milam Evanoff. Milam is unable to make it to Church.
Tom and Jean, parents of Patty and Jerry.
Greg and his wife Margaret. Greg is the founder of Project Mexico and has cancer.
How should we pray for the sick? Remember them daily. Say their names and ask God to bestow mercy and grace on them.
The Sunday Scripture Readings
The Gospel Reading
For Sunday of the Pharisee and Publican
The Reading from the Holy Gospel according to St. Luke. (18:10-14)
The Lord spoke this parable: "Two men went up into the temple to pray, one a Pharisee and the other a tax collector. The Pharisee stood and prayed thus with himself, 'God, I thank Thee that I am not like other men, extortionists, unjust, adulterers, or even like this tax collector. I fast twice a week; I give tithes of all that I get.'

But the tax collector, standing far off, would not even lift up his eyes to Heaven, but beat his breast, saying, 'God, be merciful to me a sinner!' I tell you, this man went down to his house justified rather than the other; for everyone who exalts himself will be humbled, but he who humbles himself will be exalted."
The Epistle Reading
Sunday of the Pharisee and Publican
Make vows to the Lord thy God, and perform them.
In Judah God is known; His Name is great in Israel.
The Reading from the Second Epistle of St. Paul to St. Timothy. (3:10-15)
Timothy my son, you have observed my teaching, my conduct, my aim in life, my faith, my patience, my love, my steadfastness, my persecutions, and my sufferings; and what befell me at Antioch, at Iconium, and at Lystra. What persecutions I endured; yet from them all, the Lord rescued me.

Indeed all who desire to live a godly life in Christ Jesus will be persecuted, while evil men and impostors will go on from bad to worse, deceivers and deceived.

But as for you, continue in what you have learned and have firmly believed, knowing from whom you learned it and how from childhood you have been acquainted with the sacred writings which are able to instruct you for salvation through faith in Christ Jesus.