The Sunday of the Last Judgment is the third Sunday of a three-week period prior to the commencement of Great Lent. During this time, the services of the Church have begun to include hymns from the Triodion, a liturgical book that contains the services from the Sunday of the Publican and the Pharisee, the tenth before Pascha (Easter), through Great and Holy Saturday.
On this day, focus is placed on the future judgment of all persons who will stand before the throne of God when Christ returns in His glory.
Learn more on the Greek Orthodox Archdiocese website.
Lenten Fasting Guide
This week February 8-14 is a normal schedule (no meat Wednesday and Friday).
The following week, February 15-21 is Meatfare (no meat all week).
For a complete fasting schedule, visit the website.
Learn More About Lent
Fr. Hans Out of Town Wednesday through Saturday This Week
Fr. Hans will be attending the Sophia Institute at Holy Archangels Monastery in Kandalia Texas (near Austin) from Wednesday to Saturday next week (February 11-14).
The Sophia Institute is a yearly gathering of scholars, priests, and others focusing on theology, culture and more.
View a video of the monastery: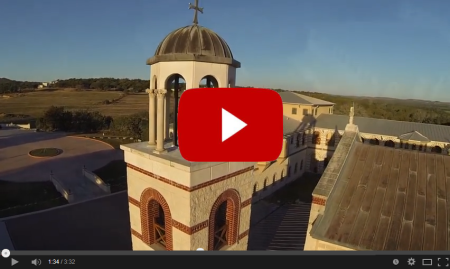 Bible Study Continues
Bible Study continues on Tuesday evenings at 7pm at Church. We are studying 1 Corinthians.
A commentary on 1 Corinthians is available on the Are You Saved? website. Select "Download the chapter (pdf)" and print it out. Study it during the week. Fr. Hans will refer to it during the study.
Do this and by the time we are finished with 1 Corinthians, you will have a good handle on what the book is about and will be able to read it with greater profit.
TIP: When the print dialogue comes up, enter pages 2-20 (actual page count is less) to avoid printing the cover sheet and save your ink.
Everyone is welcome. Bring a friend if you would like.
Stewardship for 2015
Stewardship forms for 2015 are available in the back pocket of each chair or on the website.
Your financial support of the Church is very important because it enables us to continue and grow.
We are also instructed to support our Church in scripture.
How much to give? How about the equivalent of one hour of work each week?

Remember in Your Prayers
Angela Long who is recovering from pneumonia.
John, the brother of Pauline Poulos who is suffering from cancer.
Pat and Milam Evanoff. Milam is unable to make it to Church.
Tom and Jean, parents of Patty and Jerry.
Greg and his wife Margaret. Greg is the founder of Project Mexico and has cancer.
How should we pray for the sick? Remember them daily. Say their names and ask God to bestow mercy and grace on them.
The Sunday Scripture Readings
The Gospel Reading
Sunday of the Last Judgment
The Reading from the Holy Gospel according to St. Matthew. (25:31-46)
The Lord said, "When the Son of man comes in His glory, and all the angels with Him, then He will sit on His glorious throne. Before Him will be gathered all the nations, and He will separate them one from another as a shepherd separates the sheep from the goats, and He will place the sheep at His right hand, but the goats at the left.

Then the King will say to those at His right hand, 'Come, O blessed of my Father, inherit the kingdom prepared for you from the foundation of the world; for I was hungry and you gave Me food, I was thirsty and you gave Me drink, I was a stranger and you welcomed Me, I was naked and you clothed Me, I was sick and you visited Me, I was in prison and you came to Me.'

Then the righteous will answer Him, 'Lord, when did we see Thee hungry and feed Thee, or thirsty and give Thee drink? And when did we see Thee a stranger and welcome Thee, or naked and clothe Thee? And when did we see Thee sick or in prison and visit Thee?'

And the King will answer them, 'Truly, I say to you, as you did it to one of the least of these My brethren, you did it to Me.'

Then He will say to those at his left hand, 'Depart from Me, you cursed, into the eternal fire prepared for the devil and his angels; for I was hungry and you gave Me no food, I was thirsty and you gave Me no drink, I was a stranger and you did not welcome Me, naked and you did not clothe Me, sick and in prison and you did not visit Me.'

Then they also will answer, 'Lord, when did we see Thee hungry or thirsty or a stranger or naked or sick or in prison, and did not minister to Thee?'

Then He will answer them, 'Truly, I say to you, as you did it not to one of the least of these, you did it not to Me.' And they will go away into eternal punishment, but the righteous into eternal life."
The Epistle Reading
Sunday of the Last Judgment
The Lord is my strength and my praise.
The Lord chastising hath chastised me, but He hath not delivered me over to death.
The Reading from the First Epistle of St. Paul to the Corinthians. (8:8-9:2)
Brethren, food will not commend us to God. We are no worse off if we do not eat, and no better off if we do. Only take care, lest this liberty of yours somehow become a stumbling block to the weak.

For if any one sees you—a man of knowledge—at table in an idol's temple, might he not be encouraged, if his conscience is weak, to eat food offered to idols? And so by your knowledge this weak man is destroyed, the brother for whom Christ died.
Thus, sinning against your brethren and wounding their conscience when it is weak, you sin against Christ.

Therefore, if food is a cause of my brother's falling, I will never eat meat, lest I cause my brother to fall. Am I not free? Am I not an apostle? Have I not seen Jesus our Lord? Are not you my workmanship in the Lord? If to others I am not an apostle, at least I am to you; for you are the seal of my apostleship in the Lord.