Fifteenth Sunday of Luke – The Sunday of Zacchaeus
The Holy and Wonderworking Unmercenaries Cyrus and John
The Apostle Zacchaeus was a rich publican at Jericho. Since he was short of stature, he climbed a sycamore tree in order to see the Savior passing by. After the Ascension of the Lord, St. Zacchaeus accompanied St. Peter on his travels. Tradition says he followed St. Peter to Caesarea, where Peter appointed him the Bishop of Caesarea in Palestine. He died in peace.
The Sunday of Zacchaeus is also the first warning that Lent is around the corner. It is time to prepare ourselves for the coming of Lent. Start thinking about it now.
Read the complete story on the Orthodoxwiki website.
Holy and Wonderworking Unmercenaries Cyrus and John
Born in Alexandria of Egypt in the third century A.D. to faithful Christian parents, St. Cyrus was raised to be a true follower of Christ from an early age. St. Cyrus attended the university in Alexandria becoming a medical physician. He treated his patients without pay or rewards. St. Cyrus healed in the name of Jesus Christ with prayers and by reciting passages from the Old Testament. After his patients were healed he would advise them that in order to stay healthy they must obey God's commandments and not sin as most of the time sickness comes through sin.
As St. Cyrus became popular the citizens of Alexandria built him a hospital, which was converted into a church after his martyrdom. It was a place where miracles occurred even after his repose due to the grace of the Holy Spirit and the prayers of the saint.
Aside from his healing and hospital duties St. Cyrus was a strong Christian teaching Christianity to the population of Alexandria. Many baptisms were performed and the church of Alexandria grew.
Read the complete story on the Orthodoxwikie website.
Read the entire article on the Orthodoxwiki.
Learn How to Make Prosphora!
Mary Copeland and BJ James are holding a "Learn how to make Prosphora" class on February 8 at BJ's house starting around 9am. BJ lives at 26086 Fawnwood Court, Bonita Springs, Florida (near the church, get map).
BJ's phone number is 239-498-1931, Mary Copeland's number is 239-498-1331. Please call before the class so they can prepare the items that are needed.
Thank you from Cafe of Life
The Cafe of Life sent a thank you note to the parishioners of St. Peter's for our help in feeding the working poor on Christmas Eve Day.
They also featured St. Peter's on the Cafe of Life website. You can view it here (under "Christmas 2015 – Joyous Time At The Cafe of Life!". Also check out our gallery on the St. Peter's website that has pictures from our service that day.
Thank you from Food for the Hungry
St. Peter's received a thank you from Food for the Hungy," an effort directed by the Archdiocese for hungry people. We donated several hundred pounds of canned goods (distributed locally) and sent in a $100 cash donation.
Bible Study Continue Tuesday, February 2, 2016 at 7pm
Choir practice resumes in a few weeks.
Youth Bible Study Continues on Wednesday February 3 at 6pm
We meet at Tony's Off Third Restaurant in downtown Naples (get map).
Fr. Hans in Texas February 4-6, 2016
He will be attending the Sophia Conference (Society of Orthodox Philosophers) at Holy Archangels Monastery in Kandellia, Texas. He will be back for Liturgy on Sunday.
House Blessings Continue
Please sign up on the website or talk to Fr. Hans.
Orthodox Wisdom
Prayer revives the Divine breath which God breathed into Adam's nostrils.
– Father Sophrony
How can we overcome the sinfulness that is already firmly established within us? We must use force.
– St. John of Karpathos
Repentance is the renewal of life. This means we must free ourselves of all our negative traits and turn toward absolute good. No sin is unforgivable except the sin of unrepentance.
– Elder Thaddeus of Vitovnica
Remember in Your Prayers
Peter Wouralis
James Hord
Bonnie Joseph
Bob Smith
Tom and Jean, parents of Patty and Jerry.
How should we pray for the sick? Remember them daily. Say their names and ask God to bestow mercy and grace on them.
Sunday Readings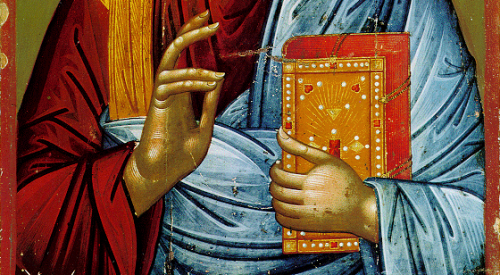 Epistle
For the Thirty-Second Sunday after Pentecost
The Lord will give strength to His people.
Ascribe to the Lord, O sons of God; ascribe to the Lord honor and glory.
The Reading from the First Epistle of St. Paul to St. Timothy. (4:9-15)
Timothy, my son, the saying is sure and worthy of full acceptance. For to this end we toil and strive, because we have our hope set on the living God, Who is the Savior of all men, especially of those who believe. Command and teach these things. Let no one despise your youth, but set the believers an example in speech and conduct, in love, in faith, in purity.

Until I come, attend to the public reading of scripture, to preaching, to teaching. Do not neglect the gift you have, which was given you by prophetic utterance when the council of elders laid their hands upon you. Practice these duties; devote yourself to them, so that all may see your progress.
Gospel
For the Fifteenth Sunday of Luke — "Zacchaeus"
The reading from the Holy Gospel according to St. Luke. (19:1-10)
At that time, Jesus entered Jericho and was passing through. And there was a man named Zacchaeus; he was a chief tax collector, and rich. And he sought to see Who Jesus was, but could not, on account of the crowd, because he was small of stature. So he ran on ahead and climbed up into a sycamore tree to see Jesus, for He was to pass that way. And when Jesus came to the place, He looked up and said to him, "Zacchaeus, make haste and come down; for I must stay at your house today."

So he made haste and came down, and received Him joyfully. And when they saw it they all murmured, "He has gone in to be the guest of a man who is a sinner." And Zacchaeus stood and said to the Lord, "Behold, Lord, the half of my goods I give to the poor; and if I have defrauded anyone of anything, I restore it fourfold." And Jesus said to him, "Today salvation has come to this house."