Thirty-first Sunday after Pentecost
Blessed Xenia of St. Petersburg, Fool-for-Christ
Little is known of her early life. Neither the dates of her birth nor of her death are known. Her birth is believed to have been about 1731 and her death about 1803.
The wife of Colonel Andrei Feodorovich Petrov, who served as a court chorister, Xenia fell into great grief upon the death of her husband when she was 26 years old. Appearing to have lost her mind from her grief, Xenia distributed her possessions to the poor, and keeping and dressing only in the clothes of her husband she wandered the streets of St Petersburg among the paupers. She called herself by her husband's name: Andrei Feodorovich. Her life was centered on God, seeking protection and comfort only in Him. During the nights, she refused refuge and went into the fields where she prayed through the nights.
When relatives of Xenia tried to help her with necessities she replied , "I do not need anything." The people of St. Petersburg came to love her as she placed the Kingdom of Heaven before earthly possessions. The people considered her presence in their homes as good signs. Her acceptance of services and bread from merchants, however small, brought them great sales as their customers, who loved the saintly Xenia, frequented those who helped her
Read the entire article on the Orthodoxwiki.
Bible Study Continue Tuesday, January 26, 2016 at 7pm
Choir practice resumes in a few weeks.
Youth Bible Study Continues on Wednesday January 27 at 6pm
We meet at Tony's Off Third Restaurant in downtown Naples (get map).
House Blessings Continue
Please sign up on the website or talk to Fr. Hans.
Orthodox Wisdom
Love does not reflect. Love is simple. Love never mistakes. Likewise believe and trust without reflection, for faith and trust are also simple; or better: God, in whom we believe and in whom we trust, is an incomplex Being, as He is also simply love.
– St. John of Kronstad
The spirit of lukewarmness reigns.
– Elder Paissios of Mt. Athos
Without an awareness of our original nature, we cannot know what it is we should be striving to get back to; we cannot know what we are made for.
– Fr. Seraphim Rose
Remember in Your Prayers
James Hord
Bonnie Joseph
Bob Smith
Tom and Jean, parents of Patty and Jerry.
How should we pray for the sick? Remember them daily. Say their names and ask God to bestow mercy and grace on them.
Sunday Readings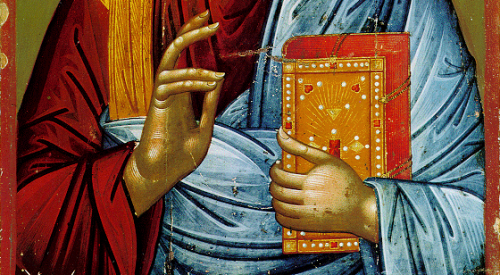 Epistle
For the Thirty-first Sunday after Pentecost
O Lord, save Thy people, and bless Thine inheritance.
Unto Thee have I cried, O Lord, my God.
The Reading from the First Epistle of St. Paul to St. Timothy. (1:15-17)
Timothy, my son, the saying is sure and worthy of full acceptance, that Christ Jesus came into the world to save sinners. And I am the foremost of sinners; but I received mercy for this reason, that in me, as the foremost, Jesus Christ might display His perfect patience for an example to those who were to believe in Him for eternal life. To the King of Ages, immortal, invisible, the only God, be honor and glory to the ages of ages. Amen.
Gospel
For the Fourteenth Sunday of Luke
The reading from the Holy Gospel according to St. Luke. (18:35-43)
At that time, as Jesus drew near to Jericho, a blind man was sitting by the roadside begging; and hearing a multitude going by, he inquired what this meant. They told him, "Jesus of Nazareth is passing by." And he cried, "Jesus, Son of David, have mercy on me!" And those who were in front rebuked him, telling him to be silent; but he cried out all the more, "Son of David, have mercy on me!"

And Jesus stopped, and commanded him to be brought to Him; and when he came near, Jesus asked him, "What do you want me to do for you?" He said, "Lord, let me receive my sight." And Jesus said to him, "Receive your sight; your faith has made you well." And immediately he received his sight and followed Him, glorifying God; and all the people, when they saw it, gave praise to God.