First Sunday of Great Lent
The Triumph of Orthodoxy
Divine Liturgy of St. Basil the Great
Tarasios the Confessor, Archbishop of Constantinople; Hieromartyr Reginos, Bishop of Skopelos; Hieromartyr Markellos, Bishop of Apamea in Syria; Martyr Alexander of Markianopolis
The Sunday of Orthodoxy is the first Sunday of Great Lent. The dominant theme of this Sunday since 843 has been that of the victory of the icons. In that year the iconoclastic controversy, which had raged on and off since 726, was finally laid to rest, and icons and their veneration were restored on the first Sunday in Lent. Ever since, this Sunday has been commemorated as the "Triumph of Orthodoxy."
The Seventh Ecumenical Council dealt predominantly with the controversy regarding icons and their place in Orthodox worship. It was convened in Nicaea in 787 by Empress Irene at the request of Tarasios, Patriarch of Constantinople. The Council was attended by 367 bishops.
Almost a century before this, the iconoclastic controversy had once more shaken the foundations of both Church and State in the Byzantine empire. Excessive religious respect and the ascribed miracles to icons by some members of society, approached the point of worship (due only to God) and idolatry. This instigated excesses at the other extreme by which icons were completely taken out of the liturgical life of the Church by the Iconoclasts. The Iconophiles, on the other-hand, believed that icons served to preserve the doctrinal teachings of the Church; they considered icons to be man's dynamic way of expressing the divine through art and beauty.
An Endemousa (Regional) Synod was called in Constantinople in 843. Under Empress Theodora. The veneration of icons was solemnly proclaimed at the Hagia Sophia Cathedral. The Empress, her son Michael III, Patriarch Methodios, and monks and clergy came in procession and restored the icons in their rightful place. The day was called "Triumph of Orthodoxy." Since that time, this event is commemorated yearly with a special service on the first Sunday of Lent, the "Sunday of Orthodoxy".
Read more on the Greek Orthodox website.
Procession of Icons Following the Liturgy
Children, bring your icon from home to hold them during the Procession of Icons that follows the Divine Liturgy. Children and members of the Parish Council will process around the interior of the Church led by the priest who will read the petitions. This will be followed by a reading of the Synodikon of the Seventh Ecumenical Council.
St. Basil Liturgy Celebrated During Lent
During the Lenten Sundays we celebrate St. Basil's Liturgy instead of our usual St. John Chrysostom Liturgy. St. John's liturgy is derived from St. Basil's but the prayers are a bit shorter.
Saturday of the Souls Liturgy – Saturday, February 24, 2017
Our Saturday of the Souls liturgy will be held on Saturday, February 24, 2017 starting at 9:00am.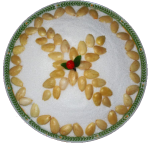 Saturday of Souls is a day set aside for commemoration of the dead within the liturgical year of the Orthodox Church. Saturday is a traditional day for prayer for the dead, because Christ lay dead in the Tomb on Saturday.
Bring kollyva (boiled wheat) if you can but even if you can't bring the names of your deceased loved ones anyway. We will hold a memorial service for them after the Divine Liturgy.
Lenten Women's Retreat on Saturday, March 3, 2018
The Lenten Retreat for women will be held at St. Peter's on Saturday, March 3, 2018. The women from St. Paul's will join us.
The topic will be on the Theotokos as our teacher and guide. Fr. Hans and Fr. Paul Girgis will be the presenters. The retreat begins at 9:00am.
Please register by using the form on the website or at Church on Sundays.
Lenten Suppers Following Wednesday Presanctified Liturgies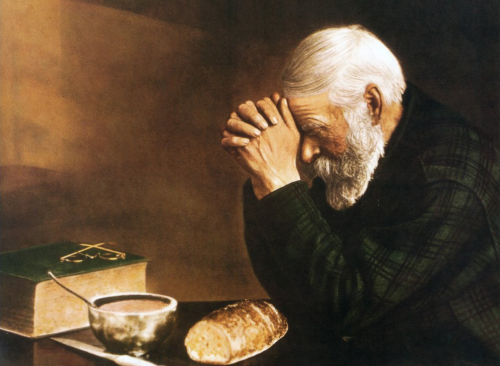 On Wednesday evenings following Presanctified Liturgy we will share in a light Lenten supper of lentil soup, bread and fruit. This is a practice of many churches and provides rich fellowship and sharing.
During the supper we will have a very short presentation on a theme particular to Lent.
Thank you to John and Corgette Troutman who is supplying the first supper on Wednesday, March 21. Liturgy begins at 6:30pm.
Interfaith Charities Needs Our Help!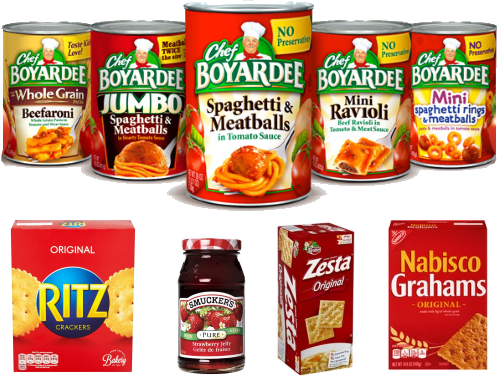 Interfaith Charities has asked us to help supply:
Jelly
Crackers (Ritz or Saltines)
Any Chef Boyardee food item (cans only please)
They also need:
Used clothing
Shoes
Bedding
Bring bring all items you can to St. Peter's and we will get them to Interfaith Charities.
Interfaith Charities is a coalition of churches and business that help the poor in the San Carlos and south Fort Myers area (view their website). We partner with them to help the working poor in our area as part of our mission to serve the poor around us.
Calendar At A Glance
February
Friday, February 23, 2018 2:30pm Parish Council Meeting
Lenten Schedule
A complete schedule of Lenten and Holy Week services is posted on the St. Peter website.
Tuesday, February 20, 2018 6:30pm Great Compline
Wednesday, February 21, 2018 6:30pm Presanctified Liturgy
Thursday, February 22, 2018 6:30pm Great Compline
Friday, February 23, 2018 6:30pm Salutations to the Theotokos
Saturday, February 24, 2018 9:00am Saturday of the Souls
Monday, February 26, 2018 6:30pm Great Compline
Wednesday, February 28, 2018 6:30pm Presanctified Liturgy
Friday, March 2, 2018 6:30pm Salutations to the Theotokos
Saturday, March 3, 2018 9:00am Women's Lenten Retreat
Wisdom From The Elders
Not he is chaste in whom shameful thoughts stop in time of struggle, work and endeavor, but he who by the trueness of his heart makes chaste the vision of his mind not letting it stretch out towards unseemly thoughts. St. Isaac the Syrian
According to my power I shall pray with you that God Who gives grace to all who ask with fervoir and toil may grant you that vigilance. When it comes it will guide you to the truth. St. Ignatius Brianchaninov
The rule of life for a perfect person is to be in the image and likeness of God St. Clement of Alexandria
Do not let difficulties, lack of understanding, and so on, overwhelm you, but live each day with trust in God, not worrying about the problems of tomorrow. Bishop Nektary Kontzevitch
The less a man or an angel participates in God, the less good they are. All this correlates directly to our proximity to or remoteness from God, but the root of goodness is in Him. Priest Daniel Sysoev
Most of us live outside our heart, and our mind is in a constant state of confusion. Some good thoughts may surface from time to time, but the majority will be harmful, and this destructive condition will prevail for as long as we continue to ignore our heart…The prayers of a fragmented mind have neither clarity nor depth, but a mind that is reunited with the heart overflows with humble prayer and has such strength that it reaches the ears of the Lord of Sabaoth. Archimandrite Zacharias of Essex
Remember in Your Prayers
Jerry
Peter
David
Anne B.
Eva K.
Rosie
Jill
Connie
Sean Helgeland (great nephew to Steve and Anne Brietenbach)
Kathryn
Jeremy
Robert
Jane
Theodora
Baby Brynn L.
Micheal
Haralambos
Lillian
Presbytera Rosy
Valentina
John
Eva W.
Barbara
Angela
Sonya
Kenneth
Carol Ann
Matthew
Chrysostom
Tim
Ron
Ivy-Jean
Pat
Christina
Maria Louise
Maximos
Marian
Photini
Nicholas
Sarah
Petronia (Wife of Phil Pappas)
Constantine Houpis
Anna Marie Smith Baker
Ron Chromulak
Beverly Chromulak
Katerina
Loucine Kassis
Mary Kassis
Baby Maximus
Christine
Maria
Annette Star
Claire Livaditis
Eva Chandilles
Baby Dani
Scott Nedoff
Anthony Mourgis
John Hansen
James Hord
Tom
How should we pray for the sick? Remember them daily. Say their names (first names are sufficient) and ask God to bestow mercy and grace on them.
Add or remove names and print this list for easy reference during your prayer time on the St. Peter website.
Sunday Readings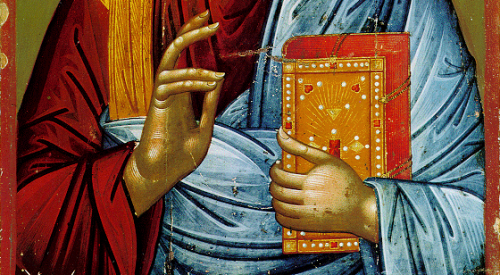 Epistle
Blessed art Thou, O Lord, the God of our fathers.
For Thou art just in all that Thou hast done for us.
The Reading from the Epistle of St. Paul to the Hebrews. (11:24-26, 32-40)
Brethren, by faith Moses, when he was grown up, refused to be called the son of Pharaoh's daughter, choosing rather to share ill-treatment with the people of God than to enjoy the fleeting pleasures of sin. And what more shall I say? For time would fail me to tell of Gideon, Barak, Samson, Jephthah, of David and Samuel and the prophets; who through faith conquered kingdoms, enforced justice, received promises, stopped the mouths of lions, quenched raging fire, escaped the edge of the sword, won strength out of weakness, became mighty in war, and put foreign armies to flight. Women received their dead by resurrection. Some were tortured, refusing to accept release that they might rise again to a better life. Others suffered mocking and scourging, and even chains and imprisonment. They were stoned, they were sawn in two, they were killed with the sword; they went about in skins of sheep and goats, destitute, afflicted, ill-treated—of whom the world was not worthy—wandering over deserts and mountains, and in dens and caves of the earth. And all these, though well attested by their faith, did not receive what was promised, since God had foreseen something better for us, that apart from us they should not be made perfect.
Gospel
The Reading from the Holy Gospel according to St. John. (1:43-51)
At that time, Jesus decided to go to Galilee. And He found Philip and said to him, "Follow Me." Now Philip was from Bethsaida, the city of Andrew and Peter. Philip found Nathanael, and said to him, "We have found Him of Whom Moses in the Law and also the Prophets wrote, Jesus of Nazareth, the son of Joseph." Nathanael said to him, "Can anything good come out of Nazareth?" Philip said to him, "Come and see." Jesus saw Nathanael coming to Him, and said of him, "Behold, an Israelite indeed, in whom is no guile!" Nathanael said to Jesus, "How do you know me?" Jesus answered him, "Before Philip called you, when you were under the fig tree, I saw you." Nathanael answered Him, "Rabbi, Thou art the Son of God! Thou art the King of Israel!" Jesus answered him, "Because I said to you, I saw you under the fig tree, do you believe? You shall see greater things than these." And Jesus said to him, "Truly, truly, I say to you, you will see heaven opened, and the angels of God ascending and descending upon the Son of man."